Here to find the best SEO audit tool? The good news is we've rounded up 10 of the best SEO audit tools on the market. We've also included free options and highlighted where there is a free version available to trial.
Whether you're just starting out building your business or you've had a site up for a while, regular SEO audits should be an important part of your site maintenance and SEO strategy.
Employing the best SEO practices across your site make it easier for Google to crawl your site and direct organic traffic your way. You might also notice that your SEO efforts result in better-quality traffic and higher conversion rates.
With that in mind, we've looked at the top SEO audit tools. We considered their cost, SEO audit features, and any advanced features offered.
1. SEMRush
A recognizable name for anyone working in SEO is SEMRush. A SEMRush site audit will bring back everything you need to know to improve your SEO. A well as showing you off page SEO issues, you can use SEMRush to perform an on page SEO audit too.
This means you can use this powerful site audit tool for just about everything. Use it to find broken links, identify duplicate content, rank tracking, and general search engine optimization.
Another highlight is that SEMRush can integrate seamlessly with Google Search Console and Google Analytics. The combination of the three mean you can be sure of a full SEO site checkup.
SEMRush Pricing: Perform an SEO audit on up to 100 web pages for free with SEMRush, or opt for one of their paid plans starting at $119.95/month.
We also have a great deal with SEMRush for a 14-day free trial. Use it to perform a complete website audit and take advantage of their other features like their keyword research tool and more.
You can also check out our full SEMRush review to see what other SEO tools they offer and find out more about their powerful keyword research tools.
2. Google Search Console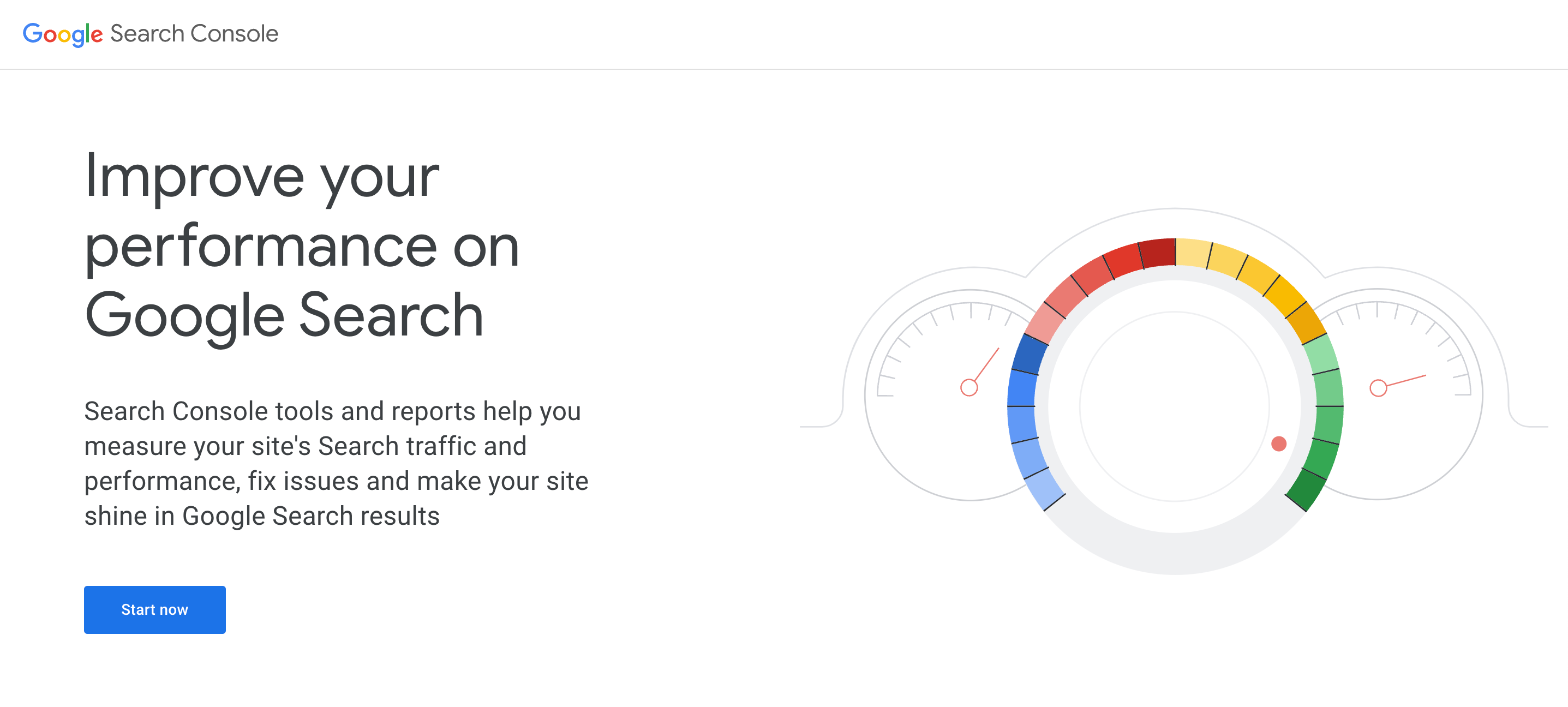 Google Search Console (formerly known as Google Webmaster Tools) is a free tool that allows website owners to track common SEO issues. These include indexing and mobile usability/accessibility problems.
Additionally, you'll get an overview of incoming traffic, page speed, CTR rates, and more. Plus, Google Search Console makes it easy to perform rank tracking to see the results of your SEO efforts and adjust your SEO strategy accordingly.
In addition to typical SEO audit tools, you can also use their SEO audit software to monitor your backlink profile and check keyword rankings.
In conjunction with Google Analytics, it's a top reporting tool and definitely one of the best free SEO tools you'll find.
Google Search Console Pricing: Free SEO audit tool.
3. Screaming Frog – SEO Spider Website Crawler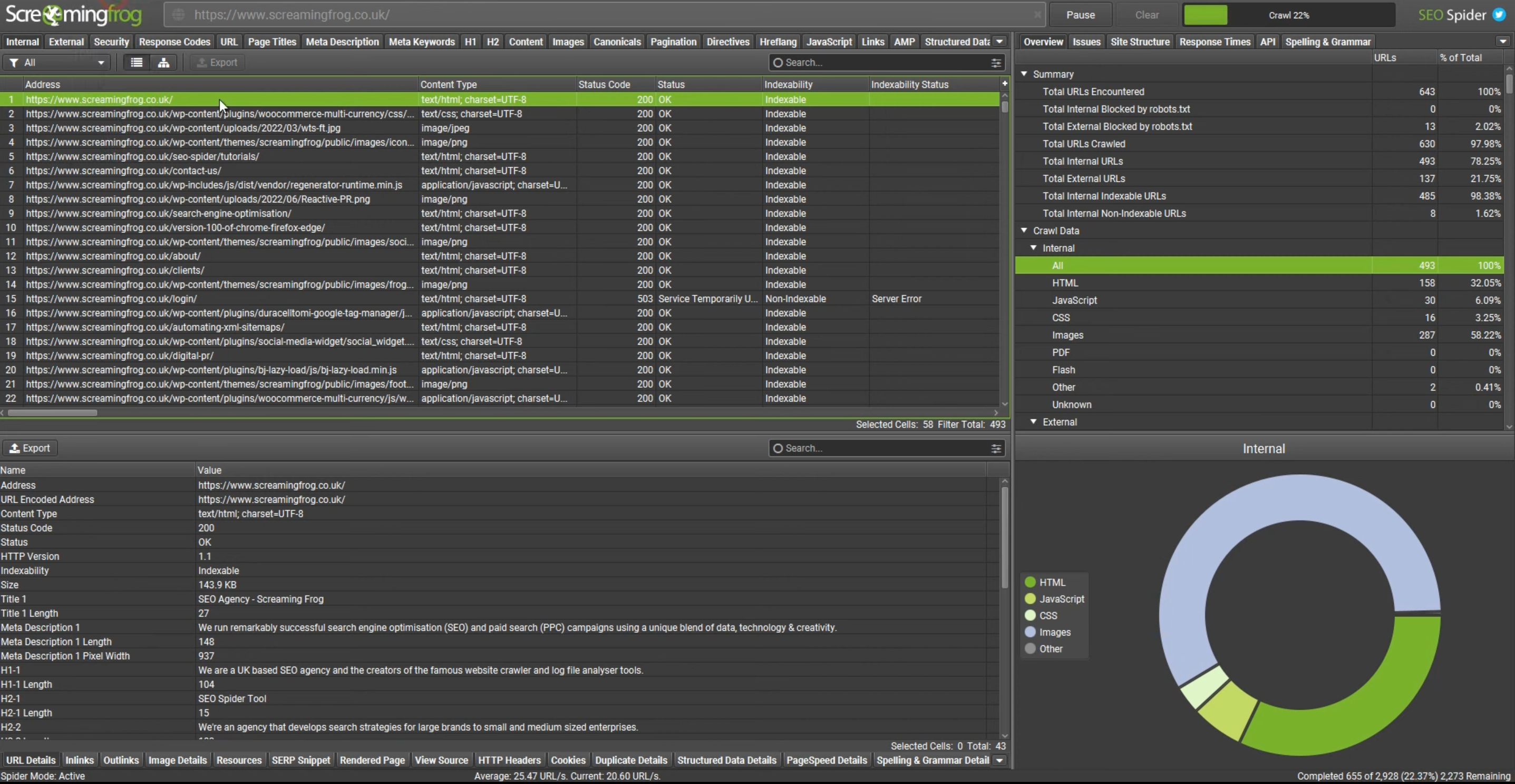 Arguably one of if not the best SEO audit tool might be SEO Spider. SEO Spider is a tool put out by Screaming Frog, a big name in the world of technical SEO. Top brands like Apple and Amazon trust them to perform SEO audits. Screaming Frog will flag up any issues, identify broken links, crawl page titles and meta tags, and discover duplicate content.
Plus, Screaming Frog allows you to integrate with Google Search Console and Google Analytics to pull in extra data.
This is a great option for performing a full SEO site checkup to rehaul your SEO strategy or pinpoint specific SEO issues preventing you from capitalizing on your web presence.
Screaming Frog SEO Spider Pricing: They offer a free version of their SEO audit tool with only some of the features and a cap of 500 URLS. Alternatively, you can purchase a license for their SEO audit software for $259/year.
4. SEOmator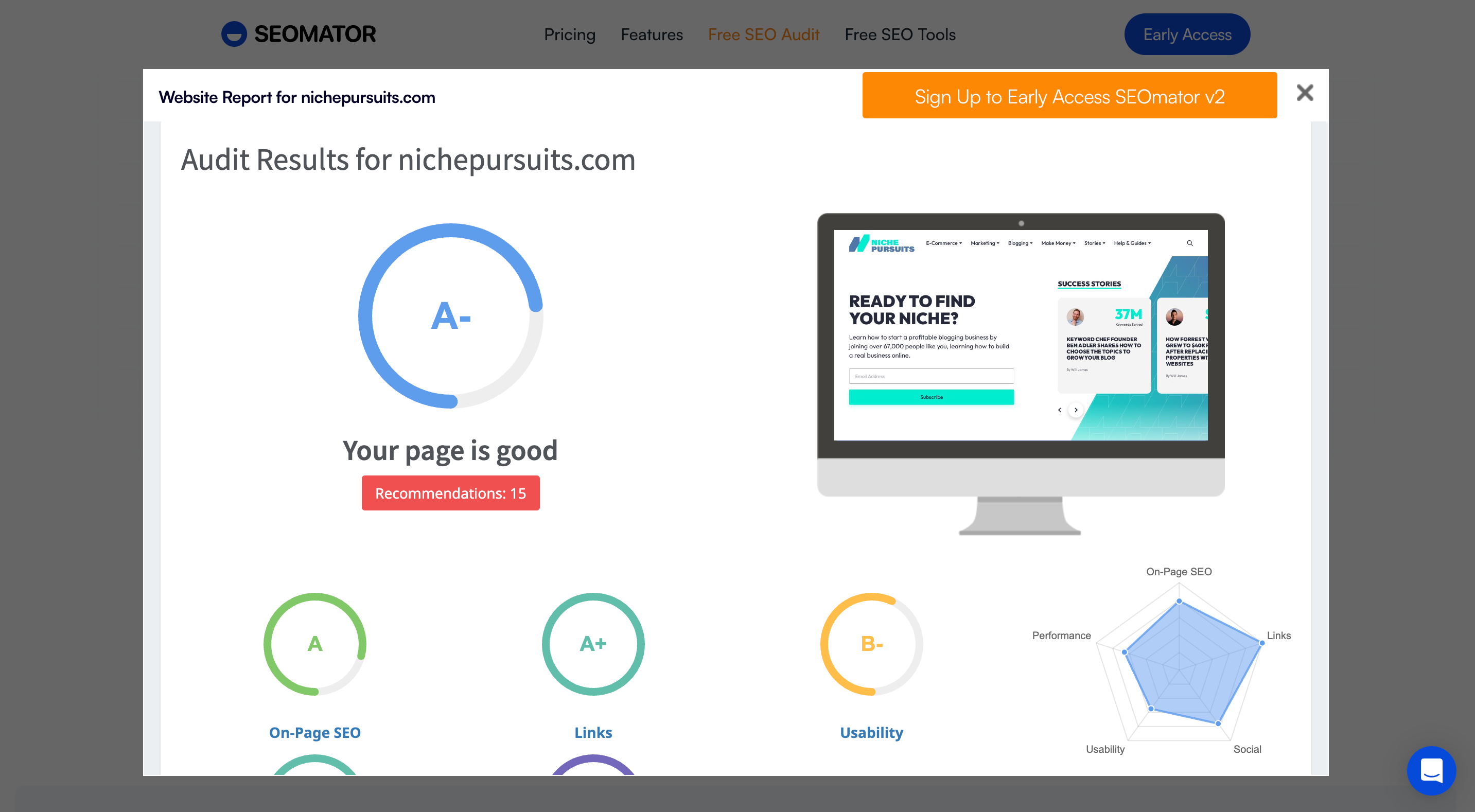 If you're looking for a comprehensive SEO audit tool, look no further. SEOmator is a technical SEO audit tool that also performs on page and off page SEO auditing. It's a great single replacement for multiple digital marketing tools. You can look at things like crawler reports, structured data, content quality, social media integration, and more.
Therefore, this is a great option for people looking to do an on page SEO audit as well as technical SEO audits. SEOmator will combine the two and give you a full report.
SEOmator Pricing: Free SEO audit tool with recommendations for improving your SEO strategy; otherwise SEOmator plans start at $49/month.
5. Surfer SEO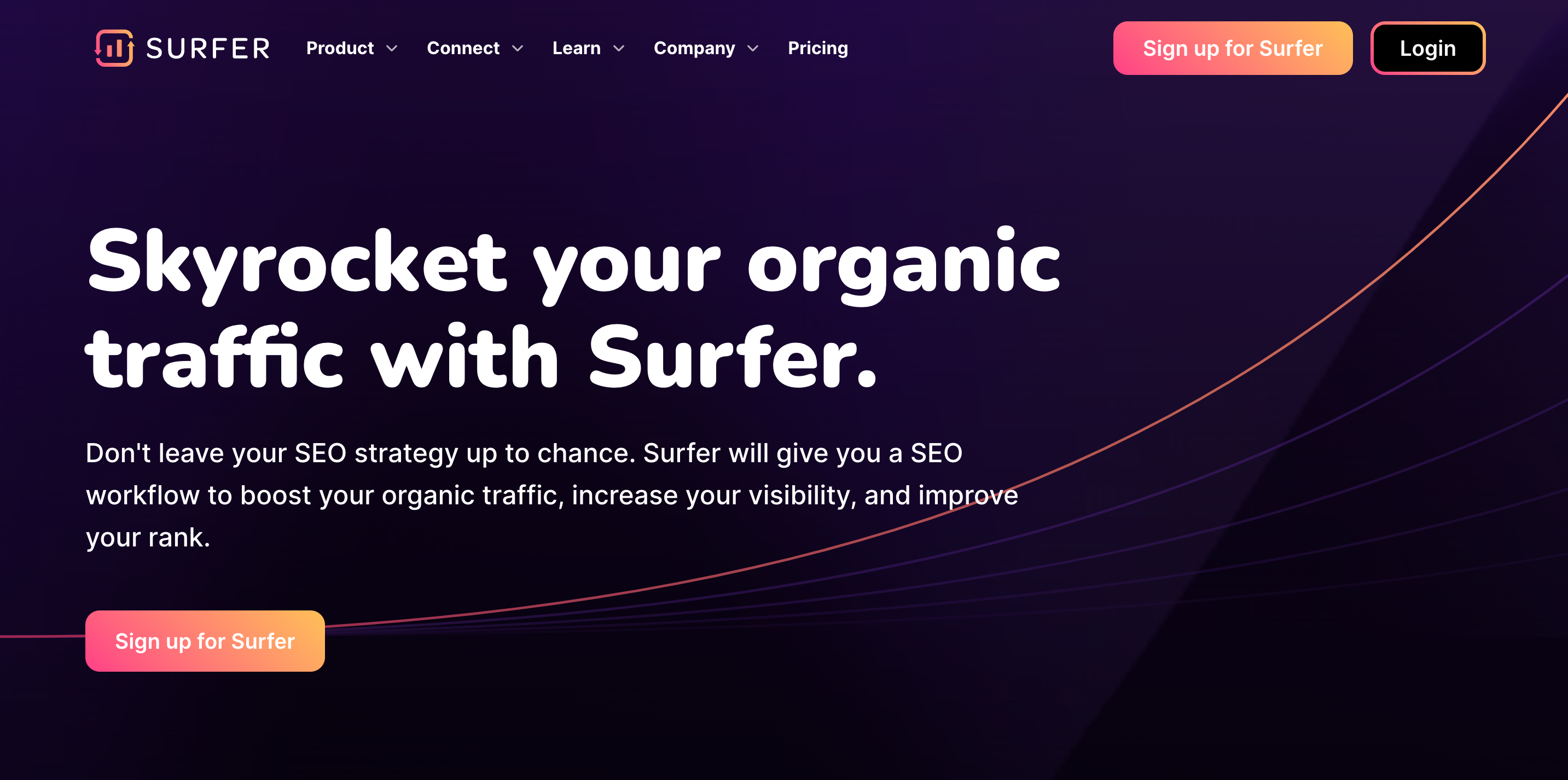 If you're specifically looking for a content audit tool, try Surfer SEO. It is one of the best on the market for on page SEO and content analysis. Surfer will give you an SEO score based on keyword rankings, incoming and outgoing links, meta tags, page speed, and more.
Unique to Surfer is also the ability to perform an SEO audit in order to repurpose old content based on new keyword research.
The main downside of Surfer is that it won't be any help performing technical SEO audits. It's strictly an on page SEO checker, but that said, they are good at what they do.
Surfer Pricing: Plans start at $49/year for 240 page audits.
Get started with a free 30-day Surfer SEO trial exclusive to Niche Pursuits readers!
6. Ahrefs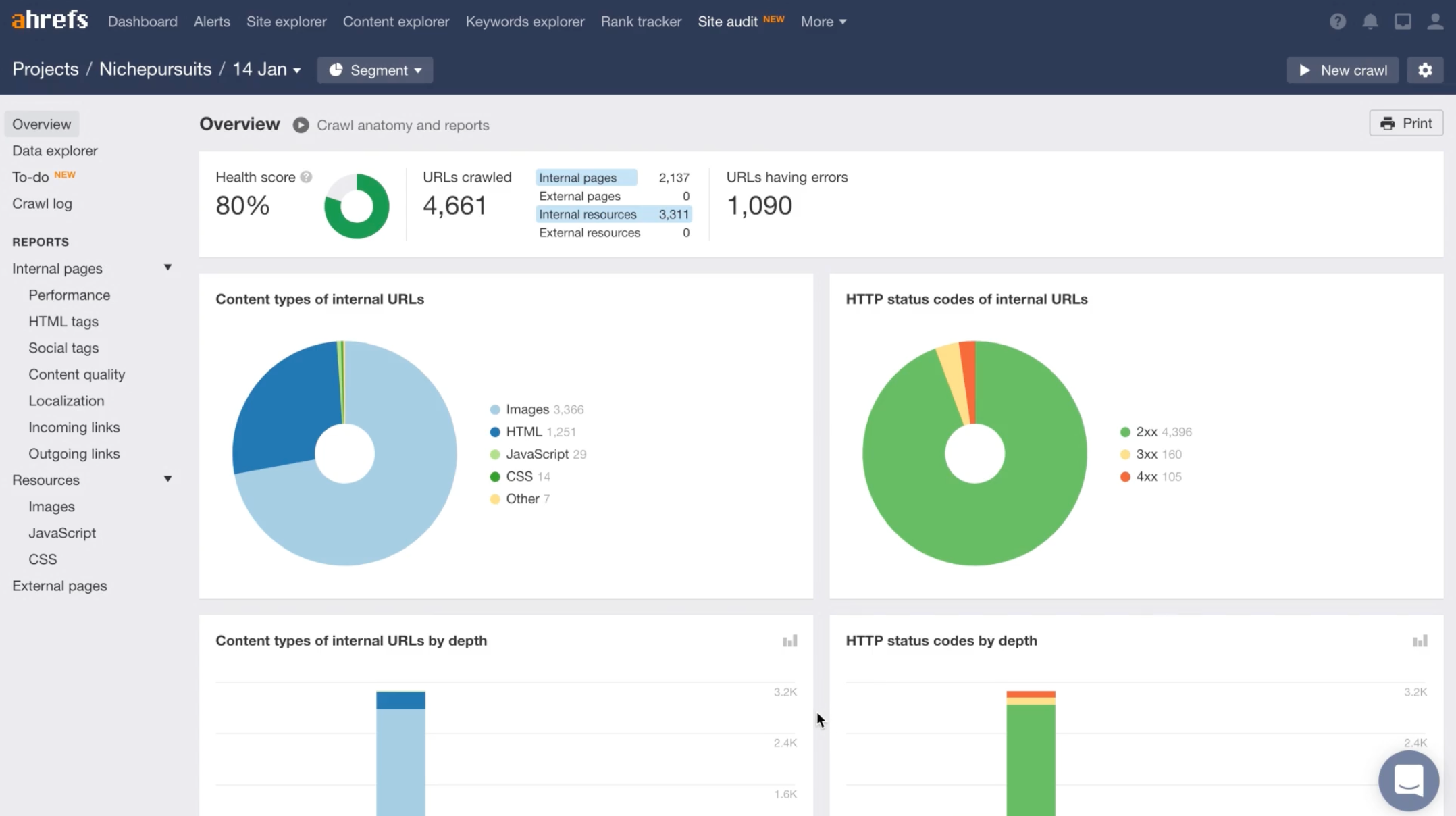 Practically synonymous with all things SEO, there's no doubt Ahrefs offers one of the best SEO audit tools out there. They also host other SEO tools for keyword research, rank tracking, content analysis, and more.
A major highlight of Ahref's website audit is that it crawls all your website pages at once. That and it is incredibly user-friendly. Your report comes back in easy-to-understand colored graphs, and you can dictate exactly what information you want to pull. Plus, Ahref's site audit tool is completely cloud-based, which means you can go away from it and come back to view results whenever you want.
Ahrefs pricing: Lite plans which include the website audit tool start at $99/month or $990 for one year. That said, most SEO enthusiasts will likely be looking for at least their standard plan. The standard plan includes SERP updates and a more advanced version of the site explorer, which can be used to find broken links. Standard plans start at $199/month.
7. MOZ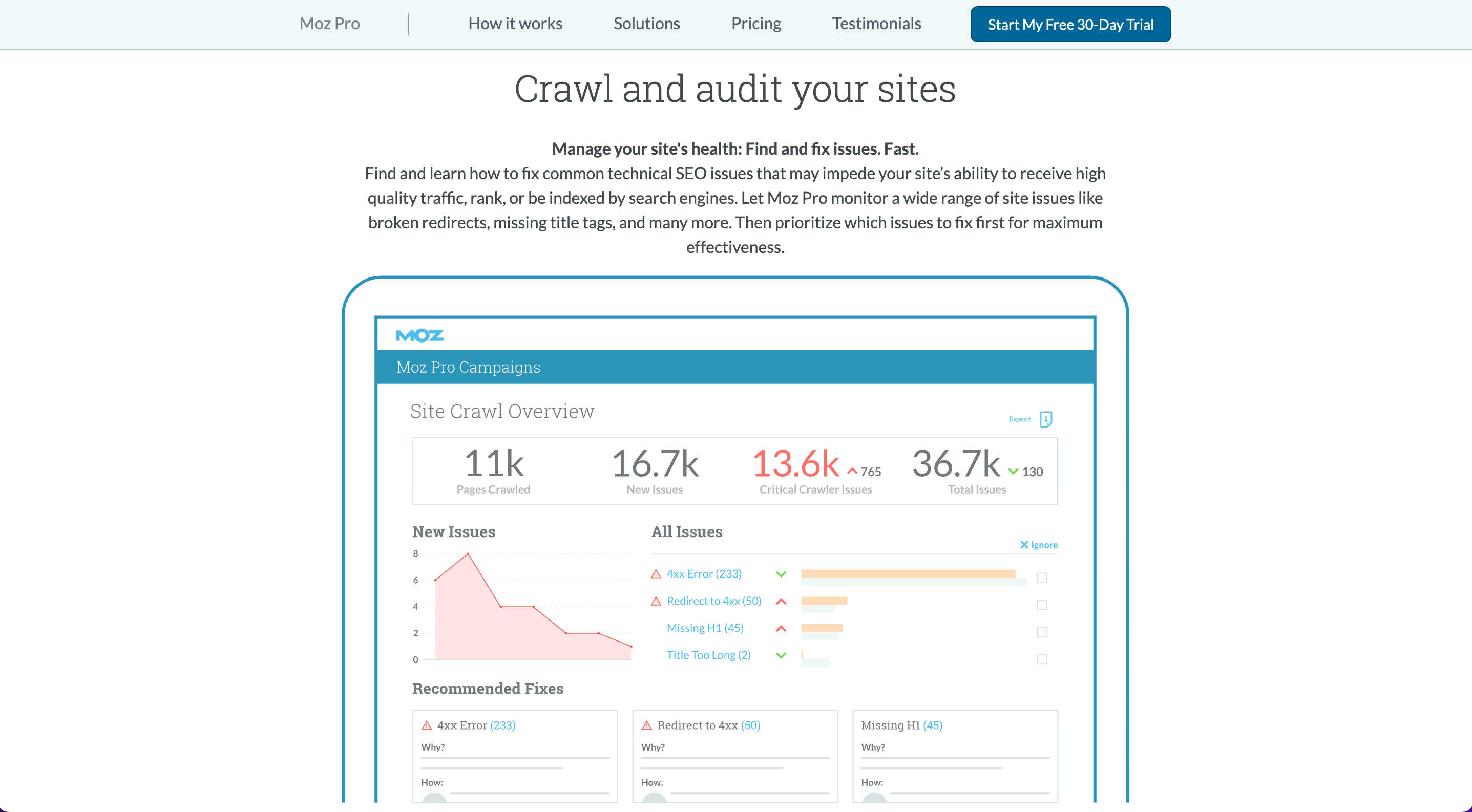 MOZ is a highly trusted name when it comes to just about anything SEO related. Their crawler can perform a site audit on up to 3000 links on any URL. This makes MOZ a good choice for both small and large businesses.
Additionally, MOZ offers ways to improve your technical SEO and track any SEO issues. You can also use it to do keyword research or as an on page optimization tool.
If you're having any trouble ranking with search engines, you can trust that a MOZ site audit will come back with everything you need to know to improve your SEO strategy.
MOZ pricing: Take advantage of Moz's 30-day free trial to see if it's right for you. After that, Moz Pro plans start at $99/month or $950/year, which works out to be about $79/month.
8. Lumar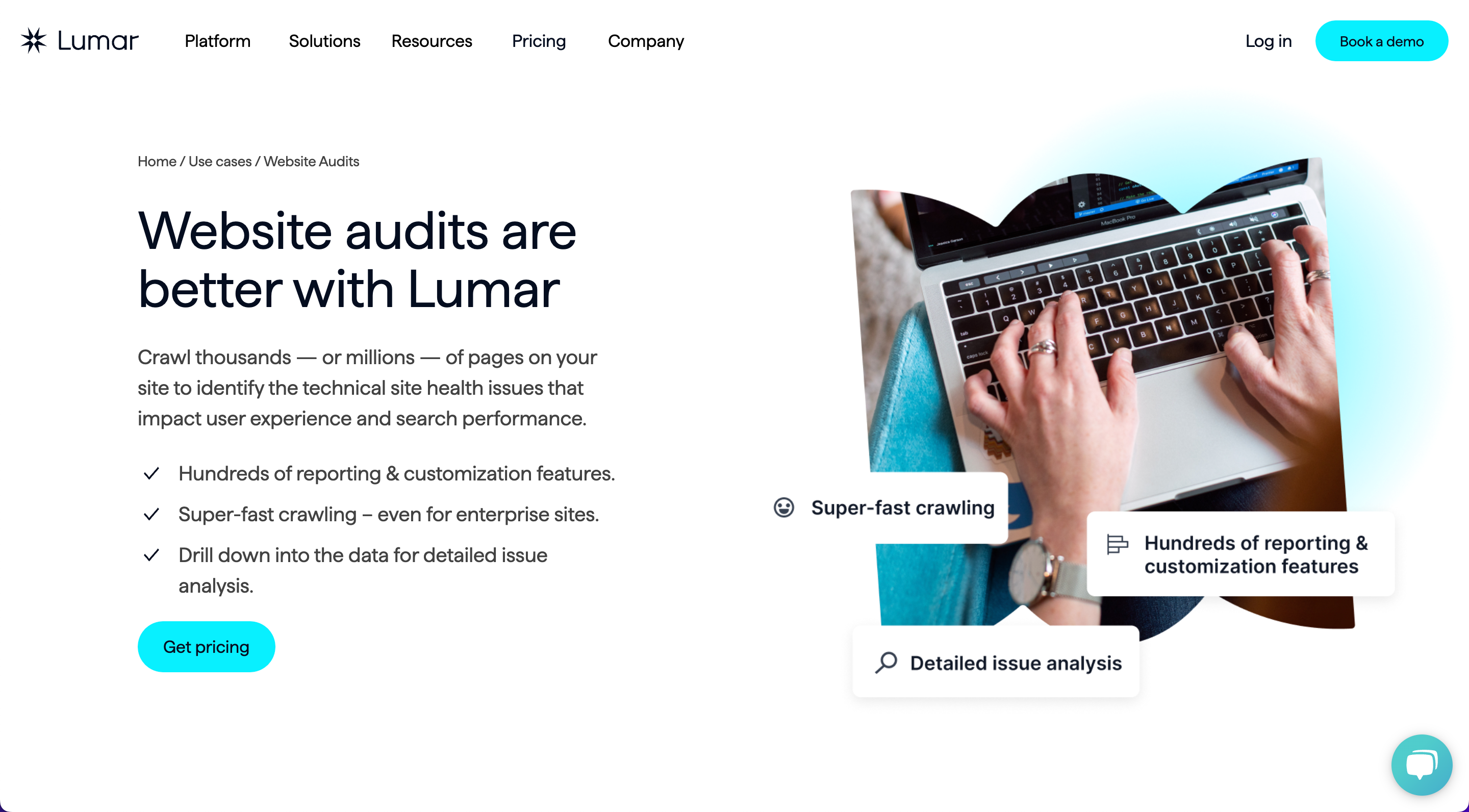 Formerly known as Deepcrawl, Lumar allows you to customize and schedule your SEO audits. This feature means you can always be sure you're working off the latest SEO insights.
Like some of the other audit tools on this list, Lumar can pull data from Google Search Console and Google Analytics. This way, you can view all of your analytics in one place.
Their actual site crawler checks core web vitals and structured data, as well as things like page titles, meta descriptions, meta tags, internal linking, and more, to perform a full SEO site audit.
Lumar's SEO audit software is great for tracking SEO issues and the overall SEO performance of all your web pages.
Lumar pricing: Unfortunately, Lumar aren't very upfront about how much their services cost. You'll need to request a quote based on your specific use case but online reviews
Listen to Nick Musica talk about how he used Lumar on the Niche Pursuits podcast.
9. OnCrawl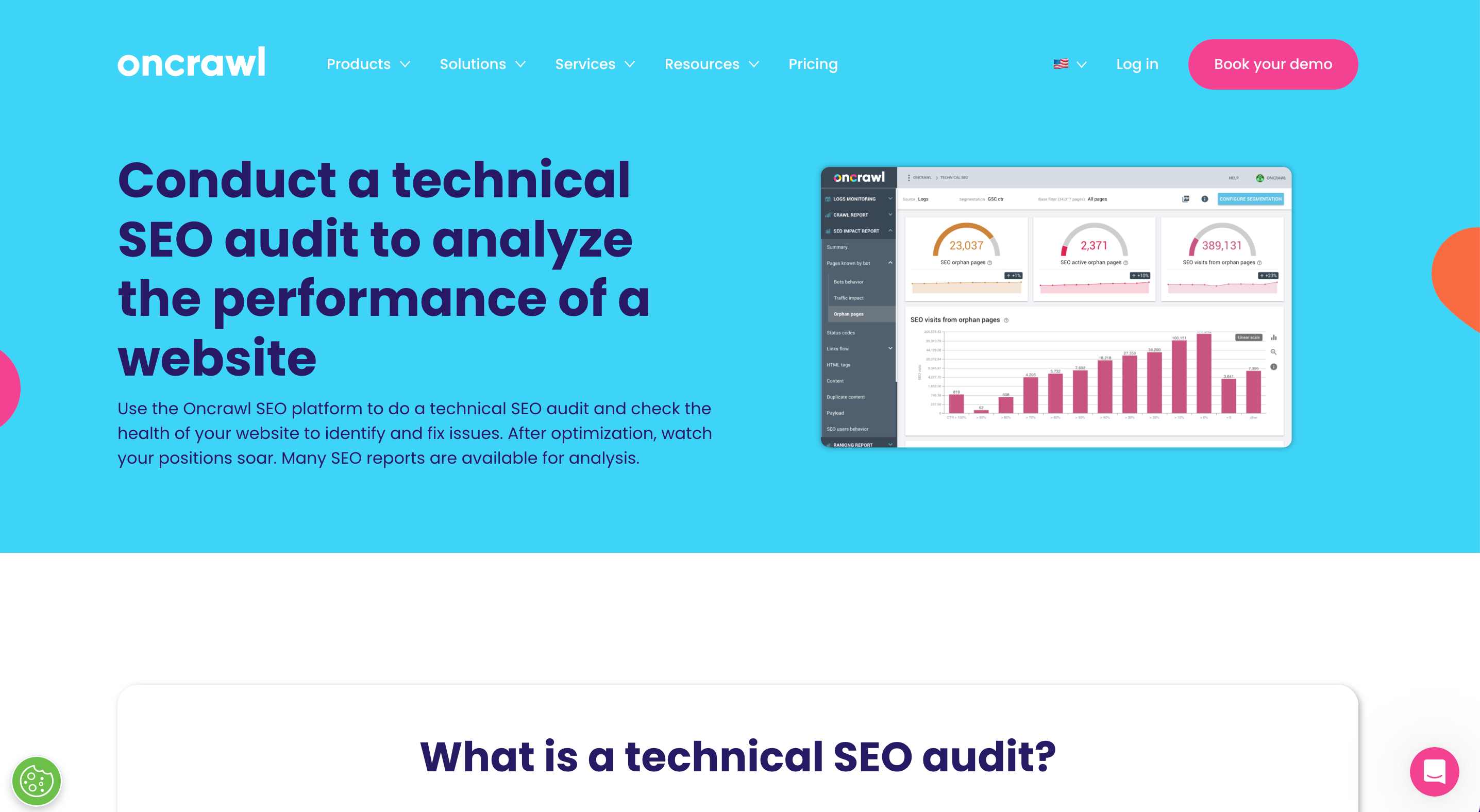 Oncrawl is a great web audit tool for technical SEO. This means it can influence the way search engines are able to crawl your site by cleaning up technical issues.
A technical SEO audit will bring back SEO issues like site speed, meta descriptions, internal links, duplicate content, broken links, and SEO errors within your structured data. It does not check for things like content quality.
Once Oncrawl has finished performing a site audit, it will bring back custom SEO reports for you to take action. Additionally, their Oncrawl Data reporting tool offers a host of helpful insights for backlink tracking and rank tracking.
Oncrawl pricing: Oncrawl may be one of the best SEO audit tools, but it's hard to gauge whether you get value for money. Their pricing page shows a tiered plan structure but no actual prices until you book a demo with them.
10. Bing Webmaster Tools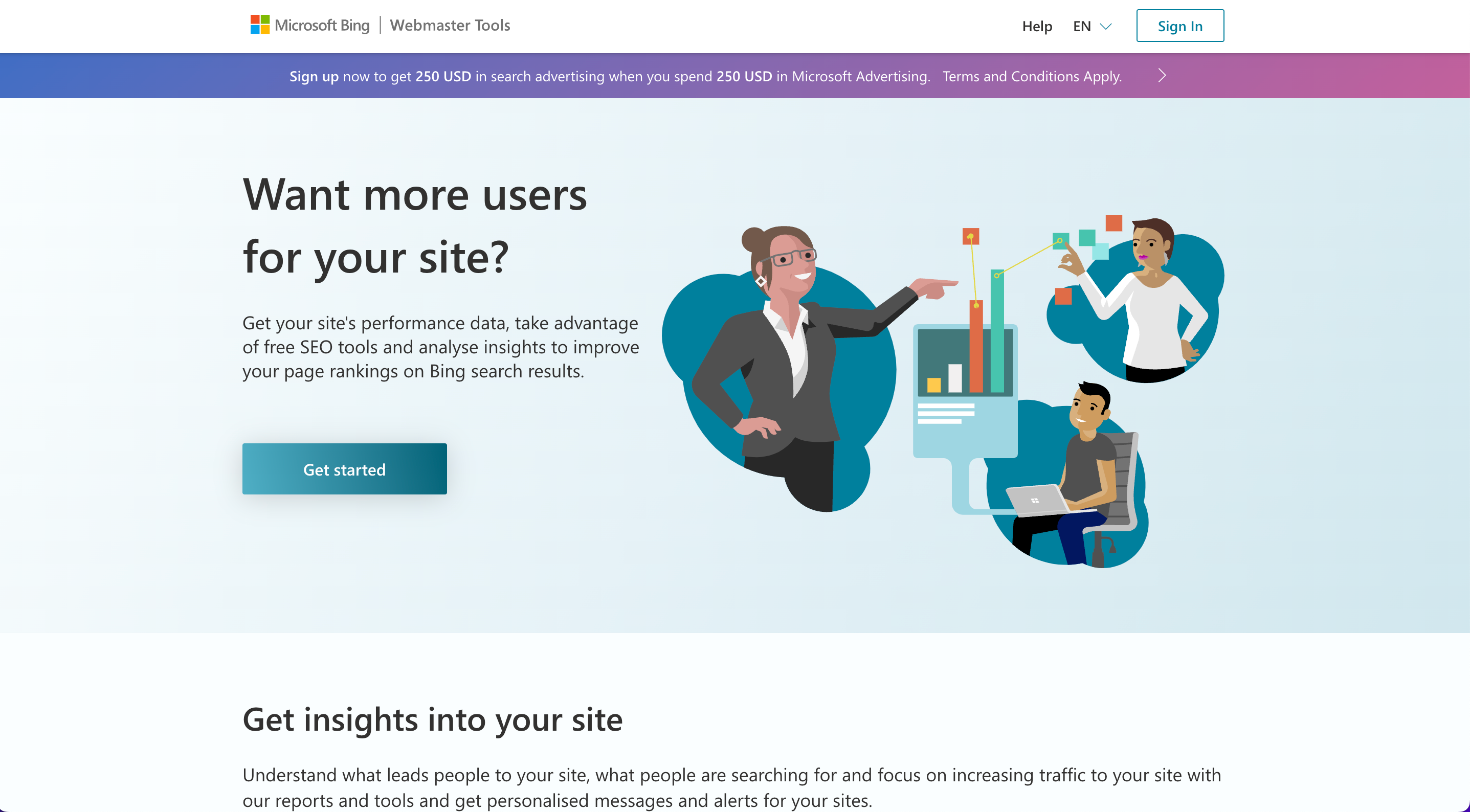 Likely you've heard of Google's SEO audit tools, but you might not have heard of Bing's. Bing Webmaster Tools include a backlink checker and keyword research tool, as well as a site audit tool for free.
If you're already verified with Google Search Console you can easily import your site to Bing. If your not, you can just add your site manually.
Their site auditing tool works on-demand (which means you can't schedule regular scans) and is primarily focused on technical SEO. You can choose to scan particular web pages or a specific site map to bring back a report on core web vitals and SEO issues that need your attention.
These issues will be categorized as errors, warnings, or notices. Comparatively, warnings are SEO elements that may be affecting your overall site health, and notices are SEO issues to take note of that aren't severe but should be addressed to optimize your SEO performance.
Bing Webmaster Tools pricing: Free SEO auditing and other SEO tools.
Summary
There's no shortage of website audit tools out there, all claiming to be the best SEO audit tool you'll find. Most of the tools on this list will get the job done. To determine the best SEO audit tool, you need to consider your own SEO strategy (i.e. are you more focused on usability or on page SEO?) and go from there.
For the best overall SEO audit tool, we recommend SEMRush.
And if you are looking for the best on-page SEO tool, then Surfer SEO is the one to choose.
Remember that a free SEO audit tool may be less comprehensive and less insightful than one of the paid ones. However, if that's your budget, then don't let it stop you from performing regular SEO audits. Even rudimentary insights can be valuable in approaching things like internal linking or meta tags to ensure you follow the best SEO practices.
The key to overall success is monitoring your site health with whatever audit tools you can afford.