Are you looking for the best way to unlock a powerful new layer of automation in your social media strategy? Are you tired of spending hours creating original content for your next social media post only to lose sight of key metrics that ensure success? If so, it's time to get acquainted with a social media content generator or two.
With these comprehensive and easy-to-use ai content generator tools at your disposal, generating captivating content has never been easier—ensuring that your feeds are always up-to-date with eye-catching material while freeing up more of your valuable time.
In this blog post, we'll explore what we believe to be the ten best content generators available today and reveal how they can help you easily generate compelling social media posts. Effortlessly unlock the power of effective digital marketing with these impressive tools at your fingertips!
Keep reading to learn how this revolutionizing technology can take your social media marketing game to the next level!
Top 10 Social Media Content Generators
Here are 10 of the best options around!
Jasper AI
Have you ever had trouble creating content for your social media platforms? If so, then Jasper AI writer is the perfect solution! This powerful content generator will help turn your ideas into engaging, fun, and creative posts.
You can create a whole social media campaign workflow effortlessly. It's so much more than just a caption generator. Just give Jasper some context with your company name and information, add a tone of voice, and it will come up with hashtags, Twitter threads, and Facebook and LinkedIn posts.
Although it's way more than just a social media post generator, it's easy to use and takes the hassle out of creating engaging posts for your followers. Try it out today, and scale up your socials with Jasper!
---
Copy AI
Copy.ai is excellent for social media managers and content marketers because it helps streamline content production, saving time and effort.
With Copy.ai's AI-powered content generator, you can quickly generate engaging and insightful posts that are tailored to your audience with just a few clicks. Copy.ai offers over 90+ tools and templates to jumpstart your creativity, giving you access to various content types in 25+ languages.
With its 7-day free trial of Pro and no credit card required sign-up, Copy.ai makes it easy to get started creating better content and building your dream social media presence today!
---
Anyword
Let Anyword social media post generator get your creative juices flowing and help you craft content quickly, easily, and more effectively than ever before!
You can use the AI-driven optimizer to create content tailored specifically to your target audience, ensuring it resonates with them and drives more engagement and sales.
The platform also includes automated editing and proofreading tools to ensure your social media content is perfect before you publish it.
With Anyword's personalization features, you can easily ensure your social media ads and posts are optimized for maximum engagement.
Anyword is a great tool that saves users a ton of time and gives inspiration when creating social posts.
---
Writesonic
Writesonic offers a powerful AI-driven content generation tool suite that can help you improve the quality of your content and optimize it for SEO.
It can help you create compelling copy that engages readers, rewrite existing text in a matter of seconds, expand on ideas to make them more interesting, and shorten text to make it more concise.
With its rich library of templates and features, you can create engaging content quickly and easily. Plus, with its integration with popular platforms like Surfer SEO, you can streamline your social media campaigns and track content change results in real-time.
Finally, Writesonic has earned glowing reviews on G2, Trustpilot, and Capterra for its ease of use and quality results. Learn more in our Writesonic review.
---
PepperType AI
Peppertype.ai provides a wide range of content creation tools that can help users create high quality and engaging posts quickly and easily.
The platform offers an effective content expander, blog heading expander, Amazon ad headline and product title generator, YouTube video topic ideas generator, engaging questions, Quora answers and poll questions.
Additionally, Peppertype.ai also offers a content simplified, AIDA copywriting tool, customer review response generator and other helpful features to help users create content that is more engaging and relevant to their target audience.
The platform's AI-driven technology ensures that users get the most accurate results for their content creation needs.
---
Ocoya
Ocoya provides a wide array of content writing tools and features that are designed to help streamline the social media process.
It helps with creating content, scheduling posts, writing copy, analyzing performance, generating hashtags, shortening links and even creating workspaces for teams.
It also has numerous integrations with services like Canva, Shopify, and WooCommerce for AI-generated captions and hashtags.
Ocoya offers competitive pricing plans as well as a free trial to get started. With Ocoya's various features and easy-to-use interface, it is the perfect choice for those looking to boost their social media presence.
---
StoryChief
StoryChief provides powerful tools to help you manage and track your social media content. This way, you can understand how effective your campaigns are and identify opportunities for improvement.
With StoryChief, you can automate the process of creating social posts, schedule them to post on your social media platform in advance, and even monitor their performance across channels all from one place.
Plus, with its built-in media editing capabilities and integrations with various social media channels, StoryChief makes creating high-quality content for your audience easy.
Finally, the platform's Insights & Reports feature provides you with data-driven insights into how your posts are performing and helps you identify areas of improvement in your social media strategy.
With StoryChief, you can maximize the impact of your content marketing campaigns and build a dedicated following on all social media platforms.
---
AdCreative AI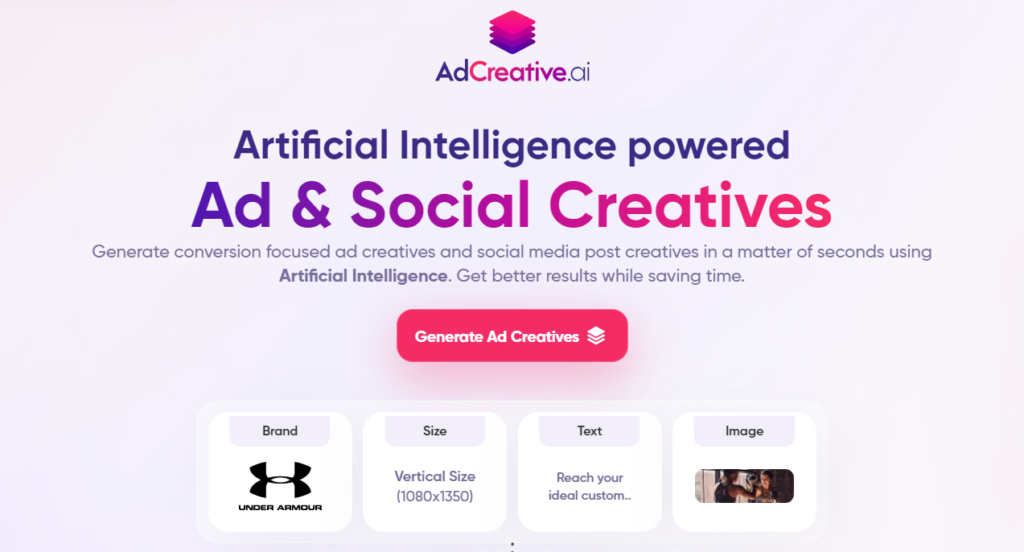 AdCreative.ai offers a wide range of features designed to help you create better, more effective ad campaigns.
With AdCreative.ai, you can generate creative visuals and text in just minutes, get access to AI-driven insights on your campaigns' performance, and even use the copywriting feature to craft engaging content that resonates with your target audience.
Additionally, since all of these features are automated and easy-to-use, the entire social media content creation process can be done quickly and efficiently without needing any design experience or knowledge.
As a result, AdCreative.ai helps creators and marketers maximize their return on investment by making sure every penny spent goes towards creating impactful social media posts that drive results.
---
Predis
Predis is not just a content generator. It offers a comprehensive social media tool set and features that make creating and sharing high quality content on social media easier and faster.
With Predis, any content creator can easily generate stunning visuals and carousel posts, create brand promotion posts, motivational quotes posts, special day posts, and more in just a few clicks.
They can also schedule and publish content, generate captions and hashtags, analyze competitors' profiles, use ai writing software tools for free, and access an extensive library of designs.
All in all, Predis is a great tool for those looking to maximize their social media presence.
---
Botowski
Botowski social media post generator gives users access to a wide range of customizable templates and features. It allows them to quickly generate high-quality posts that will grab their audience's attention.
Additionally, the AI-powered post generator ensures accuracy in generated content, meaning no more embarrassing typos or errors!
With Botowski, you can easily create multiple versions of posts to test and optimize performance, saving you time and labor costs.
There's no need to hire a professional writer or editor – everything is done for you with this ai writing tool in seconds.
---
FAQ
Here are some important answers to frequently asked questions about the topic!
There are many places to find inspiration for your next social media content idea. Popular sources of inspiration include blogs, magazines, industry-specific websites and publications, competitor research, and hashtag trends.
AI-powered content generators and even ChatGPT can also be used to produce new post ideas quickly.
Finally, you can brainstorm with your team or peers to develop creative content ideas that fit your brand.
Connecting content builds community through shared interests and experiences.
Educational content helps people to learn about topics or issues.
Entertaining content can be humorous, creative or lighthearted in nature.
Inspirational content encourages and motivates people to take action.
Interactive content enables users to engage with others in meaningful ways.
Newsworthy content provides timely information about what is happening in the world.
Promotional content is used for advertising products and services.
Your choice of social media content is key to achieving your goals and engaging with the right audience for your brand. Pick wisely!
You should also keep in mind that different types of content can be combined depending on what message you want to convey.
Conclusion
With AI being such a hot topic and people finding lots of cool and creative uses for ChatGPT, it's easy to see why it is becoming an increasingly important tool for content creation.
No matter which social media content generator you choose, the quality of your content should be a top priority, regardless of which social media channel you prefer to use to reach your audience.
Quality content should be engaging, informative, and relevant to your target audience. Whether you use AI content generation tools or not, every social media post should also be visually appealing with appropriate images, videos or graphics.
Remember that social media is all about engagement and user experience, so make sure your posts are interesting enough to hold your followers' attention.