Looking for the best Sprout Social alternatives?
Sprout Social is a widely-used tool for planning social media content, engaging with audiences, and analyzing current trends. But at $249 a month for the basic plan, it might not fit your budget—especially if you're a bootstrapped startup or small business.
Fortunately, there are tons of social media management tools that offer similar features without the hefty price tag. And if this article, we will review those 10 best Sprout Social alternatives!
Let's begin.
10 Best Sprout Social Alternatives
The market for social media management tools is vast and vibrant. Sprout Social is a seasoned platform in this industry with hundreds of options for scheduling posts on top social media platforms, collaborating with teams, and optimizing messaging campaigns.
However, its premium price tag can be slightly off-putting for newcomers and local businesses with restricted budgets.
The good news? Several new players have entered the scene with competitive features at a fraction of the cost of Sprout Social, making the life of social media marketers a bit easier.
Join us as we explore the 10 best Sprout Social alternatives and uncover their capabilities.
1. SocialBee – Best All-Rounder
SocialBee is an all-around, affordable alternative to Sprout Social. Featuring a smart, category-based content system, SocialBee helps you sort your posts into distinct groups for efficient management.
Busy social media marketers can use its content calendar to set up key posting times, keeping their online presence steady.
The tool lets you tailor posts for each platform, reuse your best content, and even generate full-fledged content strategies using AI. It's compatible with all major social networks, including LinkedIn, Pinterest, Google Business Profile, TikTok, and YouTube.
SocialBee also offers detailed analytics and real-time data from your social campaigns to track metrics that mean the most to you. All of these features are available at a starting price of $29/month, making SocialBee an outstanding alternative to Sprout Social.
Key Features
Efficient management of evergreen and time-sensitive posts.
Post customization for individual social networks.
Tailored social media strategies with Social Media Copilot.
In-app visual creation with Canva, Unsplash, and GIPHY.
Growth tracking and performance analysis for each platform.
Direct interaction with your audience's comments and mentions.
Pricing
SocialBee starts at just $29 per month for 5 social accounts and one user/workspace. Accelerate plan starts at $40 per month for 10 social profiles, while Pro plan starts at $82 per month for 25 social profiles and 3 users/5 workspaces.
If you want a detailed analysis of SocialBee's features and options, check out SocialBee Review: Is It The Best, Affordable Social Media Management Tool?
---
2. Buffer – Best Budget Alternative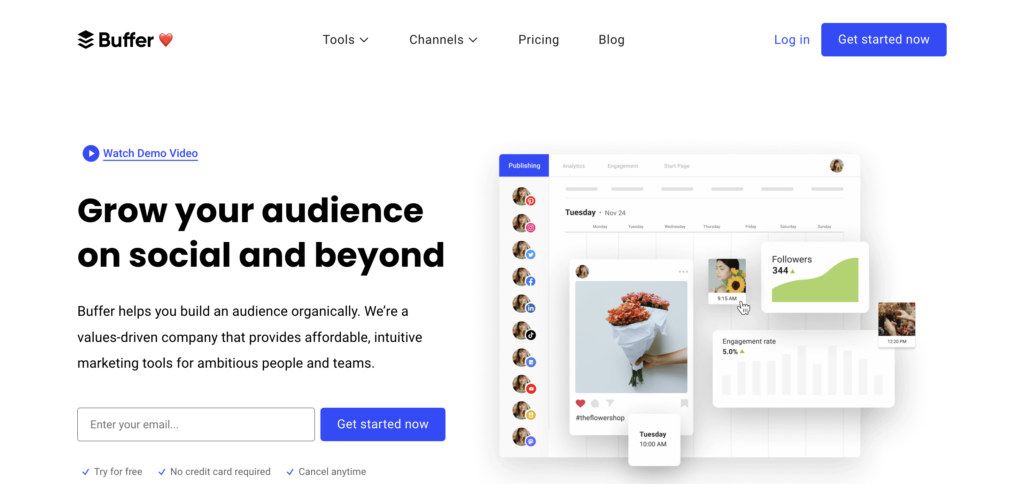 Buffer is a well-reputed social media management tool with one particular strong suit—analytics. For each account you connect, Buffer converts the metrics it receives into beautiful charts and live stats within a single dashboard.
You can schedule, plan, and publish your content straight from its content planner across vital platforms, including Facebook, Twitter, Instagram, LinkedIn, and Pinterest. 
Struggling to generate content? Buffer's AI assistant can suggest creative ideas and repurpose existing content within a few clicks. Moreover, its dashboard lets you stay on top of interactions and reply to comments directly from the tool.
To make planning easier, Buffer provides a visual calendar for scheduling and an AI assistant that offers guidance on optimal posting times and strategies.
Key Features
Schedules multiple posts with a single action.
Connects effortlessly with leading social media sites.
Analytics spotlight your hit posts, prompting strategic re-shares.
Allows scheduling tailored to each profile's time zone.
Automatically shortens links within images for a neater look.
Seamlessly integrates with smartphone apps for on-the-go management.
Pricing
Buffer offers a free plan that lets you plan and publish posts on up to 3 social media channels. Starter plan begins at $6 per month, Team at $12 per month, and Agency at $120 per month. All paid plans come with a generous 14-day free trial period.
---
3. Hootsuite – Best For Collaboration
Hootsuite is probably the closest alternative to Sprout Social for several reasons. Firstly, it offers a similar, unified dashboard with support for side-by-side metric comparison with competitors.
Secondly, it's just as good at scheduling posts, monitoring conversations, tracking key analytics, and even suggesting content ideas and social campaigns. 
But Hootsuite's true specialty is its compatibility with over 150+ apps and integrations. The tool offers unparalleled security and the ability to set up team-specific dashboards for seamless collaboration.
Despite its somewhat high price point, Hootsuite is still cheaper than Sprout Social and an ideal choice for medium-sized enterprises that want to elevate their social media presence. 
Key Features
Offers recommendations on the best posting times.
Has a 'Streams' feature that lets you stay on top of conversations.
Allows managers to assign tasks to team members.
Provides a content library to set up templates and image assets.
Helps keep track of competitor moves for strategy refinement.
Pricing
Hootsuite starts at $99 per month for up to 10 social accounts. Team plan starts at $249 per month for up to 20 social accounts. You can try both for free for up to 30 days.
---
4. Agorapulse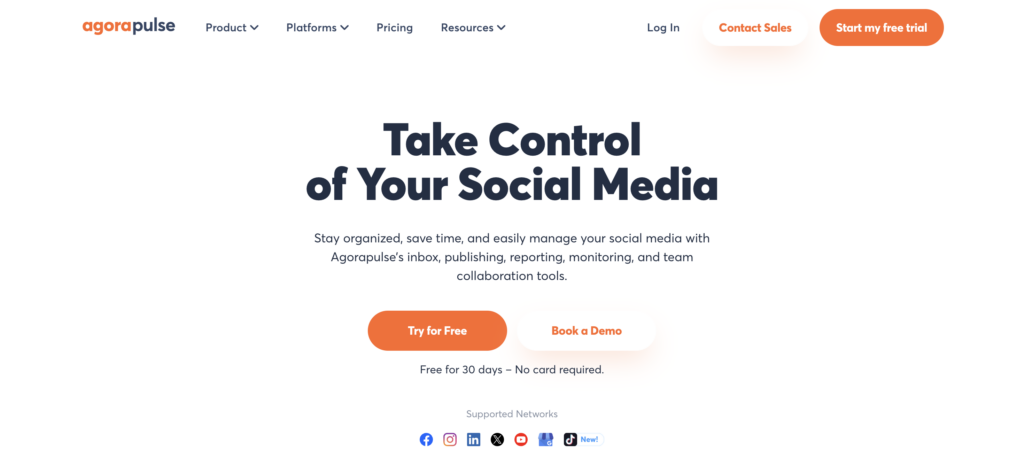 Agorapulse has a clear advantage over Sprout Social when it comes to inbox management and efficient customer engagement. It collects messages from multiple platforms into a single inbox, simplifying how businesses handle their online interactions.
Users can label high-potential conversations and attach tracking codes on trending posts for efficient collaboration.
Besides that, the tool provides post customization for each platform, social listening, and an AI-powered writing assistant for creating attractive captions. A big benefit of using Agorapulse is getting access to up to 24 months of social metrics, allowing businesses to adjust their content strategy more precisely.
With paid plans starting from just under $55, Agorapulse is a no-brainer for small startups and growing enterprises.
Key Features
A unified inbox to manage messages, comments, and mentions efficiently. 
Tools for analyzing competitors to optimize your social media strategy. 
Access to up to 24 months of social performance history.
Comprehensive analytics for evaluating social media performance.
Team features for shared social media management tasks.
Pricing
Agorapulse offers a free plan that includes up to 3 social profiles and 10 scheduled posts. Standard plan starts at $49 per month, Professional at $79 per month, and Advanced at $119 per month. All plans can be tried free for 30 days.
---
5. Zoho Social
Zoho Social is a highly intuitive and premium tool with a not-so-premium price tag. It lets users switch between various social media accounts and schedule posts—all from one user-friendly dashboard.
For businesses that rely on the Zoho ecosystem, integration with Zoho Social takes a few clicks. It also opens up a birds-eye view of customer interactions across social platforms, enhancing customer relationship management. 
The platform is equipped with SmartQ and zShare—two crucial features that ensure your content reaches your audience at the optimal time.
Monitoring is also made easy with Zoho Social, which provides detailed reports on brand mentions, comments, and conversations so businesses can stay engaged with their community. 
Key Features
Offers RSS feeds and the zShare browser extension for seamless scheduling and curation.
Allows you to manage all social media interactions through one singular inbox.
Comes with Zia, an AI-powered content assistant, to facilitate real-time responses.
Tracks brand mentions, keywords, and industry trends all in one place.
Lets you discuss social media content with team chats and calls.
Provides insights on follower demographics and content preferences with tailored reports.
Pricing
Zoho Social has a free plan with lifetime validity but limited features. Premium plans start at different rates and come with a 15-day free trial period:
Standard: $10 per month
Professional: $39 per month
Premium: $40 per month
---
6. Statusbrew
Statusbrew mirrors Sprout Social closely in multiple ways. For starters, it features an advanced content publisher that makes post creation and planning a breeze.
You can also bulk schedule your content across several networks simultaneously or automate replies to build engagement.
Out of all Sprout Social alternatives, Statusbrew is one of the most integration-friendly platforms. Some of its supported tools are Pinterest, Play Store, Shopify, Dropbox, and Hubspot CRM.
Marketers can utilize its 235+ performance metrics, while community managers can assess efficiency using automated SLA breakdowns and inbound reports. Statusbrew also features an internal notes function that lets you share pointers and promotes effortless collaboration.
Key Features
Has a robust inbox with integrated CRM, search bar, and filters.
Boasts smart approval workflows for seamless publishing among teams.
Offers advanced automation for responding to and monitoring comments.
Integrates with several applications to minimize toggling between programs.
Provides over 235 metrics for deep insights into your social media performance.
Pricing
Statusbrew's basic plan starts at $69/mo for up to 5 social profiles. Standard plan starts at $129/mo for 10 social profiles, and Premium plan starts at $229/mo for up to 15 social profiles. You can opt for a 7-day or 14-day trial to test Statusbrew.
---
7. Sendible
Sendible caters to businesses big and small, delivering a full suite of standard social media management features, including content planning, scheduling, publishing, and detailed analytics. 
Its insightful dashboard presents a clear view of performance metrics, recent interactions, and engagement across multiple social media platforms. 
The tool's visual calendar is its highlight feature, allowing for systemized management of posts and social media activities. Combined with its media integrations like Canva Pro and GIPHY, creating eye-catching social media posts is a breeze.
Sendible also takes the lead in the pricing department, with 4 different plans designed for both individual marketers and agencies.
Key Features
Searches for and adds new profiles that meet specified criteria to the user's database.
Identifies and adds contacts automatically from social engagements.
Monitors and records follower dynamics across social platforms.
Automates lead generation by using criteria for lead identification and capture.
Begins social media conversations with new or existing profiles automatically.
Gathers and organizes comments and posts from various accounts in one place.
Pricing
Sendible's plans start at $29/month. Each comes with a 14-day trial period. You can also upgrade to bigger plans with the following features:
Traction: $89/mo for 4 users & 24 social profiles
White Label: $270/mo for 15 users & 90 social profiles
White Label Plus: $750/mo for 100 users & 300 social profiles
---
8. Later
Later is the go-to platform for Instagram influencers and brands that want their imagery front and center. Starting with Instagram, Later has now brought its industry-leading features to Pinterest and TikTok.
Its user-friendly interface cuts through the complexity, and its visual content calendar helps users visualize their feed before it goes live—an essential feature for digital creators. 
The platform excels at building a compelling visual narrative through various tools, including a built-in photo editor, hashtag suggestions, and integration with Canva. Later is also highly revered for its 'Linkin.bio' option that lets Instagrammers create a fully customizable landing page to drive conversions and clicks.
For anyone keen on upping their Instagram or TikTok game without straining their budget, Later is a clear winner.
Key Features
Drag-and-drop calendar to arrange your posts with ease.
Smart hashtags that help you identify the best tags for your account.
Link in Bio landing page builder with various customization options.
Detailed metrics and 'best time to post' algorithm for better engagement.
Ensures Instagram profile looks exactly as you plan it with grid preview.
Pricing
Later's pricing starts at $25 per month and has a 14-day free trial. Its basic plan offers 30 posts per user profile. Growth plan starts at $45 per month and Advanced plan comes at $80 per month.
---
9. Crowdfire
Crowdfire simplifies social media management with a user-centric hub where you can find, schedule, and post content across all your profiles.
Start with pre-scheduling, then set up your content to launch when your audience is most active. Crowdfire gives you these times, or you can choose your own based on personal preferences. 
Beyond that, Crowdfire's smart algorithm also helps target trending topics for your audience to maximize appeal. It further tailors content for each social network, making your message fit perfectly wherever it lands.
But the best part about Crowdfire is its price. Basic packages start at just under $10/month with extensive capabilities, making it an optimal Sprout Social alternative for solopreneurs and self-funded businesses.
Key Features
Prepares your posts in advance and automates their publishing at the best times.
Custom tailoring automatically adjusts your posts for every social network.
Content discovery provides relevant image suggestions.
Allows seamless sharing of content with the Chrome add-on.
RSS Integration incorporates users' favorite feeds for easy content curation.
Pricing
Crowdfire offers a free plan that lets you connect 3 social accounts and schedule up to 10 posts a month. Premium plans start at the following prices:
Plus: $7.48/month for 5 accounts & 100 posts (per account)
Premium: $37.48/month for 10 accounts & 100 posts (per account)
VIP: $74.98/month for 25 accounts & 800 posts (per account)
---
10. Sked Social
Sked Social is a versatile Sprout Social alternative with two key offerings: visual content scheduling and AI. At the heart of Sked Social is a dynamic calendar interface. Here, you can drag and drop your posts, tweak them to fit each platform's layout, and set them to go live at your chosen times.
The platform's visual planner also ensures your Instagram, TikTok, or Pinterest grid always looks cohesive and organized.
For building engagement with customers, Sked Social comes with a centralized inbox where you can respond to comments, tag team members, or start conversations across various social media accounts—without ever having to switch tabs.
It also features a 'link in bio' builder to enable Instagram monetization and a comprehensive analytics dashboard so you can tweak your strategy for maximum results. 
Key Features
Streamlines content approvals with custom workflows involving team members.
Automatically schedules/publishes Instagram content (including stories with stickers). 
Manages DMs, comments, and reviews across platforms from a single inbox using AI.
Offers a Link in Bio tool to turn Instagram followers into customers.
Provides insights beyond basic analytics that are tailored to your audience's activity.
Pricing
Sked Social offers the following range of paid packages:
Fundamentals: $30/month for 1 Instagram & 4 other accounts
Essentials: $89/month for 3 Instagram & 10 other accounts
Professional: $159/month for 5+ Instagram & 15+ other accounts
Each plan comes with unlimited posts and a trial period to test the platform before purchasing.
---
Final Verdict
We hope our list of best Sprout Social alternatives proved valuable in making the right purchase decision (check out our Sprout Social review if you need a refesher on it's capabilities).
Consider these options alongside your specific needs, such as team size, desired user experience, and budget constraints, to select the right social media management tools. 
For example, if your team prioritizes visual content planning and collaboration, SkedSocial's visual planning features might appeal to you. On the other hand, if cost is a critical factor and you want solid content curation tools, Crowdfire could be the right fit. 
Remember these factors, and you'll be on your way to skyrocketing your social media outreach.
If you want to expand your Instagram reach, here are 117+ Engaging Instagram Threads Ideas & Best Practices To Grow Your Following.
Or, if you want to monetize your social media skills, check out our guide on How To Make Money On Social Media: 5+ Awesome Ways Revealed.