Looking for the best writing assistant software on the market? You're here because you know a writing assistant will help you. These tools can offer help with grammar and spelling, speed up your writing output, offer a broader vocabulary in your writing, and other benefits.
But, the problem is there are dozens, if not hundreds, of writing assistant software programs online. Which one is the best?
That's why we have compiled a list of the best writing assistant software for writers, business owners, sales, and the best overall. Review our top picks to help you make your decision.
Dive in!
Best Writing Assistant Software for Writers
The best writing assistant software for writers offers all the tools writers need to improve productivity and help them get more work done faster.
Want to cut to the chase?
Our best overall pick is Jasper AI. It's a top AI writer, trusted by 70,000+ users, and a great choice for an AI writing assistant.
Use our link and get 10,000 words free just for trying Jasper AI out.
1. Jasper AI
Jasper AI is one of the best AI writing assistants designed to create brand-driven content. This AI writer is perfect for all kinds of businesses, from bloggers to e-commerce brands, service-based businesses, and more. But, it shines in the writer community.
For example, Jasper AI is one of the only AI writers that can create SEO-optimized blog posts fast, including writing long-form content.
Headline writer
Meta descriptions
Blog posts
FAQs
Social media captions
Video scripts
Ad copy
Email copy
For writers that create any of this content, Jasper AI will help you crush creative blocks, churn out content quickly and help you improve your productivity.
Our Jasper AI review talks more about how this AI writer works and why it's the best AI writing tool for your needs. But, you can skip it and just go straight for the free trial with 10,000 words to get a feel for how you like it.
2. Anyword
Anyword AI is an AI writer and text generator. This AI writing tool helps writers create content that converts. Anyword is geared toward the marketing community, including copywriters, which are writers that specialize in sales-driven content creation.
Performance marketing content
Content marketing
Copy intelligence
Data-driven editor
Blog post wizard
Anyword uses generative AI technology to create, improve, and score content. It takes the guesswork out of your content with this score-driven model, helping you create the best variation of copy possible.
Start for free and try Anyword to see how this tool works.
Take a look at our Anyword review for the full lowdown.
3. Copy AI
Copy AI is an AI-powered writing assistant that helps people create content more easily. It offers users a streamlined, easy way to create content for:
Social media copy
Blog posts
Product descriptions
Emails
With the help of Copy AI, writers, and marketers can streamline the content creation process, making content more engaging and better converting, doing it quickly and efficiently with this AI writer.
You can start with Copy AI free for the first 2,000 words.
Our full Copy AI review will tell you all you need to know.
Best Writing Assistant Software for Business
Business owners have different content creation needs than writers and other industry professionals. Often, a multifaceted AI writer is needed for entrepreneurs to serve their many needs. Here are our best picks for the best writing assistant software for business.
4. Content at Scale
Content At Scale is an SEO-driven AI writer that creates long-form content. So you get long-form, SEO-optimized, original content that passes AI detectors. You can go from keyword to blog fast, creating a 2,600+ word blog post that's fully optimized.
Keyword to blog
Existing URL to the blog
Podcast to blog
YouTube to blog
You can take an existing URL, podcast URL, or YouTube URL and plug it into Content at Scale to produce an article that you can use to embed into your website or use that repurposed data in other ways.
Visit Content at Scale to learn more.
5. Shortly AI
Shortly AI calls themself your AI writing partner. They help you beat writer's block to create headlines, blog posts, articles, social media posts, and other content your business needs.
This is one of the only unlimited AI writers you'll find online. You can write as much as you want with no credits but there is a daily limit in place, which they say shouldn't be reached under the normal use of Shortly AI.
You get original content that passes plagiarism checkers.
6. Writesonic
Writesonic is an AI writer for many purposes, from SEO-optimized blog posts to ads, emails, and more. It works for a variety of different businesses, from writers to marketers, e-commerce stores, and more.
Here are some of the different ways you can use Writesonic:
Blog posts
Essays
Quora answers
Google ads
Facebook ads
This is one of the only AI writers to offer AI-driven editing tools like their paraphraser, expander, and shortener so you create the perfect copy for your business.
Check out Writesonic's free trial. It includes 10,000 words so you get a good test drive of the tool.
Our Writesonic review will answer any questions you have.
7. Rytr
Rytr is an AI writing assistant and content generator designed for business content like email writing, product descriptions, taglines and headlines, and more.
Here are some additional ways you can use Rytr in business:
Interview questions
YouTube descriptions
Social media bio
Blog posts
Facebook ads
Millions of users trust Rytr to help them create content online. This multifaceted AI writing tool is perfect for entrepreneurs. From outlining blogs to pitching business ideas, creating calls to action in your sales copy, and more, Rytr can help.
Pick up Rytr here or learn more from our Rytr review.
Best Writing Assistant Software for Free
What's better than a free AI writer? These are some of the best free AI writing tools you can find online.
8. ChatGPT
ChatGPT powered by OpenAI is one of the fastest-growing applications in history, reaching one million users in just 5 days and hitting 100 million users in 2 months. This AI chat tool uses GPT3.5 architecture and is designed to generate human-like responses.
You can ask it to do things like:
Pretend it is an author and write a preface for novel writing
Design a 2,000-calorie a day meal plan
Define a complicated term
Write an SEO meta description
While ChatGPT does not do long-form content writing, you can use a variety of prompts to get enough content to piece together a long-form article or blog post.
You join ChatGPT for free and can start using it immediately upon acceptance. They have an upgraded plan that gets you access during high-demand times, faster response time, and priority access to new features.
Check out ChatGPT to learn more.
9. Article Forge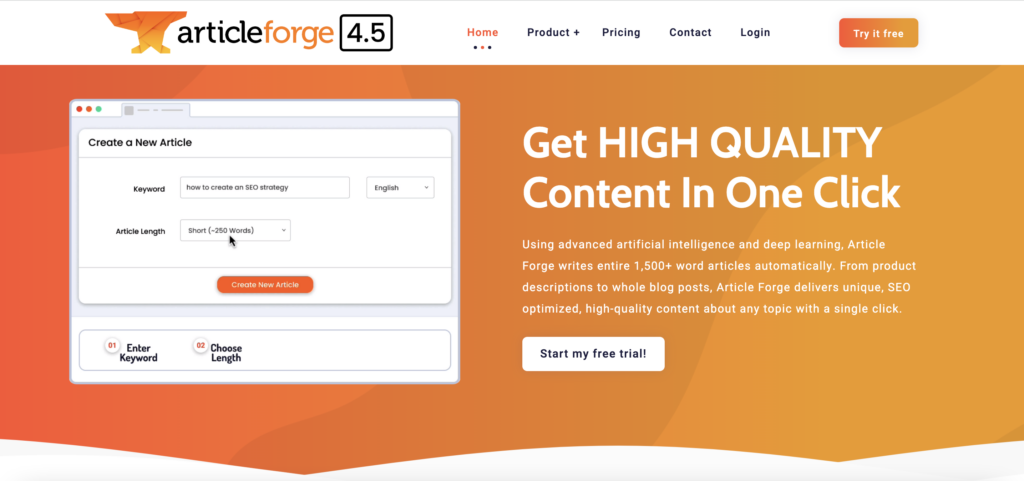 Article Forge is an AI content writer. It creates unique, SEO-optimized long-form articles. It's one of the most accessible AI writing assistant software tools to use. You literally fill out a few fields and click to have the AI writer create the content in front of you.
Supports writing in 7 languages
SEO automation
Rich content
Start Article Forge's free 5-day trial to test it out!
Best Writing Assistant Software for Sales
The best AI writing software for sales is about using a sales-driven AI content generation tool for sales pages, video sales letters, sales funnels, scripts, and more. Here's our top pick…
10. Funnel scripts
Funnel Scripts is software that helps businesses create copy for sales funnels, marketing campaigns, and their website.
Sales letters
Ads
Emails
Webinar slides
Scripts
Funnel Scripts uses your input to create content. It has templates and scripts available for all your business needs. One of the creators behind Funnel Scripts also built Clickfunnels, the funnel-building software for businesses. His name is Richard Brunson, and he's one of the biggest names in digital marketing.
His partner Jim Edwards is also a big name in the digital marketing scene and a well-known copywriter.
Read more about Funnel Scripts.
Who Should be Using Writing Assistant Software?
Writing assistant software should be used by people who have content needs. From entrepreneurs to writers, podcasters, e-commerce businesses, and more.
Content creators, bloggers, and journalists can use AI writers to help stop creative writer's block.
Marketers use AI writers for creating compelling sales-driven content for their marketing campaigns.
Students can use AI to help them research their work and ensure their writing is error-free.
Business owners use writing assistant software for many purposes, from copywriting to preparing interview questions for staffing, creating business proposals, business pitches, and more.
What is the Best Writing Assistant Software?
The best writing assistant software can be different for everyone. Ultimately, it's the software that offers all the features you need, whether it be templated email copy, AI-assisted product descriptions, or a readability enhancer, etc.
The right writing assistant software will help you, not slow you down or make your process less efficient. It should offer multiple features and the services you're looking for to meet your needs.
That's why we our top choice for AI writing software overall is Jasper AI. They are top-rated, trusted, and you can try them out for free and get 10,000 words free with our link.
For writers, go with Jasper AI.
Business owners can't go wrong with Rytr.
For sales copy and sales-driven content, Funnel Scripts is great.
What's great about many AI writing software platforms is that most usually offer a free trial. So, you can sign up and test drive the software to experience it firsthand and see how you like it.
So, that's an option to help you make this choice.
Which AI writing software are you going with?