Ever wish your thoughts could magically transform into captivating words on a page? That's exactly what ghostwriting services do.
They're the unseen magic behind your written masterpieces, providing your business with quality content that captivates your audience and drives conversions.
From books to blogs, emails to social media posts, ghostwriting services provide businesses with a range of services to elevate their brand and reach new heights.
But with so many ghostwriting companies vying for your business, how do you find the right fit for you?
Here's a list of the top 10 ghostwriting services to help you create compelling content and take your business to the next level.
10 Great Ghostwriting Services For Your Business
This list of 10 highly recommended ghostwriting services will give you a great place to start your search.
Make sure to read reviews, schedule a free consultation if possible, and ask about a non-disclosure agreement to make sure your work is protected.
Taking the time to make the right decision can have a massive impact on the success of your business, so don't skip these preliminary steps when choosing a ghostwriting platform.
1. Upwork
Upwork is a long-standing go-to for professional ghostwriting services. This company is top in the field when it comes to freelance offerings and is well-known for supporting thousands of entrepreneurs with content writing. With an extensive network of writers specializing in a range of industries, you're sure to find the perfect fit for your project.
Upwork is well known for its:
Diverse pool of professional writers
Freelancers with expertise in various industries
Budget-friendly options
International ghostwriters for hire
The process is straightforward: post a job, receive applications, and choose your writer.
So, if you're seeking high-quality, professional ghostwriting services tailored to your needs, Upwork comes highly recommended.
It's a smart move for those aiming to elevate their content without the heavy lifting on a platform they can trust.
---
2. Fiverr
Fiverr is a robust platform for sourcing expert ghostwriting services. Whether your book idea is just taking shape or you need content creation for your business, Fiverr's experienced team of writers can help.
How does Fiverr work? It's a simple, straightforward process. You can view a range of "gigs" or services, from which you can choose one that suits your needs.
While many offerings start at 5 dollars, you can find higher-end services for your business.
This means that the 5 dollar offerings from the best ghostwriters will be trial or sample pieces, which allows you to gauge the writer's style and quality before committing to a full project.
You can expect:
Quick turnarounds on "gigs"
A wide range of writing specializations
Affordable pricing for all budgets
With specialists in various industries, you can find the perfect fit for your project. From a marketing strategy write-up to crafting fiction, their ghostwriting service caters to diverse needs. And if you need more than writing, Fiverr is a one-stop shop for digital services.
---
3. Writer Access
Writer Access, a highly recommended professional ghostwriting service, is your ticket to conquering content marketing.
This top-notch platform boasts:
Customizable monthly plans with added workflow tools
AI-powered writer search matching your tone and style
Star rating system for budget-friendly talent selection
Advanced search features pinpoint 200+ skills, ensuring the right talent for your project. You get flexible pricing options, making your professional book-writing dream achievable.
The platform allows direct content publishing and provides access to image libraries like Getty and Shutterstock.
Additionally, you can optimize content with SurferSEO in Writer Access. And if you're not already using this program to optimize your content, you should! It saves time and money and turns your writers into marketers.
Check out our Surfer SEO review to learn how to add this to your ghostwriter's workflow.
---
4. Verblio
Renowned for its professional writing services, Verblio is a longstanding go-to platform for ghostwriting at scale. It's designed to bolster your business and save you time on content creation.
The platform is known for:
Extensive network of skilled writers
Transparent, fixed pricing for easy budgeting
Rigorous measures for quality assurance
Select a subscription plan that suits your needs and receive a set number of articles monthly. Whether you're writing a book or need SEO-friendly blog content, their professional ghostwriting services are a perfect fit.
Beyond blog posts, they also handle white papers, press releases, and eBooks.
---
5. The Urban Writers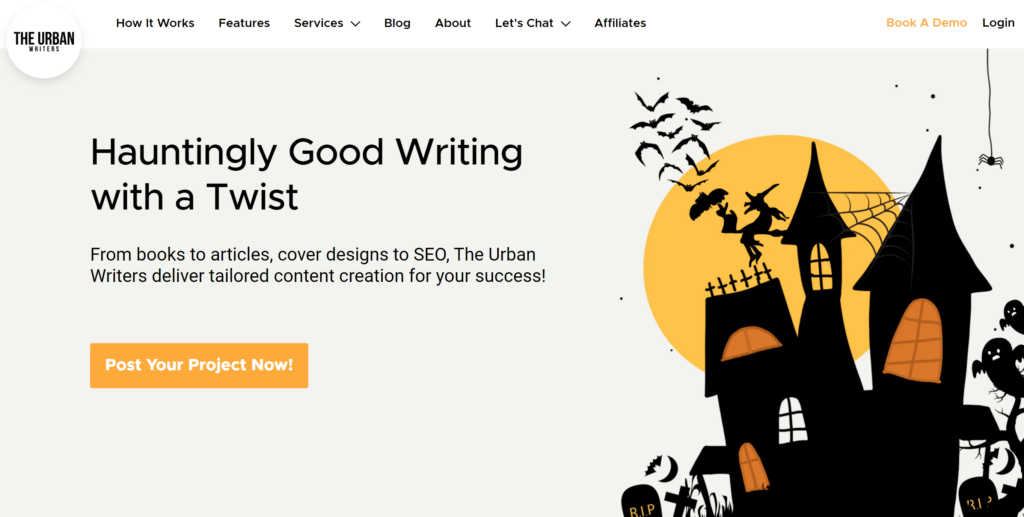 The Urban Writers, a dynamic ghostwriting agency, could be your pathway to quickly producing high-volume content. Catering to a range of content needs like fiction, non-fiction, SEO articles, and children's books, they offer a user-friendly platform to connect with skilled writers.
Users can expect:
Live order tracking
A customizable freelancer search tool
Team-building feature for preferred freelancers
However, their ghostwriting service costs are surprisingly low, which may reflect in the quality. This platform is ideal if you're dipping your toes into the self-publishing process and want to self-publish a book on Amazon or if you need bulk content.
The ghostwriter remains anonymous during the project, managed by a seasoned project manager. With over a decade in the publishing industry, The Urban Writers' writing team offers an efficient ghostwriting process and flexible payment methods.
---
6. Scripted
Scripted is a dedicated platform for professional ghostwriting services, giving you access to a vast network of industry-specific writers. Ideal for businesses looking to save time on content creation, it operates on a monthly subscription model.
Scripted offers:
Extensive range of content types: from blog articles to social media posts
Managed services for comprehensive project handling
A large pool of highly vetted native English speakers
With their additional monthly service fees, you can even have your remote writing jobs fully managed by their professional ghostwriter team. It's a great ghostwriting company for those with a specific niche they're looking to target with high-quality and well-researched content.
---
7. Nexus Ghostwriting
Nexus Ghostwriting is a premium provider of professional ghostwriting services, aimed at both individuals and enterprises. It's perfect for those seeking to become a published author without investing time in writing.
Their creative team has contributed significantly to the literary world, with many notable clients vouching for their excellence. Whether you need book ghostwriting or editing services, their professional ghostwriters deliver top-notch content.
And with their publishing services, you can smoothly navigate the book publishing process. Nexus Ghostwriting comes highly recommended for its comprehensive solutions.
Here are some key characteristics of Nexus Ghostwriting:
Expertise in fiction and non-fiction ghostwriting
Specialized memoir, biography, and autobiography writing
Professional editing and book publishing services
Nexus simplifies the often-complicated publishing process with its comprehensive publishing services.
This ensures a seamless journey from manuscript completion to becoming a published author.
Their creative team of writers who are renowned in the literary world are backed by numerous satisfied clients and a wealth of experience. This is a great choice for personal brands looking to work with seasoned writers to create the best quality content possible.
---
8. Fiction Ghostwriting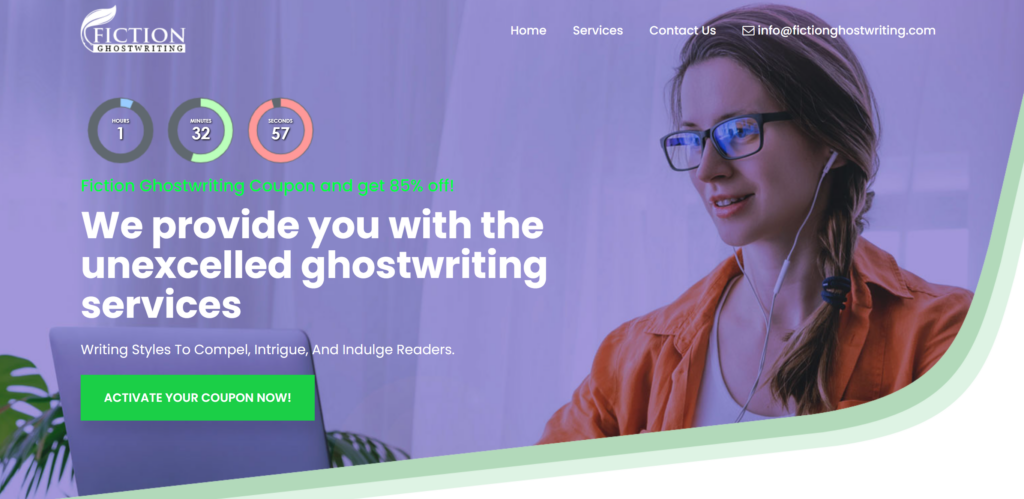 Fiction Ghostwriting is a specialized ghostwriting company with a team of professional writers catering to diverse niches. If you're considering writing a book and wondering how to write a book with no experience, their services can save you significant time and effort.
They specifically focus on certain tones and literary techniques, making this a great choice for writers with a unique style.
You can expect:
Expertise in novel writing with engaging plots
Proficiency in urban writing, showcasing culture effectively
Specializations in non-fiction ghostwriting, connecting with the author's experiences
Seasoned author base skilled in crafting mystery content and dynamic characters for thrill-seekers
This company is ideal for authors aiming to break into the publishing industry without the hassle of content creation.
From book ghostwriting to specific genre writing, their versatile writing team can help you get your book ready for publication.
---
9. Vox Ghostwriting
Vox Ghostwriting is a professional ghostwriting service provider, renowned for its diligent writers adept at producing quality content under tight deadlines. They're an ideal choice if you're looking to improve your business by outsourcing content creation.
A few key features include:
Comprehensive services: editing, proofreading, and publishing support
Book design support for those considering self-publishing
Expertise in journalism, songwriting, celebrity biographies, and business-specific writing
Their experienced ghostwriters conduct extensive research to understand your target audience and create engaging content that resonates.
With their professional experience, they can help streamline the entire writing process, including creating attractive cover designs for your book.
---
10. Writing Studio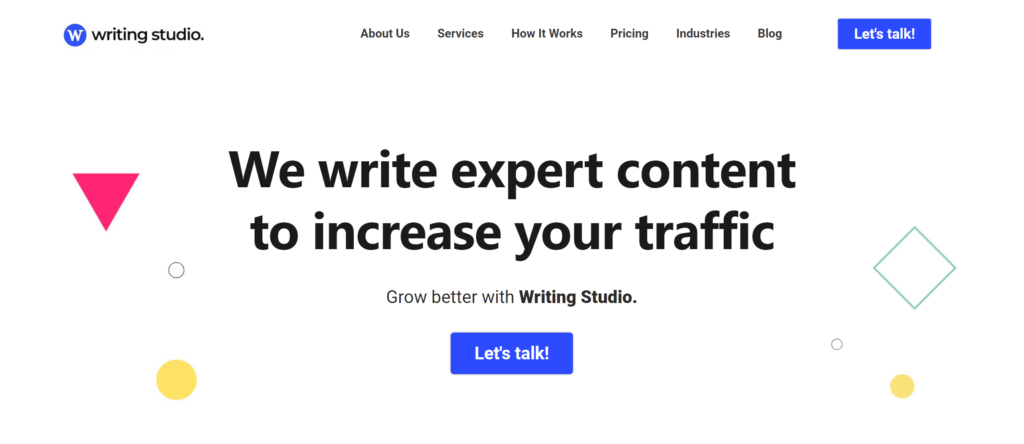 Writing Studio is a highly recommended professional ghostwriting service, offering a wide range of writing solutions such as articles, SEO content, white papers, and eBooks. Perfect for businesses seeking regular content creation, they're highly recommended for their reliable service.
Some perks of working with the Writing Studio team include:
Tailored content to meet your needs and goals
Detailed discussions to confirm topics, payments, and delivery schedules
Delivery of ready-to-publish content
They stay updated with current market trends, ensuring your content is relevant and engaging. The process is hands-off; you get full credit for the content while they do the heavy lifting.
If you're looking to improve your business through quality content, Writing Studio's services are worth considering if you're looking for regular, high-quality content creation at a fair price.
The Bottom Line: Top 10 Ghostwriting Services
In the grand orchestra of your ideas, ghostwriting services are the invisible conductors, bringing harmony to your thoughts and words. Imagine the symphony of success your story could play with the right notes struck at the perfect time.
The best part is that there's an option out there for all types of content, levels of expertise, or budgets, so you can get in on its benefits.
So, if you've been on the fence about outsourcing content production, go ahead and get started. The sooner you do, the sooner you can share your stories with the world.