As an entrepreneur, you know that time is money. So why waste it dealing with emails from a dozen different accounts? Using the best email forwarding service, you can easily control your inbox and manage all your messages in one place.
Whether you're looking for something free or premium, there are plenty of great options out there. From advanced filtering tools to automated responses, the best email forwarding services provide powerful features that make managing multiple accounts easier than ever before. This article will look at some top contenders and help you decide which is right for your business needs.
11 Best Email Forwarding Service Options For Entrepreneurs
If you want some help with your productivity, this list will help!
1. Simple Login
Simple Login is an open-source email forwarding service that provides users with online privacy and security. You can create email aliases with custom domain names to subscribe to different services instead of providing your actual email address.
With Simple Login any email received on your alias will instantly be redirected to your original inbox. This allows you to compartmentalize and prioritize emails that are important to you. You can also create a reverse alias and reply to emails without leaking your identity.
You can opt for a premium or free email forwarding service on Simple Login. The features included in the free version are:
10 aliases
Unlimited Reply/Send from alias
1 mailbox
Manage aliases through Browser extensions of Chrome, Firefox, and Safari
Easy to access from iOS, and Android App
Secure your account with Time-Based One-Time Passwords (only you can access the emails)
If this doesn't fulfill your business needs, you can enjoy the premium service for $30 a year. The following features come in addition to the free service:
Unlimited aliases
Unlimited custom domains
Initiate a new email from your alias – create a reverse alias
5 subdomains
Unlimited number of mailboxes
PGP Encryption
2. MailGun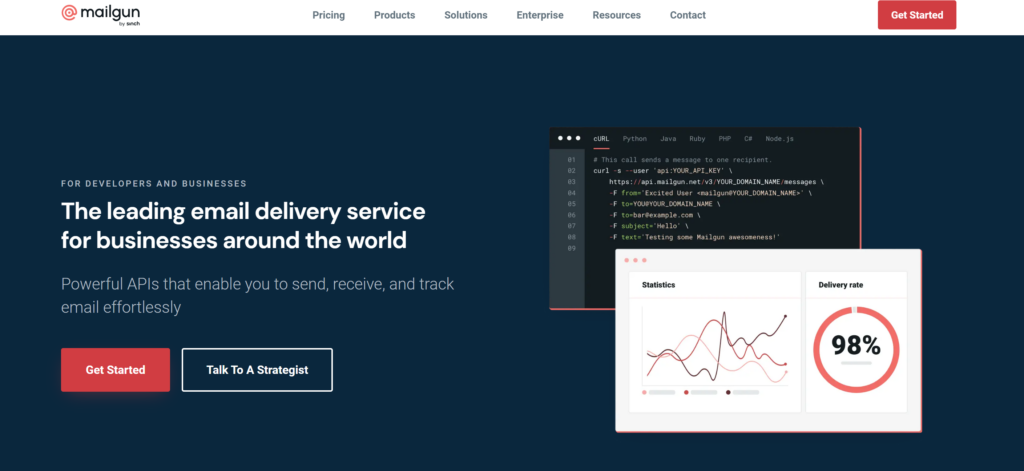 Founded in 2010, MailGun is a transactional email service provider designed for software developers. It uses APIs (Application Programming Interfaces) to send, receive and track bulk emails; an email marketing feature that is not present in email clients like Google and Outlook.
Mail Gun aims to remove fake and invalid email addresses from your email lists so that you can efficiently send your marketing messages to the right audience and increase conversion rates.
It is simple to register to the site by activating your account and adding a few DNS records. Then, you can use templates to send and forward emails and gather insights into email performance.
Mail Gun provides a free trial service for a month. You can use the service to send 5000 free emails, access email tracking and analytics, detailed documentation, and 24/7 ticket support.
Once the trial ends, you can subscribe to different premium plans, with the Scale plan offering 100,000 emails for $90/month. It includes the following features in addition to the basic trial plan:
5000 email address verifications
Live Phone Support
Instant Chat Support
Dedicated IP Pools
30 days of Log Retention
3. Gmail
With 1.8 billion active users worldwide, Gmail is a free email forwarding service powered by Google. The easy format and accessible account settings make it a popular choice for individuals and businesses.
Forwarding emails from your Gmail account is effortless. However, Gmail doesn't have the option to create an email forwarding group to send emails to multiple email accounts at once.
You can, on the contrary, set up an automatic forwarding service to forward chosen emails to a particular email address.
Entrepreneurs can also use Gmail to set email filters and sieve through thousands of emails. It saves time and automatically forwards filtered messages to your destination email address.
Gmail values privacy and verifies the destination account before forwarding any emails. This prevents any third party from accessing your emails and personal data.
Need to forward multiple emails at the same time? Look no further. You can use the Multi Email Forward Extension on the Chrome browser to forward up to 50 emails.
4. Namecheap
Namecheap is a domain hosting website offering users a free email forwarding service.
You can use Namecheap to create a personalized email address for your domain name and exhibit professionality to your clients. Any incoming emails are forwarded to your chosen email address for free.
The website also gives the feature to create 100 forwarding email addresses on BasicDNS, PremiumDNS, and FreeDNS name servers.
5. Forward Email
With a majority of users regarding it as the best email forwarding service, Forward email is an open-source platform launched in 2017. It aims to provide online security to businesses, developers, and creators where it does not store any emails or chat logs.
Members can create unlimited disposable email addresses that direct emails to their chosen account and help keep them safe from phishing and spam messages. Moreover, you can send messages as an "alias" from your regular inbox.
Another interesting thing to note is that Forward Email declares that they will not increase their prices ever! This makes it worth checking out.
The free plan provides unlimited email addresses and aliases along with:
Spam protection
50MB attachment limit
catch-all email addresses
Works with Gmail, Outlook, and more
Multiple recipients per alias
You can also go for an Enhanced plan for $3/month or choose the Team plan for $9/month if you are a part of an organization. Premium features include:
All features of the free plan
30-day refund guarantee
Unlimited team members
Custom spam filters
Custom recipient verification
Priority support requests
Manage and import aliases
6. Mailtie
Mailtie is a free email forwarding service created by Devro Labs. The makers are committed to providing innovative products and services to increase email productivity.
Through Mailtie you don't need to set up an account; add a few TXT and MX records to your DNS management system, and you're all set.
The email forwarding services available on Mailtie include:
Forward emails to one or multiple email accounts
Easily Forward emails to another domain name
Forward a single email address to single external or multiple email addresses
Set auto response to single or all emails
Disable an email address from being delivered
7. Pobox
Launched in 1995, Pobox provides solutions to users who are passionate about their privacy and emails. It lets you set smart filters to protect your account from spam trigger words and fraudulent messages, resulting in a "lifetime email" for your domain or one provided by Pobox.
One of the distinguishable features of Pobox is the Mailstore. It is a Pobox mail inbox that offers 50GB of storage. You can access this with webmail, IMAP, or POP. The only downside is that it can only forward emails to 5 destinations at once.
Pobox offers three plans: Pobox Basic for $20/year, Pobox Plus for $35/year, and the most popular option Mailstore for $50/year.
The Mailstore plan provides:
50GB of storage
Upto 20 aliases
Forward mail as an alias – encourages easy, anonymous email forwarding
Customize spam filtering
Easy import of existing mail
Plus, all the features of Pobox Basic and Pobox Plus
8. DuoCircle
DuoCircle provides users with a comprehensive set of email services to increase productivity and ensure that your message reaches the intended audience.
Even though the service charge is a little pricey, the benefits outweigh the cost for any business enterprise. You can choose from a 3-month plan for $32, a 6-month plan for $76, and a yearly plan for $135.
The email forwarding services include:
Unlimited number of email aliases
Use each alias to forward emails to 10 other email addresses with no limitation in the message volume
Send emails to multiple recipients using forwarding groups
Forward emails seamlessly on other hosted email systems such as Gmail or Office 365
Activity logs – to verify the email is forwarded to the destination address
Spam filtering
24/7 chat, email, and phone support
9. ForwardMX
The organization ForwardMX is a Singapore-based company dedicated to providing the best email-forwarding solutions for your business.
It offers 3 different plans with a slight variation in the number of domains and domain aliases allowed per account:
Starter at $60/year
Pro at $99/year
Business $179/year
However, with each plan, you can forward an unlimited number of emails, add unlimited team members, and enjoy SMTP access to send emails.
10. ImprovMX
The popular ImprovMX promises users a "lightning-fast" email forwarding service. You can send mail to multiple addresses and set up a "catch-all" alias. This ensures you do not miss a single important message, and everything is redirected to your domain.
The service is best suited for businesses that manage small projects. They can easily extract benefits from the free plan, allowing 25 aliases/domains with a 10MB attachment limit.
The Premium Plan at $9/month and Business Plan at $49/month provide:
Priority support by chat and mail
Greater number of domains and aliases per domain
Faster and priority delivery
50MB attachment limit
A high number of emails sent per day
11. EmailForward.MX
The popular company EmailForward.MX is a family-owned Singapore-based business that offers a secure, fast, and easy-to-manage email forwarding service. You must only change a few MX records and start receiving and forwarding emails.
This brand values privacy and uses two-factor authentication as an additional layer of security to ensure the messages are delivered to the desired inbox.
The blackhole feature further adds to the authenticity of the service and catches all the email aliases that do not forward.
EmailForward.MX is a reasonably charged service and offers 3 premium plans. The starter plan starts at $5 a month and allows 25 domains and up to 5 domain aliases.
You can also send an unlimited number of forwarded emails. There is also no restriction on the file types and attachments you can send, making it a suitable choice for most businesses.
The Bottom Line: Best Email Forwarding Services for Entrepreneurs
Email forwarding services have become integral to any business's digital communication strategy. With the right email forwarding service, entrepreneurs can save time, money, and resources while ensuring their messages are delivered securely to their intended recipients.
The services mentioned here provide a reasonable return on investment with great features like unlimited aliases, domain aliases, priority support by chat and email, spam filtering, and two-factor authentication.
Choose the best fit your business requirements and get going on your emailing journey!