Are you educated in machine learning technologies and want to know the best way to make money?
Or maybe you want to learn more about ML because you see its potential as an entrepreneur.
Then you'll love this post.
We're looking at 11 ways to make money with machine learning.
But this list isn't a bunch of arbitrary ideas like "become a machine learning engineer".
That's not helpful.
Instead, you'll get tangible examples you can use to get involved in the machine learning industry.
Let's dive in.
What's the Difference Between Machine Learning and Artificial Intelligence?
Machine Learning (ML) is a subset of Artificial Intelligence (AI) and both play a big role in today's digital economy.
Even though they're related to each other, they differ in many ways.
To put it simply, AI is like a computerized brain that can do similar things that humans can do.
Like make decisions, solve problems, follow a set of rules, and understanding human language.
ML, on the other hand, learns patterns and makes predictions based on the data it's given. This enables computers to learn and improve from data without being explicitly programmed.
How to Make Money with Machine Learning
According to Fortune Business Insights, the machine learning industry is expected to grow from $21.17 billion in 2022 to $209.91 billion by 2029.
This opens up new opportunities and a promising future for businesses and professionals who embrace its capabilities.
Here are 11 ways to capitalize on machine learning in your business or career.
1. Teach Machine Learning on YouTube and Monetize the Channel
YouTube is home to tons of creative people who share their skills in every topic imaginable.
And machine learning is no different.
Look at Siraj Raval for instance. His channel now sits at 745,000 subscribers and receives up to 50,000 views per day.
The channel is centered around machine learning, artificial Intelligence, science, and mathematics.
Some of Siraj's popular videos include:
I Built a Trading Bot with ChatGPT
Learn Machine Learning in 3 Months
How to Make a Prediction – Intro to Deep Learning #1
If you have an interest in machine learning or already know more than the average person, then a YouTube channel could be your preferred monetization method.
Start by finding other channels like Siraj's and make a list of all their top-performing videos.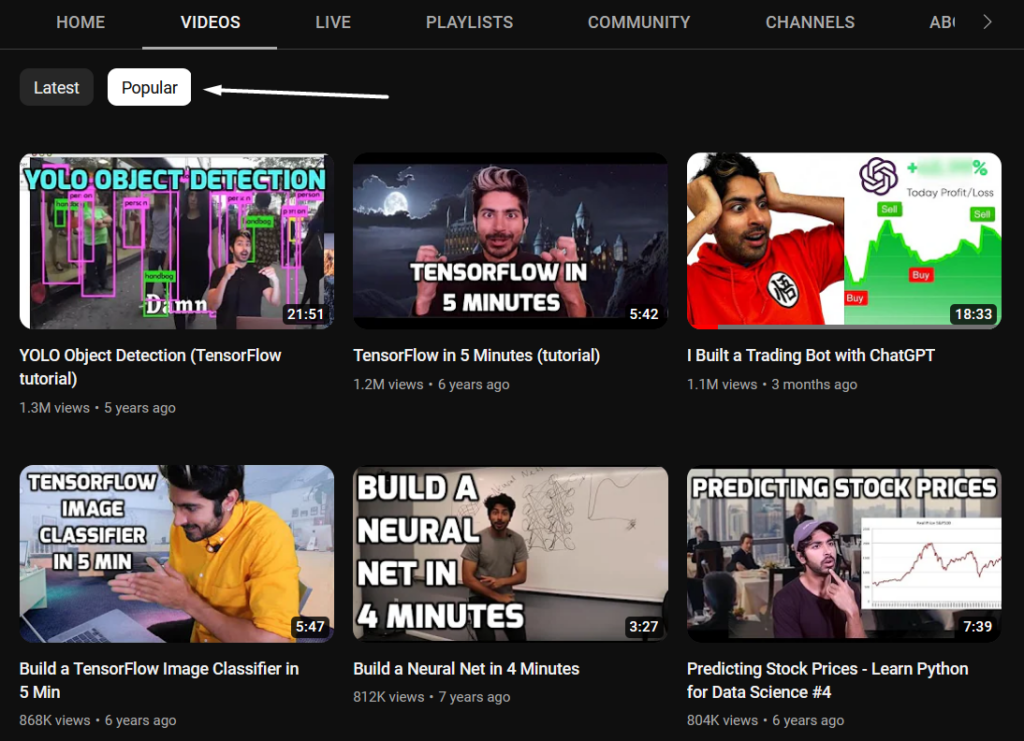 Upload similar videos but with your own twist. Post consistently until your channel reaches the monetization threshold (4,000 hours of watch time and 1000 subscribers).
Then you can apply for the YouTube Partner Program and make money with ads.
2. Develop an ML-Powered Mobile App
Machine learning has become a standard in today's most popular mobile apps, from social networking and dating algorithms to health and fitness recommendations.
Social media and dating apps will use machine learning to analyze user profiles for personalized ads or suggest potential dates.
Other apps may use chatbots and AI assistants to gather data to provide better experiences.
If you like the idea of developing a mobile app powered by machine learning, here are a couple of suggestions:
A personalized fitness trainer could create tailored workout plans based on the user's diet, activity, and mood.
The built-in algorithm would offer real-time feedback by tracking the user's progress.
Another idea that ties in nicely with this one is a smart meal planner. The app could analyze the user's contents of their fridge and recommend healthy meals based on their preferences.
This type of app could learn eating habits and offer healthier alternatives to get the user on track to reach their goals.
3. Self Publish a Book on Machine Learning
This machine learning book on Amazon has thousands of 5-star reviews and is now in its third edition.
And there are dozens of other ML books available.
If you have extensive knowledge of machine learning, why not self-publish a book on Amazon? This article breaks down 23 steps to success with self-publishing, but here's a quick rundown.
First, do some research on the current books available on Amazon. You'll need to know of a specific topic within machine learning you want to focus on.
Think of niching down a bit and choose a topic that would be valuable to the market.
What you don't want is to create something too generic or regurgitate what's already available.
Next, create a compelling book title that will wow potential buyers. Make it stand out so much they can't say no.
The third step is to outline your book. Check other books' table of contents and other popular articles online. You can even check Udemy courses to see what they include.
Then, you can start writing. This will take some time, but stick with it and try to write every day. Check Amazon reviews to see what readers like and don't like in other books.
The final steps are to get a proofreader to edit your book and get it published through Amazon KDP.
You can read our post on how to self-publish on Amazon KDP for more details.
4. Start a Machine Learning Blog and Monetize with Ads
A lot of people think that blogging is dying out, but with the right blog content strategy, it can be extremely lucrative.
They're also great for beginner entrepreneurs because you only need a domain name and web hosting.
However, you'll need to know your stuff about machine learning if you want to create content on the subject.
Or at least be interested in it and teach people as you learn.
It could also be a great venture to pair with a YouTube channel.
You can either write an article and then turn it into a YouTube video or create a YouTube video and transcribe it into a blog post.
That way you're killing two birds with one stone.
How will you monetize?
Initially, you could offer consulting or services in the field of machine learning.
Then, you could earn money from display ads.
Eventually, you would be able to sell online courses and market them to your blogs traffic and email list.
A blog is an excellent way to make money, but you've gotta be in it for the long haul.
To get started with this method, read our post on how to start a blog.
Or if you'd like to follow along with a video course, be sure to check out The Affiliate Lab by Matt Diggity.
5. Create a Web App
Web applications are a great way to make money online. If you've got the programming skills, this can be a lucrative business model.
Better still if you incorporate machine learning into the mix.
Plenty of sites use machine learning at their core to learn user behavior and provide personalized suggestions.
Think of Netflix and Spotify.
The algorithms built into these applications analyze users' consumption, then recommend other related content.
You might not create the next Spotify or Netflix. But it's very possible to develop something on a smaller scale.
For example, you could create an app where users add their favorite musicians, songs, and albums and get a list of similar music.
The same idea would work for movies.
Even a WordPress plugin like Link Whisper would fall into this category.
Link Whisper uses Natural Language Processing (NLP) to suggest better internal links between web pages.
With machine learning, the possibilities are endless.
6. Create a Chatbot
Chatbots have blown up in the last few years, and now that ChatGPT is here, it's easier than ever to create your own.
In January this year, Shawn Hill created a simple chatbot and sold it within 48 hours to Originality.ai for $10,000 (and a bologna sandwich). Here's the full story:
Other chatbots are used for customer service, sales, marketing, or collecting leads.
Whatever chatbot you create, you could drive traffic to it and monetize with display ads. Package it up as a WordPress plugin and sell it on CodeCanyon.
Here are some ideas to get you thinking.
Personal fitness coach chatbot: You answer questions about your fitness goals, and the chatbot recommends a workout and diet plan.
Travel planner chatbot: This chatbot could plan your entire trip, from where to go, which airport to travel from, where you'll stay, what you need to pack, and where to buy everything and book the flights.
Foreign language teacher chatbot: Helps you learn a new language by getting you to pair words with images and guides you to more advanced levels as you progress.
7. Start a Machine Learning Podcast
Launching a podcast on all things machine learning could be an excellent way to make money.
You could have guests on the show who work in the field of AI and ML and see where the conversation takes you.
Wildly successful podcast host Lex Fridman often talks about AI and its implications for humanity. His YouTube channel alone has amassed close to 3 million subscribers and over 422 million views.
Once the podcast starts to pick up traction, you'll be able to get paid through sponsorships.
Some of the sponsors of Lex Fridman's podcast include home security, VPNs, MOOC platforms, and even project management tools.
If you want to learn more on this topic, be sure to read our podcasting for business article.
8. Apply for Machine Learning Jobs on Upwork
The average hourly rate for ML jobs is between $25-$50 on Upwork.
And there are currently 1,430 machine-learning jobs available.
Take a look at this job, for example: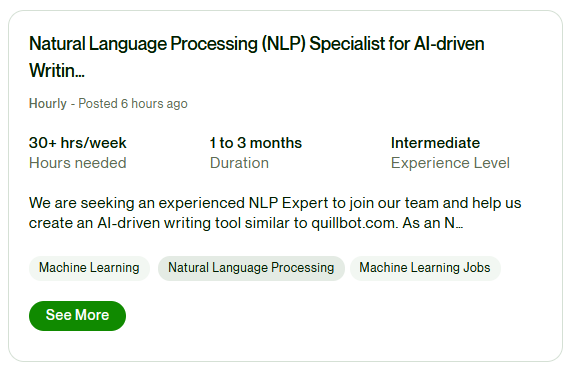 This company is looking for a Natural Language Processing (NLP) Specialist for an AI-driven writing tool, similar to Quillbot.
If you have the skills and qualifications, then a job like this will be perfect for making money with machine learning.
You'll get hands-on experience and be able to showcase the jobs you've worked on in your Upwork profile.
The best way to build up your reputation on Upwork is to start with smaller jobs and charge lower rates.
You'll get positive feedback and reviews, which will also increase your visibility on the platform.
You can gradually increase your prices as you build a reliable name for yourself.
9. Create and Sell a Machine Learning Course
Selling a course is another great way to make money with machine learning.
And if you're already teaching machine learning through a blog or on YouTube, then why stop there?
A quick look at Udemy reveals that people are already successful in selling courses in the ML space.
But how can you make your course stand out from others that are already available?
The first step would be to do some research. You'll need to know what problems people face when trying to learn about ML and how you might be able to help them.
Instead of creating a course that covers everything, you could teach people how to develop specific projects.
Maybe start getting involved on social media and share free content to build an audience.
Once you know what your course will cover, create a list of all the lessons and start recording them through slides and screencasting software.
You can then sell your course on Udemy or your own website. Market your course through blogs, YouTube, or social media.
10. Join a Startup or Start Your Own
Joining a startup can be a great way to make money in the machine learning industry.
Or, if you prefer the entrepreneur route, you could start your own startup.
Either way, you'll gain a lot of experience and increase your chances of more income in the future.
To start your own startup, you could choose any one of the ideas in this list and turn them into a thriving ML business.
But to join a startup that's already established, you can follow these simple guidelines:
Build your portfolio to showcase your work and level of expertise
Network with other professionals at conferences and workshops. You can also connect with people on LinkedIn to find potential job opportunities
Research startups you're interested in that align with your skills
Spruce up your resume to highlight your experience and expertise
11. Become a Freelance Writer for AI Blogs
Writing about machine learning for ML companies or AI blogs can be a super quick way to make money in this field.
You could start publishing ML content on Medium or your own WordPress blog.
This will build up your portfolio for companies to see your ML knowledge level and writing style.
Also, follow popular AI companies that have blogs and read their content. Get a feel for the type of articles they are publishing.
Then, to find freelancing jobs, you have a few options.
First, look on the Pro Blogger Jobs board to see if there's anything available. These tend to be more permanent and ongoing jobs.
For more temporary work, you can sign up to Upwork and bid on writing jobs you're interested in, build up your portfolio, and increase your fees.
Another great site to find writing jobs is Facebook. There are plenty of groups you can join to see if any ML positions are available.
FAQs
Here are some answers to frequently asked questions regarding making money with machine learning!
Is Machine Learning High Paying?
Yes. A machine learning engineer's average salary is $153,151, with a minimum of $87K and up to $278K.
How Hard are Machine Learning Jobs?
Machine learning is no walk in the park. You have to be dedicated and committed to learning and evolving as the technology progresses.
That said, those who find this topic interesting will likely find it easier than most people, as it requires a certain type of person.
How do I Start an AI Business?
First, find a problem that can be solved with AI and machine learning. Then start building an audience to see if your idea can be validated.
You can bootstrap the idea yourself or secure venture capital if you have experience with this.
Then start building something simple or an MVP (Minimum Viable Product). Launch it to your audience, test it, get feedback, and make improvements.
Conclusion
There you have it. Now you know how to make money with machine learning, which will you go for?
If you're a beginner, you might want to try something like freelance writing or starting your own blog.
For intermediate-level learners, why not teach machine learning concepts on YouTube or even create a course.
And for the advanced players, you could develop your own product or join a startup.