Looking for the best wedding website builder?
A wedding website can be a great way to organize your guests and share important details about your special day.
Here are the best places to start if you want to build your own wedding website.
1. Minted
Perhaps not the first name to come to mind when thinking of weddings, Minted started off as a marketplace for independent artists.
Matching invitations and wedding stationery. Since Minted also sells physical products you can get a cohesive look by designing your wedding website with the same theme and artwork you use for things like paper invitations.
More than 1400+ template to choose from. With such a vast template library, you're sure to find a design that fits your aesthetic perfectly.
Unique designs. All of the artwork is designed by a team of independent artists, so you can create a website that's truly special.
Privacy settings not included in free plan. It's worth noting that privacy settings like password protection are an extra feature you will need to pay to access.
Have to manually link wedding registry. If you want to share your gift registry through your website you will have to link it manually.
Cost
Minted is FREE to use.
However, there are premium features and benefits that you can opt to upgrade to for $15. Additionally, if you want to work with a designer to create a custom wedding website design, original artwork starts at $270.
You get a custom URL for free for one year. If, after that, you want your website to still be accessible you will have to pay to renew.
Best for
Minted is one of the biggest names in wedding stationery and is growing bigger and bigger in the world of wedding websites. This makes it the best wedding website builder for couples that are set on matching their stationery to their website.
2. Zola
If you're planning a wedding you might have heard the name Zola come up when deciding where to register. You may or may not know that Zola also offers free wedding websites with a broad range of different designs.
Free password protection. Guests will need a password to access your site and see all your photos and details so you can keep things private.
Seamless registry integration. As long as you've registered with Zola you can link your registry on your site without guests having to navigate off-page.
Additional wedding features. With Zola you will also get access to their pre-screened list of vendors, paper stationery products like save the dates, and invitations.
Only integrates with Zola's own registry. If you find the Zola registry isn't right for you (keeping in mind they only ship to the US), you will have to manually add gifts to your site.
Limited design options. There are 300+ different designs to choose from but aren't very different from each other and there aren't a lot of choices when it comes to customizing fonts and colors or layout.
Cost
FREE! Or you can pay $14.95 for a custom domain.
Best for
Zola won't be for everyone, but if you want to build your wedding website for free, it's a great option. Ultimately though, Zola's wedding websites are primarily aimed at couples that are planning to or already have used Zola's registry.
3. The Knot
One of the biggest, most trusted names in weddings, the Knot is certainly a reliable place to start on your hunt for the best wedding website builder.
Trustworthiness. The Knot Worldwide is a reliable name in the wedding industry with thousands of reviews to back them up.
View hotel info from your dashboard. You can see which hotels offer discounted rates for blocks of rooms nearby your venue.
Social media photo gallery. You can create a photo album directly on your website, or pull photos from a Facebook album or Instagram hashtag to your site.
Privacy controls.  You can opt to set a password to protect your website and even hide it from search engine results pages.
Ads. The Knot gets away with charging nothing for their website builder by making up for lost income with advertisements. Unfortunately, you'll have to be prepared to face a barrage of advertisements in order to take advantage of their free service.
Cost
Good news! Wedding websites are free with The Knot, but you will have to pay $19.99 if you want to splurge for a custom domain.
Best For
The Knot is one of the best wedding website builders for just about any couple. They have a lot of different features included for free including the ability to sync photos with an Instagram hashtag or Facebook album. This means sharing photos of the big day is really easy as you can compile them all on your website instead of across social media platforms posted by multiple different people.
4. Joy
Joy is one of the few wedding website builders that actually started as a wedding website builder, with the aim of making the whole experience more personalized.
Multiple admins. Add multiple admins to your site so you or your partner can both work on it separately or even get some of the wedding party involved to help you get it running smoothly.
Guest tags. You can add tags to your guest list to easily filter them by certain aspects such as, "bringing kids" or "know from college" to make it easier to sort out your seating formations and other arrangements.
Password protect specific pages. You can password protect your whole site, but you can also choose to put a different password for specific pages.
Mobile app.  Joy has a dedicated mobile app so it's easy for your guests to do things like RSVP, check venue details, or upload photos right from their phone. They can also enable notifications to get immediate updates from you to make sure everyone is in the know.
Not all features accessible on the app. Things like RSVP tracking, or even making tweaks to your website design can only be done from the desktop site.
No extra wedding planning features. Because Joy is focused on wedding websites in particular, and are relatively new to the scene they don't have dedicated vendor lists or other wedding planning tools to take advantage of.
Cost
Joy is completely free and doesn't bombard you with ads! They make their money by earning commissions on wedding registry purchases. You can pay for a custom domain or buy your own and forward it to your Joy URL.
Best For
Couples whose main concern is finding a free wedding website builder will be happy with all the features that Joy has to offer.
5. Wedding Wire
A global marketplace for the soon-to-be-wed to find and engage with wedding vendors, Wedding Wire is available in 15 countries including the US. Their wedding website builder is just one tool amongst a host of wedding planning features.
Guests can browse accommodation on your website. Hotel deals and bookings can be made directly through your site with any available discounts for your wedding party.
Mobile wedding app. Plan everything you need to do while out and about by accessing your Wedding Wire dashboard directly from the dedicated mobile app.
Download your website to save forever. After the big day you can download your wedding website to your personal computer as a keepsake.
Can't edit in app. If you were hoping to design your wedding website on the go thanks to their mobile app, no such luck. You won't be able to edit your website unless you're using the desktop site.
Limited template options. Perhaps in the interest of getting your site up quickly this is a blessing in disguise, but there are less than 50 templates to choose from.
Cost
Like most of the top options out there, Wedding Wire is also free to use.
Best for
Aptly named, Wedding Wire, is a great option for couples that just want their website up fast. If you're not worried about all the bells and whistles, you just want your site live yesterday, you can design your own wedding website in minutes and move on to the next thing on your list.
6. Riley & Grey
Strictly specializing in gorgeous wedding website designs, Riley & Grey have a host of fashion and editorial-trained designers on their team.
Easily adaptable for an international wedding. Not only does Riley & Grey support multilingual sites, but you can easily make cultural customizations so your website is a true reflection of you as a couple.
Online RSVP. Easily track your RSVPs with an online RSVP form that can capture as little or as much information as you need and sync info with the built-in guest list manager.
Design-forward templates. Although there are less than 100 templates to choose from, they all have a true feel of a luxury wedding to them.
Paper suites are only available for some designs. Not all of their design templates come with coordinated stationery.
Limited design customization. The good news is Riley & Grey's templates are beautiful. The bad news is, you can't really tweak them at all as things like background, graphics, and fonts are pretty much locked in.
Cost
You can build and edit your site for free, but Riley & Grey charges $35/month to go live. You can bundle and save by paying for your site to be live for a full year for $240. It's worth noting that the price does include a full suite of paper products such as Save the Dates, invitations, menus, programs, etc.
Best for
The high price tag means Riley & Grey won't be for everyone. Weddings are expensive enough. But couples with the extra money to spend looking for outstanding customer service, including step-by-step guides to building their dream wedding website will find it at Riley & Grey.
7. Say I Do
Say I Do used to be totally free with no extra charges. The bad news is that they have since introduced paid plans. The good news is that they have also introduced a ton of new features.
Guest list management. Add your wedding guests from scratch or import from a preexisting spreadsheet, then add everything you'll need to know like dietary restrictions, plus ones, contact details, and more.
Integrate with Instagram. One downside of Say I Do is that there isn't an actual photo album feature. However, to compensate you can actually link your Instagram to your website and pull photos from there.
Support for multiple languages. Inviting an auntie that doesn't speak English? Say I Do has support for English, Spanish, French, Italian, Portuguese, and German.
Password protection costs extra. You will have to upgrade to at least the standard plan if you want to password protect your site.
Lack of advanced features. Extras that you might be looking for like song or video uploads, or a guest chat system aren't there.
Cost
Wedding websites are free for up to 85 guests.
Once you're looking to surpass that, you will have to upgrade to the standard plan which can be used for up to 150 guests and costs a one-time fee of $50.
To enable unlimited guests you can pay $72 for the premium plan which also includes a seating planner, online RSVPs, and separate event RSVP lists.
Alternatively, you could opt for their most expensive plan which costs $90 and includes things like wedding QR codes and hides the Say I Do logo on your website.
Best For
If you are willing to shell out a little bit extra, you do get a lot of wedding planning tools included that can help you stay on top of all the things you need to get done.
8. WedSites
What happens when you get a group of tech geeks and web designers together who want to build a wedding website? Wedsites, possibly the best wedding website builder out there in terms of ease of use and event management.
Multiple event management. When it comes to staying organized, being able to use your wedding website to keep track of guest lists for multiple events at different times can be a true life saver.
Live stream capabilities. A relatively new feature, you can now livestream your wedding straight through your website by embedding YouTube, Vimeo, or LoveCast.
Preferred language setting. With multilingual support, Wedsites goes one step further where a preferred language can be set for everyone on the guest list.
Basic registry integration. Compared to some of the other wedding website builders on our list, the registry integeration Wedsites offers is fairly basic. You can link your registry but guests will be taken off page to view your gifts.
Cost
Wedsites offer tiered pricing with three plan options.
The first option is to build a free website that includes password protection and web hosting for 12 months.
For a one-off payment of $99 you get all the extra features of the standard plan, including 24 months of web hosting and bonus guest list, and RSVP features, plus two accounts so your partner can jump in too.
If you're after the best of the best, their pro plan costs $199 and this is where you'll find all the extra wedding planning features and personalized tools.
Best for
The live stream feature and support for multiple languages make Wedsites a dream for destination wedding planners.
9. Appy Couple
More than just a wedding website builder, Appy Couple offers a full wedding suite including a personalized wedding app, digital invites, and a digital keepsake too.
Everything in one place. Appy Couple competes by offering absolutely everything you need for your wedding in one place. Photo and video cover pages, travel concierge, guest list management, and more.
Flexible layout options. Instead of being constrained by the template layout, you can choose between different options and all of your data is saved and formatted to whichever layout you choose.
Guest app. Synced to your website, guests can download an app to access all the information they need on the go. Plus, the app will work offline too so they can still find the address of the venue even if they're out of data.
No trial period. There's no free plan and no free trial, so you'd have to be convinced to commit right off the bat.
No SMS support for international numbers. You can opt to send announcements to your guests via email or SMS. However, international numbers are not supported.
Cost
Pay either $49 a year or $12 a month to build your website with the app and digital invites package included. You can cancel anytime and custom domains are also available for an additional $19.99 a year.
Best for
Really the core of what Appy Couple offers is the wedding app. This means it's a great option for couples who think their guests would actually download and use said app. However, the offline feature of the app and the internal guest communication it offers does make it useful.
10. Carats & Cake
When it comes to finding the best wedding website builder it's all about elegance and class coupled with efficiency and ease. This is exactly what Carats & Cake offers.
Deeply customizable. You can either start from scratch or choose a design that you like the look of and then customize all aspects of it to make it truly yours.
Private and secure. You can keep your website private by setting up password protection and guest name/email verification to make sure that all your wedding details are only shared with your guest list.
True foreign language support. Instead of only offering support in a few languages, Carats & Cake is truly international in the sense that they offer support for all the major alphabets and 50+ languages.
Custom URL needs to be purchased separately. Even though you have to pay for your wedding website through Carats & Cake there is no option to buy your custom domain name directly through them.
Time-consuming to set up. You get to customize a lot of the site yourself but the trade off is that getting your site to look good takes a little bit of time.
Cost
You can try out Carats & Cake by signing up for their free 7-day trial, however, after that, you need to pay a monthly subscription for their services.
The standard subscription is $12/month while the premium subscription costs $18/month. You can upgrade, downgrade, or cancel your subscription at any time.
Best for
This is definitely the best wedding website builder if you are looking to create a completely custom website without having to get too technical.
11. Basic Invite
Exactly as their name suggests, Basic Invite is best known for their affordable and high-quality paper invites. They've now expanded to include free wedding websites as part of their services.
Streamlined process. Setting up your website from start to finish takes no time at all thanks to their easy to use drag and drop builder and intuitive user interface.
Order paper stationery from the same place. Since Basic Invite is so well known for their paper stationery it makes sense that you could rely on them for both your website and paper needs.
Easily link registries. You will end up sending guests off page but you can still easily link your registry so that it's accessible all in one place for your guests.
Limited features. The usual tools such as guest list manager, RSVP etc. are all there but you won't find any extra bells and whistles.
Lack of customization options. In the interest of making the process as easy as possible for those with no tech experience, there is very little you can do to customize the site and really make it your own.
Cost
Wedding websites are totally free with Basic Invite. In fact, they only offer free websites, there is no option to pay to upgrade any features.
Best for
Couples that are looking for a very basic website and don't want to pay. Basic Invite covers all the essentials and is easy to get to grips with quickly.
12. Wedding Woo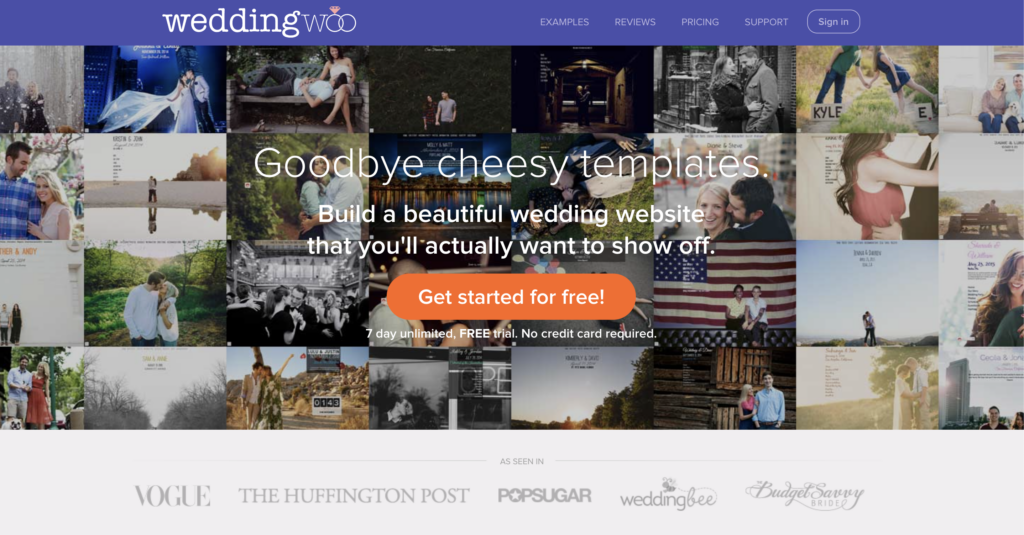 Wedding Woo focuses on providing a stress-free experience for couples looking to create a wedding website.
Widgets. Customize your wedding website with cool widgets like a countdown calendar or a SoundCloud widget to play music.
Mobile friendly dashboard. You can access your dashboard from a desktop, tablet, or smart phone and still complete any action you need to.
Online guestbook. For those that want the keepsake without having to buy a big book and remember to get everyone to sign it, take advantage of an online guest book.
Higher price tag for limited features. The big drawback is that Wedding Woo charges for more or less the same features you could find on a free wedding website builder.
Cost
Wedding websites will cost $49 for one year or $69 for two.
However, you can take advantage of their 7-day free trial to see if you want to commit to building your site Wedding Woo.
Additionally, they do have a 30-day money-back guarantee so if you opt to pay after the trial and then within a month decide you aren't truly happy you can still get a refund. Each plan includes unlimited bandwidth and file storage plus solid hosting.
Best for
Where Wedding Woo does start to earn their price tag is with different widgets you can add to your site and the ease with which you can customize templates. Probably best suited for couples interested in a balance of customization without having to hard code, or couples particularly attached to one of their widgets.
Can I use any Website Builder For a Wedding Website?
The truth is you can use any popular generic website builder to build your wedding website. Ultimately, the best wedding website builder is the one that works best for your needs.
Squarespace
Well known for being easy to use, Squarespace actually does have its own library of wedding website themes. Of the generic website builders, it's probably the option most accommodating for wedding websites.
The downside is that it's only free for two weeks. After your trial period, Squarespace starts at $16/month. Although, annual accounts will get a custom URL included.
Wix
Another drag-and-drop builder, Wix has recently upped their game when it comes to wedding websites and now offers wedding-specific features like managing your guest list or linking your registry.
Wix does have a free version but you will need to upgrade to a premium plan if you want a custom domain or to remove the Wix logo from your website. Paid plans start at $16/month.
WordPress
Customization options are nearly limitless with WordPress so it's best suited to those couples that have a little bit of tech know-how and are looking to design a truly bespoke website.
Now Say I Do!
Of all the options out there, finding the best wedding website builder for you is about choosing one that meets your needs specifically. Just like in love, test the waters before saying I do and choose a website builder you're truly happy with.