Mistplay is a popular gaming rewards app where you can win real cash prizes playing games. However, this is not the only app to earn money by simply playing games. There are many Mistplay alternatives worth checking out that we'll detail today!
These apps, like Mistplay, allow you to play free games and complete other short tasks, such as watching videos, shopping online, and answering surveys.
And, alongside having fun, you'll earn rewards such as PayPal cash and gift cards!
So, if you love playing games and want to get rewarded for it, read on to learn about a ton of other cool game apps like Mistplay for iPhone and Android devices.
Best Mistplay Alternatives
Take a look at the best apps like Mistplay to win cash prizes and gift cards.
1. Swagbucks
Swagbucks is a popular get-paid-to site where you can earn money by playing games, answering surveys, and getting exclusive shopping promos and rewards.
It's a great alternative to Mistplay, with a range of games to play, such as:
Solitaire
Puzzles
Wheel of Fortune
Mahjong
Catch 21
Dynomite
Daily Trivia
Swagbucks is available to use on Android devices, iPhones, and desktop computers, and you need at least $5 to cash out.
Rewards can be redeemed for PayPal cash or a range of free gift cards from major stores such as eBay, Amazon, Target, Walmart, Macy's, and more.
Learn more in this honest Swagbucks review.
Sign up to Swagbucks for free and start playing games for cash today.
---
2. MyPoints
MyPoints is a great site where you can get rewarded for watching videos, playing games, shopping online and answering surveys.
You can choose to play various mobile games on MyPoints, such as:
Trivia
Bingo
Puzzles
Daily challenges
For every task you complete or game you play, you get rewarded in points, which can be redeemed for cash and gift cards.
MyPoints is available on iOS, Android, and desktop, and new users get a $5 welcome bonus just for signing up.
Sign up to MyPoints and start earning cash for playing games today.
---
3. Cash Giraffe

Cash Giraffe is another top Mistplay alternative that pays you money and gift cards to play games.
It was developed by well-known Android app developer JustDice, and it has an excellent variety of games to play.
All you need to do to get started is:
Download Cash Giraffe onto your Android device
Scroll the available games
Click on the ones that interest you
Start playing when you have spare time
After a decent amount of play time, you'll earn "Gems", which is the platform currency.
To cash out, you need to earn $0.20 – $0.50, depending on what country you live in. But, with such a low withdrawal minimum, you don't have to wait long to get paid.
---
4. KashKick
KaskKick is another popular rewards and loyalty platform where you can earn cash rewards by playing games, completing surveys, and taking advantage of shopping offers.
A few mobile games they pay you to play include:
Mafia City
Coin Master
Harvest Land
Kings Throne
Scrabble Go
You get paid for reaching certain game levels or by completing them, but rewards are often $5 or $10, which is a decent amount.
The minimum withdrawal amount is $10, which can be redeemed via PayPal cash.
---
5. Rewarded Play

Rewarded Play is a gaming app that pays out gift cards to users who play a range of popular games.
One of the best apps like Mistplay, you can choose to earn from a variety of games, such as:
Cards
Puzzles
Strategy games
Board games
This game app is available on Android and gives you the option to cash out with gift cards, but with its minimum cashout threshold of $5 and wide selection of games, it's worth using.
---
6. Blitz Win Cash
If you're looking for apps like Mistplay, Blitz Win Cash should be on your list of platforms to try out.
This game app is only available for iPhone from the App Store but offers a range of fun games to play, such as:
Bingo
Solitaire
Match3
Ball Blast
Daily wheel spins
Tournaments
And the great thing about these tournaments is they have high cash prizes of $50 – $75 or sometimes even more.
You'll be playing against real players from around the world and have the chance to win trophies and join leaderboards.
But be aware these tournaments incur a small entry fee. You can choose to withdraw winnings to your bank account, PayPal, Venmo, or Apple Pay.
---
7. Cash'em All

Cash'em All is a gaming app similar to Mistplay that pays out coins to those who discover and play new games.
This app is available from Google Play for Android users, and once you've downloaded it to your phone, you get paid for every minute you play.
It's free to download and doesn't include any annoying ads. Rewards can be redeemed for PayPal cash and gift cards.
---
8. Money RAWR
Money RAWR is one of the best apps like Mistplay that allows you to play games for money with a range of fun mobile games.
It's available to download for Android users, and games earn you coins, which can be redeemed for cash and gift cards.
It has new games to play each day, so you'll never get bored! A few popular mobile games they offer include:
Angry Birds
Dig Out
Homescapes
World Chef
Dragon City
Many more..
Once you earn 6,399 coins ($0.50) you can cash out your winnings.
---
9. WorldWinner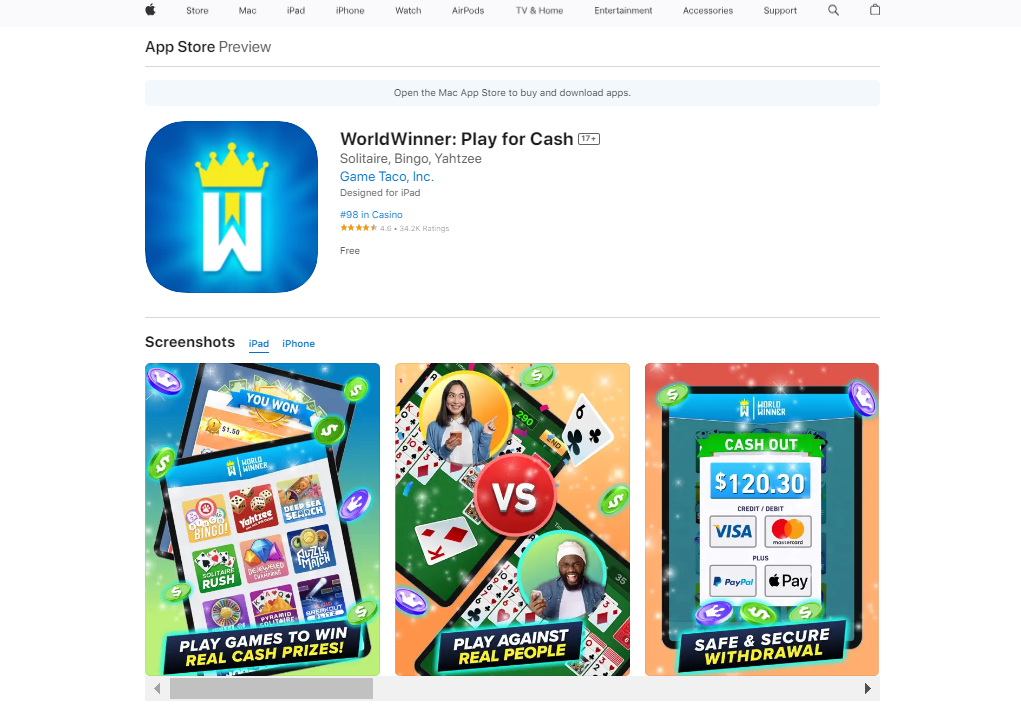 WorldWinner is one of the best Mistplay alternatives available for iPhone and iPad users to download.
It offers skill-based, real-money games where you play head-to-head against other players in tournaments.
A few of the games to earn extra cash on this app include:
Solitaire
Blackjack
Spades
Scrabble
Wheel of fortune
Word slots
Yahtzee
Many more..
To play on WorldWinner, you'll need to deposit either $5, $10, or $20 of your own money, so there is risk involved with this app.
However, you'll be matched against other players of a similar skill level, and you can join warm-up tournaments to see if it's right for you.
Winnings can be withdrawn via PayPal money, Apple Pay, Mastercard or Visa.
---
10. App Flame
App Flame is another one of the best gaming reward apps like Mistplay to play and earn.
It's available for Android users, and each game shows what you'll earn for each minute of play before you start, so you can decide if it's worth your time.
Once you've built up reward points, these can be redeemed for PayPal money or gift cards for large retailers such as:
---
11. AppStation

If you like playing games and getting paid, AppStation is another free gaming app you should take a look at.
Each game you play earns coins, and these can be redeemed for a range of rewards, like:
PayPal cash
Amazon gift cards
Groupon gift cards
AppStation is available for download for Android users in the Google Play store, and you can cash out once you've accumulated 93,188 coins, which is equivalent to $10.
---
12. GameHag
Gamehag is one of the best game apps similar to Mistplay, where you can earn rewards for playing free games online.
A few of the games on offer include War Thunder, World of Warships, Raid Shadow Legends, Dragon Lord, Harvest Land, and more.
On the platform, you'll earn "Soul Gems" which is their currency, which can be exchanged for different gaming rewards, like:
PayPal cash
Google Play rewards
Earnweb coins
Steam Wallet
League of Legends rewards
In-game skins
GameHag is available on iOS and Android and has a community forum where you can connect with other gamers.
---
13. BubbleCash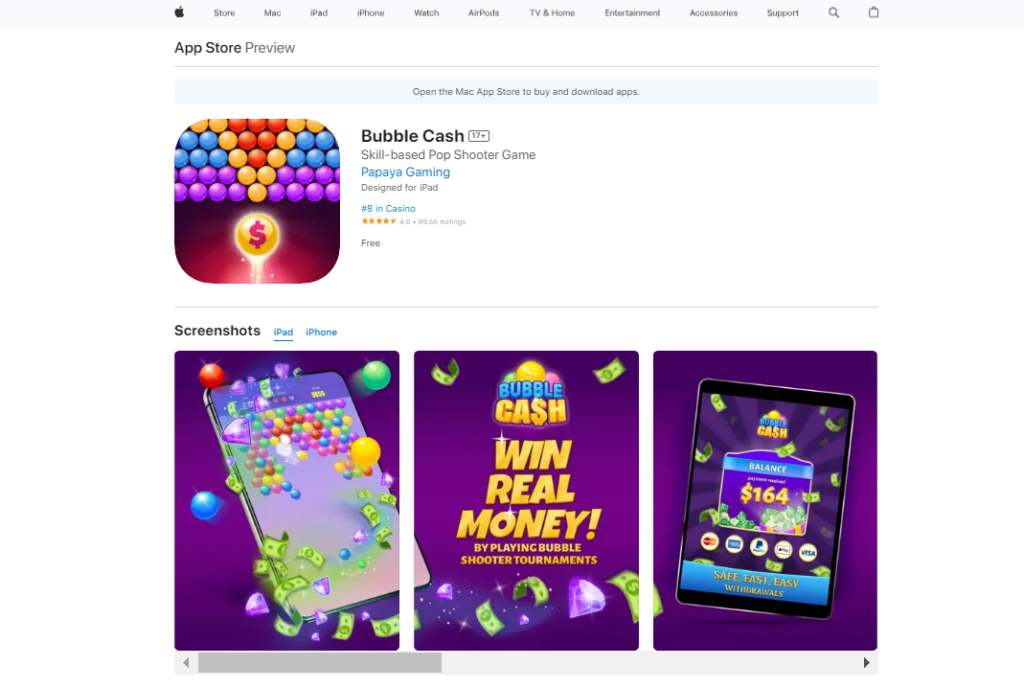 BubbleCash is a skill-based pop shooter game available for iPad and iPhone users.
When starting out, you can practice the game for free, but when you feel ready, you can deposit cash and pay a stake to play games against other real players.
If you win, you double your money and can choose to cash out or play in more games.
Another way to make money is to invite your friends to use BubbleCash and earn $1 for every person who joins!
Tips to Make More Money with Mistplay Alternatives
As you can see, there are many Mistplay alternatives to earn cash online in your spare time.
However, as with every online platform, there are a few things to remember and look out for to ensure you get the most from your efforts and experience.
Follow these tips to ensure you make the most money.
Withdraw Cash and Vouchers as Soon as Possible
Gaming apps are NOT banks.
If one of them closes down and you have cash stored on the app, you may lose this or find it hard to get hold of it again.
So, withdraw your cash and vouchers as soon as you hit the minimum payout threshold.
Don't Be Tempted to Spend On In-App Purchases
While the majority of gaming reward apps are free to use, they try to earn money from you by tempting you with in-app purchases.
Try to ignore the adverts and focus on playing games and boosting your earnings as much as possible.
Avoid Gaming Apps that Claim You Can Make Thousands
Playing games is a fun and simple way to earn extra cash, but it won't make you a millionaire.
If you're dedicated, you can expect to earn around $10 – $50 a month, but not thousands. So, ignore any games that claim this, as they're likely SCAMS!
Combine Playing Games with Other Paid-To Tasks
Playing mobile games is one of the best side hustles to earn a few dollars here and there.
To bump up your earnings, combine game playing with other simple tasks such as answering surveys, watching videos, reading emails, and completing shopping offers.
There are literally so many ways to make money with your phone, don't limit yourself to one method!
Final Thoughts on the Best Mistplay Alternatives
With these Mistplay alternatives, you can start earning from your gaming passion.
Just remember to have realistic expectations and always do your research to make sure the game apps you use are legit and worth your time.
Want more ways to earn easy cash?
Take a look at how to make money from nothing ….. yes, seriously!