Want to know what the best AI SEO software tools are?
Sure, there's a lot to choose from, and that can be a little overwhelming.
Well, in this article, we've researched and tested a bunch of them to help you decide.
Whether you're looking for an AI tool to plan, write, or optimize SEO content, this list has something for you.
Keep reading.
If you're in a rush, our top pick is Surfer SEO.
You can check it out here or read on to learn more.
The Best AI SEO Software to Help You Rank Higher in the SERPs
Here are 15 of the best AI SEO software tools to master the content marketing game.
1. Surfer SEO
Surfer SEO makes the number one spot for the best AI SEO tool because it has everything you need to optimize content and improve organic rankings.
It has a good balance of quality features and reasonable pricing. Therefore, you get an excellent all-around SEO tool without it burning a hole in your pocket.
One of its main features is the content editor. It scans your content and provides a score based on your keyword, then compares it against the top rankings in Google.
It then recommends semantically related keywords using NLP technology to help you make improvements to the content.
Other features include:
Integration into WordPress and other CMS platforms
Keyword research tool to easily develop an SEO content strategy
Plagiarism detection to make sure your content is original and avoid penalties.
Audit old articles to get optimization suggestions and boost their rank
An AI outline generator to make your posts as engaging as possible
Lastly, Surfer recently released their own AI article generator that produces SEO-optimized blog posts in one click.
It does everything for you, from researching, writing, and optimizing the article based on your primary keyword.
You can also adjust the tone of voice, choose the competitors for comparison, and add relevant FAQs and key takeaways.
Overall, SurferSEO is an excellent piece of SEO software powered by AI for SEO professionals and complete beginners.
Pricing for Surfer's main features starts at $89 per month or $69 per month when billed annually.
Surfer AI article generation is separate and starts at $29 per article with discounts when buying credits in bulk.
---
2. MarketMuse
MarketMuse is an advanced AI-powered content planning and optimization tool for SEOs, agencies, and bloggers.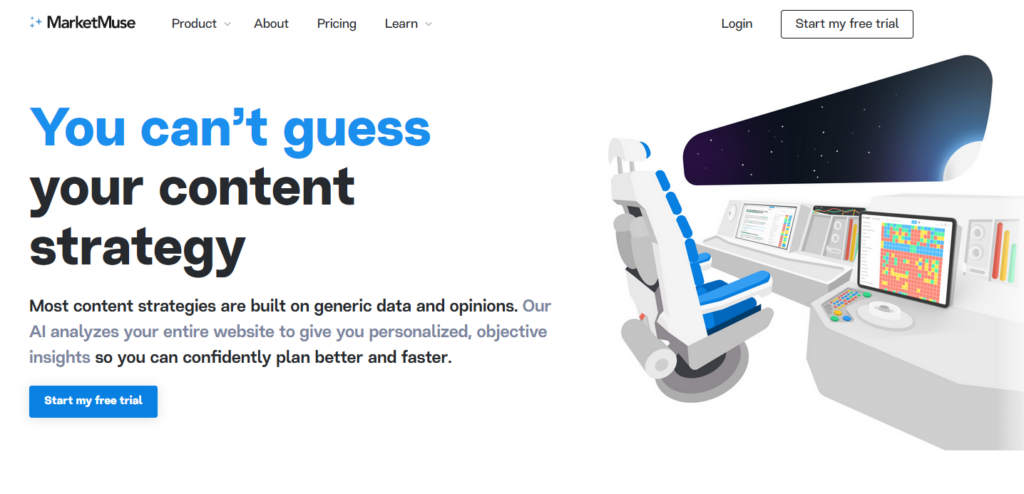 Using the suite of SEO tools available in MarketMuse, users can plan and optimize content quickly, resulting in a more effective workflow.
It works particularly well for businesses that want to scale content production and keep things organized within their team.
One of the main features is Optimize, which scans your keyword and analyzes the top-ranking articles. It then provides a score to guide the content writing process and help it rank.
Optimize also provides a recommended list of keywords to include in the content to create a comprehensive post with topical depth.
Other features included in MarketMuse:
Content Planning: prioritize the right topics to supplement your blog content strategy
Content Brief: Plan highly optimized article outlines from the start
Competitor Analysis: Find gaps in your content strategy compared to your competition
Keyword Research: Find the right keywords to increase topical authority in SEO
Content Clusters: Analyzes topic clusters to help you gain more exposure
Pricing for MarketMuse starts from $149 per year and offers a free plan with limited features.
---
3. SEMrush
SEMrush is one of the best SEO software companies available and includes a range of AI tools to write and optimize content for search engines.
Specifically, SEMrush's ContentShake tool helps you generate content ideas, writes content for you in one click, and optimizes the copy with data-driven suggestions.
This AI SEO software has a text editor and will guide you through every step of the content creation process.
You can also run competitor analysis, and it scores your content out of 100 and gives you SEO optimization suggestions to make improvements.
A separate feature offered by SEMrush is their AI Writing Assistant, which includes 76 AI tools to help you generate and optimize content.
Some of these tools include:
Article Generator, which turns your title and outline into an in-depth article
Image Generator creates high-quality images from text
Blog Outlines speed up blog post creation and research
Blog Ideas helps you generate creative ideas for blog content
Content Rewriter rewrites articles or sections of text
Website Headlines to grab readers' attention and hook them into your content
SEMrush Writing Assistant gives you 1500 free credits when you sign up and $30 per month for unlimited words.
ContentShake gives you 30 free AI generations and 10 improvements per month, or you can upgrade to an unlimited plan for $60 per month.
---
4. Alli AI
If you're looking for AI SEO software that completely automates on-page SEO changes, then you'll want to check out Alli AI.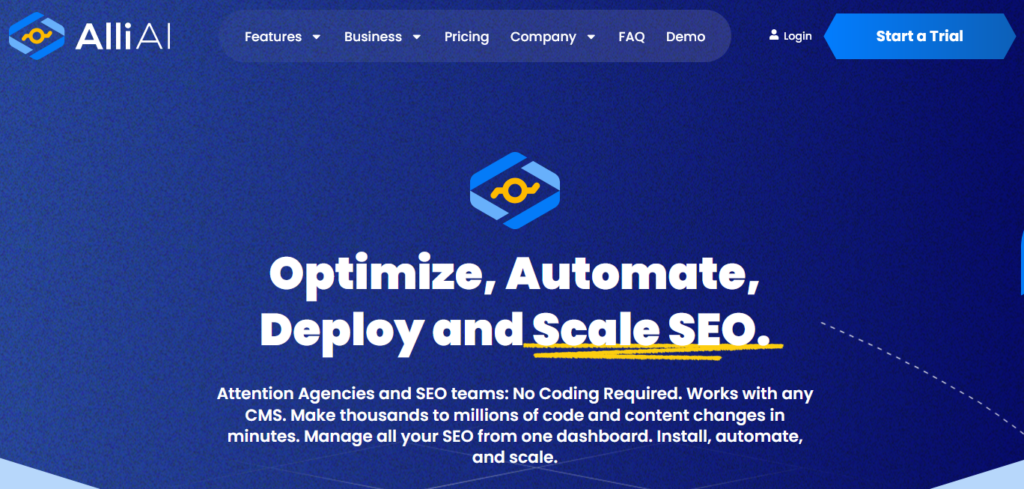 Alli AI works with any CMS and analyzes on-page SEO issues across your site. It then fixes these issues for you with a simple click of a button.
Alli AI makes changes to the content and code on your site to optimize it for search engine rankings.
Here are some examples of changes it can make:
Optimizing meta titles
Adding meta descriptions
Updating heading tags to the correct HTML
Adding image alt and title text
Optimizing title tags to internal links
This SEO software can make millions of code and content adjustments based on hundreds of on-page ranking factors.
Best of all, you don't need to know code or technical skills, as everything happens in the background.
Other Alli AI Features:
Live, in-browser content editor: Makes changes to your content just by pointing and clicking on elements of your site
Automated A/B testing: Have AI self-optimize page titles by detecting search volume and adjust your site according to winning A/B tests
Real-time deployments: Make SEO audit changes instantly, instead of waiting on developers and support tickets
Site speed optimizer: Instantly speed up your site by up to 35%
Implement schema markup: Have AI generate optimized schema markup for your entire site in minutes, with no coding required
Pricing for Alli AI starts at $299 per month, which is aimed at consultants and startups.
---
5. Frase
Frase is a fantastic AI SEO tool that has similar features as SurferSEO, only that it is a lot more affordable. Furthermore, Surfer requires Jasper to create AI content or SurferAI for one-click blog posts.
With Frase, you can perform keyword research, gather SEO insights from top-performing rankings, create article outlines in seconds, and write content using AI, all in one unified interface.
You can then optimize the content inside the content editor, equipped with topic scores and keyword recommendations.
Other Frase features:
Automated Content Briefs help guide you or your writer's content
Project Status updates so you know when projects are complete
Custom Templates to guide writers or AI customizations
Google Search Console data integration 
And much more
Pricing for Frase starts at $14.99 per month to write and optimize 4 articles per month. The pro add-on costs an extra $35 per month for keyword volume data, domain authority, and one-click AI writer.
---
6. Neuronwriter
NeuronWriter is another AI SEO tool comparable to Frase and Surfer SEO. The biggest difference is that NeuronWriter provides 15,000 A.I. credits in their cheapest plan.
NeuronWriter hosts an advanced content editor with content scoring and Google SERP analysis.
It helps you plan, write, and optimize content to rank higher in Google.
It also helps you discover content ideas and understand user intent to better meet the reader's needs and develop a topical authority.
Another feature included in all NeuronWriter's plans is the AI-Writer, which lets you write paragraphs of text to the content editor using GPT-3 technology.
NeuronWriter features:
Content planning and ideas to build topical authority
Content optimization scores articles for a higher chance of ranking
Generative AI to add SEO-optimized content to speed up workflow
Content management to keep things organized in an editorial calendar
Pricing for NeuronWriter starts at $23 for 25 content analyses and 15,000 AI credits.
---
7. LinkWhisper
LinkWhisper is the best internal linking plugin for WordPress. It provides internal link suggestions based on semantically related keywords.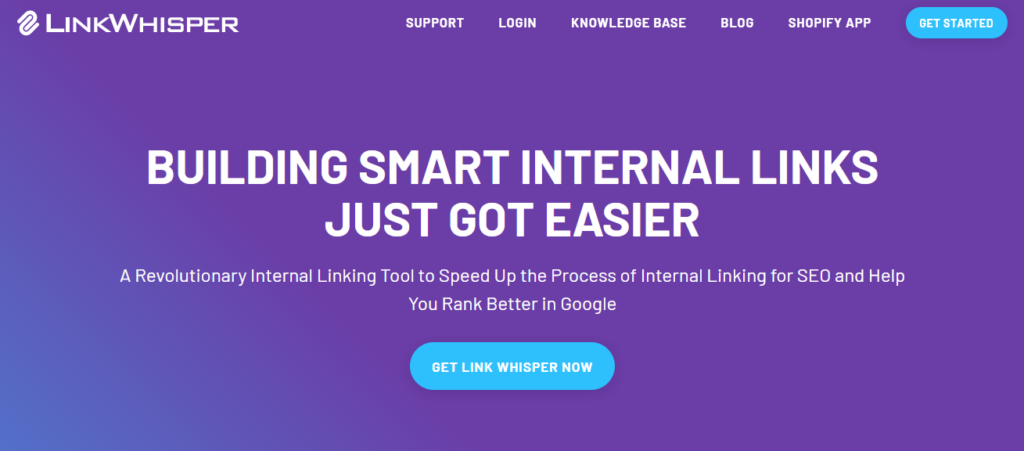 While much of the AI SEO software mentioned on this list helps you create content, Link Whisper helps you link them together on your website.
This is an essential task for improved SEO rankings as it helps Google understand and crawl your site better, developing topical depth and authority.
LinkWhisper works by analyzing your articles and providing NLP-driven internal link suggestions.
What's better is the time you save adding these links. Instead of manually inserting them, Link Whisper adds them quickly by selecting the ones you want and clicking a button.
Link Whisper features:
Google Search Console integration for accurate suggestions
Broken internal links report
Manage every link on your site from one dashboard
Quickly find and add links to orphaned pages
Link Whisper offers a free version of the plugin with some limits, and the premium plugin starts at $77 per year for a one-site license.
---
8. Screpy
Want to monitor and improve search engine optimization performance on a budget? Then Screpy might be the tool you're looking for.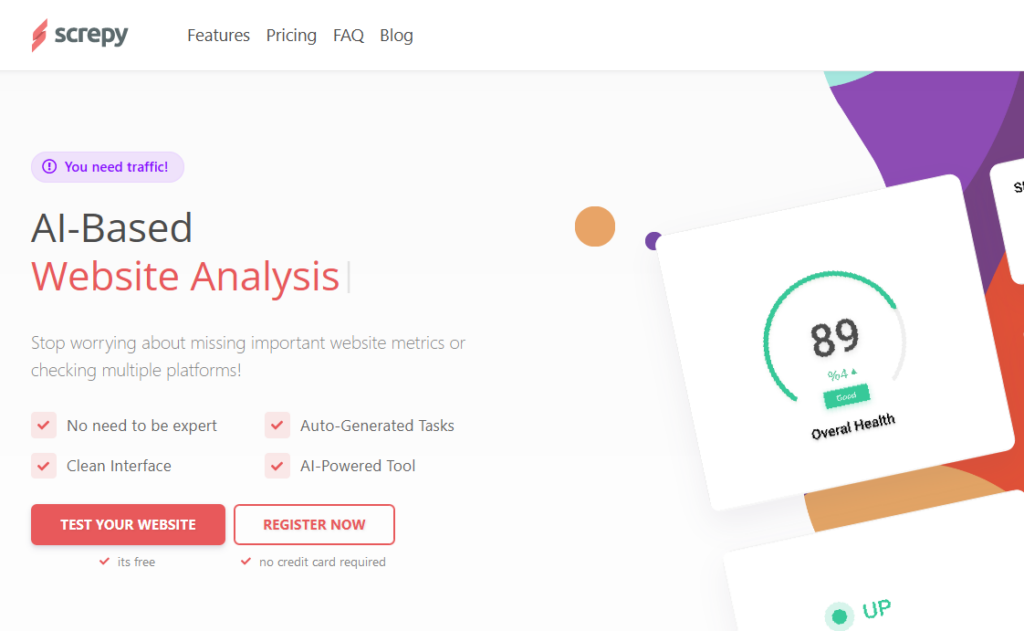 Screpy is an AI-based SEO software tool that allows you to analyze, optimize, and monitor your website from one dashboard.
This tool is perfect if you aren't an SEO expert or aren't that tech-savvy.
For example, one of its main features is Auto-Generated Tasks, where you're given a list of SEO improvements to make. This provides you with basic steps to follow to make optimizing your site as easy as possible.
Keyword Tracker analyzes the keywords your site ranks for, suggests new and related keywords to target, and shows their growth over time.
This will help you know which pages are performing well, which ones need your attention, and the best keywords to include to optimize them.
Other Screpy features:
Page Speed Monitoring: Improve user experience and lower bounce rates
SEO Monitoring: Detailed on-page SEO report with clear steps to make improvements
Uptime Monitoring: Know if and when your site is inactive with real-time notifications
Screpy is also reasonably priced, starting at just $5 per month for their lite plan. There is also a lifetime deal currently available on AppSumo.
---
9. RankIQ
RankIQ is a unique keyword research and content planning tool powered by artificial intelligence to help bloggers rank articles in Google.
It provides a database of hundreds of topics and thousands of keywords for each of them.
Time to rank gives you an estimate of how long a keyword will take to rank in Google. These range from Ultra fast, Very fast, Fast, and Average.
You also get a competition score and the number of visits you can expect from ranking the keywords.
These can all be filtered to refine your list of keywords.
AI SEO reports provide a suggested word count, content grade, and a list of LSI keywords to include in your article.
Other RankIQ features:
SEO Content Briefs to create article outlines in minutes
Content Optimizer tells you what to include in the post
Library of low-competition keywords
Analyzes top 30 results for better accuracy
RankIQ starts at an affordable $49 per month for 16 content briefs.
---
10. Scalenut
Next up is Scalenut, an all-in-one content marketing and AI-powered SEO tool.
This tool helps you create an entire content plan in 1 click, gather multiple blog ideas, generate topic clusters, and build content strategies faster than ever.
Scalenut also offers an intuitive content editor to write SEO-optimized content that is fact-checked and plagiarism-free.
The optimization feature provides real-time SEO scores, offers NLP terms to include in the content, and auto-optimizes sections of content in one click.
Other Scalenut features:
AI-driven content optimization
Uncover hidden SEO topics
Plan a SEO strategy quickly
Keyword Planner
Traffic Analyzer
And so much more
Scalenut offers plans starting from $39 per month with 100,000 AI words and a 7-day free trial.
---
11. Koala
Koala is a superb piece of AI SEO software that writes entire blog posts in a single click.
It works by filling out some initial information about the article, such as keyword, article type, tone of voice, and country to target.
It can also analyze the top-ranking pages in Google to write SEO-optimized content in a few minutes.
Other Koala features include:
Choose between GPT-3.5 and GPT-4
Outline editor
Cite sources
Supports multiple languages
Choose article length
Include NLP keywords manually or have AI add them
Add AI-generated images
And much more
Koala pricing starts at just $9 per month for 15,000 words per month. Using GPT-4 costs 5 times extra, so a higher plan might be more suitable.
---
12. SEO Writing
SEOWriting AI is another 1-click SEO AI content generator with some unique features.
First off, SEOWriting AI uses a hybrid combination of GPT-3 and GPT-4 to provide better outputs at a lower cost.
You're also able to use your own Open AI API key, which works out much cheaper than preset plans.
This is different from most other SEO AI generator software, as you're only able to use the features of the tool when subscribed to premium plans.
Other SEOWriting AI features include:
WordPress autoposting
Supports 48 languages
Creates high-quality AI images
Provides an SEO score to guide optimization
Offer 20+ templates of pre-trained models
Bulk article generation
SEOWriting AI starts at a low $19 per month when paid monthly and offers 5,000 free credits in their free plan.
---
13. WordLift
WordLift is an SEO software tool that optimizes your websites for organic rankings by adding structured data and schema markup.
Schema or structured data helps Google and other search engines understand the context of your content on a deeper level.
Initially, WordLift started as a WordPress plugin but has since evolved into a cloud application for use on other platforms.
WordLift works by adding structured data automatically and building a custom Knowledge Graph using AI, so you don't need to know any coding skills.
This knowledge graph then becomes more accessible to search engines, finds the content faster, and generates more visibility in search as a result.
WordLift features include:
Find schema entities to enhance website content
Automatically creates code to enhance context
Free WordPress plugin
Integrates into Looker Studio for detailed reporting
Niche Pursuits can get 10% off WordLift when using this special link. Standard pricing starts at €59 per month when paid monthly. This gives you 10 schema types for 1 website.
---
14. NitroPack
NitroPack is a bit different because it focuses on improving site speed, which can help search engine rankings.
This tool is a cloud-based AI tool for optimizing SEO by improving the user experience of your site.
This software works with WordPress, WooCommerce, Magento, and OpenCart.
One feature is Advanced Caching to ensure a high cache hit ratio, automatic cache warm-up to pre-populate the cache, and updating the cache when things become outdated.
Another feature is Image Optimization, which optimizes images by using lossy and lossless compressions, adding lazy loading, fixing image sizes, and converting to WebP format on a supported browser.
Other NitroPack features:
Built-in CDN
HTML minification and compression
CSS and JavaScript optimization
GZIP and Brotli Compression
Free WordPress plugin
Offers a free plan
NitroPack starts at $21 per month for 1 website with up to 50,000 pageviews.
---
15. WriterZen
Last on the list, but by no means the least, is WriterZen. This AI software is an all-in-one SEO tool with all the features you need to create high-quality content that ranks in Google.
With WriterZen, you're able to discover topic ideas through your competitors, find the right keywords with the Keyword Explorer, and generate SEO-optimized content.
You get an advanced content editor to plan and write content in, similar to tools like NeuronWriter and SurferSEO.
One key difference with WriterZen is the amount of research you can do to prepare content drafts. The user interface is also somewhat minimal compared to other tools.
WriterZen Features:
Topic discovery
Keyword Explorer
A.I. Assistant using GPT-3
Keyword Planner
Plagiarism Checker
Pricing for WriterZen starts at $23 per month and $69 per month for unlimited AI writing.
Best AI SEO Software in Conclusion
Love it or hate it, artificial intelligence is here to stay, and these are some of the best AI SEO software tools currently available.
Adding one or a few of these SEO AI tools into your workflow is sure to compound your content marketing results and save you time.
If you want an all-round excellent tool to get you started, take a look at SurferSEO. This software does a fantastic job at content optimization.