Let's admit it: Everyone wants their website to have that 'wow' factor. One way to accomplish this is with smooth animation that make it come to life! And that's why Animated WordPress themes are where it's at!
But when you're running WordPress, choosing a good animated theme comes with its own problems, like loading speeds, compatibility with plugins, and design limitations.
Luckily, we've compiled a list of the best 15 animated WordPress themes so you can create your dream store, blog, or portfolio today.
Let's dive in:
1. Divi
Being one of the most popular WordPress themes on the planet, Divi is our top choice for building intuitive, responsive, and visually-appealing websites. Its drag-and-drop builder is simple enough to be used by a second-grader and allows you to view changes in real-time.
Divi is also loaded with a range of highly-customizable animations that transform as you scroll and interact with them. You can build each webpage from scratch using its 200+ elements or choose from 2,000+ pre-made website designs and edit your way to perfection.
The theme is also fully search-engine-optimized and fine-tuned by Divi to load up within seconds.
---
2. Impreza
Impreza is our top pick for online businesses that want to stun their customers with brilliant visuals and buttery animation effects. It's used by 90,000+ websites and has 50+ demos for e-commerce stores, freelancers, and blog owners. Like any great WordPress theme, Impreza also uses a drag-and-drop builder called 'Visual Composer' for effortless real-time design.
And that's not all. The multi-purpose theme also comes with a library of 100+ elements to build an interactive site full of features. Niche site owners will also be pleased to hear that the theme is full of SEO options, including built-in meta tag editors and support for Yoast SEO. Impreza is the highest-rated theme on ThemeForest and is sometimes recognized for having the strongest page builder in the business.
---
3. Jupiter
Jupiter is one of the best alternatives to Shopify and all-around themes for creating aesthetic yet powerful e-commerce stores. You can build your dream website from scratch using their exclusive Layout Builder or choose from 450+ ready-to-publish templates to kickstart your business.
One of the best features of Jupiter is its sales-funnel builder — an intelligent tool that allows you to design a lucrative purchase process and boost conversions.
You can also add a variation selector, create pop-ups, and send 'out-of-stock' notices within the theme — features typically missing from free WordPress themes. Jupiter is trusted by 160,000+ customers and is a worthy investment for online retailers and dropshippers.
---
4. Ultra Theme
The first multi-purpose WordPress theme on our list — Ultra from Themify can convert any blank webpage into a piece of art. You can create mesmerizing portfolios, e-commerce stores, magazines, or agency sites by choosing one of their 30+ pre-built demo sites.
Or, if you want more design independence, you can use the Live Page Builder to tweak each element to your preference.
Ultra also comes with 12+ bonus add-ons with captivating animation. This includes a slider, typewriter, price table, counter, and image grid — all of which come to life with user interaction.
Additionally, the powerful page builder also allows you to add a silky-smooth parallax effect and even animate colors. Above all, Ultra is fully search-engine-optimized, is compatible with WPML, and seamlessly integrates with WooCommerce so you can design your dream website. 
---
5. Movedo
Movedo is a game-changer for people that love animations and smooth parallax effects. This multi-purpose theme is crafted for a fully-immersive experience and comes with 17+ pre-built website templates. You can personalize your pages using Visual Composer drag-and-drop builder and integrate beautiful banners using Revolution slider.
One of Movedo's best features is their Ultra-Dynamic Parallax scrolling that moves with the motion of your cursor. It also comes with various clipping animations, hover effects, and a 'safe button' that flows down to reveal an additional menu. Even with so many animations, Movedo offers full search engine optimization, translation readiness, lightning-fast loading speeds, and lifetime updates for customers.
---
6. Parallax
Parallax by Themify is all about fluid animations and elegant web pages. It's a lightweight WordPress theme that comes with super-smooth parallax functionality, gorgeous sliders, and even animated progress bars. You can select from 60+ pre-designed layouts and customize the theme using an intuitive drag-and-drop builder.
Additionally, the theme comes with 11+ cool header layouts and an option for setting custom background images to make your website truly unique. All the images/graphics will be super-crisp and adapt to different devices while retaining your website's appearance. While Parallax certainly lacks features, it's the perfect animated theme for website owners with simple websites or building dynamic single webpages.
---
7. Zephyr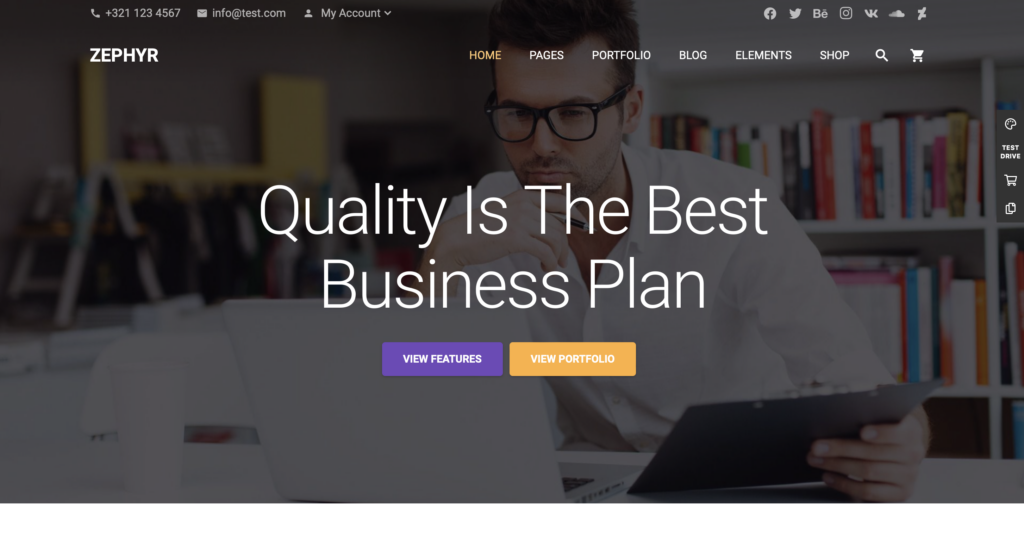 Zephyr is a highly-underrated gem on the ThemeForest marketplace that's perfect for building dynamic blogs and business sites. It's loaded with hundreds of customization options — 6 blog layouts, 1300+ icons, and 657 fonts, being just a few of them. Each element can be easily adjusted using their built-in Visual Composer — a drag-and-drop tool worth $34 on its own.
But animations are where the Zephyr theme really shines. You can add smooth parallax scrolling, hover effects, and eye-catching slides using Slider Revolution (also worth $19).
On top of that, Zephyr is coded with SEO in mind and optimized for WPML to support multiple languages. It loads up super-fast and is fully responsive, with support for ultra-sharp retina graphics.
---
8. Newspaper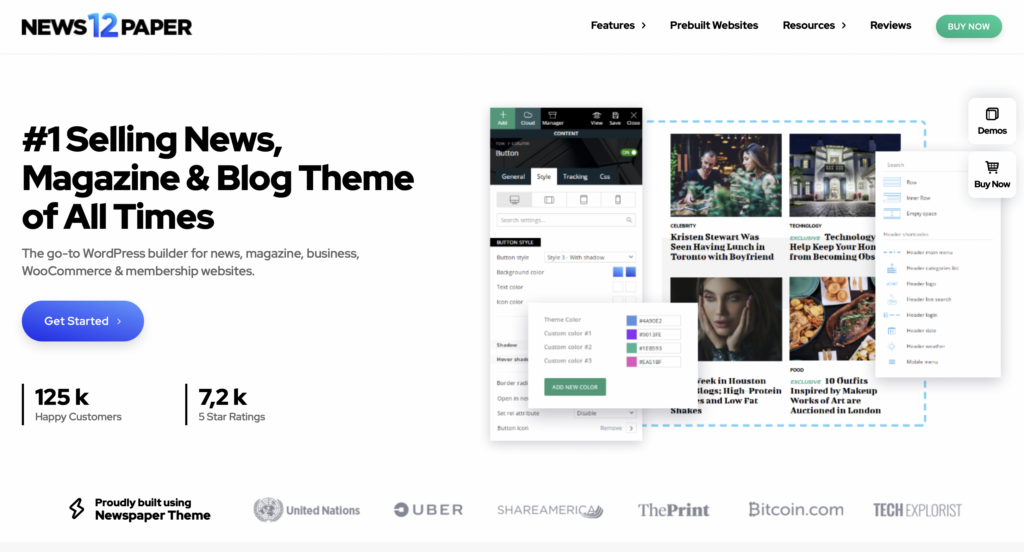 Every magazine and online publication knows the value of a beautiful front page, quick loading speeds, and subscription revenue. Newspaper is a best-selling WordPress theme loaded with features trusted by brands like Uber, Bitcoin, and United Nations. It comes with 150+ pre-built designs and a huge library of animated templates that makes websites come to life!
Newspaper also includes smart pop-ups — a feature that lets you place ads, offers, and subscription prompts without disturbing visitors. The Opt-in Builder lets you create compelling paywalls and increase memberships. You get an intuitive contact form builder in the back end to streamline the customer database and user-review system to boost your credibility.
---
9. Helion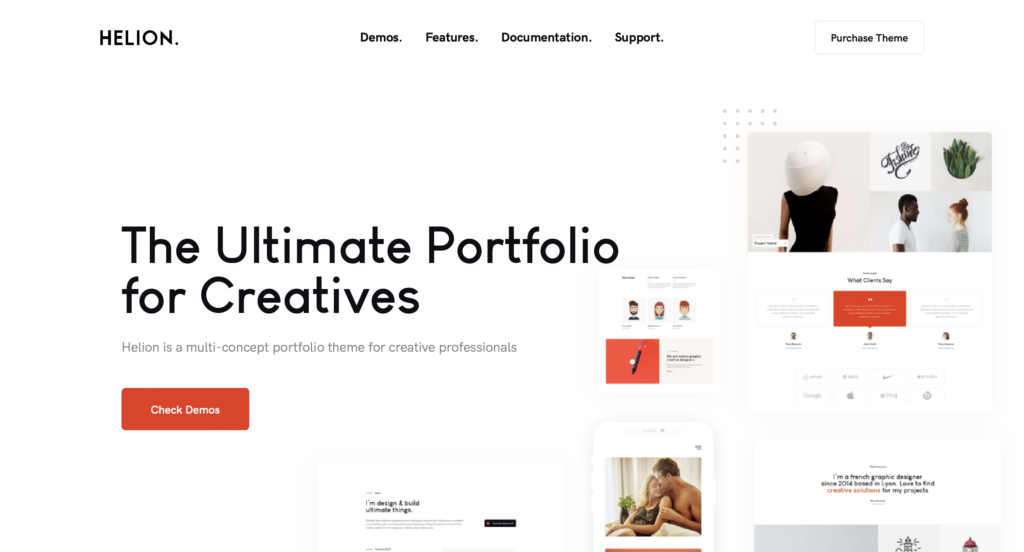 One of the most revered creative portfolio themes for WordPress — Helion is an easy recommendation for artists, photographers, and design professionals. It runs on the Elementor page builder and has a collection of built-in modern layouts. Helion also comes with some of the most impressive 20+ animations we've ever seen in a theme.
Additionally, it allows extensive color customization to make your site truly unique. The theme is also loaded with hundreds of fonts, shortcodes, and over 750 other personalization options.
Helion is fully-responsive and supports retina images, and is WooCommerce-ready, so you can monetize your artwork whenever you like!
---
10. Remake
When it comes to building minimalistic sites with smooth animations, Remake by Codeless takes the win. You can choose from their 10+ pre-made skins to kickstart your agency or use Elementor to drag-and-drop your favorite elements in real time. It also produces some of the best parallax effects and hover animations, making your portfolios look awesome.
Despite using heavy animated effects, Remake has blazing-fast loading speeds and is highly responsive to different devices. It offers a sleek and modern layout and seamlessly integrates with social media accounts — an essential feature for budding artists/freelancers. All of this comes with free lifetime support from Codeless and compatibility with popular WordPress plugins. 
---
11. The Gem
Loaded with over 400 beautiful pre-built templates — The Gem has a little something for everyone. This multi-purpose theme has a demo site for photographers, agencies, online stores, magazines, cryptocurrencies, and just about any business you can think of. It's also super-quick, highly responsive, and fully optimized for search engines.
But that's not all. The Gem comes with WPBakery and Elementor page builder for free, so you can conveniently tweak each element of your website.
You can also add ultra-smooth parallax effects and CSS3 animations to enhance user experience. The Gem is also compatible with many mainstream plugins and is translation-ready, so you can take your website global!
---
12. Ohio
Impress your clients with highly-aesthetic agency and personal portfolios using Ohio theme. This animated WordPress theme comes with 39+ layouts and hundreds of customization options — all powered by Elementor and WPBakery.
You can quickly create responsive portfolios using Ohio's vast demo library or personalize everything down to the fonts and colors (there are more than 13,000 of them!)
Whatever you design, the theme's flawless coding will consistently load your site within seconds. You can also integrate fluid CSS3 animations with all of their 326+ elements to make the site more interactive. Agencies can introduce products using WooCommerce plugin or create beautiful blog sections with 190+ pre-made pages — all of which are included in the package.
---
13. FlatSome
Flatsome is the #1 best-selling WooCommerce theme on the market. And over 200,000 customers seem to agree. It's the ideal theme for building your dream online store — featuring a proprietary drag-and-drop tool, rapid loading speeds, and free lifetime updates. It also comes with tons of cool animations, including parallax scrolling, hover effects, and more.
But that's not all. Flatsome has also partnered with Cloudways Hosting, so your visitors never have to suffer delays. Moreover, the animated theme offers in-depth customization of checkout pages, fonts, menus, and product pages. It's also fully responsive and optimized for the best mobile shopping experience.
---
14. Amos
Amos is a complete package for agencies/freelancers that want to build highly-responsive animated portfolios. You can create a full-scale website within hours using the theme's 28+ homepage designs and 60+ essential page layouts. It also has drag-and-drop functionality via Visual Composer, mega menu templates, and the ability to add fluid CSS3 animations to make your websites interactive and dynamic.
Moreover, Amos is fully compatible with WPML so that you can reach out to foreign clients. MailChimp and Contact Form 7 are also included for free to make email marketing easier for agencies. Plus, the animated WordPress theme rocks super-fast loading speeds and is fully responsive to tablets and smartphones for convenient browsing.
---
15. Hello
Hello is a lightweight, responsive, animated WordPress theme for people who love designing sites with Elementor. It occupies just 6kb of space and acts as the perfect blank slate for Elementor's drag-and-drop builder and its 100+ widgets. The theme itself is fully optimized for search engines and seamlessly adapts to mobile phones and tablets.
The animated theme costs $0 and offers over 100 website kits for freelancers, blog owners, and even e-commerce stores. Once coupled with Elementor (pro works even better), you can fine-tune its widgets with various fonts, color palettes, and cool animation effects without overburdening your servers.
And if you ever run into technical troubles, you can always retreat to Elementor's supportive community to solve your queries.
---
How To Choose The Best Animated WordPress Theme
Choosing the best WordPress animated theme for your website can be challenging. You must impress your visitors with a beautiful design while prioritizing both performance and accessibility.
When you're hunting for your next animated theme, consider the following factors to make a better decision:
Simple and Minimalistic Design
Fast Loading Speeds
Flexible Customization Options
Responsiveness and Mobile Compatibility
Support For Plugins
Optimized for Search Engines 
Frequent or Lifetime Updates
Compatibility For Different Browsers
Good Customer Support Team
Conclusion
Adorning your WordPress website with parallax effects and animations can significantly improve session times and leave a lasting impression on potential customers. 
If you want a sleeker and cleaner look for your website, check out our list of 31 Best Minimalistic WordPress Themes.
Or, if you're starting out a niche website and want to maximize traffic and SERP rankings, look at our list of 31 Best SEO Friendly WordPress Themes.