The modern world moves rapidly, but that doesn't mean that your business has to require hours and hours of your time. With many people interested in the idea of a shorter work week, the key is to set up a source of passive income. It can come from an online store or a physical location, but the most important thing is to have businesses that run themselves. 
Are you ready to start making money while you sleep with a profitable business? 
Check out these fifteen ways to generate passive income that allows you to live the life of your dreams and keep a good cash flow. Let's take a closer look. 
9 Best Online Businesses That Run Themselves
Do you dream of businesses that run themselves from the comfort of your own home? Fortunately, there are plenty of low-maintenance business ideas that are formed online. Here are nine of the best ways you can earn passive income streams from an online outlet. 
1. Blogging & Affiliate Marketing
Maybe you have already heard that there is a ton of money to be made from blogging. This business model allows you to share tips, tricks, and things you know with your audience.
Once you build up enough traffic, this is a profitable business that allows you to sell advertisement space on your site. 
However, there is an even bigger source of passive income to be had here: affiliate marketing. This allows you to recommend products or services that you love in exchange for a small sum of money for each purchase or lead made by your audience. 
Getting started with these online businesses can feel a little overwhelming, which is where Affiliate Lab comes in.
This online course helps you to rank your website in the SERPs to find more audiences, find creative ways to monetize your traffic, and ultimately flip that site for a profit.
See our full Affiliate Lab review here to learn more. 
---
2. Amazon FBA Business

Another of the top businesses that run themselves is the Amazon FBA model. You find a product you can sell for a profit, buy it in bulk, and ship it to the Amazon distribution center.
They take the orders, package them, and ship them. Then, Amazon sends you the money you made after they take their FBA fee. 
The cost for Amazon to handle your products depends on the size of the item, with smaller items commanding a lower price. 
However, the benefit is that you can take advantage of Amazon's extremely large customer base. People are already coming to the site intent on making a purchase.
You can capitalize on that and generate passive income at the same time. 
---
3. Dropshipping Business

Online businesses don't necessarily require you to handle physical products. Instead, you can get others to handle the product for you in a dropshipping business model.
You can implement this money-making technique on several robust platforms, including eBay and Amazon. 
The process is simple: 
You list a product for sale on your website, and a customer orders it. 
You pay the supplier for the product and give them the shipping information. 
The supplier sends the product to the customer. 
The only downside is that you are responsible for customer service, which can make this self-running business feel a little tedious if you are selling a low-quality item. 
---
4. Self-Publishing Company
For those who want an online business that doesn't require any start-up costs, self-publishing could be a great fit for writers. This business model allows you to write about topics that interest you and publish them on Amazon in ebook, paperback, and hardcover copies. Amazon prints what you sell as you sell it on a print-on-demand basis for a cut of the profit. 
Even if you aren't a gifted writer, you can use AI tools like Jasper to write the books for you with a little tweaking. 
Here are a couple of guides that can help you get started:
---
5. YouTube Channel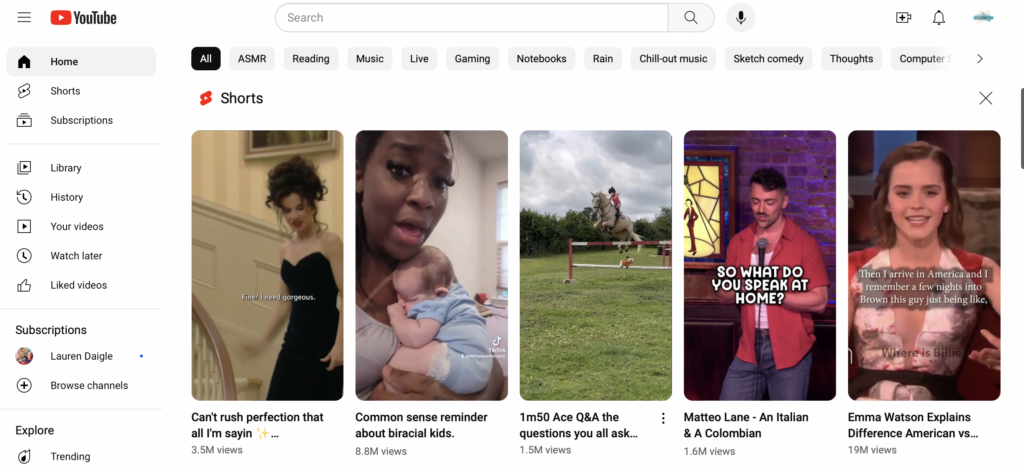 Maybe you don't mind putting your face on your self-sustaining business. When you have a knack for speaking on camera, you could start your own business as a YouTube influencer. Or, if you're more of an introvert, check out our faceless YouTube channel ideas.
One of the benefits of these self-running businesses is that you can combine techniques to create more cash flow. For example, you can make money as an affiliate for certain programs or sell products that you recommend in your video content. 
Keep in mind that this can take a little while to start generating passive income. Be sure you can commit to producing regular content to build up an audience so you can advertise through the YouTube Partner Program and qualify for sponsorship deals.
Other resources to help you make the most of your YouTube channel include: 
---
6. Photography
Almost everyone has access to a high-quality camera these days, as long as they have a smartphone in their pocket.
One of the easiest low-maintenance businesses is simply to take pictures anywhere and everywhere you go. It requires very minimal effort, especially if you enjoy the art of photography or would have taken pictures no matter what. 
You can start your own business with your images in a few ways:
Sell to a stock photography site
Run a photography blog
Sell prints of your pieces
Set up a print-on-demand business with your images
Photograph real estate listings
Become a wedding or family photographer
---
7. Online Courses
Do you have a skill that others would pay to learn? Online courses are great business models that enable you to set up learning material once and profit from it for a lifetime.
It involves minimal effort after the initial act of creating a curriculum, recording the videos, and designing the worksheets. 
You don't even have to host it on your own website. You can make good use of platforms like Teachable to share your videos and content for your online courses. 
---
8. Print-on-Demand Business
If you have a knack for design, then print-on-demand might be a great way to connect with your customers. You can design high-quality items your audience will love, like canvas bags, t-shirts, and more, using platforms like Printful or Printify. 
All you have to do is set up a storefront, integrate with the print-on-demand company of your choosing, and let them go to work.
They take the order, make the product, ship the item, and then take their cut for the hard work of actually producing the item. 
It's a great way to get design work out there without having to keep up with inventory-tracking software or investing in a large stock of various sizes, colors, and types of products.
---
9. Digital Product Sales
Another option you might consider as businesses that run themselves is digital product sales. You can create printables on Etsy or sell art prints for download. These can easily be made on sites like Canva, and there are tons of options out there. 
You can make planner pages, workbooks, party planners, and anything else your heart desires. 
6 Best Physical Businesses That Run Themselves
If you want something a little more hands-on than an online store, it might be time to start thinking about what local businesses could be right for you. It will require a little more upfront investment, but it can be a great way to help the community and put a little cash in your pocket. 
Let's take a look at some of these options for a self-running business. 
1. Vending Machine Business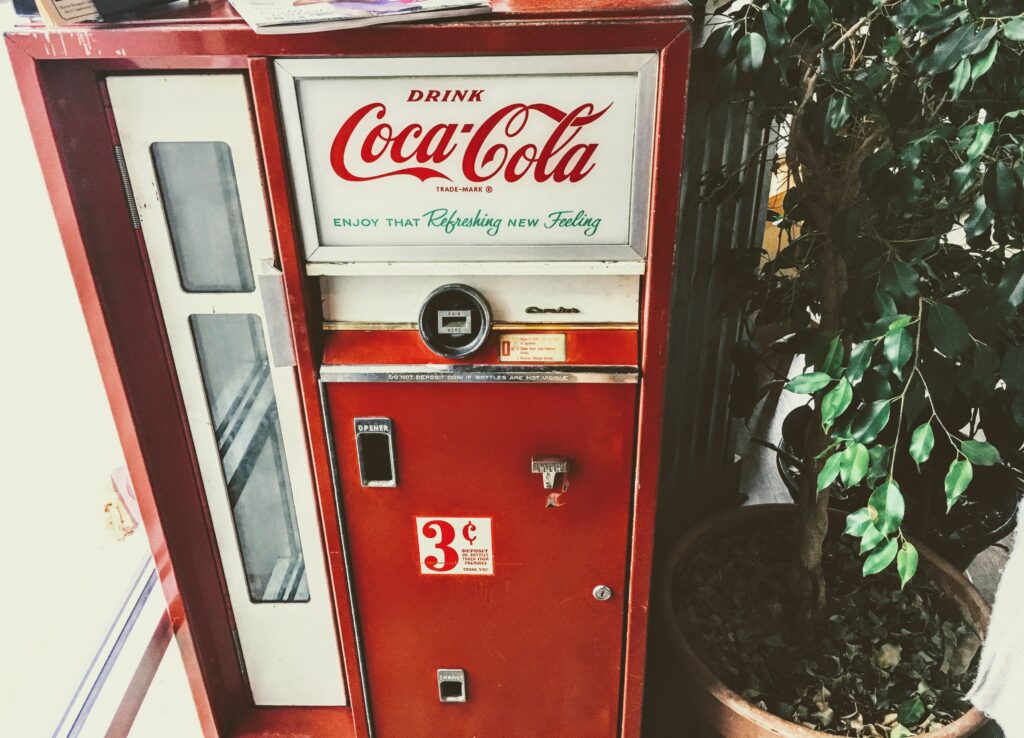 Most businesses have vending machines in place for their employees to take a snack break or to feed clients who are waiting for a meeting. You can cash in on this by running your own vending machine business. 
You will buy your own vending machines, and businesses will charge you a small sum for placing those machines in their stores, offices, or other locations.
After you pay the fee, you get to pocket all of the money that comes out of the sales made by the vending machines. 
Keep in mind that you will have to regularly make your vending machine route so that you can restock the machine.
You won't make any money if the vending machines have no goods to sell.
An ATM business might also be a great option with a similar setup. You earn money on the fees of people who use your ATMs, and you pay for the right to place them inside convenience stores, hotels, and more. 
---
2. Laundromat Business
If you have some money to invest (or can secure a business loan), a laundromat business is one of the best ideas for passive income.
All you have to do is supply the washing machines and dryers, hang out some advertising, and people will come to you for this necessary service. 
Because everyone needs to wash their clothes eventually, you are likely to get a return on your investment sooner rather than later. This is also a great business that can scale to multiple locations once your first business is earning money. 
Most washing machine businesses make between $15,000 and $300,000 annually.
---
3. Storage Facility
A laundromat has the potential for costly repairs, but self-storage units don't require much from you to keep the wheels on the business.
A self-storage facility is great if you have land or a building where you can safely sell access to a unit where people can store excess belongings. 
Self-storage facilities are a relatively hands-off business model. All you have to do is make sure units are secure and defend against vandalism. 
---
4. Self-Service Car Wash Business
Maybe you don't necessarily want to be present at all times to manage your business. A car wash business allows you to sit at home while you take the money from paying customers.
In particular, a self-service car wash business is a great moneymaker. It's estimated that each bay you have in your car wash earns $1,975 per month. 
This is another hefty investment upfront, but it has the potential to be quite lucrative, and you don't need to be involved in the day-to-day operations. In fact, you can even run a successful business and steady income with no employees. 
---
5. Outdoor Advertising Space
If you own some land that sees a high degree of traffic, you might want to consider posting a billboard by the road if local zoning laws permit this.
You can then advertise your billboard rental business, and others will come to you to put their business ad on your billboard. Once the billboard is in place, you just have to sit back and watch the money roll in.
The amount you make depends on visibility and whether you live in a rural or urban area.
It may even be affected by other businesses offering similar services to yours, so consider pricing in a competitive market.
---
6. Rental Property Business
Have you ever considered becoming a property manager? You might find that you can make a healthy living from rental properties if you have money to invest in real estate.
There are lots of benefits to renting out space, whether you choose to do so residentially or commercially. 
Most of the time, your tenants will sign a long-term lease for one to three years. This enables you to rely on a set income from month to month.
The only thing you'll be responsible for is property maintenance and repairs.
If you don't want to manage the properties yourself, you can hire a property manager who can handle finding tenants, screening tenants, and collecting money for your monthly rental so you can kick back and enjoy businesses that run themselves. 
Final Thoughts: Best Options for Businesses that Run Themselves
Whether you want an online business or something that gets you out of the house, there are plenty of options for businesses that run themselves and generate passive income while you sleep. There are a few initial investments you might have to make, either financially or with time. 
However, once they are in place, you can enjoy a steady income for months or years to come. 
When you're ready to start earning more, consider some of these top ways to generate money while you sleep.