No matter what type of business you run, there's nothing more impactful for marketing and sales than glowing customer reviews. Customer testimonial pages can be incredibly impactful in driving conversions, building trust and credibility with potential customers, and also improving customer loyalty.
Customer testimonials can make a huge difference and leave an impression that lasts long after they click away.
Here we'll explore 19 remarkable customer testimonial pages, so you can draw inspiration on how to craft one that resonates with your target customers.
We'll also dive into why these pages work so well – as each has its own unique style, benefits, and challenges to consider when creating yours!
What Are Testimonial Pages, and Why Should You Have One?
Customer testimonial pages are an invaluable resource for any business, regardless of size or industry.
Put simply, it's like having a cheering section full of fans! Positive testimonials allow you to show off your accomplishments and share endorsements from past clients who are proud to have worked with you.
A testimonials page highlights real-life success stories from past clients and those already using and benefiting from your goods or services: this helps to build your company's reputation in a compounding way.
They're a great way to show off your business and make potential customers feel confident about dealing with you.
It also serves as solid social proof for those unsure of what path to take when making their decision. Positive testimonials are essential for a successful business website since they give customers additional insight into what it's like working with you.
In short, it's an invaluable sales tool – getting those "window shoppers" in the door for good!
Great Examples Of Testimonial Pages
Here are a few great examples you can model your pages after!
1. Senja
Senja understands the importance of testimonials, as well they should – that's what their product is all about!
Senja is a powerful tool that helps users collect video and text testimonials, manage them in one dashboard, and share the final results with beautiful images.
It works across platforms, allowing users to quickly filter tags, ratings, and job titles. 
2. Podia 
Overflowing with appreciation from its loyal customers, Podia's testimonials page is a testament to its ability to help entrepreneurs build their presence and succeed online.
Our Podia review and hundreds of others like it have helped show how much users can benefit from the platform.
3. Canny
Canny's testimonials page proves why countless software teams rely on the platform to collect their customer feedback. Through its case studies, you can understand how and why individuals use it to capture customer feedback.
4. Cloudflare
CloudFlare offers various customer reviews in case study format, with long-form articles and videos for visitors to watch. The case studies can be filtered by industry, region, use case, and product/service to make it easier for a potential customer to find relevant testimonials.
5. GetResponse
Testimonials should be concise and to the point, yet GetResponse understands that extended blog post testimonials also have their advantages. GetResponse's website visitors can quickly locate the most relevant recommendations by filtering them based on industry or specific tools used.
6. Shopify
This page is full of inspiring stories from Shopify customers around the world. These success stories highlight how entrepreneurs have used the platform to grow their businesses and what they've been able to achieve with it. It's a great way for a prospective customer to relate on a more personal level and see how successful others using the same tool can be.
7. CodeAcademy
Video testimonials are a great way to add an extra layer of emotion and authenticity to your testimonials. CodeAcademy has taken this approach on its Testimonials page by providing short videos where learners discuss what it felt like to learn coding with the platform.
8. HubSpot Testimonial Pages
Hubspot's case studies directory allows site visitors to filter by six options to quickly find a pertinent, highly detailed customer success story. Through the HubSpot platform, users can even filter by black-led businesses or female-led businesses to uncover relevant stories of individuals and companies that have achieved success. This makes it easier for readers to identify with the companies showcased on the page.
9. Gong
If you're looking for a great example of how a testimonials page can be done right, then look no further than Gong's case studies page! Featuring detailed info about how businesses across different industries achieved great results with the platform, it's a surefire way to get prospective customers excited about using Gong.
10. Leadpages
Leadpages has got testimonials on lock! Their customer page is a smorgasbord of success stories! Users can easily navigate their way through the many categories of case studies, and each category has a bunch of squeaky-clean mini-sagas about how Leadpages are making marketing dreams come true.
11. MultiWebMarketing
At MultiWebMarketing, it's all about the success stories!
They proudly show off their case studies with amazing images so potential customers can get a real idea of their value if they choose MWM. It's easy for potential customers to see themselves achieving similar fantastic results!
12. Huemor.rocks
Huemor.rocks knows that great design packs a punch, so they have taken their customer testimonials page to the next level with a stylishly modern and visually impactful page design. 
13. Databox Testimonial Pages
If you're seeking serious story-time inspiration, look no further than Databox's testimonials page. It packs a real punch regarding detailed customer stories and data-driven insights.
14. Tray.io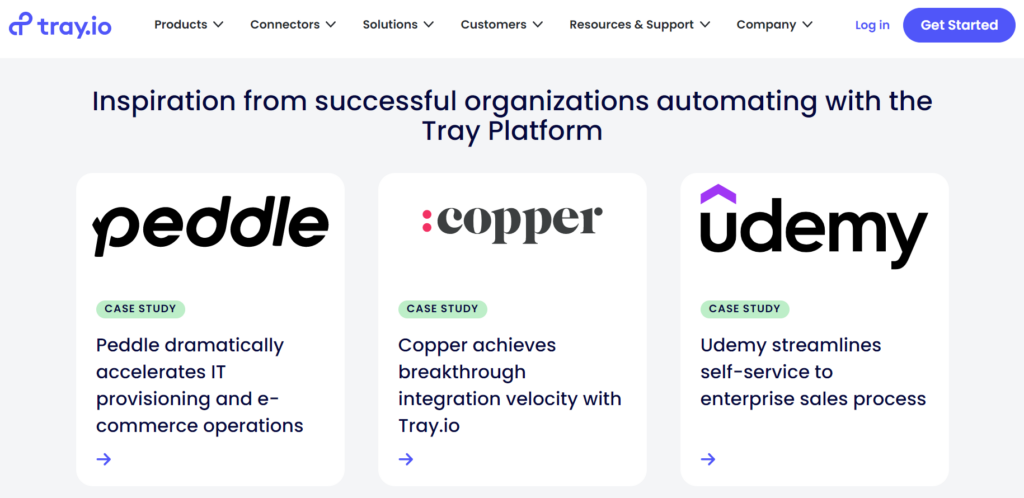 This testimonials page provides insight into how Tray.io's integration and automation platform can help businesses of all sizes achieve their goals. It showcases the success stories of a variety of customers from different industries, demonstrating the scalability and effectiveness of Tray.io.
15. Heap Testimonial Pages
The Heap Customer Stories page offers a comprehensive selection of customer success stories that show the effectiveness of their platform in helping businesses reach their goals. From increased conversion rates to faster time to insight, these inspiring stories demonstrate the power of Heap's analytics platform.
16. Zendesk
Zendesk's testimonials page provides a great insight into the success they've achieved with different industries and company sizes.
This allows customers to gain a better understanding of how the service can suit their needs. The page features inspiring customer stories demonstrating how companies have improved their customer service through Zendesk.
17. GoCardless
The GoCardless customer stories page is a great resource to learn how businesses of all sizes are successfully utilizing their payment processing solutions. It's an inspiring collection of success stories that showcase the power and reach of GoCardless!
18. Applied Systems
The Applied Systems testimonials page showcases the success stories of some of the leading insurance companies in the United States. This makes it a great resource for those looking to understand how to leverage advanced software and solutions for their business.
19. Bonjoro
Bonjoro's testimonials page is an excellent resource for understanding how they have been able to help businesses of all sizes and industries by providing personalized video messages. The vibrant graphics and playful feel make the page engaging and enjoyable, creating a unique user experience that inspires visitors.
How to Create Effective Testimonial Pages
Creating great testimonial pages for your site can be a bit tricky. It requires effort to gather true reviews from honest customers, but the end result is worth the extra work!
While you want to ensure you get rave reviews from satisfied buyers, here are some tips to help you create effective and engaging testimonial pages.
Authenticity is key when creating an effective testimonials page. Make sure the reviews are genuine and coming from a real person.
Concise yet detailed reviews are also important, providing more information without rambling.
Be sure to ask specific questions to get the answers you're looking for. That way, you can filter out irrelevant information and focus on real people expressing genuine thoughts about your products and services.
Personalize each review with photos or other visuals to provide powerful visual reinforcement that each review truly comes from an actual customer.
Keep the conversational tone natural and avoid overly formal language. Nobody wants a scripted-sounding testimonial page!
Different Types of Testimonial Pages
Video testimonial pages. These are effective because they are often seen as more sincere and authentic than text-only reviews. The best videos feature customers talking about their experiences honestly and genuinely off-script.
Social media. These are great for showing how real customers interact with your business. They can be a fantastic way to showcase loyalty and trust from your existing customers and reach new visitors.
Customer interviews. This is a great way to highlight customer stories in an engaging and interactive format. Interviews can provide valuable insight into how customers use your product or service and why they chose you over competitors.
Long-form testimonials/blog posts. Longer reviews give readers more information about the experience of working with you. They have more detail that can help make decisions.
Short-form testimonials/quick quotes. These are great for quick and easy reading. They should still include enough detail to showcase satisfied customer experiences effectively.
Case study/customer success story. These are more in-depth than other types of testimonials. They provide an even more comprehensive understanding of how customers use your products or services.
Third-party reviews, peer reviews, or authority testimonials. These can increase the authenticity of your testimonial pages since they come from a credible source outside your company.
Regardless of the type of testimonial pages you choose, showcase customers' genuine experiences with your business.
Tips on How to Get Customer Feedback
Ask! One of the most effective ways to get customer feedback is simply by asking. You can do this through surveys, emails, or other methods. Make it easy for people by including a link to wherever you want the customer to leave their review.
Create touch points. Create contact points throughout the customer experience that allow you to capture feedback. You can include surveys on your website, requests for reviews at the end of an order or delivery process, or even provide a link to a short survey in your emails.
Incentives. Offering incentives like discounts, coupons, or free products are great motivators for customers to leave reviews.
Follow up on positive experiences. If a customer has had a positive experience with your business, following up and asking them to leave a review can be very effective.
Social media. Utilizing social media is an easy and effective way to get customer feedback. Posting polls or surveys on your social media pages can help you get responses quickly and easily.
Analytics and reports. Analyzing your website analytics and customer reports can provide valuable insight into how customers interact with your business. This information can help you identify areas where improvements may be needed and get an idea of how satisfied customers are.
Customer service and support. Asking customers for feedback on their experience with customer service or support teams is a great way to get honest and insightful feedback. This can help you identify potential areas of improvement.
No matter which method you choose, it's important to ensure the process is easy and accessible for customers. Provide options for customers to leave feedback in different formats, and be sure to thank them for their time and input.
How to Make Your Testimonial Pages Stand Out from the Competition
Showcase the most relevant testimonials when displaying testimonials on your website, including ones relevant to the page or product they're featured on.
Include customer photos. Including customer photos with the testimonials can help to create a more personal connection with the reader. It also increases the authenticity of the testimonial.
Keep them up-to-date. Make sure your testimonials are kept up-to-date and regularly refreshed. This way, visitors will have access to the most recent customer experiences.
Include multiple formats. Offer different formats for customers to leave reviews, including text, video, and audio. This makes it easier for customers with different preferences to leave feedback.
Make them easy to find. Place customer reviews and testimonials in prominent positions on your website so visitors can easily find and read them.
Testimonial Pages: Final Thoughts
Customer testimonials are a powerful tool for businesses looking to showcase their customers' experiences.
By following these tips, you can ensure that your testimonials page will effectively build trust and credibility with potential customers.
With the right approach to collecting and displaying customer testimonials, you can create an unbeatable competitive edge.
For more resources to help boost your website's trust signals and gain credibility, check out these articles next:
The 9 best About Us generators
Best About Me template for your website