In this article, we're going to be sharing some of the best ways to make extra money from home. Whether you're a college student looking to make a little extra pocket money or you're looking to replace the salary from your day job and work from home, you'll be pleased to know that there are plenty of options out there worth trying.
Let's dive in!
1. Start a YouTube Channel
If you're confident in front of the camera, starting a YouTube channel could be a great way to increase your income.
Start making videos on the things you're passionate about and work on engaging an audience. Once you surpass YouTube's monetization threshold, you'll be able to make money from ads. However, even before you reach this level, you can promote affiliate links and even get paid to advertise products through brand partnerships.
If you're a little camera shy, you can take advantage of the advances in AI. Try using an AI video creation tool like Synthesia to create your own YouTube channel using an avatar!
Check out our article to find out How long does it take to Make Money on YouTube
2. Blogging
If recording videos isn't for you, then starting a blog is another great way to share your passions and make a little money along the way.
Bloggers can make money in a variety of ways, including:
Affiliate marketing
Display Ads (with Google Adsense or Ezoic)
Sponsored content
Selling digital or physical products
Selling services
Whether you're sharing affiliate links with your readers or working on paid reviews, blogging is a really diverse and varied way to make money online. And best of all, it doesn't even cost much to get started.
Take a look as our article How to Start a Blog That Makes Money or check out The Authority Site System (TASS) by the guys at Authority Hacker.
If you love social media, then you can combine making videos, taking photos, and writing by becoming a social media influencer.
Concentrate on engaging your audience and growing your channel. Before you know it, you'll be able to turn your new social media venture into a profitable side hustle!
People enjoy social media posts on a variety of topics. Whatever you feel like sharing online, you should be able to find ways to monetize it successfully.
4. Dropshipping
Dropshipping allows you to create your own e-commerce store without the need to worry about buying and storing inventory. Instead, you sign up with a dropshipping supplier who will pack and ship the inventory you are selling directly to the customer once they have placed an order on your website.
Every dropship supplier will offer a variety of different products. Because of this, it's important to do some research and see which is the best one for you. Apps like Oberlo and Spocket are great for helping you find reputable suppliers to work with.
5. Amazon FBA
If dropshipping isn't for you, but you still want to start your own e-commerce brand, then taking advantage of Amazon's FBA (Fulfilment by Amazon) service is a great option.
This allows you to source your own products. However, rather than stocking and fulfilling them yourself, you send your stock to an Amazon FBA warehouse, and they take care of the rest for you.
There are some fees involved, but the earning potential is huge. This can be a reliable way to quickly scale your own e-commerce business without having to worry about storing inventory.
Read Spencer's Amazon FBA success story to see how he sold $40,639 of physical products in just 30 days!
6. Start a Print on Demand Store
Print-on-demand (POD) is another great way to start a retail venture without having to worry about storing items and fulfilling orders. Print-on-demand can be done with a variety of products. This includes tote bags, hoodies, hats, t-shirts, mugs, and more.
When your customer makes an order, it is sent to the company you work with on your print-on-demand products (they usually offer a white-label service). They will fulfill your order for you, so your customer gets their product, and you don't have to be too hands-on. Check out our breakdown of 2 POD industry favorites Printify vs Printful.
7. Publish an Ebook
If you are knowledgeable on a topic or there is something that you are able to research, then putting this together into a book that you can share with others is a great way to make some extra income.
It is worth doing some research to see what demand there might be for the type of book you want to create. However, you might be surprised at how many people enjoy the same topics as you. Create a well-written book and self-publish your book on Amazon, and you'll make money from every copy downloaded.
8. Sell Things You Don't Need on Facebook Marketplace
Not everyone realizes it, but having a declutter is great for more than just getting space back in your house.
Most of us are guilty of clinging to things that we don't need. For example, clothes we're not going to wear anymore and gadgets no longer loved by the household.
Remember, one man's trash is another man's treasure. Facebook Marketplace allows you to sell for free, so taking items you no longer need and selling them is probably the easiest way to make extra money quickly!
9. Online Surveys
Customer research is a vital part of product success for many companies, which means that they're keen to pay for customer opinions.
Companies like SwagBucks and Branded Surveys enable you to answer research questions set by these companies and get paid for your time.
The amount each survey pays does vary, and often payouts are low. However, if you have an extra hour or two a day, the amount you can earn soon adds up. You also have the added bonus that online surveys are flexible, so it's a great way to earn a little extra money around your existing commitments.
10. Transcription
Transcription is one of the easiest ways to make extra money online. It won't make you rich, but it's really flexible. This makes it a great option for stay-at-home moms who want some extra cash.
This profitable freelance gig involves transcribing (typing up) video or audio content into a document.
You can get started straight away using a company like Rev.com. On Rev, you will find hundreds of freelance transcription jobs that you can choose from, offering fast weekly payments.
11. Create an Online Course
Selling your knowledge on a particular subject is a great side hustle idea, with the potential to generate passive income for years to come!
Creating an online course might sound complicated at first, but actually, there are many different online course platforms that you can use to make the process easy.
People have a variety of interests, so whatever you want to create a course on, you can be confident there will be a customer base waiting for you.
Heres some in-depth info on How to Build an Online Course.
12. Freelance Writing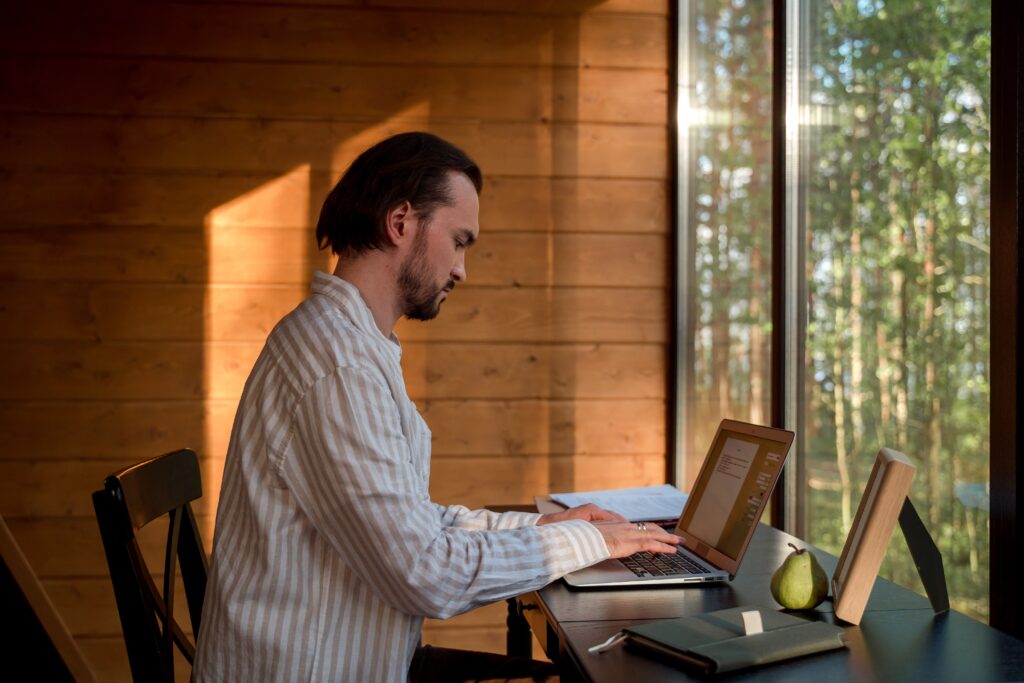 If you have a flair for well-written English and a decent typing speed, then freelance writing can be one of the best ways to make extra money from home. There are a variety of freelance platforms that you can use to get started, including People Per Hour and Upwork.
These allow you to set up a profile, including a portfolio of your products. This means that people can hire you for any writing that they need. You can see what writing projects people are hiring for and apply for any jobs that are advertised. You can also find entry-level freelance writing jobs on the Problogger jobs board.
13. Sell Your Photos
If you're talented at photography, then why not turn this into a hobby that you can make a little money from? Stock images, art prints, and stunning sceneries are all things that people look to buy online, so if you have the ability and equipment to take them, then selling them is a viable way to make some money. 
Customer experience is an important part of any business's success, and as such, collecting feedback as to what that is like for customers is essential.
As a mystery shopper, you carry out set tasks for a company. For example, buying certain products from a shop or eating a meal at a restaurant and then providing detailed feedback on your experience to the company involved.
Your expenses are usually covered on top of a payment for carrying out the mystery shopping assignment.
15. Start a Rental Business
If you have money to invest, then starting a rental business is an easy way to set yourself up in business.
Whether it's renting out a property, machine tools, or even things like event accessories, you will usually find that there is a market for products that people want to rent and good money to be made.
Of course, you need to have the initial outlay to get started, so make sure you do some research and ensure that it's the right decision for you.
16. Test and Review Websites
Much like testing out physical products and venues, companies also need to know that their website works efficiently. Because of this, many companies pay users to test and review websites.
You'll usually be set a series of tasks to carry out and mark down how easy they were to do. This information is then given to the company so they can tweak any elements of their website that are needed.
17. Teach English Online

If you are a fluent English speaker, teaching English online is a great way to earn some extra cash in your spare time.
Let's TEFL offer an in-depth course with everything you need to know about becoming an online English teacher.
VIP kid is another great company you can sign up with to get paid to teach English online in your free time.
18. Freelance on Upwork
We mentioned previously that you could set yourself up on various platforms as a freelance writer, but that isn't the only service you can offer as a freelancer. Upwork and other similar platforms will allow you to offer services like photography, graphic design, and even social media management. If you have any creative or useful skills, you can sell these to others and make extra money that way.
19. Sell on eBay
Selling on eBay is a great way to make some extra money—and there are plenty of different ways that you can do it. Decluttering and selling your own goods is a great place to start.
However, if you are a charity shop bargain hunter or a yard sale fan, then sometimes buying second-hand items and flipping them on eBay is a great way to make some money too.
20. Sell on Etsy
If you are creative in any way, then selling on Etsy is a great way to make some money too. Much like any other selling platform, you need to take into account fees. However, that shouldn't put you off. Do some research to see what is already on offer on the platform and what sort of prices people are charging, and then you can take things from there. 
21. Pet Sitting and Dog Walking
If you're an animal lover, then why not turn your love of all things furry into a business? Pet sitting, pet home visits, and even dog walking are all great ways to make extra money. As your own boss, you can pick your own hours, and promoting yourself on social media is a great way to get started with this lucrative side hustle idea.
22. Become a Virtual Assistant
Offering admin services to businesses that need a little extra help is a great way to make some extra money.
Data entry, social media posts, accounting, and even just typing up documents and letters are all things that businesses need. Sometimes they don't need full-time staff to do this, so they opt to work with freelance virtual assistants instead.
Finding Ways to Make Extra Money from Home
As you can see, there are loads of great ways to make extra money from the comfort of your home. The great thing about starting your own business is that you can often turn something that you enjoy or are passionate about into a lucrative career.
If you're just starting out, it's worth choosing something you are already good at. For example, if you used to work in a 9-5 admin role, then working as a virtual assistant could be perfect for you.
With so many money-making routes on offer, there really is something for everyone.