Masculine fonts are perfect for projects targeting a male audience or brands that want to project a rugged image.
Let's say you're designing a logo for a barbershop, creating marketing materials for a men's clothing line, or putting together a website for a sports team. In all these cases, you want to use fonts that convey strength, authority, and masculinity.
But with so many font options out there, it can be challenging to choose the right one for your project.
That's why we've compiled a list of 23 distinctly masculine fonts that are sure to grab attention and make your designs stand out. Each font has its own unique characteristics and style so that you can find the perfect fit for your branding needs.
23 Masculine Fonts to Make Your Designs Stand Out
Some of these fonts have been around for decades, while others are newer and more modern. But all of them share the common thread of being bold, powerful, and perfect for any project that needs a touch of masculinity.
1. Baston: Refined Yet Strong
A great masculine font to try out is Baston. Crafted with precision, each curve in this sans-serif font exudes visual interest. Ideal for a multitude of design projects, Baston shines in fashion, magazines, logos, and branding projects.
It's the perfect choice to add a dash of manly sophistication to your quotes, headers, posters, book covers, and it is one of the best fonts for blogs.
---
2. Piedmont: A Bold Signature Font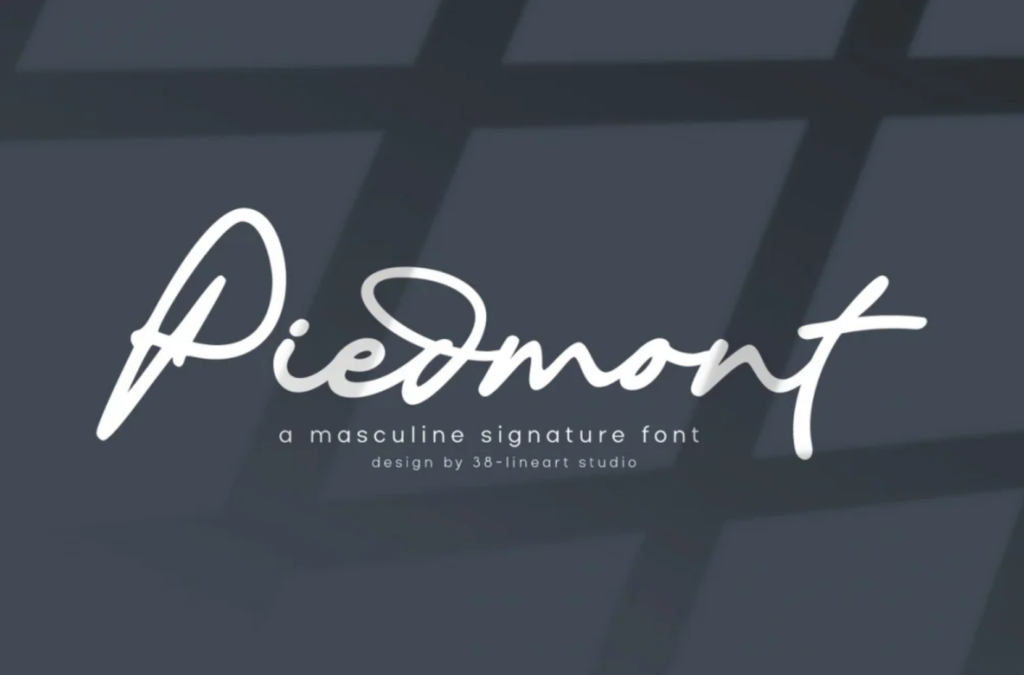 Piedmont, is the best masculine font with a signature style. Inspired by men's hand strokes, this versatile font presents bold strokes and thick lines that consistently point forward – embodying confidence, decisiveness, and assurance.
This masculine font comes with swashes, alternates, and additional ligatures for lowercase letters. Its robust presence makes it perfect for modern product branding, giving your digital designs a wider, more confident appeal.
---
3. Whiskey Ranger: Masculine Graphic Typeface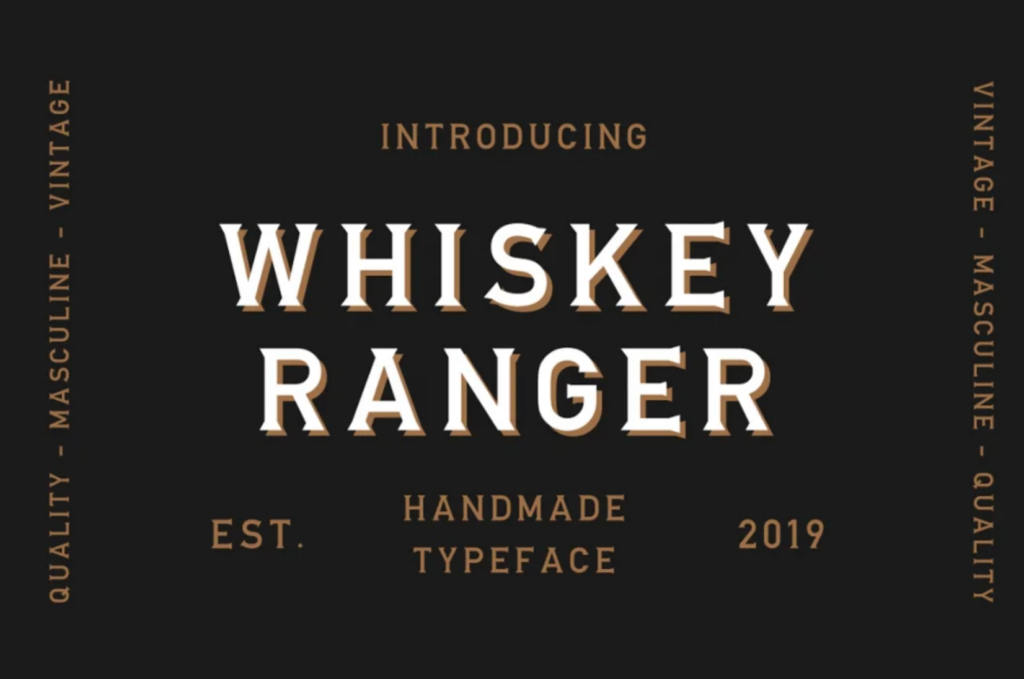 Whiskey Ranger is a stylish serif display font with a masculine charm and graphic punch. This creative blend of vintage and modern styles makes it an excellent choice for everything from business store signs to formal invitations.
Its elegant serif features make it perfect for logos, print, and various design needs. The set includes capital characters, numbers, and special characters, enhancing its versatility.
---
4. Fokus: Clean Masculine Font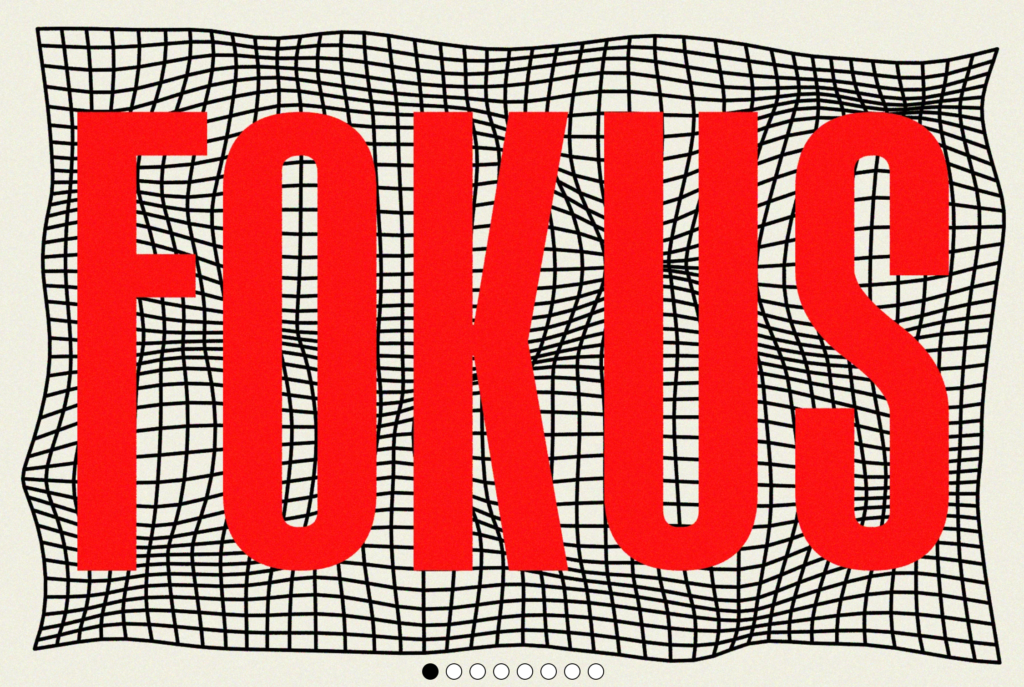 Meet Fokus, a condensed typeface inspired by mid-century print design. With its automatic attention-grabbing height, Fokus is a popular choice for creating stunning headlines, logos, quotes, and posters. It breathes life into magazine titles, social media graphics, clothing designs, and large print formats.
Available in regular and thin versions, this versatile font pairs well with scripts and bold sans-serif fonts, making it a great option for any font duo ideas.
---
5. Heisman: Sports-Friendly Font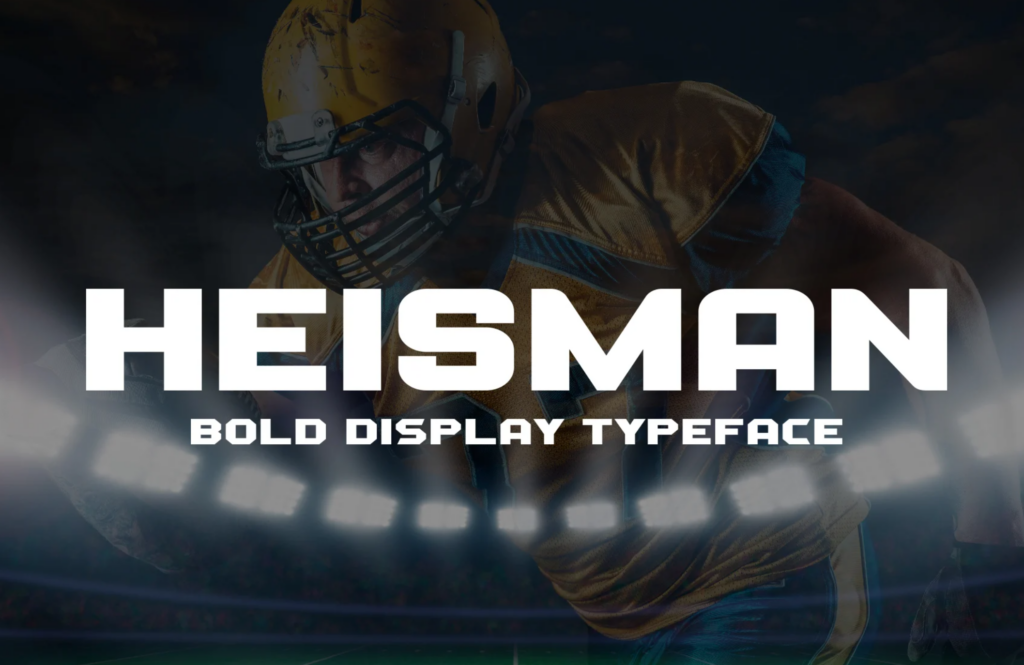 Heisman is the perfect font for sports-related projects, combining boldness with a masculine appeal. This all-caps, fully-kerned font offers unique large and small cap versions – sharp corners for large caps and rounded for small.
Its geometric perfection and strong, straight lines make Heisman a great font for headlines, jerseys, logos, and more. Play around with spacing or keep it tight – either way, this manly font is aesthetically pleasing to the eye.
---
6. Orbit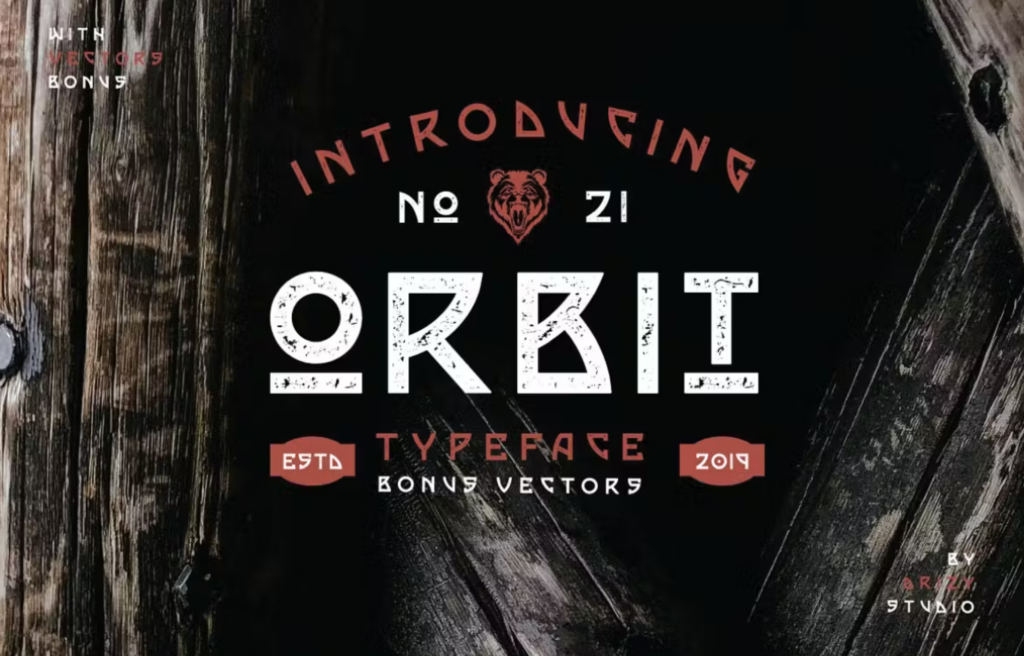 Orbit, a vintage adventure display typeface, is designed for creating bold, masculine impressions in logos or titles. Ideal for print, headlines, video, and t-shirt designs, it combines boldness with intricate details.
Note: Orbit's complex design may process slowly on some systems.
---
7. Genera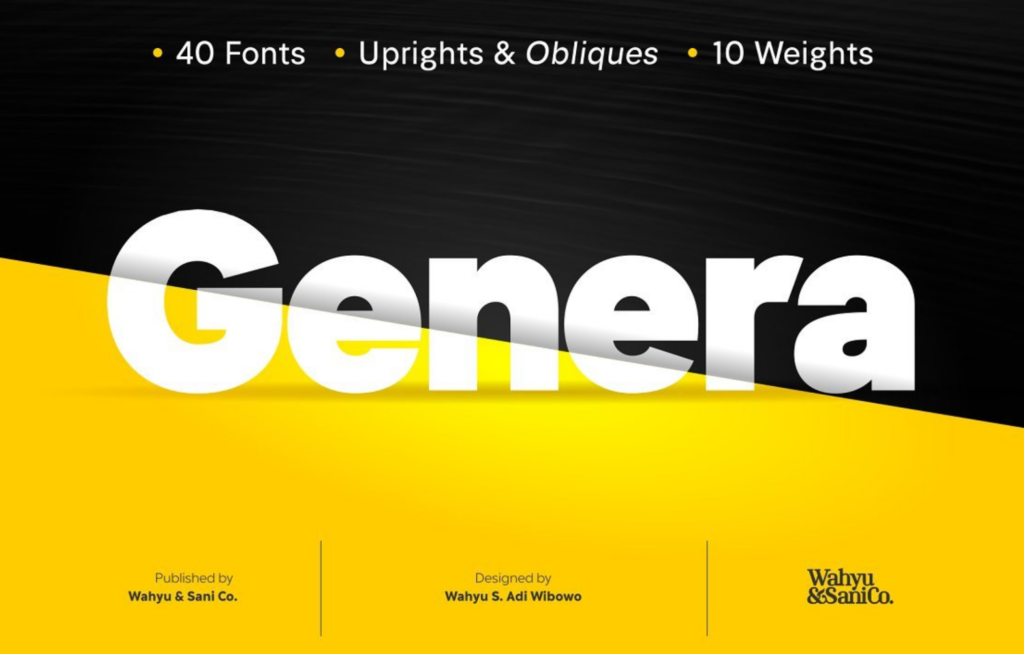 Genera is a bold, strong font family consisting of 40 neutral sans serif fonts. With 10 weights and over 470 glyphs in various languages, this font makes any design stand out.
Each weight boasts a distinct monoline look, while the alternate version, inspired by Futura, adds geometric flair. Despite its bold design, Genera remains easy to read, making it a versatile choice for various design applications.
---
8. Dozer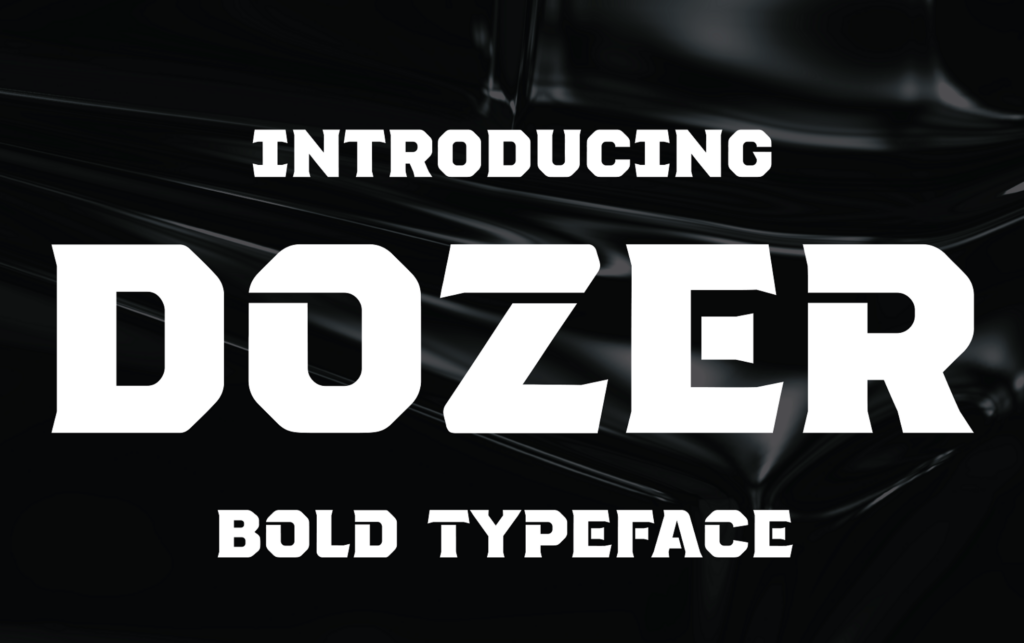 Dozer, a bold font among many fonts, offers a rugged, powerful style for those seeking to make a statement. Its blocky letters and strong lines radiate a commanding, masculine feel.
Perfect for posters, logos, YouTube videos, or branding materials, Dozer is the go-to choice for creating a design project that demands attention.
---
9. Northden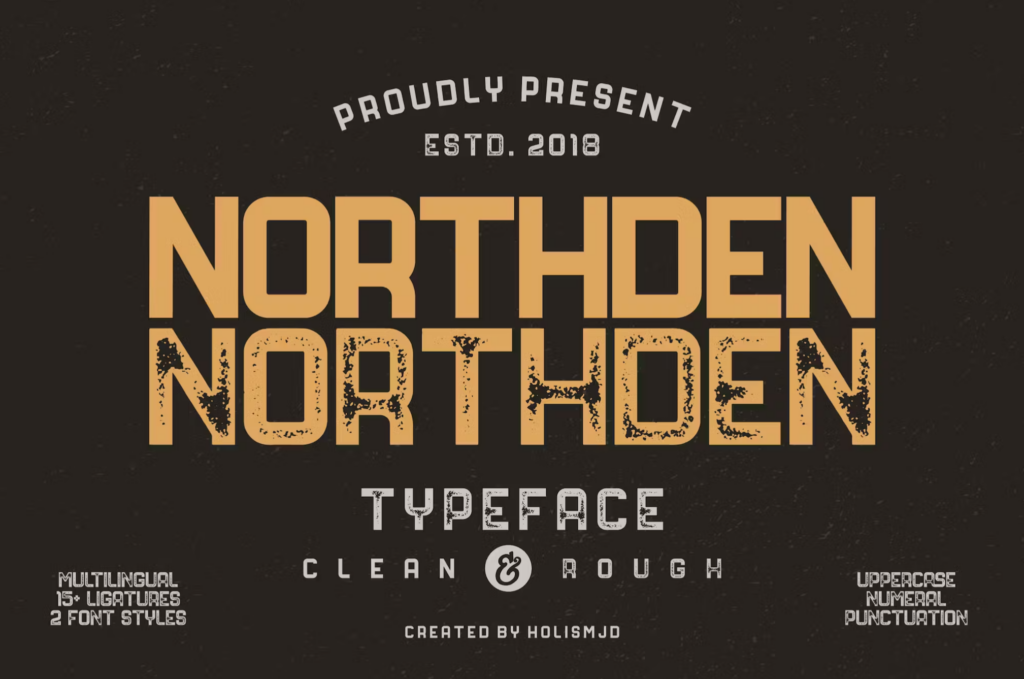 Northden is an industrial typeface and a prime example of masculine fonts that bring strength and boldness to any design. Its sleek edges and sharp design make it ideal for logos and headlines. With superior legibility, Northden remains clear even at small sizes.
It's a versatile font with a modern feel, suitable for various projects, especially in automotive designs. Its robust nature demands attention, ensuring your brand leaves a lasting, masculine touch.
---
10. Fright Night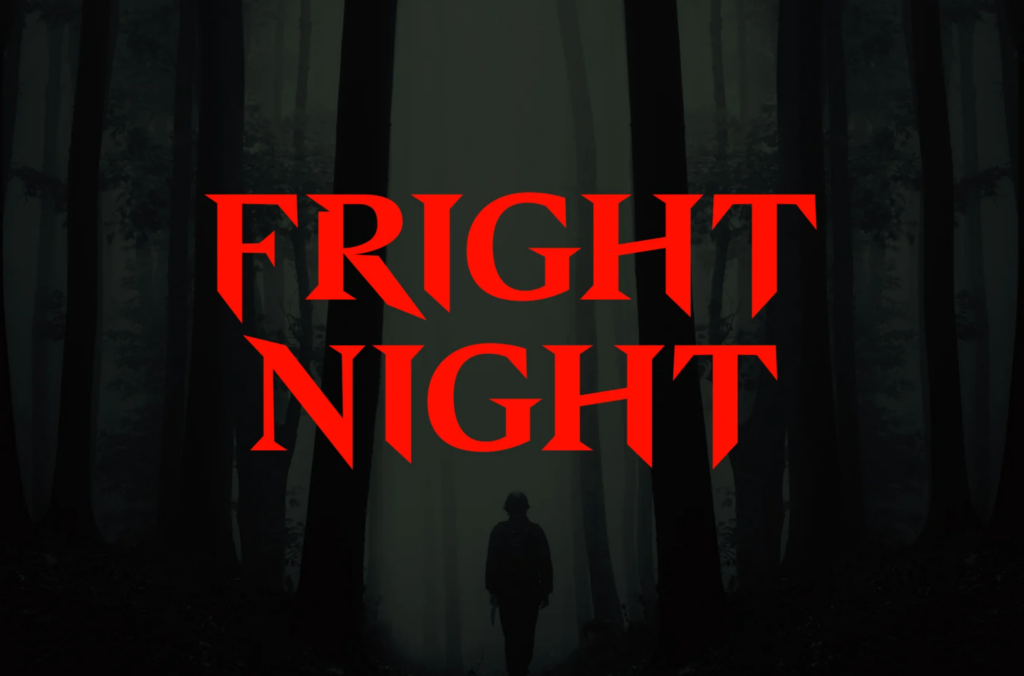 Fright Night is a creative and masculine serif typeface. It boasts clean lines and a unique style that builds suspense.
With its sharp, horror-inspired aesthetic, it's perfect for attention-grabbing projects like posters, movie titles, and branding. Its distinct look makes it a compelling choice for business cards and billboards too.
---
11. Ridge Cliff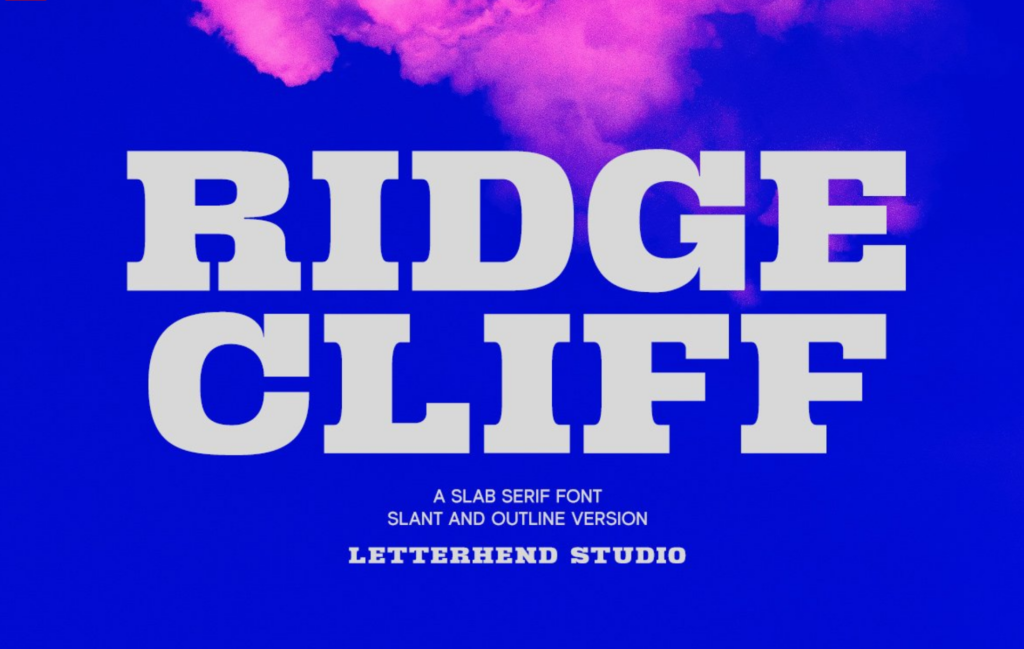 Ridge Cliff, a robust slab serif typeface, is among the best masculine fonts for business-focused designs. This manly font, with its clean lines, is ideal for headlines, logos, and formal branding projects.
It's PUA encoded, ensuring accessibility across various software. Ridge Cliff offers uppercase, lowercase, numbers, punctuations, and multilingual support, making it a versatile choice for any design endeavor.
---
12. Blessed Bandit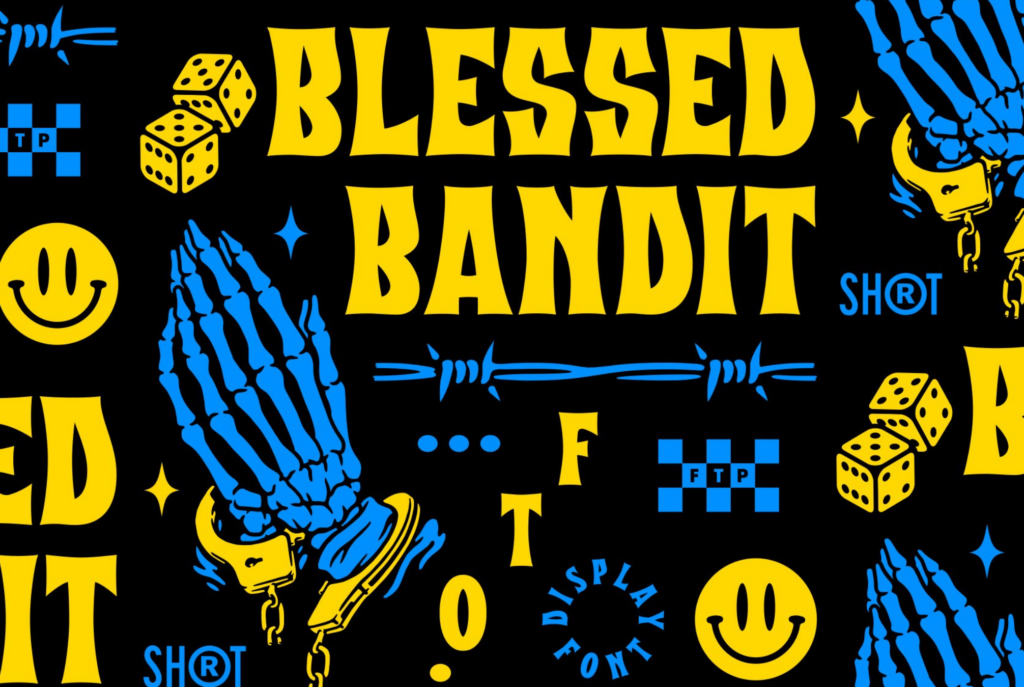 With clear, crisp lettering, this all-caps, bold font is among the best masculine fonts that scream badassery. Blessed Bandit echoes vintage designs of tattoo flash and biker art, making it a top choice for tattoo shops, edgy branding projects, and manly apparel designs.
---
13. Rowland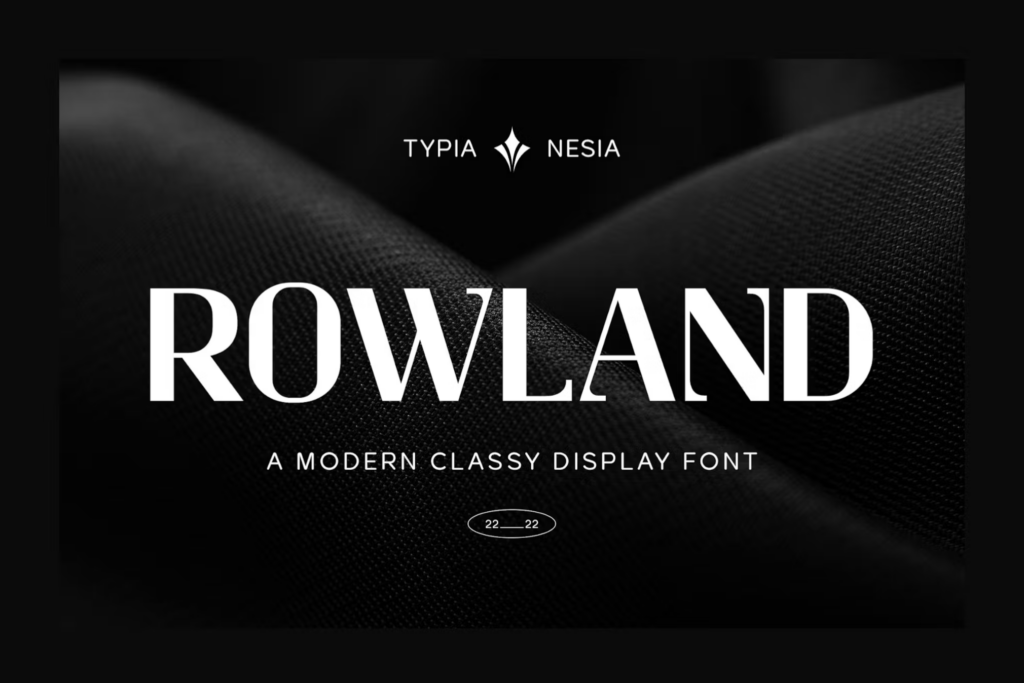 Rowland, a modern, classy sans-serif font, boasts geometric balance and bold confidence. Its clean, symmetrical letterforms offer visual harmony while its thick strokes exude strength.
This distinctive masculine font, perfect for logos, branding, and advertising, sets your brand apart. With multiple styles, including regular, bold, and italic, Rowland is ready to elevate your next project.
---
14. Alvaro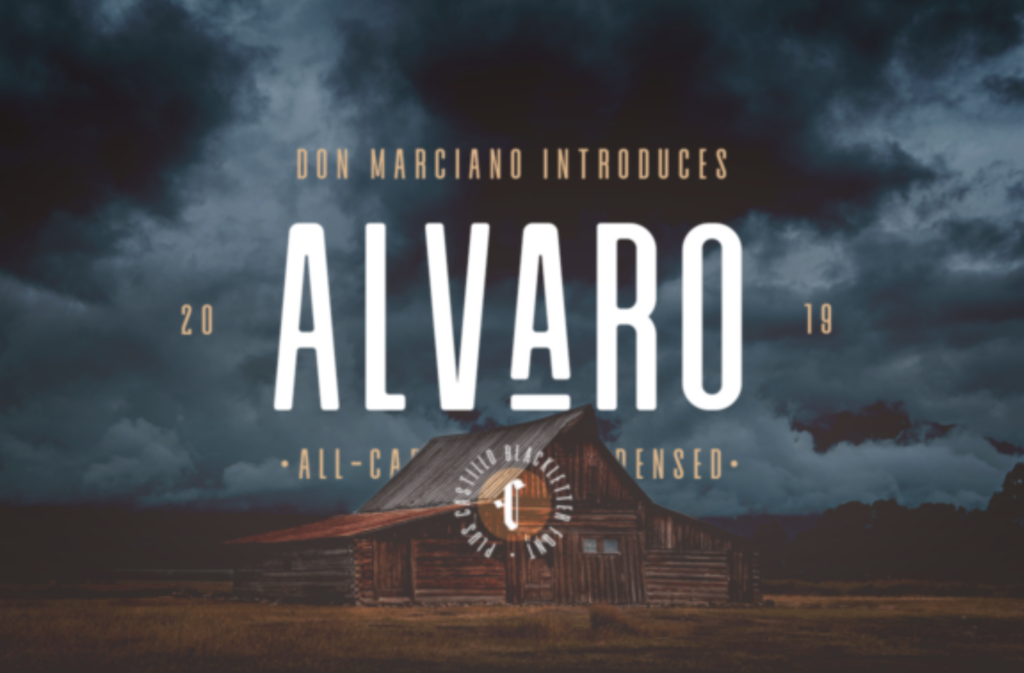 Alvaro is a clean, condensed font. It has a simple yet striking look that can spice up your branding project. Part of a growing family of masculine fonts, it pairs beautifully with Castillo, a black letter style, showcasing the design possibilities of this dynamic duo. It's a versatile choice for both professional and personal use.
---
15. Wildcat
Wildcat, among the best masculine fonts, is an athletic powerhouse. Perfect for basketball, football, and hockey-related design projects, its dynamic style can create striking logos, headlines, and apparel.
This versatile font is a great choice for magazines, labels, badges, and, of course, sporting event materials.
---
16. Grind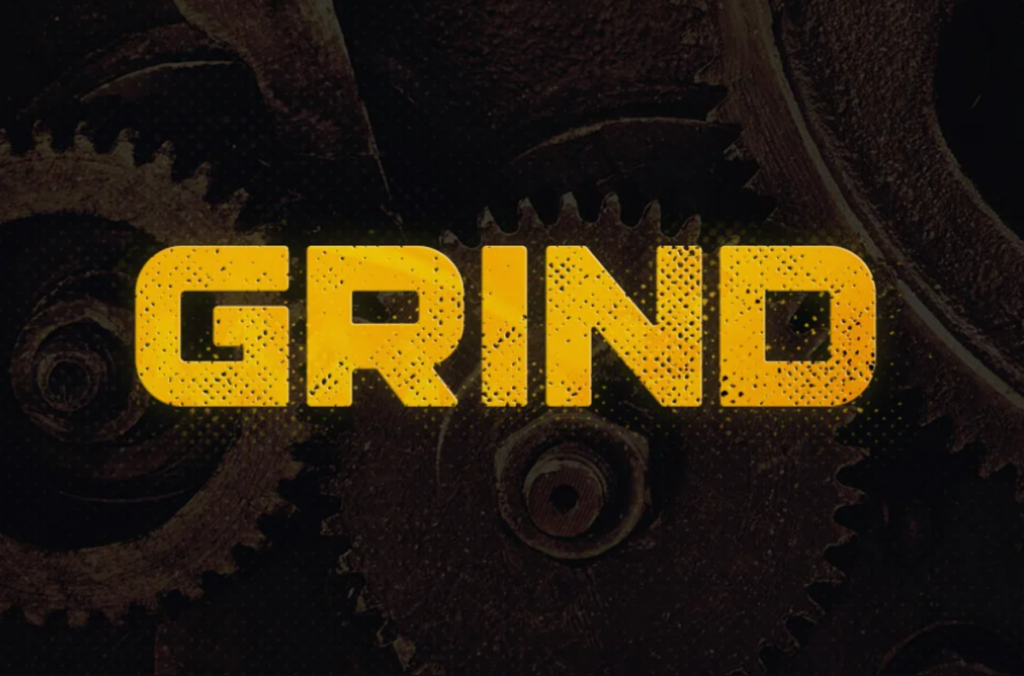 Grind is a bold and large-scale typeface embodying strength and toughness. With its simple, halftone, and demolished styles, it brings life to your creative projects.
This all-caps typography supports multiple languages and includes letters, numbers, and punctuation. Grind is a designer's dream, offering a high degree of customization for various design needs.
---
17. Brandy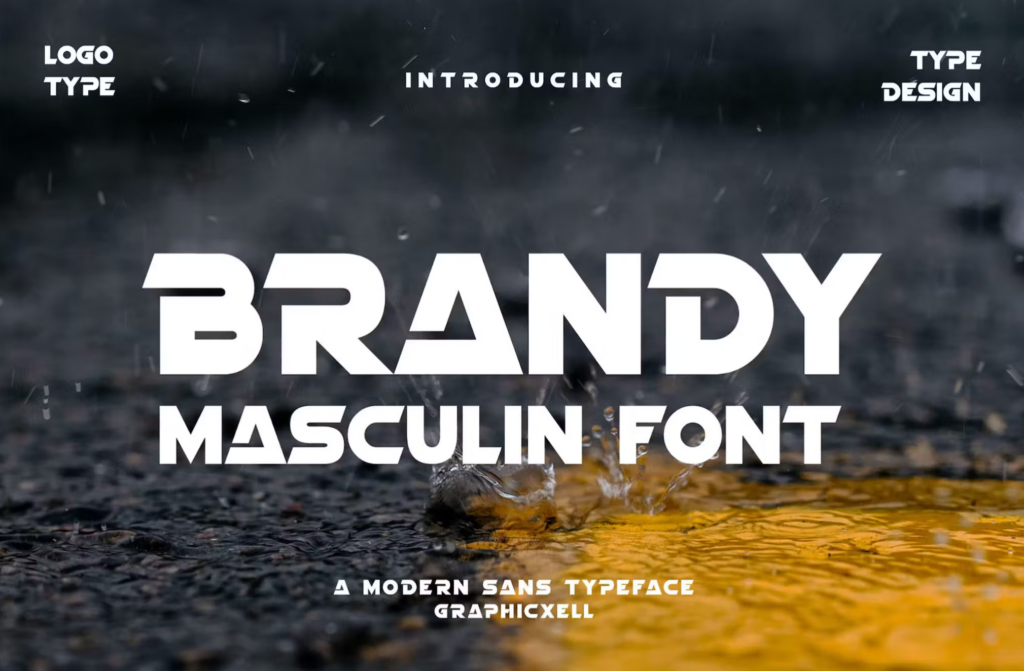 Brandy, a stylish masculine font, draws inspiration from minimalist logos and infuses an unmistakable Sci-fi touch. Perfect for creating templates, logos, brochures, and elegant crafting, it stands apart from other fonts with its versatility and legibility.
Whether in display or body text, each letter is crafted for clarity, even at smaller sizes, making Brandy an excellent choice for diverse design projects.
---
18. Asterone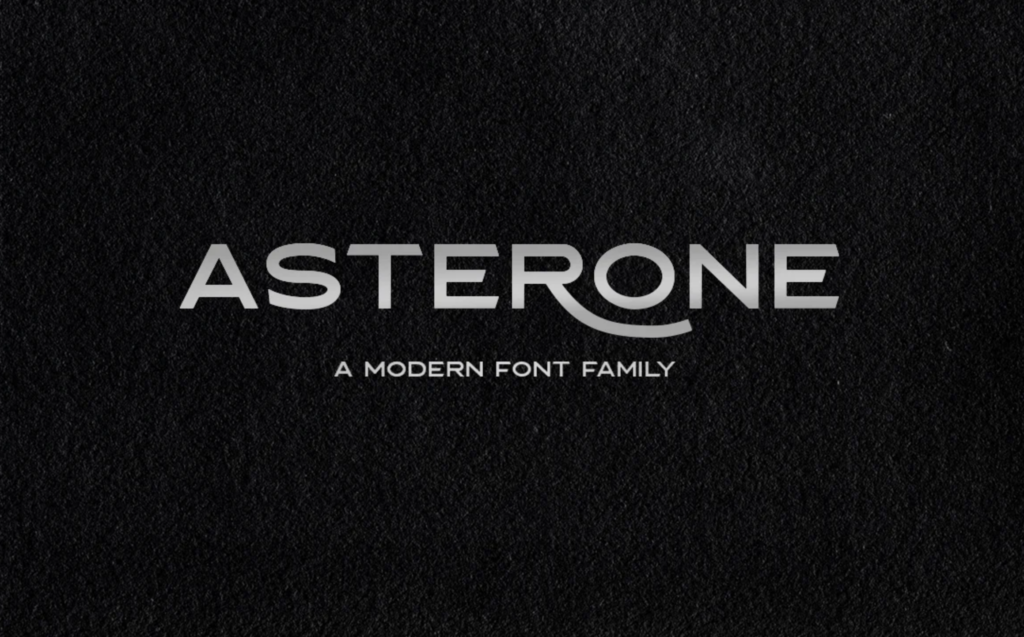 The Asterone font package is a modern serif-free set with design prowess. It brings an elegant touch to headlines, branding, and packaging. This versatile typography, supporting multiple languages, includes uppercase letters, numbers, and symbols.
Its creative alternates can be mixed for dramatic effects, making it ideal for business presentations with a pop.
---
19. Silvera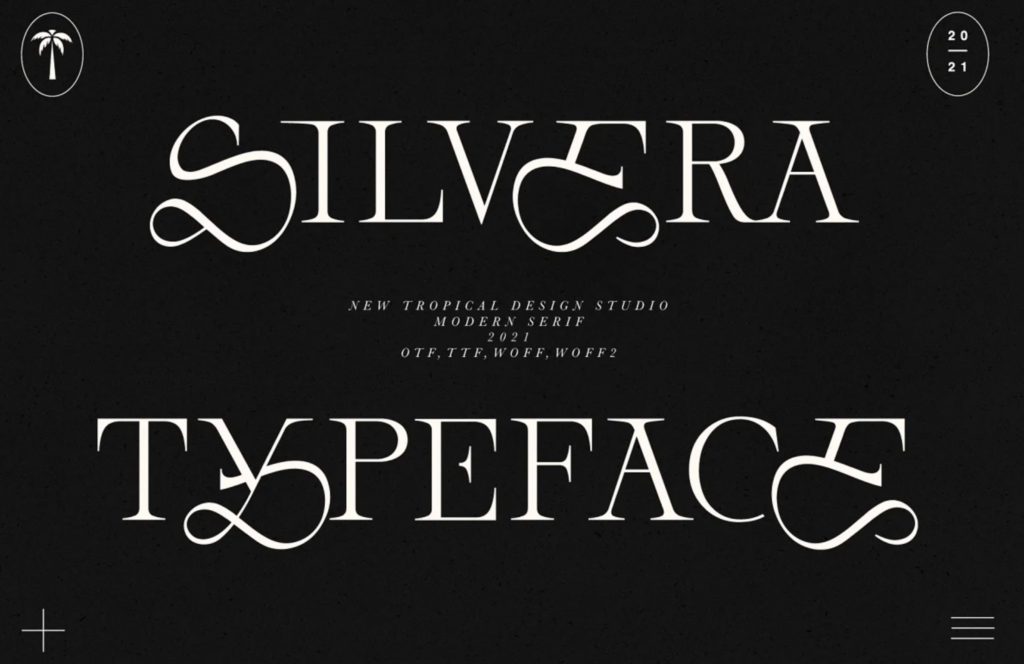 Silvera is a unique, edgy serif display font that embodies the power of masculine fonts. Its ornate caps case is filled with memorable glyphs, and a plethora of alternate letters in both cases allows for creative mixing.
It's one of the swirlier fonts on this list with a touch of flair. Silvera makes your work truly stand out without overpowering other design elements, making it a flexible choice in the world of manly fonts.
---
20. Brexter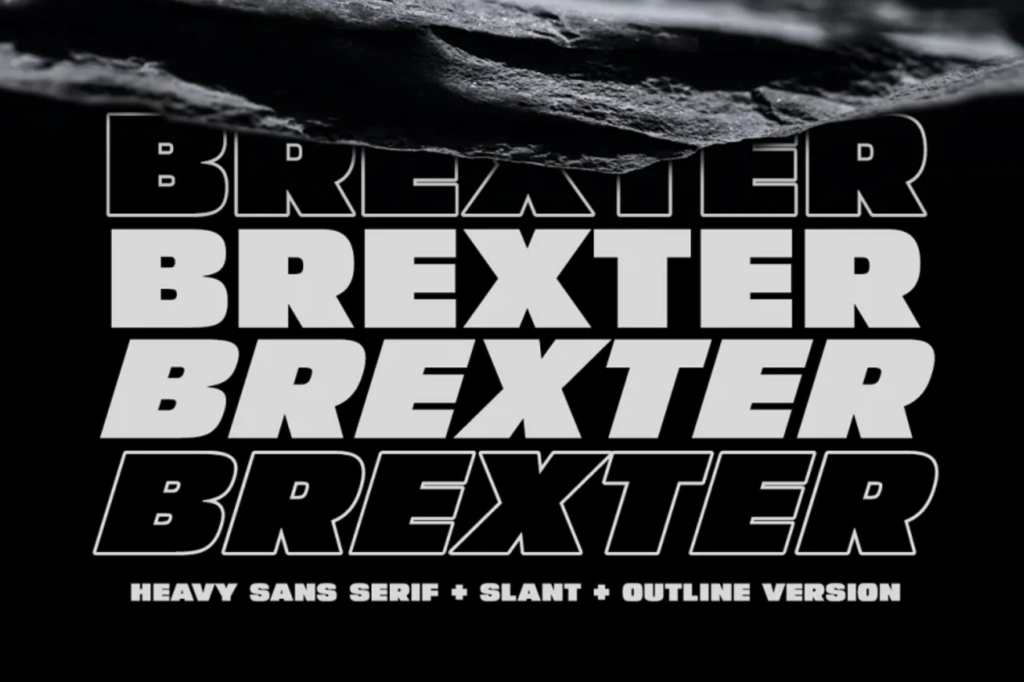 Brexter, a heavy sans serif font, radiates masculinity with its bold and striking letterforms. Its thick yet sleek design is more attention-grabbing than other masculine fonts, making it ideal for headlines, logos, and branding materials.
With unique characteristics and high legibility, Brexter confidently commands attention.
---
21. Amoretta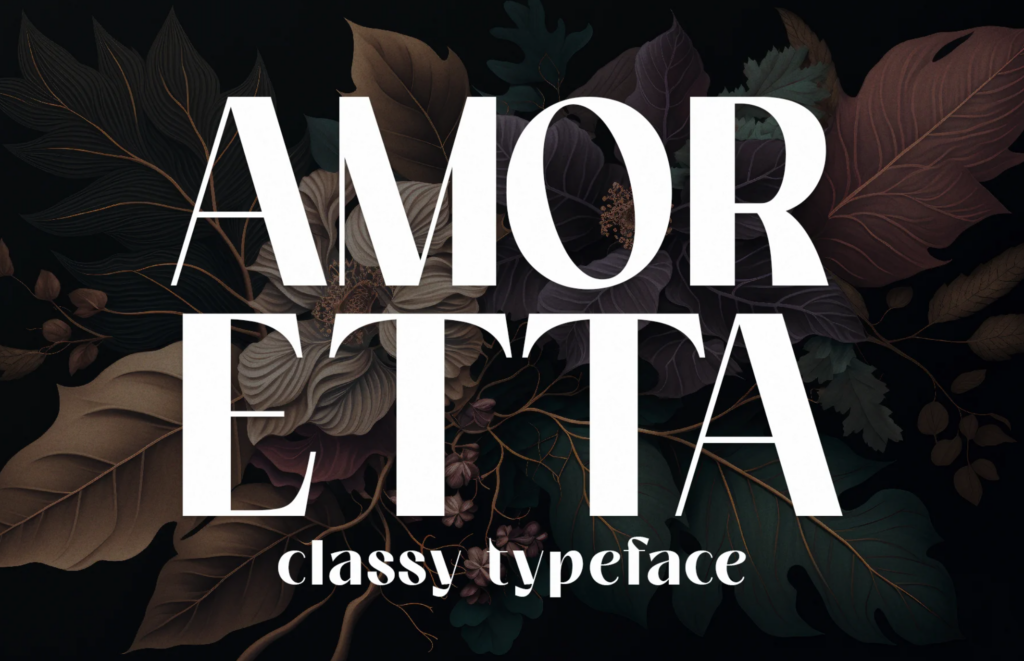 Amoretta, a signature font in the world of typography, marries elegance with sophistication. Its graceful curves and delicate serifs make it a stylish choice among the best masculine fonts.
Ideal for branding, invitations, or editorial design, this versatile and creative typeface lends timeless beauty to any designer's project.
---
22. Nightwish
Nightwish, a sharp script typeface with a gothic aesthetic, gives off an aggressive, manly vibe. This is one of the best creative masculine fonts, resembling handwritten text.
It's a great choice for edgy apparel, packaging, logos, and social media, adding a bold edge to any design.
---
23. American Mortar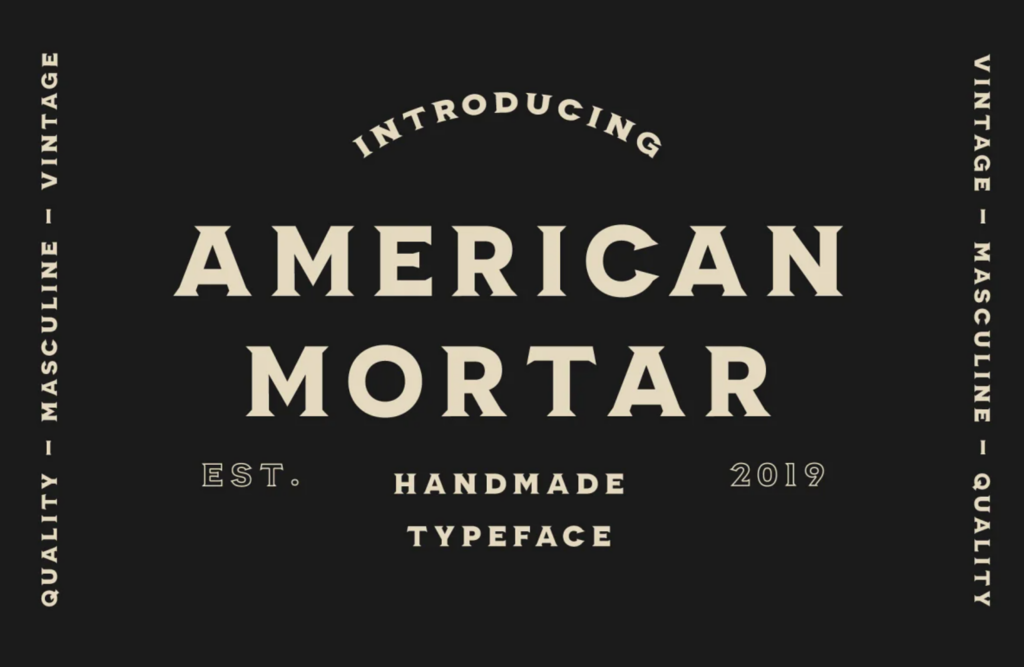 Blending modern serifs with classic lines, this masculine font offers a vintage display with a contemporary twist. Boasting all capitalized letters, including small caps, numbers, and special characters, it's a bold design choice that's versatile for any project timeline.
American Mortar is perfect for logos or designer works; this elegant serif font delivers a nostalgic yet modern appeal.
How To Create Your Own Masculine Fonts
Maybe you're feeling inspired to create your own set of masculine fonts after exploring some of the best ones available for download. Here are some of our favorite tools to consider using when creating your own font set:
1. Adobe Illustrator: Perfect for Maximum Customization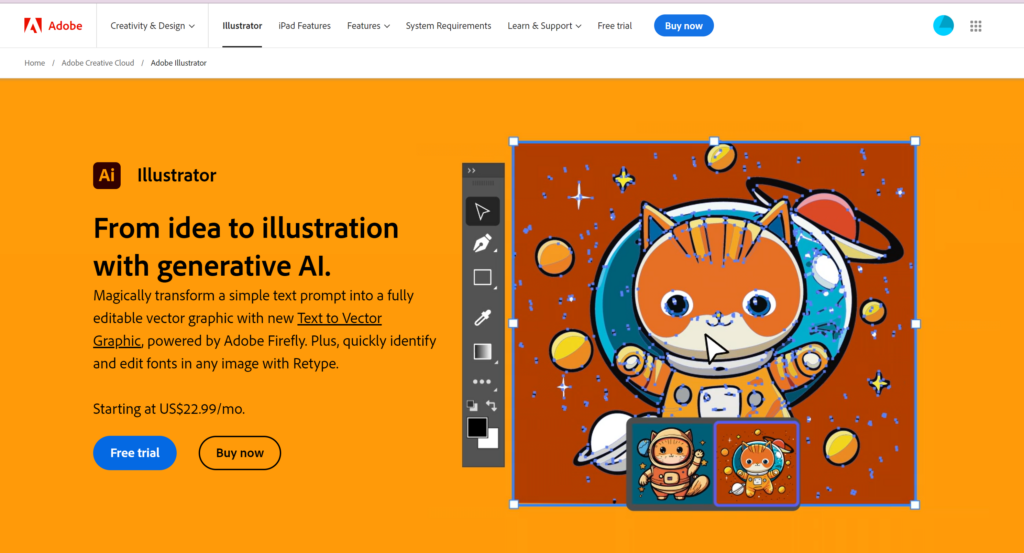 Adobe Illustrator offers a vast array of design tools that make creating your own masculine fonts on a budget a breeze.
With options to manipulate curves, angles, and add personalized touches, there is no limit to the creative possibilities for a font designer.
You'll need to have a good understanding of typography and design principles to create professional-looking fonts. However, the learning curve is well worth it for creating your own unique masculine font set.
You can sign up for the Adobe Creative Cloud to access Illustrator and other resources for your design needs.
2. Monotype: Professional Font Creation Service
Monotype offers not only a diverse font marketplace but also a personalized design service. Tailored for medium to large-scale organizations with budget provisions, you can collaborate with Monotype's specialists to craft a bespoke font.
Whether rebranding or creating a fresh visual identity, their expertise can help develop a custom font that resonates uniquely with your brand vision and needs.
3. 99Designs: Font Designers for Hire
If you're a solopreneur or small business looking for a more affordable option, 99Designs can connect you with professional font designers globally. You'll get to request proposals and choose from several independent font experts' portfolios for diverse creative options.
Learn even more in our comprehensive 99Designs review.
4. Put It All Together With Canva
While Canva isn't comprehensive enough to be a full-blown font creation tool, it is a fantastic resource for putting together all of your branding elements, including your new masculine font, into a cohesive and professional design.
Canva offers a branding kit, which allows you to upload and save custom fonts. You can then use them in your designs alongside the thousands of other design elements available on the platform.
Read our complete Canva review to learn more about this versatile design tool.
Final Thoughts: 23 Best Masculine Fonts to Try
Hopefully, these 23 masculine fonts have inspired you to create a bold design that stands out from the crowd. Remember, when choosing a font for your project, consider the purpose and audience to ensure it aligns with your overall design goals.
With the right combination of creativity, quality, and legibility, these fonts are sure to elevate any project you tackle. So get designing and have fun experimenting!