TikTok affiliate marketing has paved the way for millionaires to be created on the platform. You blend affiliate marketing with social apps like TikTok, and you've created a formula for a potential money-making profit machine!
What I love about TikTok affiliate marketing is that it's open to anyone to try. It's beginner-friendly, and it can be very lucrative. 
In this guide, we're going to teach you how to do it!
Learn:
What is TikTok affiliate marketing, and how does it work?
Why doing affiliate marketing on TikTok matters
3 proven ways to make money on TikTok with affiliate marketing, and
How much you can make from it
Let's get into it!
How Does TikTok Affiliate Marketing Work?
Affiliate marketing works by referring products to an audience with your affiliate link. When a conversion happens (like a purchase or signup), you earn a commission.
With TikTok affiliate marketing, you'll use TikTok as your traffic source to drive web visits to your affiliate links.
Here's the step-by-step process:
1. Choose a Niche
First, you pick a niche. This will be a topic you focus on.
Some examples are:
Women's Fashion
Gardening
Food
Weight loss
Personal Finance
Dating
Once you pick a niche, you'll research the audience to get to know who they are, what their problems are, and where they hang out online.
This market research will be helpful later in the process when you begin your traffic campaigns.
For example, if you choose gardening as your niche, then you'll research a gardening audience. And you'll join gardening affiliate programs that solve the problems of your audience, like:
How to keep pests away from plants?
Where to find gardening space?
How to balance your time gardening as a hobby with your personal life?
Plant management and care
Next, you'll search for affiliate programs.
2. Find Affiliate Programs
Pick niche affiliate programs that solve your audience's problem. Going to an affiliate network is a good way to find affiliate programs in your niche. 
Register for the affiliate network
Get approved and start searching for affiliate programs
Apply for and get approved for affiliate programs
Get your affiliate link
Some examples of affiliate networks include PartnerStack, Panthera Network, and Impact Radius.
Once you have your affiliate link, you can start your traffic campaign. 
3. Drive Traffic
You'll use TikTok to publish posts that will attract traffic to your affiliate links. Here's what you need to know:
TikTok is free to join
A clickable link in bio will be available once you reach 1,000 followers
Being consistent and creating content often will help your TikTok account grow
Creating engaging and problem-solving content can help you find your target audience
I'd recommend starting by publishing 1-3 times a day on TikTok.
Create TikTok videos with your phone and publish them to the app. These short-form videos are really quick and easy to film.
They'll last up to 60 seconds long, generally, though some creators gain access to up to 10-minute-long videos eventually.
A clickable link in bio will be available to you when you have 1,000 followers on TikTok.
Prior to that, you can use creative measures to get your viewers to click links so you can serve them affiliate offers:
Link your Instagram account to your TikTok account: Viewers can click your Instagram link from your TikTok profile. On Instagram, you can post clickable links in your bio with any follower count. Get on IG to set up an account and put your links in your IG bio!
Engage with viewers in the DMs: Invite TikTok viewers to DM (direct message) you. Then, use the DMs as your marketing channel to share links and drive traffic to your affiliate offers.
Post a non-clickable link in your TikTok bio: In your TikTok profile description, type out your link. It won't be clickable (until you have at least 1,000 followers), but it will be viewable, and users can type that link into a browser.
What Link Do You Post on TikTok?
You'll link to your content website (blog) or a one-page, Linktree-style landing page.
Setting up a website is a smart tactic that affiliate marketers use. 
You'll be able to use content marketing in addition to social media marketing to drive traffic to your affiliate offers. You can also use your website to grow an email list and begin introducing email marketing, too.
Read this guide on how to start a money-making WordPress blog.
A website:
Or perhaps one-page landing pages look like the ones below.
Neon Air on TikTok:
Olys Lust List on TikTok:
You can get a page like this for free from providers like Beacons, Pensight, Stan Store, Linktree, and related companies.
I personally think going with a content site is the way to go since the one-page landing page usually doesn't allow for blogging, which is another traffic acquisition channel you can pursue. 
To help you get started with your own blog, Affiliate Lab is a training program that teaches you blogging, SEO, email marketing, team-building, and more high-income skills! It's the perfect course to learn how to run and grow an online business!
4. Track Performance
Lastly, track your performance. Dive into the data to learn how users are reacting to your content.
Do you have a high or low conversion rate? Are viewers clicking your links? Are you getting thousands of email subscribers per month or dozens?
You can get key insights like this by tracking your performance.
Install Google Analytics onto your content site: This will let you see how much traffic you're getting, where it's coming from, and more helpful details.
Get Google Search Console: Another amazing data tool so you can learn what queries you're ranking for, the number of impressions you're getting on your website, etc.
Review your analytics on TikTok: You can see your audience demographics, where your audience is from, what videos are performing best, and more.
Go to your affiliate dashboard: Check out your conversion rate, A/B test landing pages, check affiliate commissions and payouts, etc.
Why TikTok Affiliate Marketing?
TikTok is the new kid on the block in social media apps. It has grown a lot in recent years and has a huge user base. It's garnered popularity in the marketing world for its organic reach and engagement.
The short-form video format has been widely adopted by users. It accommodates the shrinking attention span of consumers, which has dropped by more than 50% with electronic device use since the early 2000s, according to this source.
TikTok promotes visual storytelling.
It allows marketers to paint the picture using short-form video.
They can use editing tools built into the TikTok app, along with trending songs and sounds, to create a captivating experience that appeals to a large audience.
3 Ways to Make Money with TikTok Affiliate Marketing
Ready to learn how to make money with TikTok affiliate marketing?
Here are 3 ways you can leverage the platform to drive revenue for your affiliate offers.
Organic posts
Paid posts
Paid influencer marketing
1. Organic Posts
First, use organic TikTok posts. Create TikTok videos that attract your target audience. 
Create trend-driven content
Look at competitors to get inspired
Be authentic and relatable
Be strategic with hashtags
Optimize your TikTok videos
Post consistently
Organic marketing is the cheapest path to TikTok affiliate marketing.
You use the TikTok platform to make videos targeting your audience. The hope is to get them to click the links in your bio and profile, then ultimately join your email list and/or click your affiliate offers from your website.
Going the organic path is something any TikTok affiliate marketer can do, especially beginners. It's a good option if you want to get more comfortable with the app before investing your time and money into paid options or if you have a limited budget.
To get the best result from organic TikTok posts, you'll need to invest time.
Be patient, remain consistent, and stick with it!
These 9 small businesses went viral on TikTok!
2. Paid TikTok Ads
Next, paid TikTok ads are available to put the power of paid advertising behind your TikTok videos. If you don't have a sizeable audience on your TikTok account and don't want to spend time growing your following, look into getting a TikTok ad.
This is good for people who have a marketing budget and are ready to pay to play.
Go to TikTok's Business Center to sign up and set up your ad campaign. You can explore one or more of their many options:
In-feed ads
TikTok Promote
Spark ads
Video shopping ads
Creative exchange
Creator marketplace
TikTok is one of the only platforms I've seen that offer everything you need to run a streamlined advertising experience!
You don't even have to create your own ads! You can partner with creators that TikTok will help match you with who will make the videos you can use for TikTok ads!
Here are 9 of the best TikTok ads to study and help you level up your marketing!
3. Paid Influencer Marketing
Lastly, we have paid influencer marketing. This is another paid strategy that can work unbelievably well.
Find an influencer or content creator on TikTok that has an audience that matches yours. Partner with them to share your company with their audience.
Offer affiliate commissions
Pay them a flat fee for a brand deal or
Do both!
How Do You Find Influencers to Work With?
Search your niche's hashtags on the platform and look at the top-performing videos that come. Check out those creators for a potential match.
Here's an example, searching for #cryptocurrency: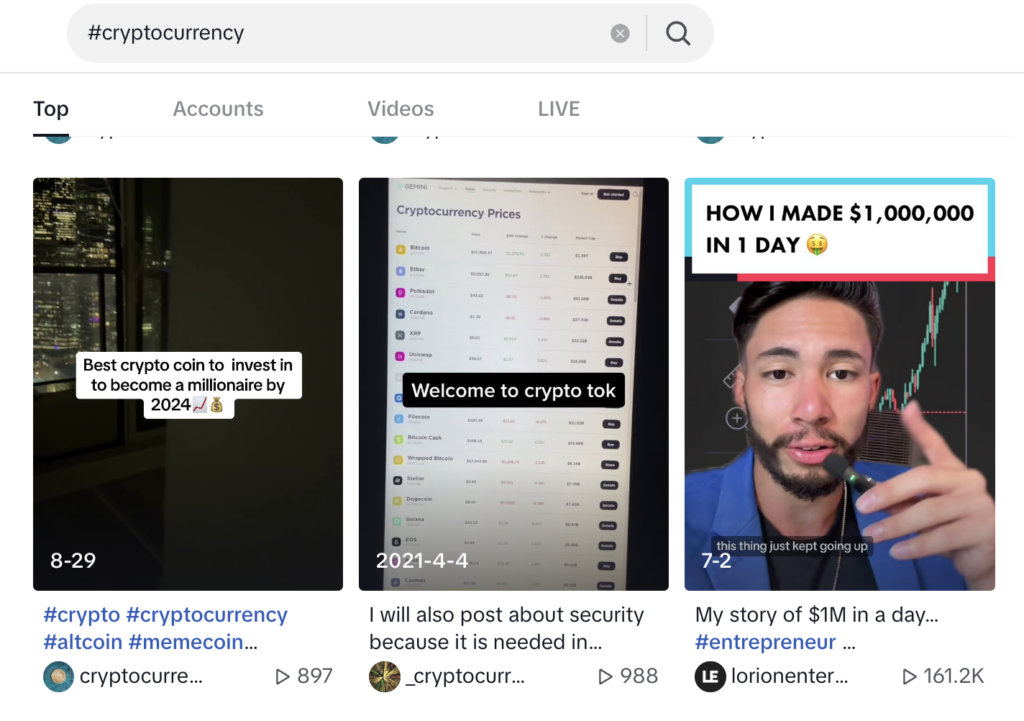 You can also work with influencer marketing agencies, who will match you with a creator for a fee.
What is TikTok Shop, and is it Worth Using as an Affiliate?
TikTok Shop is TikTok's independent seller marketplace. Imagine Amazon, but on TikTok.
Sellers can publish their products on the platform and sell to TikTok users. Affiliates (creators) can promote TikTok Shop products and earn commissions.
It's like TikTok's affiliate program!
It's been rumored that TikTok Shop affiliate-created posts get more reach from TikTok since they want to promote this new feature. It's an excellent opportunity for affiliates to earn money from promoting TikTok Shop products.
How Much are TikTok Shop Affiliates Earning?
Creators promoting TikTok Shop products as affiliates are earning hundreds to thousands of dollars!
If you're interested in joining TikTok Shop as an affiliate, go to the Creator Center in the app on your logged-in account to apply. I want to note that you should have at least 5,000 followers to be eligible, so it may not be a fit for all creators.
How Much Can You Make from TikTok Affiliate Marketing?
A lot!
While every affiliate marketer's earnings will differ, top performers can earn a full-time income from TikTok affiliate marketing alone!
Here are more income claims we found from around the web:
TikTok affiliate marketing can be very lucrative, as you see. It's a solid platform to use as a traffic driver for your affiliate offers.
Examples of TikTok Affiliate Marketing
Let's look at some TikTok affiliate marketing examples in the wild….
This is super affiliate Becca Dunkin. She's a new affiliate (less than 3 years) and has reportedly made up to $100K+ per month from affiliate marketing on TikTok. When you click her link in bio, you're taken to this page…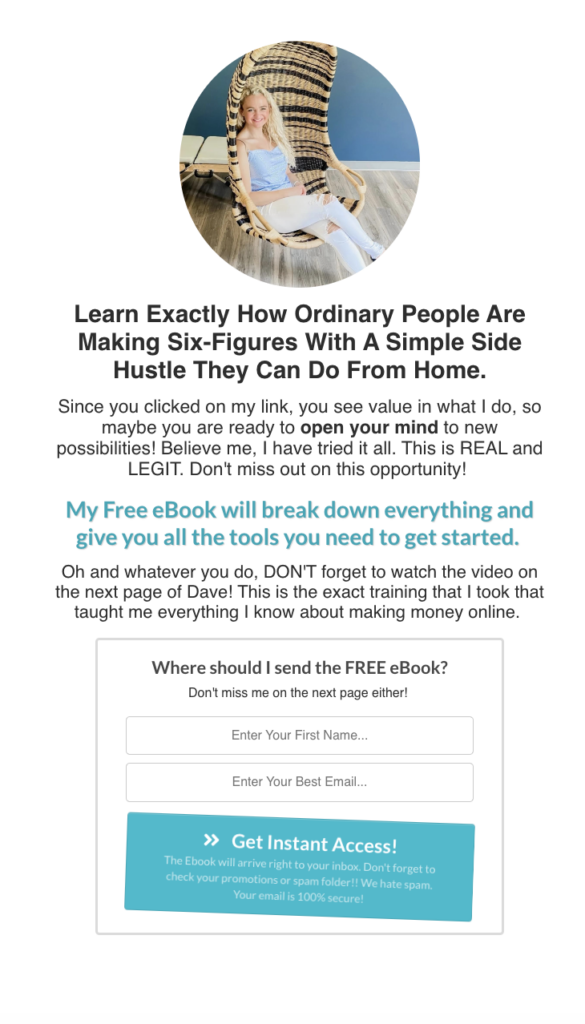 This is her one-page landing page where you can sign up for her email list!
Next is this woodworking TikTok channel:
He links to a one-page landing page that is monetized with affiliate links to Amazon, along with links to his Facebook group, an Etsy store, and other links!
Bottom Line
Is TikTok affiliate marketing worth it? I definitely think so!
Use TikTok to attract your target audience, drive traffic to your offers, and make money online from affiliate marketing. I love that this is an opportunity for anyone to make money online. You don't even need a startup budget!
TikTok is the easiest social media to make money, so whether you're looking for an online career to pursue, an extra income stream, or a fun money-making hobby to try, TikTok affiliate marketing can fit the bill!
Are you on board?
What are some of your goals with TikTok affiliate marketing?
Check out some other ways to make money on Tiktok with these 4 smart ideas.