Helping your audience to find your best content is crucial to lengthening the time spent on your site. You want people to be able to find your most important content quickly and easily, which is where a featured post section can help.
Featured posts allow you to show people where your most helpful and popular content is at a quick glance. This section can be used regardless of what theme you use for your WordPress website. 
If you want to add a featured post to your blog posts or sidebar, we'll cover 3 easy ways to do just that. It's so easy even beginners to the platform will be able to make their website more robust with this section of featured posts. 
Let's dive in and see why featured posts matter and how you can implement them quickly. 
Why Featured Posts Matter on WordPress
A featured posts list allows your audience to find your most important content quickly. Even if they don't know what to look for on your site, you'll be directing them right to your most valuable content. This is a great way to capture their interest, engage them with your top blog post, and hopefully establish yourself as an authority in your niche. 
For website owners who have been blogging for a while, you might have so much information that it's overwhelming for people to wade through.
With a featured post, you're telling them where to start. It might be a timely piece, pillar content, or your most-visited blog post. 
Once they find what they're looking for, they might spend even more time perusing the rest of your featured post list. This can help with website trust signals, indicating that you should rank higher in the SERPs.
How to Add Featured Posts in WordPress?
You can easily add a featured post or two to your website in one of 3 ways: 
Adding a new list block 
Adding featured posts to the sidebar
Using a plugin to display featured posts in WordPress
1. Add a New List Block to Your WordPress Website
Perhaps the easiest way to add featured content to your website is to simply add a new block. This will provide you with a list of featured content within the confines of another blog post. In the article where you want to add featured posts, you will need to follow these steps: 
Click the "+" to add a new block. 
In the menu of options, click "list." You may need to click "browse all" to see the WordPress sidebar to get to the list block.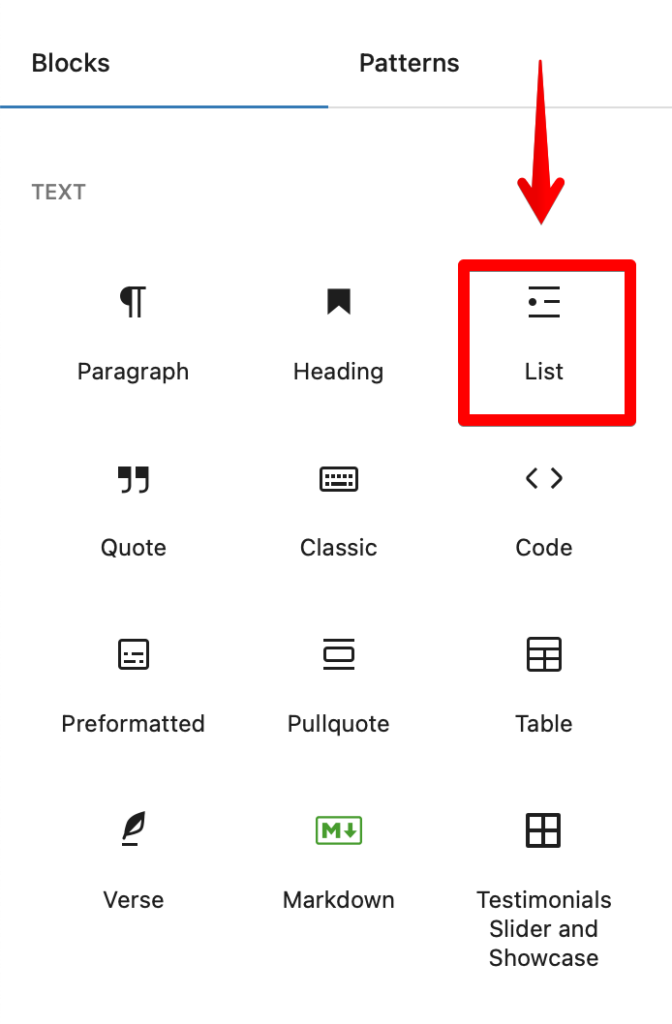 Simply type in the name of the posts that you want to link. You can even use only one post, if you want. The number you select is up to you. 
Highlight the post title and press CTRL+K (Command+K if you're a Mac user). In the box, enter the URL of the featured post you want to link. 
Here is an example of what the finished product will look like: 
Creating a Reusable Block 
If you want to use this block easily in several pages on your site, you might want to consider taking a few extra steps to create reusable blocks for your featured post section. 
Once your list is made and hyperlinked, you can modify the block as a whole. Click the three dots to the right of the sidebar while in the block with your featured post list. This will open a new menu and you can select "Create Reusable Blocks." Give it a name that you can remember.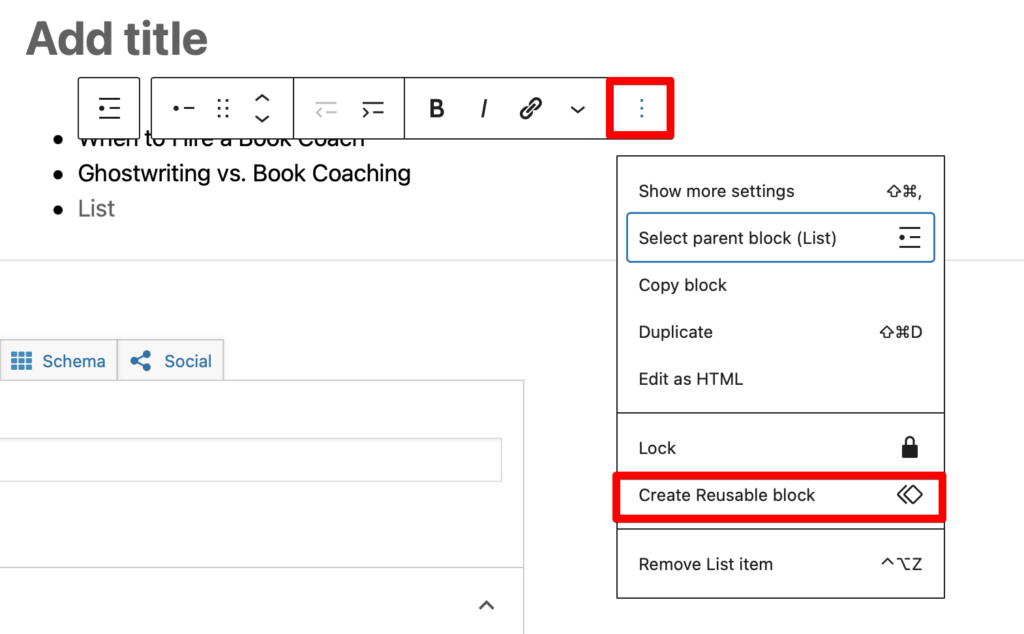 From here, you'll be able to add your reusable block anywhere you want featured posts to appear. Simply add a new block, scroll to the menu of options, and type in the name that you selected. 
With this saved, you will be able to insert your new list with the featured post without having to hyperlink and type it out each time. This can be a huge timesaver, freeing you up for more important website modifications. 
2. Add Featured Posts in WordPress Sidebar
Adding featured posts to a WordPress sidebar is another great way to keep these posts front of mind for your audience. It takes a few more steps, but it can be worth it if you want it to be visible on each and every page of your site. 
Head to Appearance on the left-hand sidebar of your WordPress dashboard. Select "Widgets" from the drop-down menu. 
Choose where you would like your list to appear (right sidebar, left sidebar, etc.). 
Click the "+" icon and add a list, similar to how you did in the last method. 
Type in the name of the feature post you want to include. 
Highlight the text (most likely your post title), press CTRL+K or Command+K to enter the URL of your WordPress post you want to include. Alternatively, you can click the link icon. 
When finished, click the "Update" button in the upper right screen. 
This will create a very simple text-only list of your featured posts. If you want more options like displaying a featured image with your titles, then you can opt for a paid subscription to a plugin like MonsterInsights.
3. Add a Featured Post with a Free WordPress Plugin
If you want something a little bit sleeker for your featured post section, then you might want to use a plugin. This requires just a few extra steps, but even beginners to the WordPress platform can learn to use it. In this post, we recommend using the free Display Posts plugin. 
Here is how to add featured posts with this easy-to-use plugin: 
On the lefthand sidebar, go to "Plugins" and "Add New." Type "Display Posts" in the search bar to the right. 
When it comes up, click "Install." Wait for it to download, and then click "Activate." 
Under each article that you want to feature, add it to a "featured" category. You may have to create this category. (From the page editor of your blog, click the gear icon in the upper right corner. Scroll down to categories, add new, and label it "featured.")
With the featured posts selected, you can now insert the shortcode to your pages. Click the "+" icon to add a new block. Click "Browse All" and search for "shortcode." This will bring up a box where you can enter the code for your new plugin. 
Type in [display-post tag="featured"].
Alternatively, you can add featured posts with images using the same method. The only difference is the code that will be used in the shortcode box. To do this, you will enter the following text: [display-posts include_excerpt="true" image_size="thumbnail"]
The finished examples of the featured posts will look like this: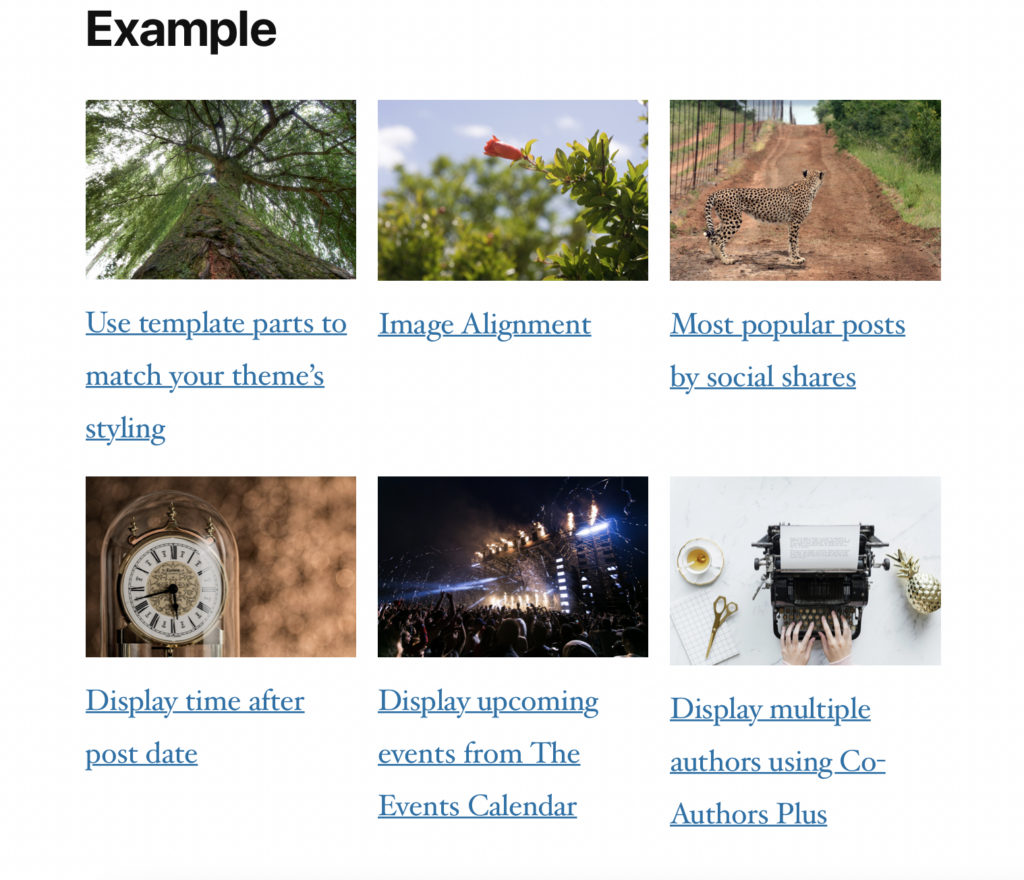 Adding Shortcode to a Sidebar
If you want to display featured posts in a sidebar, you can do so with a text widget using this plugin: 
Head into your "Appearance" and "Widgets" area again. 
Insert a "text" widget in the area where you would like your featured content to appear. 
From here, you will follow similar steps to the above. Insert shortcode the same way with the same text. 
Click "Update" to save your changes to the page. 
Keep in mind that you will need to keep categorizing each new post if you want it to show up as a featured post in this section. How many posts you categorize this way is totally up to you, but you'll need to refine these categories over time as you write more posts. 
What to Include in Featured Post Sections
If you want people to find specific posts on your page, you need to know what to include. Generally speaking, there are a few types of content that you might include in this important featured post section of your website: 
Time-sensitive material that involves a current event or news story
Your most important content that tells people how to connect with you
Answers to the frequently asked questions about your product or service
Most popular content
If there is a post that you want more people to engage with, it belongs in a featured posts section. Make sure that anything you include here is a decent length (usually recommended is 2,100 to 2,400 words but you can learn more in our article about how long should a blog post be) and is one of your best content pieces. It should engage your audience with relevant and useful details. 
Final Thoughts: Adding a Featured Post Section
If you're committed to giving your audience quick and easy-to-find content on your site, then you need to add featured posts. This allows visitors to engage more easily with your most popular or important content. Take some time to organize content to easily add it to your site. 
It may require a one-time investment of your time and energy, but it will have far-reaching positive effects on your site navigation.