You put in a ton of hard work to build your website. Now that you can monetize it, you're considering selling ad space.
This is a great place to start.
Selling ad space is a smart way to make money with websites. It's easier to do than you may think, and it can be very lucrative.
Not to mention, it's an opportunity to earn passive income from your site!
In this post, we're going to talk about how selling ad space works:
What is selling ad space about?
What are the requirements to sell ad space on your site
How much money can you make selling ad space
Let's get into it!
What Does Selling Ad Space Mean?
Selling ad space is about monetizing blank sections of your site for advertising purposes. 
For example, on blogs, you may see sidebar ads like this:
The sidebar starts out empty, and the blogger monetizes that empty or available space with ads from advertising partners.
You can also sell ad space within the body of your content posts, in your header, footer, and other places throughout your website.
Some examples include:
Sidebar ads
Banner ads
Display ads
Native ads
Sponsored content
Video ads
The income potential ad revenue can be very substantial. It's not unusual for websites to earn hundreds to thousands of dollars per month passively from selling ad space.
Let's look at the requirements. 
Requirements For Selling Ad Space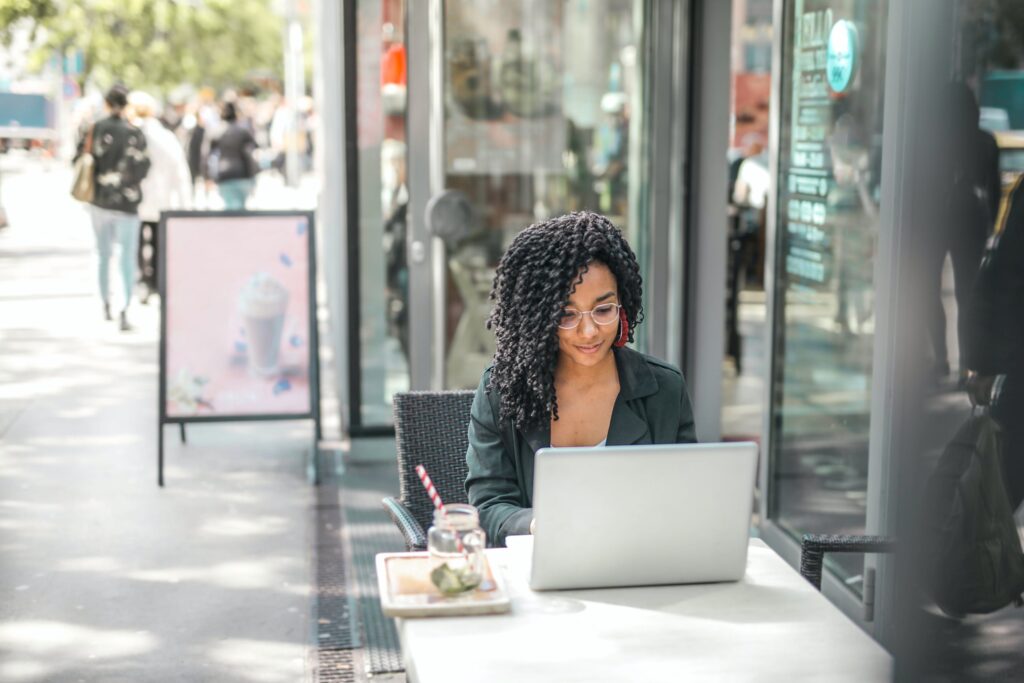 Selling ad space isn't going to work for every website. Advertisers want to spread their message and be seen by the right audience.
They want to work with high-traffic sites that produce high-quality content and have an attractive layout.
Let's get into this more.
Traffic
The first requirement is website traffic. To consider this monetization path for your site, having sizeable traffic is going to be needed. The more traffic your site gets, the better. 
The minimum required traffic needed will vary. 
If you're selling ad space to ad networks like Mediavine or Raptive, they'll have minimum traffic requirements you must follow.
For example, Mediavine requires a minimum of 50,000 monthly sessions, and Raptive requires a minimum of 100,000 monthly pageviews.
If you work with an advertiser directly, minimum traffic numbers usually don't come into play. 
High-Quality Content
The next consideration is high-quality content. Advertisers want to work with sites that have great content.
That means your site produces original, value-driven content for your audience. It's free from spam and is well-written with little to no grammatical or spelling errors.
Examples of high-quality content include:
How-to tutorials
Reviews
Interviews
Taboo topics aren't usually considered high-quality and can be a red flag to advertisers, like:
Pornography and adult-related material
Cannabis and CBD
Alcohol and tobacco
Gambling
Great-Looking and User-Friendly Website
The last piece of the puzzle is having a great-looking, user-friendly website. Website design comes into play here. You should have a navigation-friendly website that users can easily browse through.
Advertisers want users to have a good experience so, they're looking to work with sites that have a design layout that is:
Visually appealing
Responsive
Consistent branding
Easy to navigate through
Has a streamlined setup
An example of an attractive, user-friendly website is AirBNB:
How Do You Sell Ad Space?
Three of the best ways to sell ad space are through:
Programmatic advertising
Directly selling ad space
Affiliate advertising
Let me break it down.
Programmatic Advertising
Programmatic advertising is about selling ads through an automated platform, like an ad network.
Publishers are listed on these automated platforms and go through a bidding process based on ad impressions. On the other side are advertisers who place bids for advertising space using software tools. 
In the end, ad space is auctioned off on autopilot.
The process can sound complicated, but for publishers and advertisers, it's actually pretty streamlined.
The platform does all the work, matching publishers with advertisers, auctioning off ad inventory, and helping both parties feel satisfied in this process.
Can You Work With Multiple Ad Networks?
Yes, you can. It's possible to work with multiple ad networks to diversify your ad revenue.
But, more ad networks may not mean more money.
You want to look at the pros and cons carefully to ensure you make the best decision.
Things to consider are:
User experience
Ad performance
Ad layout and design
Policy compliance
Keep your target audience in mind. Nobody wants to be bombarded with ads when they're visiting a website. It can lead to poor user experience.
Likewise, too many ads can impact overall ad performance.
And it's important that you review the ad network policies carefully to ensure you don't violate their terms by working with multiple ad networks.
Direct Selling Ad Space
Next, you have the option to directly sell ad space. This will be more work for publishers and advertisers who have to reach out and negotiate with the potential advertiser to discuss:
Ad sale terms
Rates
Ad placement
Ad type and ad format like video ad, banner ads, multiple ads, etc.
Audience demographics
Website traffic
Ad inventory
Direct selling ad space is good for publishers who want to sell ad space that doesn't meet platform or ad network requirements.
For example, sites that post gambling or online casino content or websites that don't meet the minimum traffic requirements.
Where Can You Directly Sell Ad Space?
You can sell ad space in:
Sidebar placements
Header
Footer
The body of blog posts or content pages
Email newsletters
Ads on your website, email newsletter ads, and even sponsored ad placements on your social media accounts are possible.
How Do You Sell Ad Space in an Email Newsletter?
When it comes to email newsletters, selling ad space in your newsletter is an untapped income opportunity some publishers aren't taking advantage of.
Here's how it works:
First, grow an email newsletter. The number of subscribers, open rates, and click-through rates are numbers your potential advertiser will want to know. The better these figures, the more money you can earn from email ads.
Consider creating an ad rate card: Share ad sizes, formats, and pricing options.
Offer various options: Provide different placement options including dedicated email, banner ads, etc.
Reach out to advertisers: Cold pitch advertisers on email newsletter ad campaigns.
Share data and analytics: This includes audience demographics, open rates, click-through rates, etc.
Provide clear guidelines: Maintain transparency and ensure clear policies like about ad content, format, and payment terms.
How Much Can You Charge For Email Newsletter Ad Placement?
There's no hard-and-fast formula for how to set rates for email newsletter ads. You should consider the number of subscribers, engagement rates, and niche.
According to this source, the standard CPM for an email newsletter ad is $10 to $30, which is $10 to $30 per thousand subscribers. For example, a 20,000-subscriber email newsletter at a $30 ad cost would be charged $600.
But other formulas are floating around the internet as well. Pete Codes from the Newsletter Crew podcast says to charge 5% of the number of email subscribers. For example, for a 20,000-subscriber email newsletter at 5%, the rate would be $1,000.
ConvertKit shares this formula: (Subscribe count X open rate) / 1,000 X $45 (on the high end, or $25 on the low end)
So, a 20,000-subscriber email newsletter with a 25% open rate would look like this: (20,000 X 25%) / 1,000 X $45 = $405, on the high end.
Ultimately, how you price your newsletter ads is up to you. I'd recommend you do some market research to see what competitors in your niche are charging. Then, that will help you set a competitive price.
How Do You Find Direct Advertisers?
You'll need to create a process to find leads and convert them to paying clients.
Some ways to do this are:
Posting an Advertise page on your website: This will essentially be your published media kit. This page will house your site audience's demographics and information, traffic numbers, rates, etc. Advertisers can contact you through that page to buy ad space.
Publishing a Contact Us page: Advertisers who need to contact you will go to this page.
Create a media kit and pitch advertisers: Cold pitch advertisers for online advertising and provide your media kit, if requested.
How Much Do You Charge For Ad Placements?
According to this site, for website ads, publishers can charge a rate with this formula:
Formula = Number of daily visitors / ten
For example: 1,000 daily visitors divided by 10 = $100 per ad
So, if you had 5 spaces available in your sidebar, you could charge $100 per ad per month, making $500/month.
This is a good starting point for ad cost, but you also want to consider:
Niche
Ad placement location
Lead value
First, when looking at niches, we know that not all niches are created equally. You may not charge $100/month for a banner ad to an advertiser making $5,000/month from that placement. There's room to negotiate, clearly.
Next, ad placement location is important. For example, header ads may perform better than sidebar ads. So, you'll want to charge a premium for header ads. You can find out which placement performs best using heatmaps.
Read how this publisher used heatmaps to learn about visitor activity.
Affiliate Ads
Use affiliate marketing to sell ads on your site in the form of affiliate links. You'll join an affiliate program and promote the affiliate links on your site.
When a visitor is on your site, clicks your affiliate link, and a conversion happens, you'll earn a commission.
Affiliate marketing is a huge industry. It's one of the top ways website owners make money from their websites.
This is a solid way for publishers to make money. It works for sites at all traffic levels and in virtually all niches.
How To Start Affiliate Marketing?
First, join an affiliate program in your niche. Find affiliate programs on affiliate networks, like:
Once you've joined the affiliate program and you have your affiliate links, post them on your website. Website visitors on your site will click your affiliate link, and if it results in a conversion, you will earn a commission!
Affiliate commissions can range widely. Some commissions pay a few bucks each; others pay thousands of dollars each.
There are multiple ways you can earn a conversion and get paid:
Get leads: Make money on each lead you send to the advertiser. A lead could be signing up on a form or submitting an email address, phone number, or zip code. It could be signing up for a free trial or registering for a website.
Make sales: Earn money when your affiliate referrals result in sales, and earn a commission on each sale.
Get paid per click: Earn money on each click your website receives.
You can see there are many ways to make money with affiliate marketing. It's a lucrative way to monetize sites.
Top affiliates make up to six to seven figures per year. And there are many ways to do affiliate marketing, too, not just through websites.
Eric Worral makes $40K/month from YouTube affiliate marketing!
How Much Money Can You Make Selling Ad Space?
You can make a lot of money selling ad space, up to thousands or hundreds of thousands of dollars per month in ad revenue, honestly.
What determines how much money you can make with ad space is based on:
The platform used
Web traffic
Niche
Type of ads
Audience engagement
Ad effectiveness
Check out these success stories from publishers sharing their income reports.
This can be quite profitable, especially if you own multiple websites. The ad revenue can add up fast, as you can imagine.
The sky's the limit on your income potential here!
Bottom Line on Selling Ad Space
Selling ad space is a smart way for publishers to monetize advertising space and earn advertising revenue. There are many paths you can take, so consider your options carefully and choose the avenue that's right for you.
Each method has its benefits and drawbacks. Look at the big picture and choose the options that are the best fit for your business.
Are you thinking about selling ad space?
What direction will you take with your site?
Check out more ideas for how to make money from a website here.