If you want to make some serious cash in the affiliate marketing industry, Amazon's Affiliate Program might be your perfect platform – at least to help kick off your affiliate journey!
With success stories like Shawn Hill Grilling Dad earning $25,000 a month from their niche sites, it's hard not to be intrigued with the idea of becoming an Amazon Associate.
And in this article, we'll teach you how to set up an Amazon Affiliate store, create an Associate account, and optimize your website to maximize referral earnings.
Let's begin!
What Is An Amazon Affiliate Store?
In simple terms, an affiliate store is a website that redirects visitors to a product on Amazon. And if that visitor purchases any item on the site within 24 hours, Amazon rewards you with a percentage of the sale via commission.
By becoming an Amazon Associate, you can promote millions of products on your website and earn anywhere between $100 to $30,000 or more each month. It's an extremely lucrative option to make some big bucks from your personal blog or even sell it for a large sum of money.
Before creating or monetizing your own affiliate store, there are certain Amazon rules that every associate must follow. Here are some of the major ones:
You have an active website or blog that receives some traffic.
You have disclosed that you're earning commission from the Amazon Associates program.
You have an updated privacy policies page.
You are not promoting or displaying illegal/unethical substances or media.
You are not displaying the prices of items on your website.
As long as you're fulfilling these guidelines, you can make several hundred or even thousands of dollars as an Amazon Associate!
How To Set Up An Amazon Affiliate Store
Creating a successful affiliate store is a relatively straightforward process and has the potential to become your main income source. Here is a detailed guide on how to set up your own Amazon Affiliate store:
1. Build A Website
The first step of setting up your own affiliate business is to build an attractive, user-friendly, and responsive website.
There are three important things you need to decide at this point:
Hosting Provider
Domain Name
Niche
A hosting provider will assign you space on a server to create your website, as well as a domain name that will act as your virtual address.
For creating an affiliate store, we highly recommend starting our with GoDaddy or Bluehost as easy options. They have a bunch of affordable hosting packages for both starter and advanced sites and offer a free domain with most of their bundles.
You can also purchase professional email and SSL security — all backed by a money-back guarantee in case you're unsatisfied.
If you're looking for a full tutorial on creating websites, read our guide on How To Start A Blog That Makes Money Using WordPress.
2. Create An Amazon Associates Account
The second and most important step for creating an affiliate store is joining the Amazon Associates (or the Amazon Affiliate) program.
It takes around 10 to 15 minutes to fill in the Amazon Associates form, after which your application will be placed under review. At the very least, you need a decent WordPress site with 10 to 15 published posts and starter traffic to get approved by Amazon.
Here is a step-by-step guide on how to create an Amazon Affiliate account yourself:
1. Open your browser and go to https://affiliate-program.amazon.com.
2. Select your Region from the top right corner.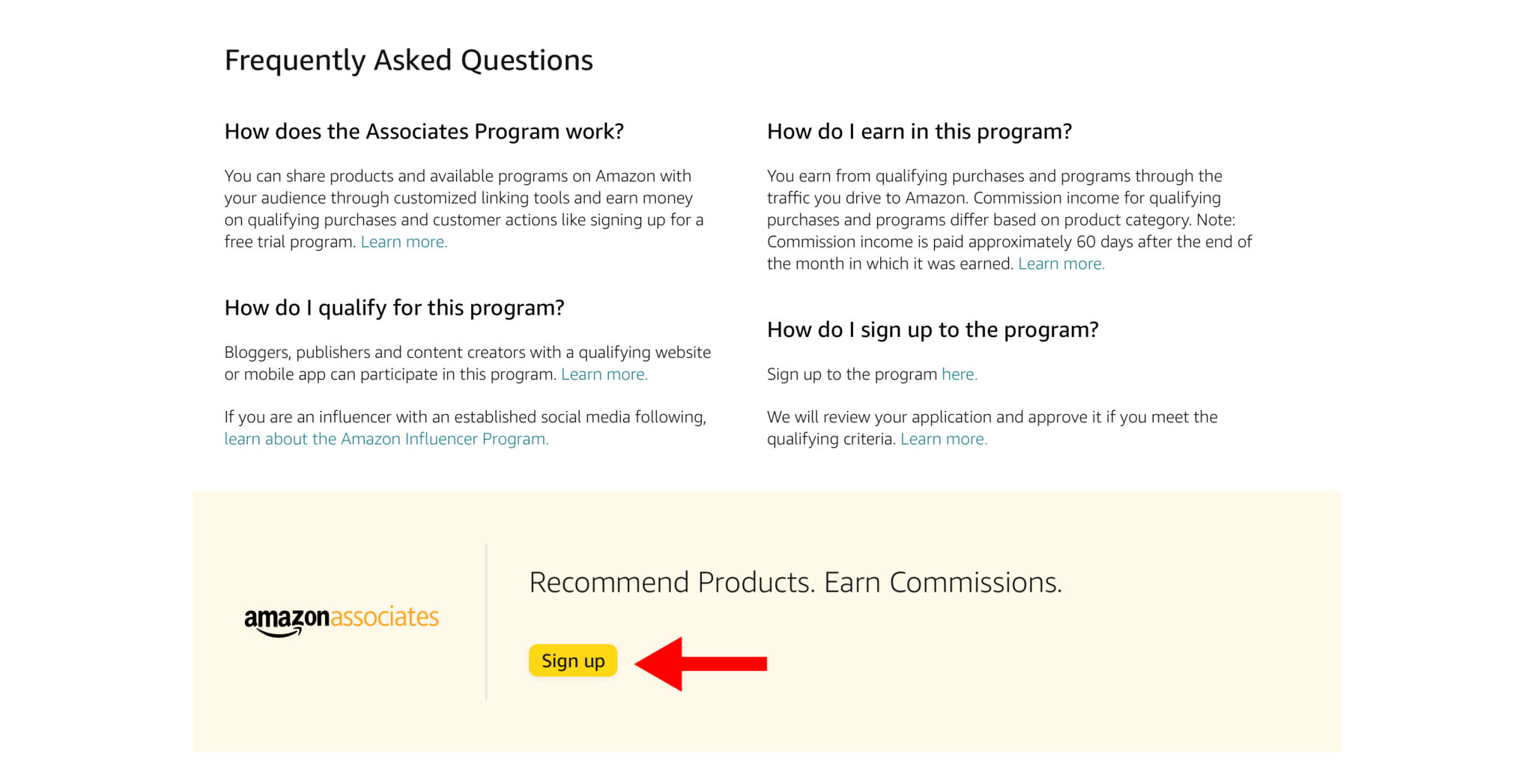 3. Scroll down and click on the Sign Up button to begin.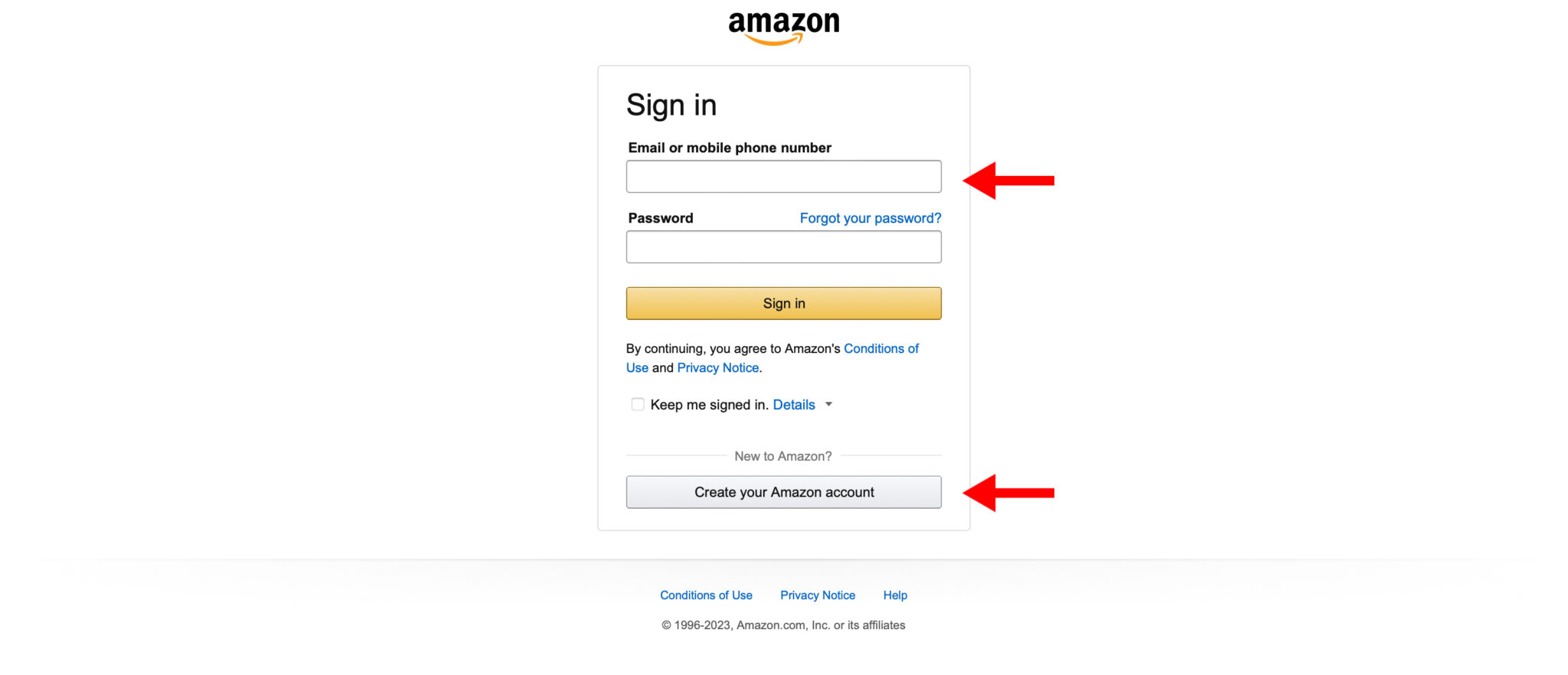 4. On the next page, sign in to an existing Amazon account or click on the Create your Amazon account button.
Note: If you're a new user, you will be asked to confirm your email and phone number through an OTP.
5. On the first part of the form, enter your name, address, and phone number, and click Next at the bottom of the page once you're done.
6. On the second page, paste the URL of your Amazon website under the Enter Your Website(s) text box and click on Add. Press Next under the white box and select No when asked about your traffic sources. Click on the yellow Confirm button to continue.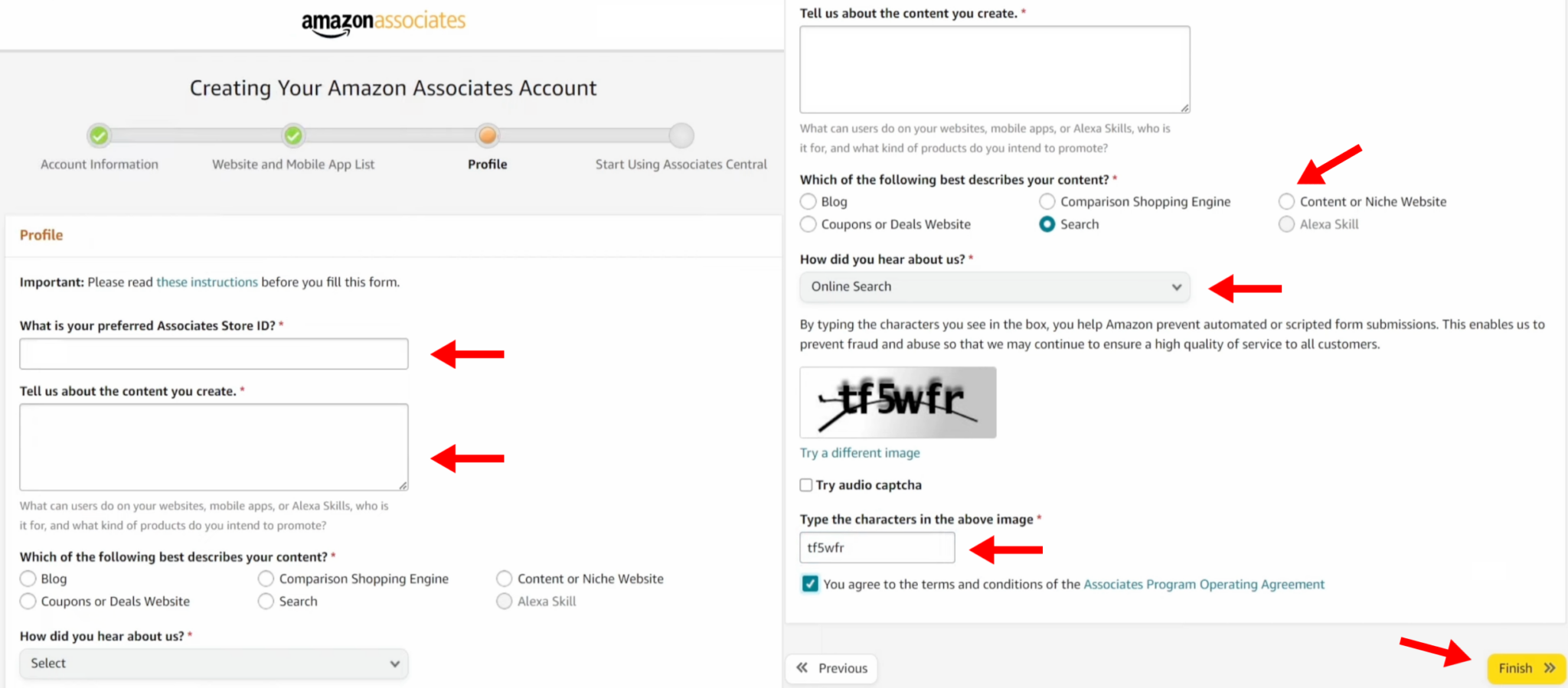 7. On the third page, create an Associate Store ID without spaces (for e.g. nichepursuits) and enter some information about your Amazon affiliate website. Select the Content or Niche Website option and choose an answer under How did you hear about us? Enter the captcha, tick the affiliate partnership T&C box, and click the yellow Finish button to proceed. 
8. Amazon will confirm that you have successfully applied for the Associate program. To access your Associate Dashboard, click on Later under the tax information box. 
After filling out the form, you can expect to receive a confirmation or rejection email from Amazon within 24 to 72 hours. If your application is accepted, you can create an affiliate link on your website and earn a commission.
Amazon requires new affiliates to make at least three sales within the first 180 days of approval to keep their account.
Things To Know About Amazon Affiliates Program
Creating a website and associate account is only half of the story. In order to make your Amazon affiliate business profitable, you must bring in visitors that can convert into customers and earn you commission.
Here is a to-do list of some crucial tasks that will take your Amazon affiliate marketing website to the next level:
1. Selecting Your Niche And Products
Choosing a lucrative yet low-competition niche can either make or break your affiliate business. For starters, we recommend listing down your hobbies and passions. 
Another important thing to consider is that Amazon pays varying commission rates on different products. For example, you can earn a 10% referral fee on luxury products, whereas the commission on gaming consoles is only 1%.
Your earnings will also depend on the average price of products in your category, but generally, your niche should at least have a commission rate of 5% to generate a decent profit. Here is a screenshot of Amazon's latest commission rate list:
Besides your own interest, you must also consider the overall competition and long-term prospects of your niche to build a sustainable business. Some of those factors are listed below:
Number of competitors
Potential for promoting affiliate products
Need for expert opinion (health, finances, medicine)
Room for growth
Long-term viability
We also highly suggest picking a domain name that's catchy and short. This will allow you to convert your niche site into an e-commerce store, or, better yet, a marketplace in the long run. If you want more help on choosing the right niche, check out our complete guide on How To Find A Niche For Your Website.
2. Driving Traffic To Your Website
An affiliate store is only as good as the visitors it gets. After building your website, the next step is to drive traffic and start earning commission. Here are some of the most effective strategies for attracting visitors to your Amazon affiliate site.
Keyword Optimization
Your first task is to create a keyword strategy for your site. Go to a keyword research tool such as Long Tail Pro to identify relevant keywords for your niche that you have a good chance of ranking for.
Incorporate these keywords strategically throughout your website's content to signal to search engines like Google that your website is relevant to your niche. This will improve your website's ranking in search engine results pages (SERPs) and attract visitors to your site. 
Building High-Quality Backlinks
Backlinks are like testimonials for your niche site and are considered as a crucial ranking factor for Google. You can build strong backlinks using multiple strategies, such as guest posting, helping a reporter out (HARO), participating in forums, and just creating high-quality content that others will want to link to.
Creating A Social Media Following 
While most affiliate sites get the majority of their traffic from Google, you can also drive visitors by building a strong following on social media. Platforms such as Facebook, Instagram, TikTok, and Twitter are excellent places to reshare your content on relevant groups and increase the click-through rate of your Amazon affiliate links. Using social media to generate traffic also opens up the doors for viral marketing and creating a brand out of your niche site.
3. Increasing Your Earnings
Every Amazon Associate wants to earn more money from their website and maximize their revenues. Unfortunately, even a thousand visitors per day will fall short if your website isn't properly optimized with affiliate links. Here are some ways to enhance your website's monetization and skyrocket your profit:
Using Comparison Tables 
A simple yet effective way to increase your earnings is by adding a product comparison table to your article. Comparison tables let visitors do a quick overview of each product and increase your chances of landing a conversion. You can further encourage users to click an affiliate link by placing a colorful 'Buy Now' button in your table. Learn more in our full guide on how to create a product comparison chart here!
Writing More Commercial Articles 
There are two types of articles that you can publish on your niche site; informational and commercial. A visitor reading an informational article (e.g., How To Ride A Motorcycle) typically wants to learn a skill or expand their knowledge. On the other hand, a visitor that lands on a commercial article (e.g., Best Motorcycle Helmets Under $200) likely wants to purchase a product.
By publishing more commercial-intent articles and optimizing them with relevant keywords, you can generate more conversions on your site and boost your affiliate earnings.
Placing Amazon Native Ads 
Besides using affiliate links, you can place banners (also called Native ads) to send even more visitors to Amazon. These banner ads allow you to display a random or customized selection of Amazon products with their price/rating on your website.
Compared to an Amazon affiliate link, Native ads are more hard-selling and perfect for monetizing informational content.
Optimizing Links For International Traffic 
Amazon currently allows associates to generate affiliate links for just a single country. So, if your site is using an affiliate link from Amazon.com and a visitor from the United Kingdom clicks on it, they won't be able to purchase that product unless they manually change their region.
Luckily, there's an amazing tool called GeniusLinks that automatically changes Amazon's store region depending on the country of each visitor and allows you to monetize 100% of your traffic. If you want to know more about this awesome tool, check out our interview of GeniusLink's founder Jesse Lakes on Doubling Your Affiliate Earnings.
FAQs
Here are some important answers to frequently asked questions about how to set up an Amazon affiliate store!
How Much Does It Cost To Join The Amazon Affiliate Program?
Joining the Amazon Affiliate program is completely free. However, you must pay for the domain, hosting, themes, and any other expenses you incur in creating your niche website. 
What Are The Requirements For Becoming An Amazon Associate?
The basic requirements for becoming an Amazon Associate include:
An active website, channel, or mobile app
Disclosure that you're earning commission from Amazon
No illegal or unethical material on your platform
If you're monetizing a website, you must have at least 10 posts on your website, with at least one posted in the last 60 days. Influencers must have a social account with a minimum of 500 organic followers.
It's also important to note that all content on your website/app/channel must be original and should not contain trademarked material. To read more about Amazon's Affiliate program policies, click here.
Can You Sign Up For Amazon Associate Program If You Live Outside The USA?
Yes, you can create an Amazon Associates account from all countries around the world. However, you can only monetize traffic from 17 countries, which includes Australia, Brazil, Canada, China, France, Germany, India, Italy, Japan, Mexico, Netherlands, Poland, Saudi Arabia, Singapore, Spain, Sweden, United Arab Emirates, United Kingdom, United States.
How Do You Withdraw Money From Amazon Affiliates?
You can withdraw your Amazon commissions in your bank account, get a cheque, or receive a gift card of equal value. Amazon currently accepts bank accounts in over 48 countries. However, you will have to wait at least 60 days before you can withdraw your earnings.
Conclusion
Amazon is just one of the many companies that offer a lucrative affiliate program. Once you know how to set up an Amazon Affiliate store and get traction on your website, you can also directly approach brands to earn higher commission rates and boost your profits.
For a more detailed guide on building an affiliate business from scratch, check out our complete step-by-step guide on How To Build A Successful Niche Site (That Can Make $5000+ A Month).