Want to know how to find low-competition keywords that rank?
No problem.
In this post, you'll discover 5 simple steps you can take to make the process a breeze.
You'll also learn:
How to do keyword research
Which tools to use
How to validate competitiveness
And much more.
Let's get started.
How to Find Low Competition Keywords – Step by Step
In this section, we'll look at the steps involved in doing research for low-competition keywords. Then, after the steps, we'll look at different tools available and how to use them.
By the end of this section, you'll be able to approach keyword research with confidence and find keywords you know you can rank for.
Step 1: Find Seed Keywords
Before you can find low-competition keywords, you need a starting point. And that starts with seed keywords.
Seed keywords are broad keyword topics related to your niche, and they help you brainstorm ideas.
They tend to be one or two words, are highly competitive, and have high search volumes.
Think of a seed keyword as a large net when fishing. You cast your seed keyword net out into the web and find hyper-relevant, low-competition keywords.
I'll show you different ways you can do this later.
But here's a quick example.
Let's say your blog is in the tech niche. A seed keyword could be any of the following:
Digital cameras
Laptops
PC Monitors
Drones
And so on…
You'll then use a keyword research tool or Google to narrow down your list into more specific keywords. Such as:
Best lens for sony cameras
Best laptops with HD webcam
How to clean a pc monitor
Best type of drone for photography.
To find seed keywords, you can use Google, Amazon, Reddit, or Quora to give you some ideas.
Now you can move on to the next step, which is to gather your list of keyword ideas and add them to a spreadsheet.
Step 2: Gather Your Keywords
When performing keyword research for low competitive keywords, it's a good idea to store them somewhere to keep things organized.
Google Sheets will work fine, or you can use Excel or AirTable.
Create columns for the keywords, one for search volumes and another for keyword difficulty.
When you find new keywords, add them to your sheet.
Many of the keywords you find will have low search volume, but this shouldn't put you off.
These keywords, also known as long-tail keywords, can be really powerful with the right blog content strategy.
Plus there are way more searches performed on Google that are low competition than there are high competition keywords.
This is where the name long-tail comes from because these keywords show up at the end of the search demand curve.
This means that smaller sites that target lots of low-competition keywords still have a lot of potential.
Once you've completed all the steps below, you'll have a list of low-competition keywords you can target on your blog.
Step 3: Validate Keyword Intent
This step is really important because without validating the keyword intent, you might never rank for the keyword.
To clarify, keyword intent (or search intent) is the context behind a search. That means the keyword needs to match the type of content the searcher is looking for.
For example, someone searching for cheap blenders isn't looking for recommendations. They just want to see cheap blenders and make a purchase.
Whereas the search best cheap blenders has the intent of finding recommendations before they make a decision.
The best way to know what the search intent is is to do a search for the term and see what the results show.
Then, you can add this detail to your spreadsheet.
Step 4: Know Your Content Types
Knowing the different types of blog content will help you target your audience more effectively.
Additionally, knowing how these content types relate to the keywords you find makes the blogging process much easier.
The first content type is informational posts which educate the reader and provide value.
These posts relate to keywords that start with how, why, what, and so on. They might also contain the words guide, tutorial, and tips.
When you find keywords like these, you know they are informational and tend to attract people at the top or middle of the funnel.
The top of the funnel is where people aren't fully aware of a problem yet, and need to do more research before being ready to buy something.
And the middle of the funnel is where people are in research mode. They know of a specific problem and they are trying to solve it by searching these keywords.
A second content type is commercial content. These are posts that help the reader make a buying decision.
They relate to keywords that contain the words best, review, and vs. They also attract people at the bottom of the funnel, which are people ready to buy.
When you're gathering your list of keywords, you'll notice that informational keywords tend to be less competitive than commercial ones.
That's because more websites are going after commercial keywords, as they will bring in more commissions.
With that said, there are still tons of low competition keywords with commercial intent. However, it's good practice to find a combination of both types of content for an effective strategy.
Step 5: Validate Keyword Competitiveness
The last step is often the most appealing for many people. And that is to validate whether the keywords you find are low competition.
This can be done in a few ways, but the easiest way is to use a tool with keyword difficulty.
Depending on the keyword research tool, keyword difficulty is measured in different ways.
Factors that are considered by these tools include:
Keywords in the SEO title and description
Domain and page authority
Backlinks.
The difficulty score is usually between 0-100, with low competition keywords below 30.
Thus, providing you with the green light to target the keyword on your site.
Of course, it's still important to do further analysis of the top-ranking pages so you know what you're up against.
It's also important to make sure you can create content for the keyword that matches the search intent, as discussed above.
Now you know all the steps involved, below are some tips and tools you can use to make the process a breeze.
Expert Tips to Help You Find Low Competition Keywords
In this section, we'll look at some specific techniques you can perform to find low-competition keywords.
Brainstorm Topic Ideas for Seed Keywords
Before you start, it's best to find some seed keywords that you can expand on. This can be fairly straightforward, depending on the niche and your knowledge of it.
For starters, searching Quora for your main keyword can help you find more seed keywords you hadn't thought of:
Doing the same thing on Reddit brings up some interesting conversations. And more seed keyword Ideas:
Another place you can find seed keywords is Amazon. Search Google for amazon bestsellers "your niche" to find products in your niche.
From your category, you'll see a list of the top 100 products. Any one of these products could be used as a seed keyword to could give you more ideas.
Lastly, Pinterest is another great place to find seed keywords. This can help you think of ideas a little more outside the box.
It'll also give you ideas of the types of content other people in your niche are creating.
This search for "macrame" led me to this Pin, which led me to a huge list of macrame terms I could use as seed keywords.
To keep all your ideas organized and to expand on them, you could create a mindmap like this one:
This was made with a free mind mapping tool called Coggle.it. Place your niche in the center and let ideas come to you.
Use Keyword Research Tools that Measure Keyword Difficulty
The fastest way to find low-competition keywords is to use a keyword research tool with a keyword difficulty score.
This makes it so much easier to validate whether you'll be able to rank for the terms on your site.
The first tool we'll look at is SEMRush. This tool categorizes the keyword types into columns. Keyword variations and questions:
We can see that the question-related keywords have a lower KD score. If you click on this list, you can filter the available keywords by keyword difficulty:
All these keywords it returned have a KD score of less than 30, which is considered by SEMRush, easy to rank for.
You can get a 7-day free trial with SEMRush and apply even more filters such as search volume. This will help you find low competition keywords with high search volume.
Searching for the same seed keyword mechanical keyboard in SerpStat returns a variety of results.
You can also filter the list to include keywords that contain specific words. Words such as how, what, can, and why will return question-related keywords:
SerpStat is another paid tool and offers a free 7-day trial.
The last tool we'll look at is SEMScoop. With this tool, you can take a list of keywords you find and import them into the software:
It'll then display these in the list and show you the keyword difficulty when you click on them.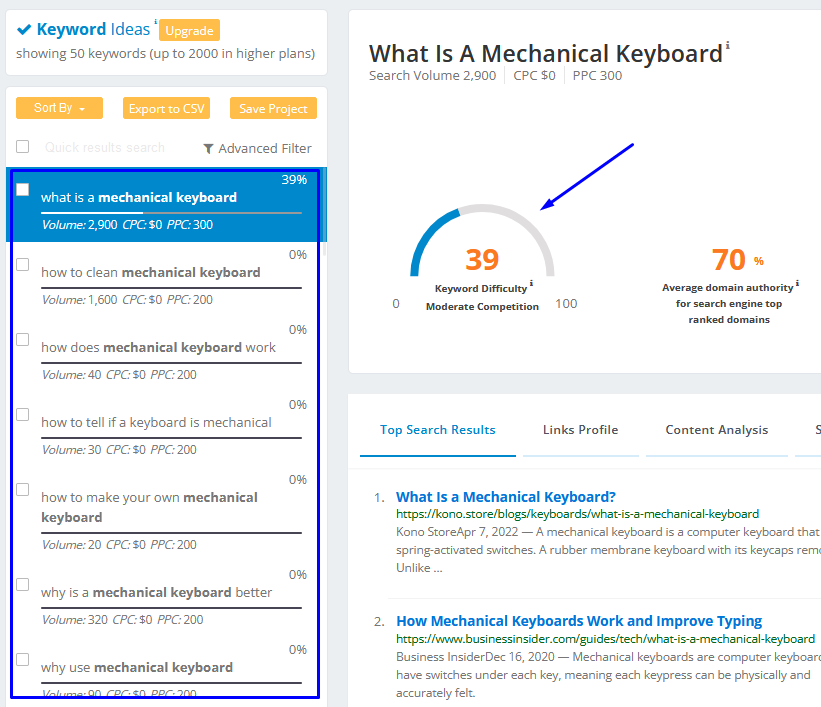 It's a great way to get keyword difficulty scores for free.
Reverse Engineer the Competition
Using any of the tools mentioned above, this method enables you to find low-competition keywords fast.
But before you can use this method, you need to find one of your competitors.
To find competitors in your niche, search Google for best [your niche] blogs.
You'll find articles that list the best blogs in your niche, which you can use to reverse engineer.
When you have a few competitors, search for them in the keyword tool of choice. I'm using Serpstat but of course, Semrush does this as well.
You'll see a list of keywords this is already ranking for:
To narrow down the search, use the filters:
This example is for the fishing niche, so I've filtered for the word fishing, along with any occurrences of "best" or "vs".
The results I found to have quite high search volumes, so they might be too competitive.
I can find easier keywords to target by filtering for lower search volumes.
That's better. Now I can use SEMScoop or another tool to check the keyword difficulty.
Sometimes it's possible to find keywords with high search volume and a low KW score. Keep using the tools and persevere, and you'll eventually find some.
Measure Keyword Competitiveness with a Free Tool
What if you don't have a budget to spend on keyword tools? Is it still possible to find and validate if a keyword is easy to rank?
It sure is. Here's how:
For this method, you'll need to use Google Chrome and download the Chrome extension Mozbar:
Then start searching for your seed keywords or any variations you think could be low competition.
In my example, I'm searching for the best standing desks for gaming. Another tip is to add "affiliate disclosure" in quotations, like this:
Then what you want to look at are the PA and DA scores, which stand for Page Authority and Domain Authority.
The lower these scores are, the better chance you'll have at ranking for them.
This site is in position 1 and has a Page Authority of 21 and a Domain of 28. As long as these scores are below 30, it should indicate low competition.
You can also add any sites you find to your list of competitors and use them to reverse engineer more keywords.
Just remember not to rely entirely on low-competition keywords. You need a decent amount of topically relevant content with good on-page SEO to get the best results.
Find Low Competition Keywords Using Google Search Console
This is a clever way to find low-competition keywords because your website is probably already ranking for them.
Head over to Google Search Console and click on Performance screen:
Then, go to your pages and look for one of your top-performing keywords based on either clicks or impressions: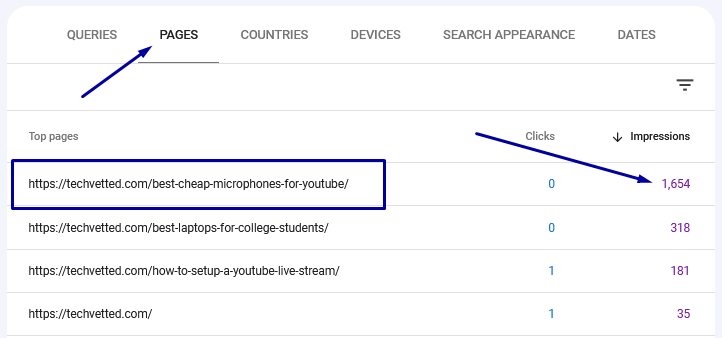 Click back over to Queries, and you'll see a list of all the keywords that the post ranks for.
What you want to look for are keywords that are different from the main keyword of this page.
For example, the post on how to setup a youtube live stream on my tech blog also ranks for 3 other keywords I could target.
You could then use one of the tools mentioned in this post to find the search volumes.
However, it's still a good practice to publish this content, as it will boost the SEO for the rest of your blog.
Just make sure you link each of the posts together for the best results. Our WordPress plugin Link Whisper can help with that.
Get Keyword Search Volumes (On a Budget)
If you want to know the search volume for keywords, but don't have the budget for keyword tools, you'll love this method.
This is also a great method if you're not interested in keyword difficulty scores.
Sometimes the best way to validate a keyword is to publish content for it and see for yourself.
The first tool is Keywords Everywhere. This powerful tool turns your web browser into a keyword goldmine.
All you have to do is buy some credits (which are super cheap) and install the browser extension.
It works by displaying the search volumes of keywords that show up on any website you visit.
Here's what it looks like in Google:
Pricing starts at $10 and that gives you 100,000 credits. Each keyword costs 1 credit and you can control exactly how many keywords show up.
You can read our Keywords Everywhere review to learn more.
Another tool for finding low competition keywords and their search volumes is Keyword Chef.
This keyword tool is great for finding long-tail keywords that are easier to rank for.
Here's a search I did recently for mics for podcasting:
Keyword Chef offers a free trial, so you can test it out before you buy. Then the pricing starts at $20 for 1200 credits.
Conclusion: How to Find Low Competition Keywords
That concludes this post on how to find low-competition keywords. Follows these tips, and you'll be ranking content in no time.
To summarize, start your search with seed keywords, gather keywords with tools like SEMRush, then validate their competition by using keyword difficulty scores.
Keep in mind that there are many other factors involved when ranking content. Low-competition keywords are just a good place to start.