Tripwire funnels are tried and true.
Look at Costco's $1.50 hot dog combo: it's the perfect example of a tripwire that works like gangbusters.
Who can resist the allure of a hot dog and drink for $1.50? Not 111 million people, apparently!
That's right.
111 million Costco members pay the annual membership fee of $120 (80% of Costco's profit.)
As if that wasn't enough, the average customer spends $114 each time they shop.
Can you see the power of tripwires yet?
In this blog post, we'll unpack the ins and outs of tripwire funnels.
We'll look at the following:
How tripwires work
Why a tripwire offer is so effective
Tripwire strategies to model in your business
Let's dive in!
What Is a Tripwire Funnel?
A tripwire funnel is a powerful marketing asset that helps move customers through the sales process. Tripwire funnels present visitors with a series of offers, each increasing in value and complexity.
The "tripwire" is the high-value, low-cost offer near the top of the funnel. This $10-$30 offer should provide immediate value to the customer, but it should be inexpensive enough to avoid triggering sales resistance.
Ultimately, the tripwire funnel leads buyers to the core product or service.
Tripwires help:
Convert cold traffic into paying customers
Reduce buying friction
Fill your email list with "buyers" instead of freebie seekers
Build relationships with customers (so they can trust you when purchasing more expensive products and services)
And most importantly, they get people to take action NOW
Let's say you own a SaaS trading software.
Your goal is to get customers to sign up for the annual plan at $500 a pop.
But customers don't know you yet. Investing $500 in an unfamiliar product is a giant leap of faith.
The solution? Create a tripwire funnel.
You could offer your trading software at an unbeatable price of $25 for the first month.
Customers can experience the value of your product without risking too much.
Next, you can offer your customers the quarterly plan at $100 (a slight discount for volume).
Those with a fantastic experience inside the trial offer will take the plunge and upgrade.
Eventually, offer the customer the annual plan. So on and so forth.
The goal is to get customers to start small, experience the value of your product, build trust with them, and then upsell them on the more expensive plans.
How To Create a Tripwire Funnel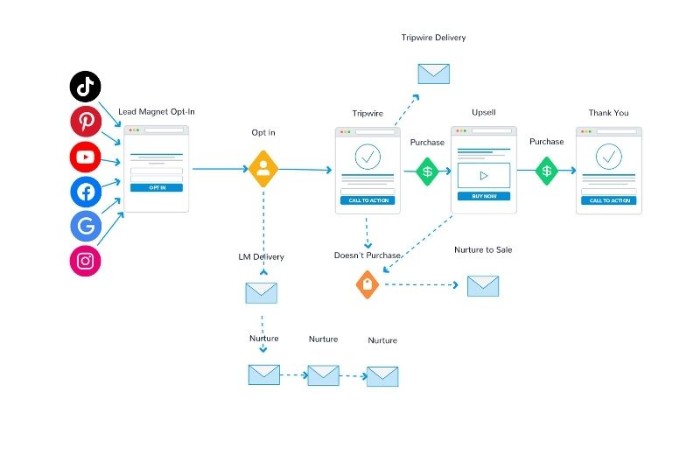 1. Pinpoint a Problem
Before you create a tripwire funnel, it's important to brainstorm the problem that your product or service will solve. This is essential because it will be the focus of the entire tripwire sales funnel.
2. Opt-in (Lead Magnet)
A lead magnet is an opt-in offer you give website visitors in exchange for email addresses. The lead magnet must be high value and solve a specific problem to acquire signups.
3. Tripwire Offer
Your tripwire offer is the initial paid offer you make to people who take your lead magnet. This will be a low-cost, high-value product or service with an immediate benefit for the potential customer.
4. Core Offer / Upsells
Finally, you create an upsell offer from the tripwire, or you lead customers to your core product/offer. The goal of this step is to deliver more value to your customers.
5. Email Automation
When someone purchases your tripwire, they will get an automated sequence of emails that can nudge them further down the tripwire sales funnel.
These emails should drip-feed educational content and offers that provide more value to the customer. For example, you can provide more advanced training regarding their purchase or offer them bonus material.
Email automation is the highway within your funnel, helping you move customers through the entire sales process with value and convenience.
If you're looking to build out your tripwire funnel, these are the best funnel builders that actually convert.
6 Criteria of Powerful Tripwires
A powerful tripwire funnel is essential for any business looking to expand its customer base.
Here are some aspects of a successful tripwire funnel:
Low Barrier to Entry
You need an irresistible, low-priced product or service – something people can't pass up. It should be desirable, valuable, and also risk-free.
Targeted Offer
Your tripwire should match the needs of your target audience based on their interests, demographics, and other factors. Generic offers are the enemy!
Customers won't be interested if it doesn't match their needs. The tripwire should also connect with the other offers in your funnel.
Easy Checkout Process
Did you know 69.57% of online shopping carts are abandoned? According to the Baynard Institute, 1/5 of all abandonments are due to a confusing checkout.
Russell Brunson's two-step order form is the perfect example of a simple checkout. It has one window and no distractions or additional steps.
Customers don't need to create an account and can purchase in just two clicks. Not to mention, it has millions of dollars of testing to back up its effectiveness.
Segmentation and Follow-ups
To maximize sales, segment customers into precise groups and tailor your follow-up messages.
You will be able to send messages to these groups based on what they bought, discount code usage, and their expected lifetime value.
High Perceived Value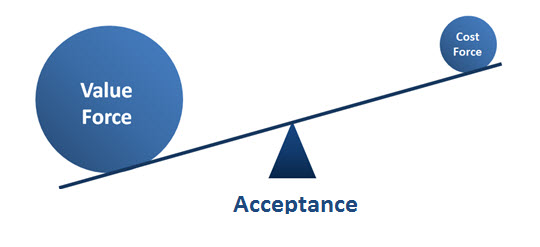 The tripwire should look valuable, but it should also be valuable. Overdelivering here is how you earn future deals and long-term relationships. Think of this as a "taste test" for your main product.
It better taste excellent!
Result in a Quick Win
Your tripwire should result in a "win" for the customer.
Nobody wants to spend hours neck deep inside a training that accomplishes nothing. Your tripwire should be simple to consume, and the customer should walk away with a valuable result (this leads customers to the core offer!).
Here are some examples:
Create a Content Calendar in Less Than an Hour
Email Marketing Workshop: Boost Your Email Open Rates in 20 minutes
Google Ads Mini-Course – Get Your First Campaign Live
SEO Crash Course: 10 Steps to Boost Rankings
Launch Your Podcast In A Day
Our favorite software for creating tripwires is ActiveCampaign. It's easy to use, and they have a free trial where you can test the platform before investing in it.
Types of Products You Can Offer as a Tripwire (6 Examples)
Here are some tripwire offer ideas to rack your noggin:
The $1 Trial (Xbox)
$1 trials work great for subscription products. Offer the customers a $1 trial of your product for 30 days (or whatever works for you).
According to the author Wes Bush, the trial's length depends on your product's "time-to-value."
Microsoft Xbox has a $1/month trial for their Xbox Game Pass. After the first month, it continues automatically at $14.99/month.
Free Plus Shipping (Russell Brunson)
This is a great way to attract people who are price-sensitive but also interested in what you have to offer.
Offer customers a freebie (ebook, guide, etc.) and ask them to cover the shipping costs. Russell Brunson and his team do this with great success.
Russell offers Expert Secrets for "free," then immediately offers order bumps and upsells. The upsells include the Black Box ($37) and Storytelling Secrets ($37). The next upsell is the Expert Evolution System, which costs $197.
Limited Version of Core Offer – Legendary Marketer
Many companies offer a limited version of their core product.
Create a "quick start" guide on a specific need and offer it at a discount. Instead of taking you from A to Z (which is what your main offer does), the quick start guide takes you from A to C.
Dave Sharp does this with his Legendary Marketer offer. Instead of funneling prospects directly to his high ticket offer, he sends them to a "Business Builder Challenge."
Customers can get their feet wet but also put a little "skin in the game" with a $7 investment.
The Business Builder Challenge provides a valuable learning opportunity. But, it only allows access to some of the material in his core offer. The challenge only accounts for about 10% of what is offered in Dave's entire course.
The idea here is to whet the appetite of prospects.
Special Webinar Offer – Raul Gonzales
A webinar is an excellent way to build value in the middle of your funnel. Specifically, they're great for moving leads from "cold" to "warm" (or even warm to hot).
I can attest that these work (since I recently paid $109 for an indices trading webinar).
Why was it so effective? Webinars deliver tremendous value in a short amount of time. I took away several actionable insights and strategies I could implement right away.
I haven't upgraded to the $2000 course (yet), but there is a high chance I do.
High-Value Bundles (DesignCuts)

This tactic allows businesses to package different complementary items, creating a single product that is more attractive than purchasing them individually.
One great example is DesignCuts, which offers bundles of creative assets at massive price reductions, often up to 92% or more.
By bundling multiple complimentary products, you not only create an attractive sale for customers but also increase the perceived value of the bundle itself.
Bundles also help:
Streamline buying decisions
Eliminate confusion around which items are needed
Customers feel intelligent, savvy, and economical with their savings
Exclusive Content (Amazon/Russel Brunson)
You can also offer exclusive content as a tripwire. For example, look at Amazon's Thursday Night Football offer.
This can be done by putting the content behind a paywall as Amazon did with NFL Thursday night football.
In order to access this content, customers must first become Amazon Prime members.
In your business, offer your customers special bonuses they can only receive if they purchase your tripwire. Russell Brunson refers to this as the "ethical bribe."
The key here is to make these assets as valuable as possible. They should also relate to or enhance the prospect's experience with the tripwire offer.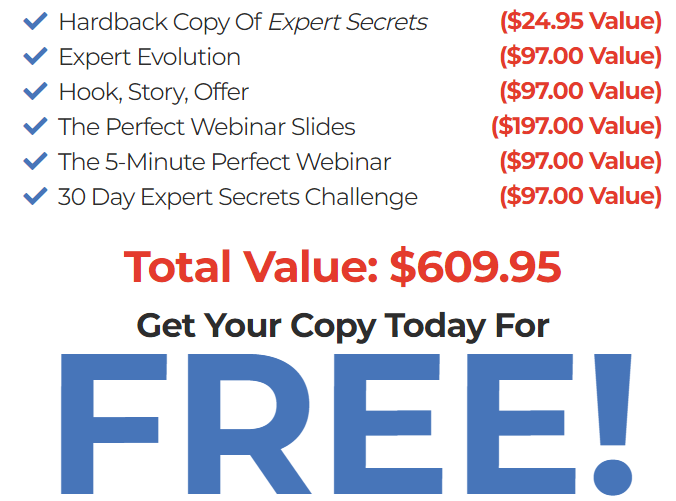 Piling up these exclusive content bonuses overflows the customer's "value-meter" and incentivizes them to purchase.
Tripwire Funnels FAQs
Here are some answers to frequently asked questions about tripwire funnels that may help alleviate some confusion.
How Should You Price Your Tripwire?
$1-$49 is an ideal range. It's low enough not to scare away customers and high enough to cover ad costs.
Where in Your Tripwire Funnel Should You Use a Tripwire?
Tripwires should be at the top of your funnel and in the middle. At the top, they help you to filter out tire kickers from serious buyers. In the middle, tripwires build buying momentum and move leads from cold to warm.
Tripwire vs. Lead Magnet: What's The Difference?
A tripwire is a "teaser offer." It's a low-priced product or service packaged into an irresistible offer to convert cold prospects into buyers.
A lead magnet attracts people to your business with something free. Usually, it's an ebook, guide, or template people exchange for their contact information.
The distinction is tripwires convert cold prospects into buyers. Lead magnets capture leads for your list.
Here's another way to think about tripwire marketing:
Free digital product (lead magnet)
Quick-start course (tripwire)
Robust online course (core offer)
Tripwire Offer vs. Discount Coupon: What's The Difference?
Discounts and tripwires are two strategies to convert traffic into customers, but they differ in their intent. Discounts increase conversions while still allowing you to make profits – they will be relatively modest, so they don't eat into your margins.
In contrast, a tripwire offer is much more aggressive. In the short term, you might even lose money on them!
You offer the customer an insanely low price for a limited product, with the intent of upselling them higher-value products later.
For example, let's say you have a trial cost of $97. You might offer it for $77 as part of a discounted deal for a limited period.
In a tripwire offer, you will be offering the $97 trial for some insanely low price of $17.
Final Thoughts
Setting up a tripwire sales funnel is a great way to build your customer base and turn profits. This type of funnel requires careful consideration, as each step needs to be effective in order to benefit you properly.
From offering lead magnets that draw people in, creating low-cost initial offers to capture attention, setting up upsells and designing email automation sequences, it's essential to make sure all the pieces fit together and have an impact.
As long as you remember that this type of funnel can't just be thrown together quickly and expect good results, you've got a really solid tool for increasing reach and boosting sales.