As an entrepreneur, you know the importance of creating eye-catching banners for your website and social media. But let's face it: designing a great banner isn't always easy. You could spend hours trying to get the perfect combination of colors, fonts, and images, only to end up with something that looks amateurish or just plain boring. How do you choose the best software for banner design to help you create polished banners that really stand out?
Fortunately, there are lots of options to help entrepreneurs produce high-quality banners quickly and easily.
We've rounded up the seven best software for banner design for entrepreneurs looking to get their message across in style.
7 Best Software for Banner Design
When it comes to finding the best software for banner design, you want an option that's easy to use but also provides plenty of features for creating unique and eye-catching designs. Here are our top 7 picks:
1. Canva
Canva is an easy and time-efficient banner-maker software. Whether you are creating a banner ad, YouTube banner, or web banner, Canva has everything in store.
Simply head over to banners and choose from the thousands of pre-designed templates to get started.
Once you have chosen a banner that suits your brand, you can make any adjustments you like, be it a change to text, fonts, or background. The simple drag-and-drop editor on Canva makes editing a fun activity and is perfect for everyone.
Here's a handful of features that this powerful program offers:
Pixel-perfect banners – create a custom banner with different pixel adjustments for any platform
Animate any design – create an animated banner and download it as a gif
Millions of stock photos, videos, and graphics
Collaborate in real-time – Use Canva Team to share ideas on banner design and generate a stunning banner  
Use the Canva social media scheduler to release your designs to the world instantly
Download high-quality graphics in any format (JPEG, PDF, PNG, HEIC)
Pay for a particular template rather than opting for a paid plan
Explore and learn through design resources and blog
Available on Android, iOS, Windows, and Mac.
Pricing
Canva has a free version suitable for any beginner or expert graphic designer. However, if you'd like to get hold of premium content and workplace tools, you can opt for:
Canva Pro at $10.99/month, or
Canva for Teams at $12.99/month for the first five people
These paid plans come with a 30-day trial with the option to cancel the subscription anytime. 
Is Canva the best design tool for non-designers? Check out this comprehensive Canva review guide to decide if this software is right for you.
2. Snappa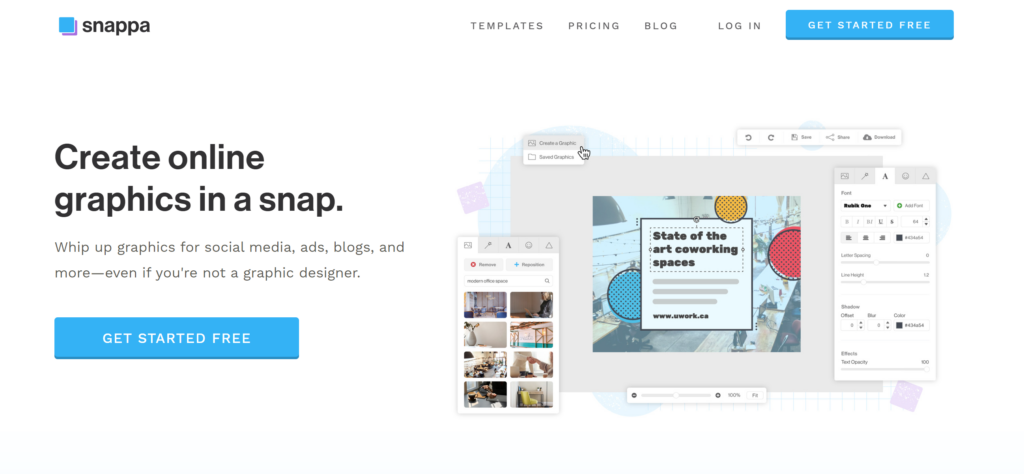 Snappa is another reliable banner maker software that has gained immense popularity recently due to its clean and effective layout.
You can create an amazing banner by editing a professional-looking banner template or starting from scratch. For the latter, Snappa requires you to choose your ideal dimensions, and that's it. Design your banner in under 60 seconds.
The noteworthy features of Snappa include:
Access to more than 5 million royalty-free stock images
Access to more than 6000 templates
One-click automatic resizing to create the same banner for different platforms
Easily visible banner design tool – all the editing features are right at your disposal rather than finding them behind any hidden bars.
Pricing
You can use Snappa to create thousands of stunning banners for free. However, the platform only allows 3 downloads a month. 
For unlimited downloads, you can choose from two paid plans:
Pro Plan starts at $10/month for a single user, and
Team Plan starts at $20/month for 5 users
3. Pixlr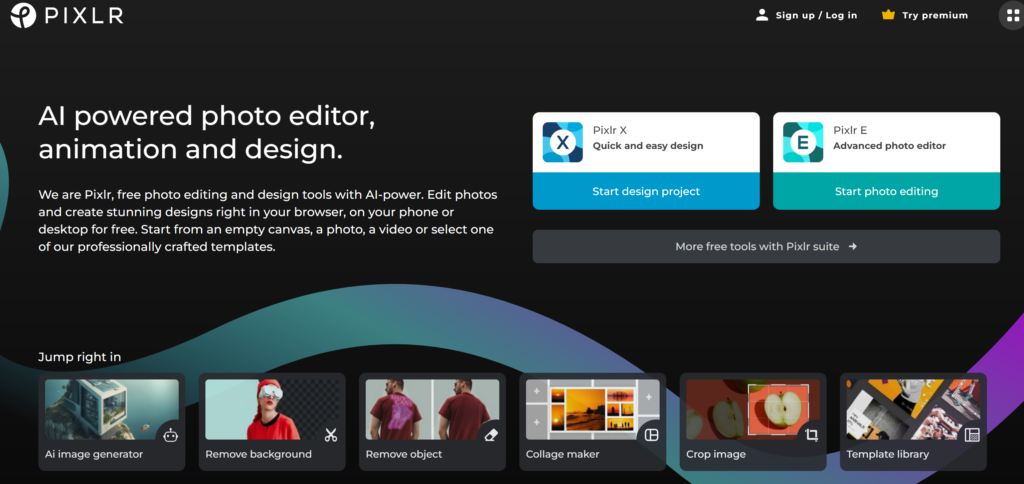 Pixlr is a cloud-based software specializing in photo editing and sharing. 
It uses AI-powered technology to create stunning designs. Users can browse through a wide range of templates or start their journey from scratch to design a YouTube banner, Instagram story, or other perfect banners for their sales platform.
Pixlr provides these added features: 
AI image generator
Remove background
Remove object
Save photos in any format PSD, PXD, PNG, JPEG, and many more
Sliding tools for easy and time-efficient editing
Available on both mobile and desktop.
Pricing
Pixlr is a free photo editing software and doesn't even require users to register an account. However, if you want an ad-free experience with unlimited saves, you can opt for a paid plan for $0.75/month.
Pixlr also offers a Premium Plan with additional assets and templates for $4.90/month and a Team Plan for $9.91/month.
4. Glorify
Glorify is another great software to create engaging customized banners. Whether you are a qualified graphic designer or just starting your business, Glorify has made designing easy.
You can create a banner in a few simple steps. Choose from a library of customized templates by selecting your niche or theme. Then edit the template to make it your own using different fonts, and colors. The possibilities are endless.
Once your design is ready, you can share it on your Facebook, YouTube, or other marketing platforms. Other features to enjoy on Glorify include:
User-friendly drag-and-drop editor
Numerous stock images, templates, color palettes, and designs to choose from
Brand Kit – use design bundles and brand colors to create consistent banners. This inculcates brand familiarity in consumers
Collaborate in real-time.
Pricing
Glorify has a free plan that allows 3 users access to 1 workspace with up to 5 downloads a month.
The paid plans provide unlimited downloads, projects, and guests. They include:
Pro Plan at $29.99/month for 5 users, and
Business Plan at $74.99/month for 10 users
5. GIMP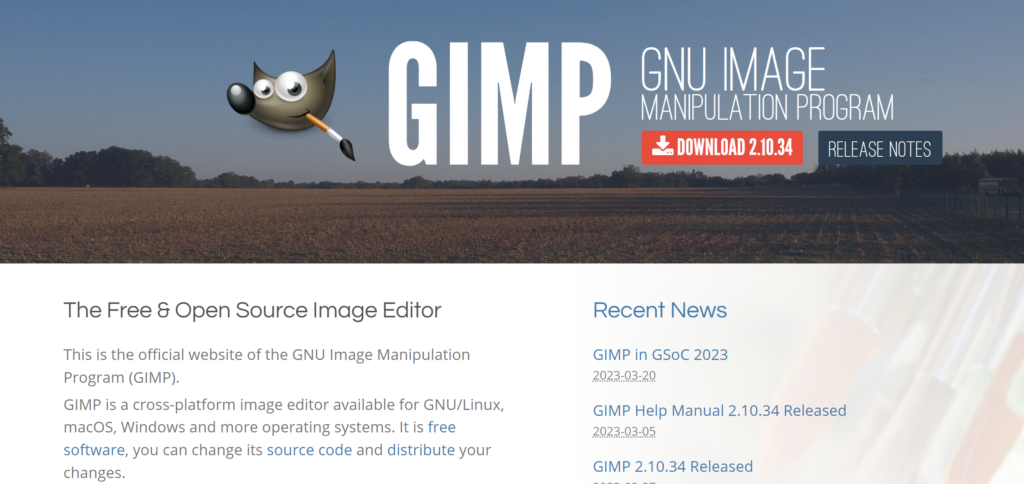 GIMP is a popular photo editing software that also creates banners. With the free tool, you can retouch and redesign your images into unique masterpieces.
Even though GIMP is not a software dedicated to creating banners, you can expand its scope with various third-party add-ons.
The image creation software has the following features: 
Programming Algorithms – It supports image manipulation with multi-language support such as C, C++, Python, and more
Drawing
Create design elements and icons
Image processing and conversions
Perform unlimited undo –  You can edit, design and redesign multiple times as the software stores your every move
Supports most common file formats such as BMP, JPEG, PDG, GIF, and more.
Pricing
GIMP is an absolutely free image design tool.
6. Placeit
Placeit is a design software very similar to Canva. You don't need a degree in graphic design to use the platform. Head to the pre-designed templates to create a professional-looking banner for your marketing channel.
Once chosen, you can use the customizable template to create a Facebook ad, YouTube banner, Instagram post, Twitch banner, and much more. The editing tools on Placeit are very easy to operate and design banners in a matter of minutes.
Key features found on Placeit include:
Quick banner downloads for multiple platforms – Placeit automatically generates banners adjusted for different platforms. This feature is very time efficient and works great for SMBs that have various platforms to publish their content to.
Professionally Designed Template – Users can check the different templates to gain inspiration and create unique banners for their platform.
Pricing
Placeit does not offer free downloads. You can use the platform to:
purchase a single design for $2.95, or 
subscribe to a monthly subscription of $7.47 to get access to all the features
7. Abyssale

Abyssale is a great software for designing scalable banners. It uses the latest AI technology to help designers automate the banner-making process.
You can choose from thousands of pre-designed templates and use the drag-and-drop editor to change the design elements.
You can find the following key features on Abyssale that help in creating attractive banners: 
Multi-format support – Use the banner maker software to create banners perfect for multiple marketing channels
User-friendly – The software is designed keeping beginners and experts in mind. 
Intelligent Auto-resizing – Keep your banners brand aligned by choosing a consistent design with auto-control text adjustment
Abyssale Academy – Find useful resource material such as articles, design tips, and ideas to create stunning designs and visuals
Collaborate in real-time.
Pricing
Abyssale offers a 7-day trial plan that you can avail of to decide whether the features suit your needs. The paid plan includes:
Essential Plan at $39/month for a single user
Collaborative Plans start at $63/month for 5 and $239/month for 10 users. These include collaboration features and dedicated support
The Best Software for Banner Design Is…
Canva is the best software out there for graphic design. Whether you are skilled in your field or are trying to design banners for the first time, Canva has made editing a breeze. 
The following features set it apart from other notable software:
Free trial
Free version
Huge selection of templates and tools
Very affordable
Work on projects from different locations, yet efficiently track progress and meet deadlines
Create animations
Presentation Tools
Offline editing
Mobile App
Plan and publish posts directly from Canva with third-party integrations, including Google Drive, DropBox Business, LinkedIn, OneDrive, Twitter, and many more.
The Bottom Line: Best Software for Banner Design
As a business owner, you have many options when it comes to design software. From Canva to GIMP and Placeit to Abyssale, there is something for everyone.
All of these tools offer great features that will help you create stunning banners with ease.
Ultimately, the best software for banner design depends on your needs and budget – so take some time to evaluate each option before making a decision.
With the right tool in hand, you can start creating attractive visuals for your marketing campaigns and drive more customers toward your business.
Now go forth and get designing!