Car dealer SEO, do you need it? The short answer is YES!
According to a study by Cox Automotive, car buyers typically dedicate more than 13 hours to research when they shop for a vehicle. Interestingly, a significant part of this time, about 60%, is spent online rather than at dealerships.
This trend highlights the importance of digital information in the decision-making process.
Potential car buyers are looking for more than just detailed insights about their desired vehicle. They also place high importance on reviews and opinions shared by others.
Social media channels are an important source for getting valuable information.
1. Car Dealer SEO: Do Keyword Research
Keyword research simplifies selecting the optimal keywords for your automotive website.
Keyword research offers insights into:
Content your audience is looking for
Market trends analysis
Reach users by targeting precise search queries they use in search engines.
Find Keywords for Automotive SEO
Here are a few strategies to find keywords for your car dealer website:
Research your competitors' websites. Find which keywords they use in their content marketing strategy. 
Do keyword research with SEMrush. "How to Do Keyword Research for SEO" is a three-step guide to finding the right keyword. And read our SEMrush review to learn more about the tool and how to use it to build a content strategy.

Check Relative Importance
From the research, you may have compiled a large list of keywords, but which do you use?
There are a few categories that may fit your car dealership SEO strategy:
Keywords with high search volume and low difficulty. Those will typically be long-tail keywords.
Geographically related keywords. Consider weather and traffic load. Have pages answering questions related to those conditions.
User intent. Understand the intent of your customers and show this understanding in your content. Search engines will reward your SEO effort.
2. Car Dealer SEO: Expand Content Marketing
Search engines focus on fresh, relevant content. To enhance your digital presence, be sure to create unique, value-added content for your customers.
Consider adding a blog or news section on your site. Cover topics pertinent to the cars you sell and local events or news.
Aim for weekly posts that provide valuable insights like:
Seasonal car maintenance
New model launches
Special deals
Ensure each post is locally optimized with city, state, title tags, alt text, and meta descriptions. An embedded Google My Business map in blog posts or your site's homepage can also be helpful.
Also, enrich your car listings with high-quality images and videos to captivate potential buyers.
Update your site regularly with fresh content and provide unique insights. This will differentiate you from competitors and boost your search engine rankings.
Use Keywords on Pages
The list of keywords that you found is your guide for content creation.
We recommend you use Surfer SEO to write better content. With engaging content, you will achieve a top position in Google ranking. And your website traffic will grow.
Write a page for each of the keywords. Include the keyword in the title and content.
Following the above, you establish:
Topical authority as an auto dealer
Prove your expertise to Google and any potential customer 
Build a Location Page
A location page is a valuable asset for a car dealership aiming to enhance its online visibility, drive traffic, and increase conversions.
And it's not just about signaling to search engines. It's about providing potential customers with pertinent, localized information they need.
Localized Search Visibility. Location pages allow car dealerships to target specific geographical areas.
User Convenience. Prospective buyers often want to find the nearest dealership.
Localized Content. A location page can include local testimonials, events, and promotions. This makes the content more relevant to a visitor from that specific area.
Backlink Opportunities. Local pages can help win backlinks from local businesses, directories, and community websites. This enhances the local relevance of the dealership.
Boost Local SEO. Search engines focus on delivering relevant local results.
Increase in Conversion Rate. Users who search for location-specific queries have higher intent. Provide them with the correct information through location pages and drive higher conversions.
Examples of Location Pages
Main City Page
This provides an overview of the brand's presence in the city, a map pinpointing all the locations, and links to specific branch pages.
Specific Branch Page
Add detailed information about a branch like:
Address
Contact details
Staff
Available services
Customer reviews
Create Service Pages
You can create service area pages if your dealership offers services in areas without a physical branch.
Such pages should cover details about the services offered in that area, how to schedule an appointment, customer testimonials, etc.
You should also have an extra page for any Parts Center.
Introduce Blog Pages
Blog pages are important for car dealer SEO to establish topical authority in the automotive industry.
Buyer's Guides
These guides equip potential car buyers with in-depth knowledge and help them to make informed choices about specific car models.
Safety Reviews
These reviews provide a deep dive into various cars' safety features and official ratings. They are tailored for consumers who prioritize vehicle safety.
Vehicle Comparisons
Compare car models against each other to simplify purchase decisions. These comparisons could spotlight:
Key features
Performance metrics
Unique selling points
Car Maintenance Tips
Use articles and videos to guide car owners on:
Routine upkeep
Insights to prolong vehicle lifespan
Regular check-ups 
Best practices
Auto Repair Guidance
Shed light on typical car issues:
DIY repair
Choosing the right mechanic
Best care for your car
Trend Updates
Tell readers about the latest technology, design, and sustainability in the dynamic car industry.
3. Follow an On-page SEO Checklist
First, you must make sure that your on-page and off-page search engine optimization follows the best practices.
Your success as a car dealer starts with ensuring the following points:
Content Quality.
Keyword Research. 
Keyword Density. Use keywords naturally within the content.
Page Titles. Ensure each page has a distinct and descriptive title incorporating the intended keyword.
Header Tags. Organize content using H1, H2, and H3 tags. Include keywords in the headers.
Meta Descriptions. Stimulate click-throughs by crafting engaging meta descriptions. 
Image Optimization. Use file name and alt tags. Compress images for fast loading.
Multimedia Elements. Incorporate elements like videos and infographics to boost user involvement.
Internal Linking. Use relevant anchor text to link to other pages within your automotive website (check out Link Whisper to help).
Social Sharing Buttons. As a car dealership, you should encourage social sharing to enhance visibility.
Optimized Call-to-Actions. Direct visitors towards the specific actions you want them to perform.
4. Enhance Your Technical SEO
Drive your dealership to the top; technical SEO is the turbocharger for automotive websites!
The most important points for a car dealership website are Speed and Mobile-Friendliness.
URL Structure. Use short, descriptive, clean URLs that reflect site hierarchy. Include primary keywords in the URL.
Site Structure. Organize content hierarchically and logically for users and search engine crawlers.
Use Breadcrumb Navigation. This helps users and search engines understand the site structure.
Site Depth. Ensure important pages are easily accessed from the homepage.
XML Sitemap. Create, optimize, and submit a sitemap to search engines.
Robots.txt. Use this to guide search engine bots about which pages to crawl.
HTTPS. Secure your website with an SSL certificate. 
Structured Data. Structured data is a coding language that helps search engines process the content from your website. Use structured data to ensure that search engines understand your site's content.
Redirects. Properly set up 301 redirects for deleted pages. 
Broken Links. Regularly check for and fix 404 errors or broken links.
Server Performance. Use a reliable DNS hosting provider with good server response times.
5. Build Links for Google Ranking
Build backlinks as part of your SEO campaign.
Here are several methods:
Strategic Partnerships. Partner with relevant businesses for various co-marketing initiatives. These could include guest blogging, organizing webinars, or promoting each other's products. This will encourage backlink exchanges.
Case Studies. Volunteer to take part in case studies with partners or vendors. When published on their websites, these case studies would ideally contain a backlink to your website.
Local Media Outreach. If your business is involved in charity initiatives or local community events, share this news with local media houses or relevant magazines. You could get backlinks from these high-authority sites if they include your information. 
Use PR Tools. Use PR tools like HARO, Muckrack, or Prowly to find journalists and plan media outreach campaigns. Then, analyze the results to manage your backlink-building strategy efficiently.
6. Car Dealer SEO: Improve Local SEO
Local SEO is vital for car dealerships. Provide Google My Business listings to guide potential customers to your showroom.
The advantages of Local SEO are:
Enhanced online presence
Boost in organic visitors and leads
Rise in sales
Strengthened brand recognition
Top positions on Google Maps and Google Search
Build Your Google Business Profile
If you still need to do so, you should claim your business listing on Google Business Profile, formerly Google My Business.
A Google Business Profile page with accurate details about your business can boost your online traffic. Make your business more visible to individuals who want to check out your offerings.
When creating your account, ensure you accurately list all your contact details, select appropriate categories, and specify business hours. Add a profile, cover images, and a succinct business description.

Your business's name, address, and phone number (or NAP) must be consistently formatted on your Google Business profile page and official website.
Gather Citations
Having your business's name and address on other websites reinforces your legitimacy in the community. And it builds trust with search engines and potential customers.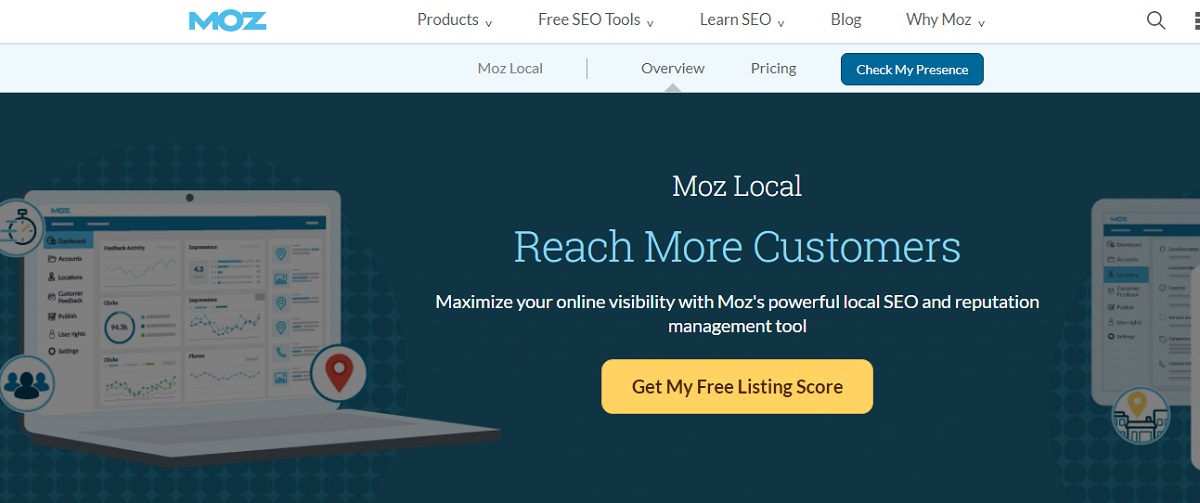 Such mentions, known as citations, are key for achieving higher rankings on platforms like Google and Bing.
Get listed on local chambers of commerce, reliable business directories, Facebook, and Yelp.
Use tools like Moz Local or Yext to simplify the process of increasing citations. These tools distribute your dealership's details across numerous directories. They ensure a consistent listing of your Name, Address, and Phone number.
Collect Customer Reviews
Customer reviews boost trust, influence purchase decisions, and enhance a car dealer's reputation. And that, in turn, drives sales and customer loyalty.
Actively respond to both positive and negative reviews. This demonstrates commitment and shows that you value feedback. It fosters trust among current and potential customers.
Provide Social Proof
Social media campaigns for car dealerships encompass organic and paid strategies.
Organic campaigns involve regular content posting, such as videos, stories, and updates.
Instagram Stories are perfect for showcasing new stock or auto dealership events. And use videos on platforms like YouTube to introduce vehicles or feature events.
Simple photos, especially on platforms like Instagram, attract younger generations and allow you to showcase cars long-term.
Car dealerships events should promote events such as:
Opening a new branch
Hosting car shows
Test drive events
Holidays
National events 
As an auto dealer, you should engage a potential car buyer to keep visiting your channel by sharing:
Sales and promotional events
Discounts
Special offers
Engaging content keeps followers interested and boosts brand awareness.
Implement Car Dealership Schema
Schema Markup is an important tool to structure and clarify the data on your web pages.
Standardize HTML tags to ensure search engines can easily interpret and comprehend your content. This helps search engine bots extract and present enhanced data to the Search Engine Results Pages (SERPs) as "rich results" or detailed snippets and extends beyond traditional titles and meta descriptions.
Implementing Schema Markup can significantly enhance your online visibility, potentially boosting your rankings on SERPs and increasing click-through rates.
Use a Schema Markup generator tool for easy implementation.
List in Review Sites
By the way, BrightLocal offers several local SEO tools to get you better results. These allow you to:
Trace Local Rankings
Audit Local SEO
Manage Reputation
Manage Listings
BrightLocal has a free 14-day trial.
Boosting your stature on various review platforms is really important for car dealerships. A strong online reputation is crucial when you interact directly with consumers.
By enhancing your presence on multiple car dealership review sites, you position your business to gain increased consumer and search engine trust. This increases your chances of securing higher positions in search results and amplifies website traffic as well as footfall to your showroom.
7. Monitor Your Automotive SEO Strategy
The digital world constantly evolves, impacting your website visibility and rankings. So, it is essential to monitor your automotive SEO strategy. It also gives you insights into successful practices and areas for improvement.
You can track your SEO strategy by monitoring keyword rankings using tools like Google's Search Console. Watch out for increases or decreases that can hint at changes in competition or algorithms.
Analyze website traffic and user behavior with Google Analytics. This will help you to understand where to concentrate your car dealer SEO efforts.
Keep an eye on your backlink profile for sudden changes. And track content performance to identify successful material that can drive more traffic.
Track conversion rates to gauge whether your SEO campaign drives the desired user actions. This will provide a holistic view of your SEO strategy, enabling adjustments for better results.
Car Dealer SEO: Conclusion
In today's digital marketing landscape, auto dealerships must prioritize SEO to remain competitive. With so many car buyers spending their research time online, you simply must have a solid online presence.
Emphasize local search engine optimization and leverage your Google Business Profile. That way, you will stand out prominently in your local area and be easily accessible to potential customers.
Keyword research and content marketing, tailored to your offerings and customers' needs, will boost your website's visibility.
Monitor these strategies and implement real-time tweaks to ensure your automotive business stays ahead of the curve.
In essence, a well-executed SEO strategy drives traffic and strengthens a dealership's reputation, ensuring sustained growth and success in the digital age.