If you are planning your weight loss this year, why not make some extra money while you're at it? Losing weight on your own can be challenging, but adding financial incentives can really motivate you to make a change. You can earn money when you lose weight with the help of our HealthyWage review.
Learn more about the cash prizes you could earn and how HealthyWage helps anyone tip the scales slightly lower. In this review, we'll cover what the platform does, how to use it, and why it works when it comes to helping people lose weight.
When you're ready to break that weight loss plateau, HealthyWage may just give you the real motivation you need to be healthier than ever. Here's what you need to know before you sign up and make the commitment.
---
Healtywage review

Ease of Use

Stability

Customer Service

Price
Summary
Healthywage is a great side hustle for anyone considering whether they want to lose weight. While you do have to pay in to earn the jackpot challenges, it provides you with some financial incentive for sticking with your fitness plan. Try Healthywage here!
Pros
Provides clear financial incentive to lose weight
It can be a great side hustle for someone who is committed to a healthy lifestyle change
Cons
Must pay money into the pot to get the reward
Lose the money if you don't lose the weight
What is HealthyWage?
To kick off our HealthyWage review, we'll take a closer look at the company and how exactly you can earn money this way.
Started in 2009, HealthyWage began by looking at corporate culture and other consumer weight loss programs. They found that they could inspire more people to combat obesity by making a clear bet on how much weight they could lose.
Of course, the process involves a little more than just betting on weight loss.
They implement the standard scientific method to help people set more easily achievable goals. If you want to lose weight with Healthy Wage, you'll quickly find that they have done a good job of considering the factors that contribute to obesity:
Social connections with other people who struggle with their weight
Addiction
Cheap calories that don't fill or nourish you
Lack of psychological motivation to lose weight
How does HealthyWage work?
First, you will set a specific and measurable goal with a timeframe that makes sense for you. For example, you might say you want to lose 20 pounds in the next six months. You'll make a bet on yourself, paying into the pot every month or as a one-time upfront investment.
If you "win" the challenge, you earn the money back that you paid in and a bonus prize amount. To earn a quote for how much you could earn, all you have to do is enter your email address.
HealthyWage Review: Should You Sign Up for a HealthyWage Challenge?
Getting your body weight down to a reasonable level is a challenge for many people, but our Healthywage review shows that it might just be possible for you. One of the benefits of this program is that it holds you accountable for your weight loss.
You pay in your money that funds most of the jackpot prize amount you win if you hit your weight loss goal. Most people don't want to lose that money. It's similar to the way they may pay for a gym membership even though they rarely use it.
It provides financial incentives to keep plugging away at your weight loss journey.
What's the catch, though?
Well, for starters, many people don't actually complete their challenge. Despite putting their own money at risk, some people still struggle with the motivation to lose weight. The only reason that HealthyWage can offer a prize for reaching your fitness goals is that there are so many people betting their monthly wager who won't make good on their goals.
That being said, you may not earn the big bucks for this side hustle. Some people earn just $50 in cash prizes after they calculate how much of their own money they put into the bet.
If your goal is to make a decent income on the side, you might want to check out these side hustle ideas instead.
How to Use HealthyWage to Kickstart a Weight Loss Journey
You've narrowed it down and found that HealthyWage is your newest side hustle. It can aid in your weight loss and earn you a tidy sum of extra money. If you're ready to get paid just for shedding a few pounds (that you were likely going to do anyway), here is what you need to know.
Set Your Goal
The first thing you will do when you sign up for HealthyWage is to set your goal. They will ask you how much weight you want to lose, how long it will take, and how much you want to wager each month.
The more weight you lose and the shorter the timeframe, the more money you stand to win.
Be aware that there's a catch for choosing overly ambitious goals though. You might have a harder time losing the weight to reach your goal if you aren't realistic about what you can commit to upfront.
Remember that you must wager losing at least 10 percent of your body weight to qualify for this system. They will ask you if your goal seems reasonable for you before you move on to the prize calculator.
In this instance, we based our example off of someone who weighs 200 pounds losing 30 pounds over the course of six months.
Use the Prize Calculator
As you are setting your goal, you will move along the prize calculator process. Be warned that you will face many ads and testimonials throughout this process. It will walk you through several screens showing how effective their system is and how people remain motivated to keep losing weight.
At the end, you'll be required to enter an email address and password to see your prize amount.
In our example, I was pleasantly surprised to learn that our "ideal" persona could stand to earn $327 in profit if they lost the 30 pounds recommended by HealthyWage over the course of six months. Keep in mind that this person is also paying HealthyWage $300, even if they do not lose the weight.
Enter Stats and Verify Starting Weight
Unfortunately, some people still try to game the system by presenting with an inflated starting weight to make it look like they've lost more weight than they really have at the end of the challenge. It's important to note in our HealthyWage review that this will be verified before you start to lose weight.
There are several ways that you can verify your weight for HealthyWage:
In the app with remote monitoring
With a video uploaded to their secure website
Via a weigh-in at a doctor's office, Minute Clinic, etc.
Via a Weight Watchers meeting
They take the integrity of the challenge very seriously and want to genuinely help people achieve their weight loss goals. Be prepared to jump through a few hoops before you can get paid for your weight loss.
Meet Your Goal and Collect Your Prize Amount
As the clock ticks down on your weight loss journey, you will have to go through the same process to verify that you have indeed lost the weight. You can choose any of the same options for your final weigh-out procedure.
The good news is that you don't necessarily have to wait for your target date to prove that you can lose weight. You can do it anytime within the final two weeks of your challenge.
You have two options for collecting your money at the end of the challenge: a paper check or PayPal. The paper check will cost you a $7.00 processing fee, while PayPal will cost you a 2.9 percent fee plus $0.30.
If you're involved in a Team Challenge Reimbursement Prize, then Healthywage will sometimes cover the processing fee for you to cash out your earnings and get paid on PayPal.
Why Does HealthyWage Work?
You might be extremely surprised to learn that there is some real science behind the ability to lose weight using programs like HealthyWage. Researchers at Harvard University and the University of Pennsylvania actually studied how often people achieve their weight loss goals and what would encourage their overall weight loss.
To do this, they split their test subjects into two groups. The control group was given a goal to lose weight with no incentive for doing so (other than being healthy!).
The experiment group was asked to make a wager on their ability to lose weight, up to $336. If they did not achieve their weight loss goals, then they would forfeit the initial wager that they made. However, if they lost weight, they would earn an additional cash prize of up to three times the amount of their initial bet.
Are you ready for the results of their study?
They found that people who placed the bets were about five times more likely to actually lose weight compared to those without financial incentive.
HealthyWage took this study and ran with it. They provide financial incentives for those who win and the threat of losing money for those who don't. It's a two-pronged approach that motivates many people to lose weight.
How Much Can You Earn on HealthyWage?
If you need some help with your weight loss goal, HealthyWage is worth looking into. However, you may not earn as much with this platform as you could earn with other side hustles like blogging about health products with affiliate marketing or performing micro-tasks on sites like Swagbucks or Inbox Dollars.
The official answer is that you can earn anywhere from $100 to $10,000 depending on the individual challenge or team challenges that you sign up for.
There are a few different ways you can maximize your earnings with HealthyWage, so let's take a closer look:
Earning Money with Challenges
Whether you prefer to work as an individual challenge or a team challenge, you have the option to participate in jackpot challenges. In this type of arrangement, all of the money you wager goes into a massive pot.
If you (or your team) manage to lose 6 percent of their body weight by the end of the challenge, then you win money. This could be tricky if you aren't sure about the team you are a part of and how committed those people are to their weight loss. If the team doesn't succeed, neither do you.
Earning Money with a Team Challenge
If you have people around you who are interested in weight loss and motivated to carry through, then you may want to consider the $10,000 Team Challenges. A group of five people will compete to see which team loses the greatest amount of weight. This is one of the most popular items mentioned in a HealthyWage review.
If your team is the lucky winner, then you win the top prize: an extra $10,000!
This is nothing to sneeze at, certainly. However, the odds of winning the prize may not be as high with team challenges like this one.
Referrals
Do you know other people who may need help with their weight loss goal? You can supplement your prize amount by referring friends to the HealthyWage platform as well. Each person that you refer can net you an extra $40, making your weight loss bet stretch even further.
If you have multiple friends who want to participate in their own weight loss challenge, then you'll have a decent chance at sweetening the pot.
Alternatives to HealthyWage
While HealthyWage may be the most well-known weight loss bet site, there are others you should be aware of. Consider if one of these alternatives may be the better fit for your personal factors when you set your weight loss goal.
Dietbet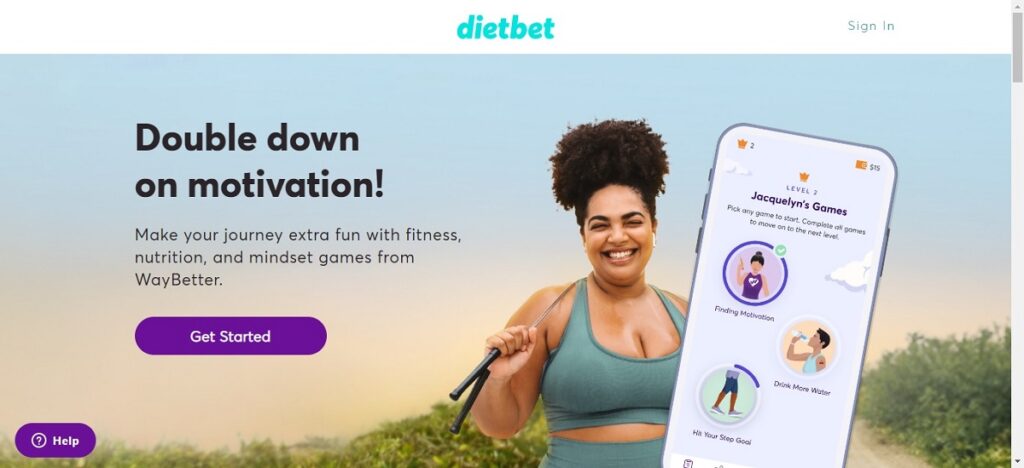 Next to HealthyWage, Dietbet is the next most well-known option for people who want to lose weight. Instead of team challenges and individual challenges, you will sign up for a "game" that fits your weight loss goals. You might choose from three different categories:
Kickstarter: Lose 4% body weight in just 4 weeks
Transformer: Lose 10% body weight in 6 months
Maintainer: No weight gain for 12 months or longer
How much will you get paid if you stick with your goals and start losing weight? Most people earn about 1.7 to 1.8 times their initial investment into the system. Depending on when you join the game, you may have different initial investments in the Dietbet platform. Most people pay in less than $100, but some initial pay-ins are up to $500.
One of the benefits of this over the HealthyWage challenges is that you will have a built-in community of people doing the challenge with you. You can share tips and tricks and commiserate about your latest diet experience.
---
StickK
StickK is another website that allows you to wager money on your weight loss, but there is no exact prize that you'll win. Instead, the primary motivating factor here is simply that you won't lose your initial investment.
Using the app, you will participate in fun fitness goals that encourage you to be as healthy as you can be. You'll make a bet about how much you will contribute if you want to hit a personal weight loss goal. A referee monitors your progress and determines if you are successful.
Success stories get their money back.
And if you don't win?
Well, you have a few options for the wager that you initially made. It can go to charity, to a friend, or to StickK itself.
---
Sweatcoin
If you don't love the idea of potentially losing your investment if you don't lose weight, then you might do better with a platform like Sweatcoin. Instead of making a bet, you get to earn a unique form of currency just for getting active and getting your steps in.
You can spend those coins in their marketplace on things that contribute to a greater sense of health and well-being. For example, you might be able to cash in your Sweatcoin for:
Better workout shoes
iPhones and Apple Watches
Yoga classes
Headspace subscriptions
Audible subscriptions
For those who are interested more in losing weight the healthy way without the financial risk, there's something to be said for Sweatcoin. While it may not motivate you to hit hard deadlines with your weight loss, it can help you to make the simple moves you need to make every day to lose a little weight.
It's a little bit different but worth investigating in a HealthyWage review.
---
HealthyWage Review: Final Verdict
Whether you choose to participate in jackpot challenges or just to stick with the basic weight loss programs offered through HealthyWage, it's important to know where you stand. Our HealthyWage review is mostly positive: you have a good chance of earning real money – if you can stick with your weight loss challenge.
Of course, there are other weight loss programs out there, like Sweatcoin, that make it possible to earn rewards without putting any money down upfront.
If you're looking for a good side hustle, have a little extra money, and want to lose weight at the same time, then you may want to sign up for HealthyWage today!