Are you wondering if MemberPress ticks all the right boxes for your membership site?
Look no further.
In this MemberPress review, you'll learn everything you need to know about MemberPress.
You'll get a detailed peek at the best features MemberPress offers. And we'll look at how it compares to other membership plugins for WordPress.
Here's what this review covers:
What you can do with MemberPress
What are its main features (and why it matters)
How much MemberPress costs
And much more
Let's jump in.
If you don't have time, you can check out MemberPress here!
---
MemberPress Review

Ease of Use

Available features

Integrations

Price
Summary
MemberPress is one of the best membership site plugins for WordPress. It has all the features you need to sell membership subscriptions and courses on your website. You can create paywalls around any type of content, making it easy for visitors to pay and manage their memberships.
Pros
It has Learning Management System functionality (rare for a membership plugin)
User-friendly interface
Has tons of integrations
Can be used for basic to advanced membership sites
Powerful content restriction rules
Works with any WordPress theme
Cons
Setting everything up isn't as straightforward as it could be
No monthly plan
It's not the cheapest option
There's no free option
MemberPress Review Highlights: Our Verdict
Here are some highlights from this MemberPress review.
We'll discuss each point in detail in the article:
MemberPress is a membership plugin for WordPress that lets you sell memberships, courses, and subscriptions on your website
This is a paid plugin, and there is no free version available
You can restrict specific content on your site and only provide access to people who become a member
MemberPress is one of the rare membership plugins with Learning Management System functionality
We cover the most significant features, all of which allow you to create any type of membership site you can think of
There are a lot of integrations that extend its capabilities
Pricing is an annual payment and there are no monthly payment options
MemberPress works with any paid or free WordPress themes
MemberPress is a leading membership plugin with some powerful features, yet it is easy to use. There is extensive documentation and many tutorials online to help users create any membership site imaginable.
The MemberPress website claims that thousands of creators have together earned over $1,000,000,000 in revenue using this plugin.
What Can MemberPress Do?
MemberPress is a WordPress membership plugin that allows you to monetize your website with memberships and courses.
If you want to build a membership site that hides access to premium content, MemberPress is a great option.
It gives you full control over the content you want to restrict from users, you can set up subscriptions at different levels, and take card payments directly on your site.
MemberPress is also one of the only Membership plugins with built-in course functionality.
That means you can sell online courses without needing a separate plugin, which will save you money.
Additionally, MemberPress is very easy to use with a user-friendly interface. But, even though it's quite simple to use, there's a lot of power behind its features.
MemberPress Review: 7 Standout MemberPress Features
MemberPress has a ton of useful features that make it easy to create any type of membership site you need.
Here are seven notable features you'll want to know about before you buy.
1. Sell and Host Courses without Needing a Separate Plugin
The MemberPress courses add-on turns your membership site into a learning management system.
That means that you can offer online courses to your members that follow a linear and structured learning environment inside your WordPress membership site.
Moreover, you won't need to purchase a separate LMS plugin, saving you money on annual updates and licenses.
Need an LMS plugin? Read our post on the best WordPress LMS plugins.
It's super easy to create a course inside MemberPress with the visual drag-and-drop builder.
You simply add the name and details of your course inside the block editor. Then, drag and drop your course lessons and sections to make it easy for students to go through.
The membership rules make it easy to protect your online course, create course packages, and direct non-members to the course sales page on autopilot.
You can also add quizzes to your courses to help students integrate what they learn. And offer course certificates when students complete a course.
The course design and layout are similar to other popular course platforms like Thinkific and Teachable, only without the monthly fees or limitations on courses or students allowed.
And you can customize the colors from the theme customizer to match your membership site's brand.
2. Simple Paywall and Content Restriction
The MemberPress Rules feature is where you manage protected content.
You can create a membership level and restrict content with a paywall.
This is an important feature of any membership plugin, and MemberPress makes it easy. There's no limit to the type of content you want to protect.
Pages
Posts
Custom post types
Specified tags of categories
Child pages of a parent page
Courses and lessons
You can even hide partial content using shortcodes.
This is very helpful if you have a blog and want to restrict premium content or parts of a post.
The paywall rules feature is what gives MemberPress the power to make your membership site how you want it. From very basic to a highly advanced system.
3. Drip Content for Higher Course Completion Rates
Joining a new membership site can be an exciting experience, but having access to everything in one go can feel a little daunting.
Content dripping enables you to release access to the content in your membership gradually.
This has many benefits for you as a membership site owner and for your members.
Mainly because it helps people take in information slowly and so better integrate what they learn.
It also helps prevent students from feeling overwhelmed with information overload when joining a membership site.
And the results of that?
Happier students who want to stay subscribed members for longer.
To drip content in MemberPress, you simply create a rule to block a piece of content and then choose the Enable Drip option.
You choose a specified amount of time and when you want content dripping to start.
4. Offer Digital Downloads
Offering downloadable files for your members is a great way to add value to the membership experience.
These downloads can be workbooks, checklists, and audio files.
Many people appreciate digital downloads because it's their preferred way of learning.
It also provides the opportunity to go through material whilst offline and will remind them to stay consistent with the membership program.
With MemberPress, you're able to take full control of the digital downloads you offer.
It even has its own area to upload files, keeping things separate from the WordPress media library.
All you need to do is upload your download, set a rule to protect it, and then display a link for members to download it.
Download links can be added with a shortcode anywhere in the members' area.
Lastly, you can keep track of how many times your downloads are downloaded from the stats page.
5. Provide Membership Subscriptions
Membership sites and paid subscriptions go hand in hand. This is what sets apart the sale of individual courses.
Paid subscriptions provide membership site owners with recurring revenue in their business, and it's easy to set up with MemberPress.
When creating a membership plan, you set it to recurring and then your chosen interval.
Intervals can be set to monthly, yearly, 3 monthly, and 6 monthly.
You can even set a trial duration of a specific number of days with a separate price before the main subscription kicks in.
There's also the option to limit payment cycles, providing you to expire access or offer lifetime access after a certain number of payments have been made.
That means you can create a lifetime payment to your membership site and provide the option for members to pay it over several months.
6. Sell More with Discount Coupons
Offering coupons to your website visitors is a great incentive to boost conversions.
Additionally, you can offer further discounts with a coupon code to customers on lower subscription plans.
Moreover, if you want to run promotions around events like Black Friday, why not do it with a coupon code?
The Coupons feature is easy to use for different membership plans you have.
This feature lets you set coupons at a percentage or fixed price. You can even set it on a first-payment basis or for a trial period.
Scheduled coupons allow coupons to be used for a specific period, and you can also set a usage count, which determines the number of times a coupon can be used.
7. Offer Corporate Memberships
Do you need a membership site that allows some members the ability to manage sub-accounts?
This is useful if you want to provide businesses with an account where they pay for the membership and grant access to other people on their team.
The Corporate accounts add-on enables you to do just that.
When someone joins your membership site as a corporate member, they can create child or sub-accounts.
You can also limit the number of sub-accounts corporate members can create or set it to unlimited.
MemberPress Integrations
The MemberPress integration page is full of others tools, services, and plugins that work seamlessly with MemberPress.
Here are 5 of the most useful integrations you should know about.
Launch an Affiliate Program with AffiliateWP or Easy Affiliate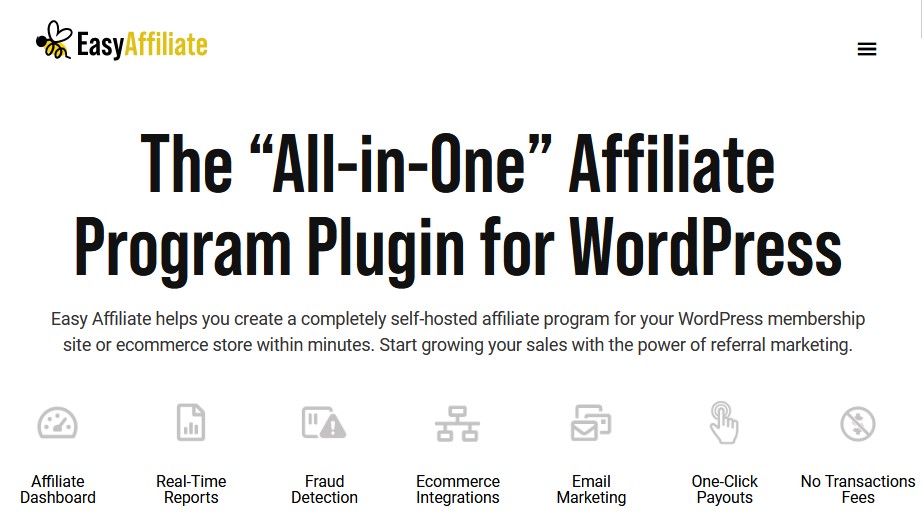 Launching your affiliate program is an excellent way to get others to promote your membership site for you.
It can also save you money on advertising and other marketing costs because you only pay out commissions to affiliates when they bring in new members.
And MemberPress has the tools for you to do this.
If you already use the popular AffiliateWP on your site, then you'll be able to use this with MemberPress.
Another option is to use MemberPress' affiliate plugin, Easy Affiliate.
Email Marketing Services and CRM Integration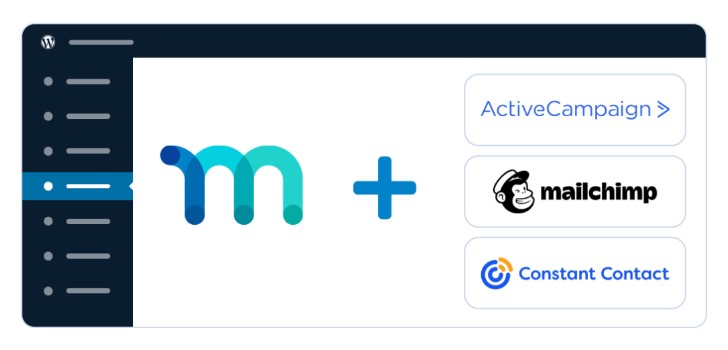 Communicating with your membership site members is a great way to keep them engaged with the content so they stay a member for longer.
And MemberPress connects to the best email marketing software that you might already be using.
Here are some of the email integrations available:
Active Campaign
Aweber
Constant Contact
Drip
Keap
GetResponse
Mailchimp
MailerLite
MailPoet
Mailster
MemberPress also integrates with popular WordPress CRMs, such as Groundhogg and FluentCRM.
Payment Modules
The payment modules allow you to connect to a popular payment gateway such as PayPal or Authorize.Net.
Or you can integrate with Stripe to take payments directly on your website, which can save you money on external fees.
Alternatively, you have the option to use popular third-party tools to take payments. Integrations available include SamCart, ThriveCart, WooCommerce, and Upsell Plugin.
Set up Advanced Automations with Uncanny Automator or Integrately
Need to get MemberPress working with a tool or service you love using?
No problem. MemberPress integrates with Uncanny Automator and Integrately. These tools enable you to create advanced automations with your membership site.
For example, sending emails when students complete courses or offering a discount when they decide to cancel their membership.
There is also a Zapier integration if that's your automation tool of choice.
Add Forum Support with bbPress or Discord
Adding a forum to your membership site is a great way to build a community for your members.
They can support each other, or it can be a place where you provide support yourself or with your support team.
Currently, this can be easily achieved with bbPress, Discord, and even additional social capabilities with BuddyPress.
How to Set up a Membership Site with MemberPress
Once you've installed the MemberPress plugin, there are a few things you'll need to do to get your membership site up and running.
You can watch this video or follow the steps below to get started.
Step 1: Create a Membership Level
From the MemberPress menu, select Memberships and click on the Add New button:
Give your membership a title and enter the price you want to charge. The below example is set to $47 per year with a trial period of 7 days for $7:
Step 2: Add a Rule
Next, you'll need a rule that protects your content that only premium members will have access to.
Click on Rules from the menu and click Add New.
Give your rule a title and choose how you want to protect the content. There are many access rules to choose from:
In my example, I've chosen all content that has the tag "premium," and only people who are Premium Members will have access:
Step 3: Add a Registration Link
Now you need to allow visitors to your site the ability to register as a premium member. To do this, add a menu link to the Membership level you created in the first step.
Go to Appearance > Menus in your WordPress Dashboard and add the Membership level to your menu:
Now you'll see a menu item in the navigation and a registration form for people to join:
You'll notice there are no payment gateway methods. Let's do that now.
Step 4: Add a Payment Gateway
From the MemberPress settings page, click the Payments tab and select a gateway. I've chosen PayPal. Give the gateway a name and enter the Gateway settings such as your email:
That's it! You are now ready to sell memberships to your visitors.
MemberPress Pricing
MemberPress has three plans available, Basic, Plus, and Pro.
Each plan offers different capabilities, depending on the requirements of your membership site.
The great thing about all the plans is that you can have unlimited members, unlimited courses, and there are no additional transaction fees.
However, you will need to pay for the plugin, and there is no option for a monthly plan.
All plans are paid annually, and new members get a steep discount.
The Basic plan gives you a license for one website, Stripe and PayPal integration, subscriptions, coupon codes, and drip content.
You can also set up email automation and use email marketing addons for Aweber, Constant Contact, Get Response, MailChimp, and MailPoet.
The Plus plan can be used for two websites and offers unlimited Quizzes and Certificates for courses.
You can sell podcast memberships and use addons for Forums, BuddyPress, and Zapier.
The Plus plan can use advanced email marketing services, including Active Campaign, ConvertKit, and Drip.
The Pro plan is their highest offering, which includes everything. You get a license for five websites and have access to the Authorize.net and Corporate Accounts addons.
MemberPress Review: Pros and Cons
It has Learning Management System functionality (rare for a membership plugin)
User-friendly interface
Has tons of integrations
Can be used for basic to advanced membership sites
Powerful content restriction rules
Works with any WordPress theme
Setting everything up isn't as straightforward as it could be
No monthly plan
It's not the cheapest option
There's no free option
MemberPress Alternatives
To help you decide if MemberPress is right for you, it's wise to know what alternatives there are.
Here are 3 MemberPress Alternatives that are potential contenders.
Restrict Content Pro
Restrict Content Pro is a great alternative to MemberPress. Its lightweight yet powerful features make it easy to offer memberships on your website.
The biggest difference is that Restrict Content Pro doesn't have a courses addon as MemberPress does.
That means you'll need a separate Learning Management System if you want to offer progressive-based courses.
However, Restrict Content Pro is a cheaper option and they offer a free version.
Their all-inclusive plan also lets you use it on unlimited sites instead of only five sites with the MemberPress Pro plan.
---
Paid Memberships Pro
Paid Memberships Pro is another excellent membership plugin for WordPress and a worthy alternative to MemberPress.
Pricing is similar for each plan, although MemberPress has better discounts for new customers.
However, Paid Memberships Pro has a free version that might suffice for a basic membership site.
Paid Memberships Pro also has more available add-ons listed on their add-ons page.
You're also able to use community features for free with the BuddyPress addon with PMP, which is only available in the Plus plan with MemberPress.
As with Restrict Content Pro, there is no courses addon with Paid Memberships Pro like you get with MemberPress.
---
Wishlist Member
Wishlist Member is one of the longest-standing membership plugins on the market and they revamped it from the ground up in 2020.
They also have a wide variety of integrations and more payment addons than MemberPress.
Another advantage of Wishlist Member is that all addons are available in every plan, so you won't be limited to the cheaper options.
Still, as with most membership plugins, selling courses with Wishlist Member requires a separate LMS.
What I like about Wishlist Member is the dashboard that displays your members' stats. And there is even a separate members area instead of the default WordPress profile page.
Pricing for both is about the same and there's no free version for WLM. If you want a free option, then consider Restrict Content Pro or Paid Memberships Pro.
---
Conclusion: MemberPress Review
In summary of this MemberPress review, it's clear to see the potential this membership plugin has.
MemberPress is an excellent option if you want complete control over every aspect of your membership site.
And one of the best benefits of this plugin is the LMS features, which other membership plugins lack.