NitroPack is a cloud-based performance optimization tool that can speed up websites regardless of the CMS used. In this NitroPack review, we'll take it for a test drive and show you the results.
These days when passing Google Core Web Vitals tests is important for your ranking NitroPack is the correct answer for your needs.
This plugin offers features like a CDN, code minification, caching, lazy-loading, and more.
NitroPack does come with a WordPress plugin for installation and configuration. It can improve website performance and Google Pagespeed score, making it a good choice for website optimization.
It will handle standard and advanced web performance issues like unused CSS removal and image optimization for you. NitroPack is ideal for those who want to avoid fixing their site manually.
NitroPack is not considered blackhat SEO and can positively impact a site's performance. You can see the benefits of NitroPack when checking Google Search Console.
In this NitroPack review, we'll look at the following:
Features
Performance
Pricing
Pros and Cons
NitroPack Alternatives
No time to read the whole article? Get NitroPack right here!
---
NitroPack Review

Ease of Use

Features

Customer Support

Price

Likely to Recommend
Summary
NitroPack offers a simple and comprehensive solution to optimize website speed, including a CDN, making it attractive to non-technical users. However, it may be expensive for some. Users should weigh the cost against the convenience and benefits of using NitroPack. Cheaper or accessible WordPress page speed plugins are available but require more setup. Test NitroPack using the free plan or the 14-day money-back guarantee to decide if it's worth the investment.
Pros
You can use it with any CMS
Automatic optimization for HTML, CSS, and JS
Good image optimization
Good CDN
Free plan
Cons
Expensive
Customer support can improve
There are records of outages
What is NitroPack Plugin?
NitroPack is a comprehensive cloud-based performance optimization tool with many features to improve website speed and performance. It works with any CMS, making it an excellent choice for site owners tired of using multiple tools to boost their Google Pagespeed score.
Although NitroPack is a bit expensive, it provides excellent value for money.
Overall, NitroPack is an all-in-one solution that simplifies website optimization and makes it easier to pass the Core Web Vitals test.
Who Is NitroPack For?
NitroPack is a web optimization tool designed for owners with big websites with numerous assets. If you have already implemented basic optimization techniques, NitroPack is the answer.
It is best suited for those with significant traffic who want to enhance their website's speed and performance.
NitroPack optimizes the website's assets, such as images, scripts, and stylesheets, to improve page load times, reduce bounce rates, and improve user experience.
NitroPack Features
This plugin is packed with many features to optimize your website performance. I can categorize the features into two processes:
Compressing data – compressing the data size that needs to be transferred. NitroPack employs techniques such as minifying CSS and JavaScript files and image optimization.
Reducing the data transfer time between the server and the user browser. NitroPack uses a Content Delivery Network (CDN), which caches website content on multiple servers in different regions. This ensures the website content is closer to the user, reducing the latency and improving the website performance and user experience.
I will explain the features employed out of the box and the options you have to tweak manually.
Advanced Caching
NitroPack caching is a simple and effective way to optimize the cache for the pages on your website. It is easy to use and allows you to monitor the cache size on the NitroPack dashboard, and you can choose to purge the cache at any time.
Cache Warmup – Besides standard caching, NitroPack also offers a cache warmup system, which optimizes pages even if users do not load them.
This can be a great option if your website experiences inconsistent traffic or is on an upward trend. However, whether to enable this feature ultimately depends on your website's specific traffic patterns.
NitroPack caching and cache warmup are excellent options for improving your website's performance and user experience.
Code Optimization
Code optimization means reducing the size of website code to make it easier for a browser to download.
This optimization is achieved through code minification and compression.
Code minification eliminates unnecessary characters from the code, such as white spaces, bookmarks, comments, and line breaks, which the browser does not need to process the website content.
Code compression encodes the web code, reducing its size similar to zip files. This makes transferring the code to the browser faster.
So code optimization helps to improve website performance and user experience.
HTML Optimization
NitroPack offers several features that can automatically optimize your website's HTML code, resulting in faster and lighter pages.
One of these features is HTML minification, which removes unnecessary spaces, comments, and other characters from your HTML code, reducing its size and improving the load time.
Additionally, NitroPack provides HTML compression, which further reduces the size of your HTML code and ensures a good page speed.
By combining these features, NitroPack can significantly improve your website's performance and the website visitors' experience.
CSS Optimization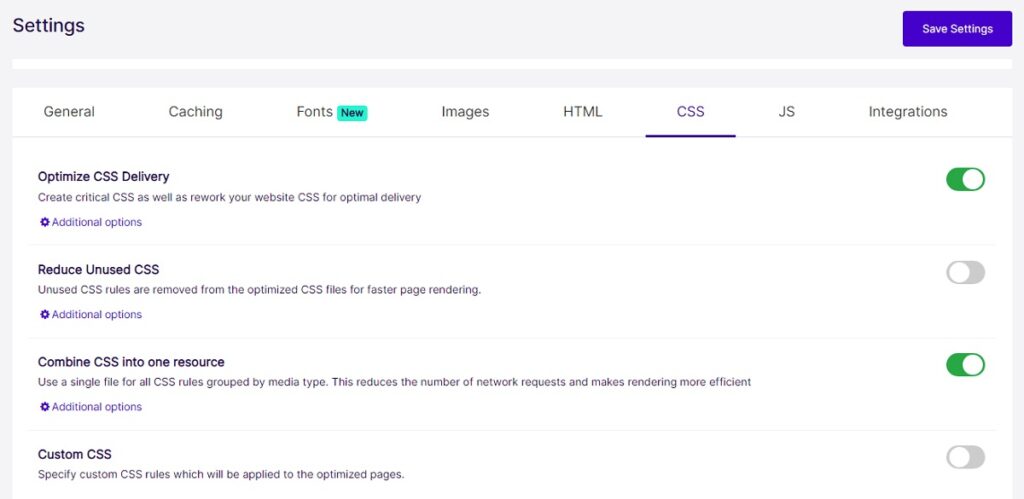 NitroPack offers advanced CSS optimization features that significantly improve your website's performance.
CSS minification – NitroPack makes optimizing your CSS files easy and reduces bloat.
CSS combining – One of the powerful features is CSS combining, which automatically combines multiple CSS files into one optimized file. This can reduce the number of HTTP requests your website needs, contributing to your website speed optimization. 
Above the Fold CSS – optimization extracts and loads only the CSS needed for the content above the fold (critical CSS), ensuring that your website renders quickly.
Minification – After optimizing your CSS, NitroPack minifies and compresses it to reduce file size further and deliver it quickly to your visitors. 
JavaScript Optimization
NitroPack is a web performance optimization service that automates the optimization of CSS, HTML, and JavaScript files during deployment.
With NitroPack, you can exclude specific files from being loaded, including JavaScript, CSS, and images.
Additionally, NitroPack allows you to delay the loading of scripts, which can help optimize site speed, especially if your site is struggling with JS load. While this is not a common issue, it can appear in performance tests such as Google Pagespeed Insights. You can improve your site's overall performance and speed by delaying specific scripts from loading.
NitroPack Content Delivery Network
NitroPack is a web optimization service that offers a suite of features to improve website performance and speed. One of its key features is the global CDN (Content Delivery Network) it provides its users.
The NitroPack CDN is powered by Amazon Web Services (AWS), one of the leading cloud computing platforms in the world. AWS is known for its robust and reliable infrastructure, which is used by many popular websites and services.
Using a CDN, NitroPack can distribute your website's content across multiple servers worldwide. This helps reduce the latency and load time for users accessing your site from different geographical locations. The CDN also helps to handle traffic spikes and can improve your website's overall security.
While NitroPack's pricing may be higher than other web optimization services, including a powerful AWS CDN is a significant benefit. This helps ensure your website is fast and responsive, even under heavy loads and in different regions worldwide.
NitroPack Review: Performance Tests
I ran the performance tests on a staging site to check the improvements that NitroPack can achieve.
Of course, being a staging site, it had no traffic. So I enabled warmup caching, which can optimize pages without any traffic. I ran PageSpeed insight, and these are the results.
Google PageSpeed Insights metrics:

Speed optimization suggested:
As you can see, the problems are Render blocking resources, unused JavaScript, and unused CSS.
For the Core Web Vital results after activating NitroPack in the default optimization mode ("Ludicrous"), I got the following:
And new PageSpeed Insights metrics:
All the Render blocking resources, unused JavaScript, and unused CSS issues are gone.
Those results make many users wonder if NitroPack employs some blackhat SEO techniques. If you are wondering yourself, I suggest you watch the video "Is NitroPack Cheating? I Put The Allegations To The Test".
In short, the answer is NO.
NitroPack User Experience and Support
Regarding support, premium plans come with free installation and configuration services.
They also offer email support and have a comprehensive knowledge base containing highly detailed information. The help center has new content to help customers resolve any issues quickly.
Email can sometimes be slow, but I could not find extreme complaints.
NitroPack Pricing
NitroPack has four different pricing plans, and they are all priced for ONE site only.
The first is the NitroPack Free plan. This is a great way to start because you can quickly see if the service will speed up your site. You are limited here to 5000 page views per month and 1 GB bandwidth/mo.
Business – $22.94/mo billed monthly. Will give you 50,000/mo pageviews 25GB/mo CDN bandwidth.
Growth – $55.71/mo billed monthly. Will give you 200,000/mo pageviews 100GB/mo CDN bandwidth.
Scale – $192.28/mo billed monthly. Will give you 1,000,000/mo pageviews 500GB/mo CDN bandwidth
The plugin also comes with a 14-day money-back guarantee.
NitroPack Review: Pros and Cons
You can use it with any CMS

Automatic optimization for HTML, CSS, and JS

A good image optimization

Good CDN

Many manual options to improve your site speed and pass CWV 

Free plan
Expensive

Customer support could improve

There are records of outages

There are complaints about Javascript-heavy sites breaking
NitroPack Alternatives
There are a few good alternatives. For this NitroPack review, we'll take a closer look at two of them.
WP Rocket
WP Rocket is a premium WordPress caching plugin that can help improve your website's performance by caching static content and optimizing various aspects of your site's loading speed.
It offers a range of features, including page caching, cache preloading, minification of HTML, CSS, and JavaScript, lazy loading of images and videos, and more.
WP Rocket is a user-friendly and easy-to-use plugin that requires no technical expertise to set up and configure.
The main features are:
Caching Features
Optimize CSS Files (defer CSS, delete unused CSS, inline CSS, and more)
JavaScript Optimization
Media Optimization
Preloading Features
Advanced Rules for Fine-Tuning Cache
Database Optimization
CDN Integration
Lazy Loading of images
GZIP Compression
Pricing per year is $59.00 for one site, $119.00 for three sites, and $299.00 for an unlimited number of websites.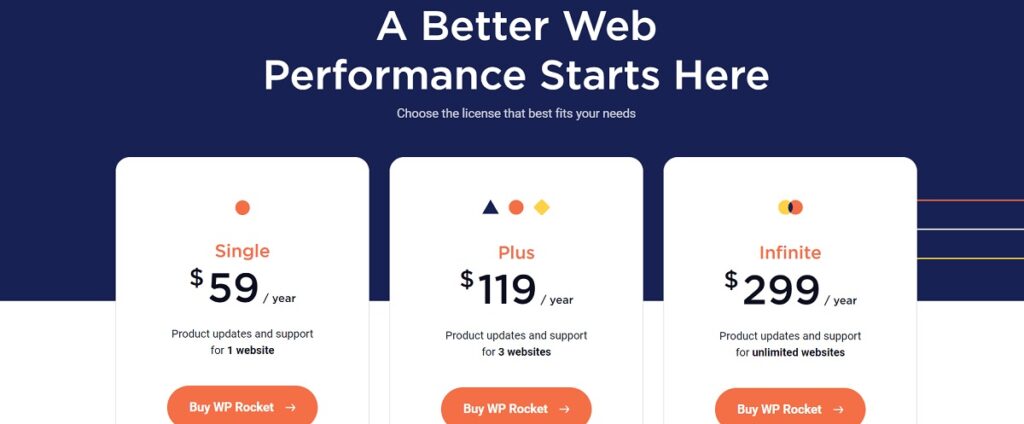 NitroPack vs. WP Rocket
When comparing the similar features of CSS and HTML compression between NitroPack and WP Rocket, they are on par with each other. However, NitroPack surpasses WP Rocket with additional features, including a Content Delivery Network (CDN) and automatic optimization capabilities.
Although NitroPack offers more features, it comes at a higher price than WP Rocket. WP Rocket is a more cost-effective option, especially considering its range of features.
Overall, if cost is not an issue, NitroPack is the better choice due to its advanced features. However, if you are on a budget, WP Rocket provides excellent value for money.
---
Perfmatters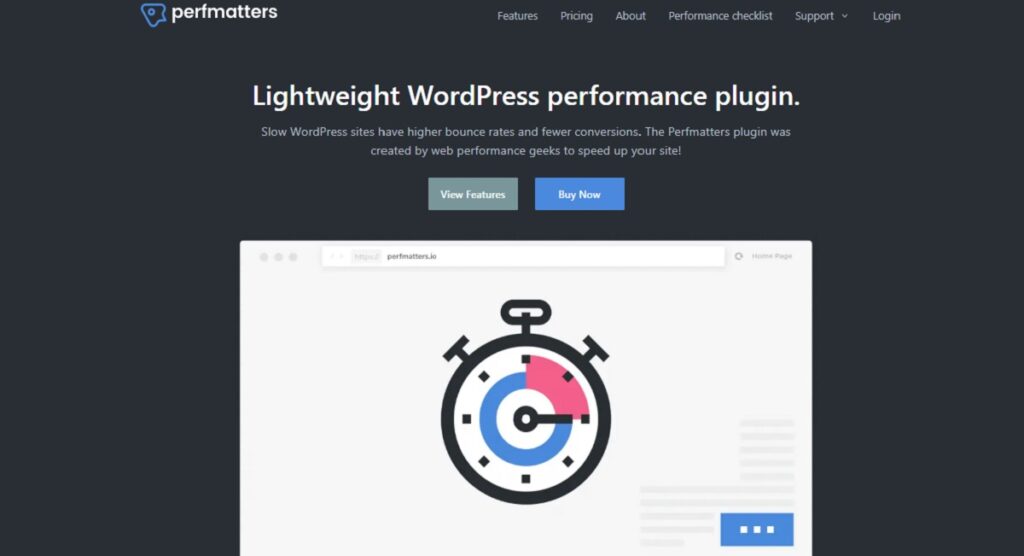 Improving your website's speed and performance requires investing in various components, including a good hosting plan, an SEO-friendly lightweight theme, and an excellent caching plugin. Combining these with Perfmatters can significantly affect your WordPress website's performance.
This is a lightweight WordPress performance optimization plugin that allows you to disable or limit certain features and functionality of your website that may be slowing it down.
Adding Perfmatters to your website is valuable because it can significantly improve your website's performance.
Its excellent support, ease of use, and affordable price make it a popular choice among website owners. By using Perfmatters, you can easily optimize your website's performance and achieve faster loading times.
Read our Perfmatters plugin review to see if it is the best way to speed up your website.
Pricing:
1 Site – Personal $24.95 per year
3 Sites – Business $54.95 per year
Unlimited Sites – at $124.95 per year
All plans come with 1-year premium support, updates, and a 30-day money-back guarantee.
NitroPack vs. Perfmatters
Both tools improve a website's performance.
Perfmatters is designed to be lightweight and easy to use, making it an excellent alternative for WordPress users who want to improve performance without adding additional plugins or complex configurations.
Perfmatters disables unnecessary features and scripts, optimizes CSS and JavaScript, reduces the number of HTTP requests, and offers a range of other performance-enhancing features.
Nitropack has two essential features: caching pages to improve performance and CDN to improve speed, which are missing from Perfmatters.
WordPress Plugins
You might also want to consider these free WordPress plugins as NitroPack alternatives.
Heard of Autoptimize? It is another free WordPress plugin – read our Autoptimize review to find out if it is any good. And read this article if you are looking for even more WordPress speed optimization services.
NitroPack Review: Our Conclusion
NitroPack has definite pros and cons when it comes to optimizing website speed. The advantages are its simplicity, comprehensiveness, and the CDN, making it a powerful value proposition for non-technical users.
However, the main disadvantage is its expense, which may only fit into some people's budget.
Ultimately, the decision to use NitroPack depends on whether you are willing to pay a premium for a one-click solution to your website speed issues. For those who are not, there are cheaper or accessible WordPress page speed plugins available, though they may require more work to set up.
Those on the fence can sign up for NitroPack and test it, taking advantage of the 14-day money-back guarantee or the free plan.