Heymarket is a mobile and web-based business texting platform that connects marketing, sales, and customer support teams with their customers. This Heymarket review explores this excellent tool's main features.
Now your team can communicate with your customers using SMS, MMS, and an ever-growing list of communication platforms using a shared inbox. The streamlined solution allows each one of your workgroups to have a designated shared inbox. Chats can be assigned to individual team members, with indicators to show who viewed or responded to a conversation.
This Heymarket review includes the following:
An Overview
Key Features
Pricing
Pros & Cons
Heymarket Alternatives
Get Heymarket right here!
Heymarket review

Features

Ease of Use

Performance

Pricing

Customer Support
Summary
Heymarket has everything you need for your bulk business communication processes in one user-friendly package. Other than using the tool for broadcast messaging as intended, you can adapt it as a platform for effective account management. It may be slightly pricier than many of its competitors, but you get what you are paying for, making it worth every cent. Get Heymarket right here!
Pros
Easy-to-use UI
Team-focussed features
Easily accessible
Solid reporting and analytics
Push notifications
Message response reminders
Value for money
The app works on both iPhone and Android
Cons
Only pricier plans include integrations and APIs
Added features may need some expertise
Not optimized for multiple languages
One-on-one customer support could be improved
What is Heymarket – An Overview
Heymarket's cloud-based group messaging solution is brought to you by the same team that brought you Manymoon, the popular online project management app.
Perfect for large enterprises, medium and small business ventures, and non-profit organizations, the Heymarket messaging solution works effectively for a full range of business categories. These include:
Automotive
Dispatch
Education
Hospitality
Insurance
Law
Medical
Real Estate
Recruiting
Retail
Heymarket's Key Features
Heymarket's key features allow you to provide personalized customer service in a fraction of the time it used to take you!
A grouping function, custom fields, templates, and Heymarket personalization options are just a few of the perks. Heymarket is so effective you can save time by sending tailored broadcast messages to over a hundred customers in less than two minutes! Moreover, you can communicate with each customer on the platform of their choice.
Enables Broadcast Messages
Send single messages to multiple recipients, customized with personalized text messages to suit each customer. You can increase conversion rates and revenue through targeted list sends, personalized business campaigns, and conversational messaging that can replace your traditional mass texting service.
Creates Personalized Connections
Message your entire client database simultaneously while maintaining a one-on-one private message connection with each customer. You can share targeted information, run drip campaigns, and pre-written sets of messages to customers over time after arranging your customers into specific lists.
An automated response function allows you to meet customer expectations around the clock. Additionally, your client's personal information is conveniently displayed alongside chats as they happen.
Works Seamlessly With Your Favourite Integrations
Heymarket works across the systems your teams rely on to stay in touch with clients.
Now your teams can have a unique set of tools suited to their needs. From marketing and sales to customer support and order fulfillment, providing your customers with excellent service has never been easier.
Heymarket SMS Intergrations
Integrating SMS capabilities, adding CRM automation, and extending API workflows with Heymarket is a reliable, hassle-free experience.
Connect Customer Conversations With Heymarket
From the moment potential customers find your business online, you can make it easy for them to message you by using Heymarket. Your centralized Heymarket inbox allows your team to send, receive and manage correspondence via frequently used messaging channels.
Send, receive, and manage messages in your shared Heymarket inbox from top channels, which include:
Google Busines Messages
Click-to-Text on Google Chrome
Facebook Messenger
Instagram Messenger
WhatsApp (Beta)
Apple Business Chat
Webchat Widget
SMS & MMS
Heymarket Review: Customer Support
Heymarket's help desk is on hand with various customer support services. From administrative features to API integrations, Heymarket's online Help and Learning Center has everything you need to manage customer messaging.
Guided video walkthroughs are available on the website and YouTube. You can send your troubleshooting questions to the team via email, or text message, on the website's chat support.
Heymarket Pricing
Heymarket's pricing model offers monthly and yearly payment options for its Standard, Plus, Pro, and Enterprise plans. Additionally, two basic add-on pricing features are available (SMS & MMS Pricing and Sales Integration).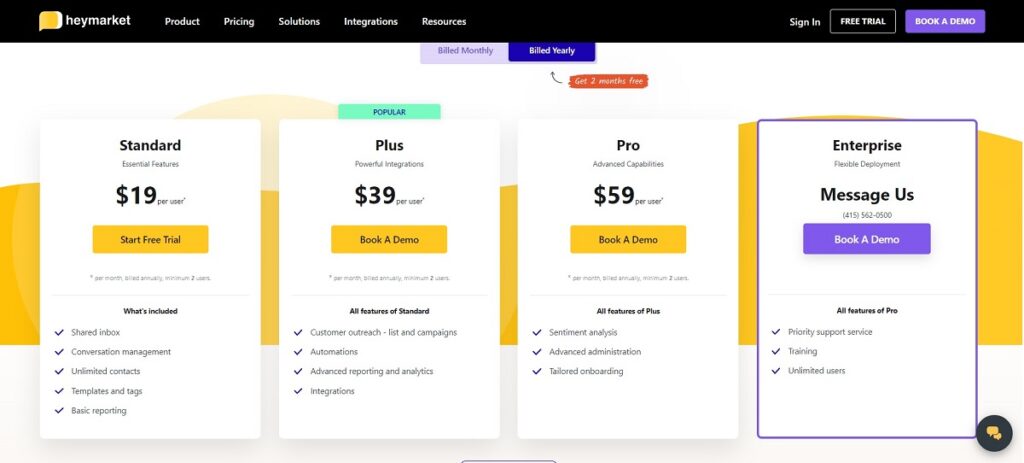 Standard Plan
Price: $23 monthly / $19 yearly (get two months free)
Minimum Users: 2
Includes:
Free Trial 
Shared Inbox
Conversation Management
Unlimited Contacts
Templates & Tags
Basic Reporting
Plus Plan
Price: $47 monthly / $39 yearly (get two months free)
Minimum Users: 2
Features:
All Features of the Standard Plan
Customer Outreach – Lists & Campaigns
Automation
Advanced Reporting & Analytics
Integrations
Pro Plan
Price: $71 monthly / $59 yearly (get two months free)
Minimum Users: 2
Features:
All Features of the Plus Plan
Sentiment Analysis
Advanced Administration
Tailored Onboarding
Enterprise Plan
Custom Pricing
Minimum Users: Unlimited
Includes:
All Features of the Pro Plan
Priority Support Service
Training
Unlimited Users
Compare price plans, find more information, and gain further product insights on the Heymarket website.
Heymarket Review: Pros & Cons
This list of Heymarket's pros and cons was compiled from user reviews about software system features, usability, price, and customer support.
Easy-to-use UI when you get started

Team-focussed features (shared team inbox, unlimited users, private messaging, and contract assignments)

Being able to access messages from your website, Google and Facebook

Solid reporting and analytics by an intuitive campaign manager

Push notifications mean you don't miss important messages

Reminders if you have a client waiting for a response

Subscription plans are reasonably priced and relative to the size of your business

The app works on both iPhone and Android
Only the pricier plans include integrations and APIs 

Inexperience users might have difficulty navigating APIs, integrations, and other features

Not optimized for multiple languages (non-English speaking customers might not have the best experience)

Customer support could do with improvement
Two Top-Rated Heymarket Alternatives
If Heymarket's software features don't meet your needs or you want to explore other business messaging solutions, there are plenty of product alternatives on the market. Based on user reviews in various business categories, I picked two top-rated competitors with similar features to Heymarket.
Podium
Podium is a multi-product marketing and communication platform. The tool helps businesses convert customers with easy-to-use growth, communication, and payment tools. Reviews, website conversations, text marketing, and payments – Podium lets you manage all your communication in one easy-to-use space.
Pricing
Podium – Signup for a Free Trial
Essentials Annual Plan $249 Per Month
Standard Annual Plan $409 Per Month
Professional Annual Plan $599 Per Month
Month-to-Month Contracts Available
Key Features
Customer Review Management Tools
Messaging Inbox
Webchat Widget
TeamChat
Online Payments 
Analytics
Live Chat Support
---
DialMyCalls
DialMyCalls allows you to send bulk text messages, automated phone calls, and emails to entire contact lists in seconds. Users include schools, churches, municipalities, government agencies, as well as Fortune 500 companies, and countless other organizations.

Pricing
DialMyCalls – Signup for a Free Trial
Standard Monthly Plan – $7.49
Premium Monthly Plan – $9.99
Pay As You Go Option – Starts at $10.00
Custom Pricing Option – on request
Annual Contract – Save 10%
Key Features
Mobile App
Mass & Two-Way Texting
Automated Calling
Bulk Emailing
Integrations
Live Chat Support
Wondering about other text marketing tools? Check out our EZ Texting review. And here is another good read about 15 SMS marketing platforms to help you reach your customers.
Heymarket Review in a Nutshell
Concluding the Heymarket Review, I hope you got a deeper insight into the group messaging solution's benefits.
In a nutshell, Heymarket helps you take customer service to the next level while simplifying the task for your teams.
With an increasing number of people using their mobile devices to do business, integration with the most popular messaging channels sets Heymarket apart from the rest.
It may be a slightly pricier communication solution than many of its competitors, but you get what you are paying for, making it worth every cent!