If you're looking for the best autoresponder for affiliate marketing optimization, you've come to the right place. There are many amazing options out there that help get your affiliate-infused emails out quickly. In addition, many programs offer well-designed templates and boast high deliverability rates.
But not all autoresponders are created equally, so it's important to dig into the features of each one to make sure it's valuable for you.
We've combed through and vetted 11 programs that allow affiliate marketing links and have features to make your campaigns much more effective.
Let's dive in!
What Is An Autoresponder?
An autoresponder is a tool that sends automated email responses triggered by specific user actions, such as signing up for a newsletter or purchasing an item online.
Widely used in email marketing, it helps reduce workload by automatically sending pre-set messages like welcome emails to new subscribers. Autoresponders are also used to send confirmation emails and out-of-office replies.
Affiliate marketers commonly use autoresponders to build relationships with their audience, promote products, and increase sales. They save time and help minimize communication gaps, which can help an affiliate marketing business run more efficiently.
11 Best Autoresponders for Affiliate Marketing
Each of these email marketing software options can help your affiliate marketing business by automating email campaigns and providing valuable analytics.
We'll take a look at the features, pricing, and benefits of each tool.
1. GetResponse: An Easy All-In-One Solution
As an affiliate marketer, you need the best tools for your business. GetResponse, a top-tier email marketing software, stands out as the best autoresponder for affiliate marketing.
Key features include:
User-friendly interface
Comprehensive solution for all your email marketing needs
Pre-built funnels for smooth campaigns
Round-the-clock customer service in eight languages
Even if you're new to running an affiliate marketing business, this platform makes it easy. Its robust analytics and impressive delivery rates are available even in basic packages.
Plus, creating a GetResponse landing page is a cinch with their drag-and-drop feature, which we discuss further in this GetResponse review.
While phone support is limited to higher-paid plans, they offer discounts for advance payments and a free plan to get you started. It integrates well with other software used for affiliate marketing, further simplifying your email marketing efforts.
Pricing: GetResponse provides three distinct plans for users: Email Marketing priced at $15.58 per month, Marketing Automation costing $48.38 monthly, and E-commerce Marketing available at $97.58 each month. These prices apply to annual billing.
---
2. ConvertKit: Great Delivery Rates
In January 2013, Nathan Barry established ConvertKit, driven by his need as a blogger and creator to find a more effective method for connecting with his audience and marketing his books and courses.
It's a top-notch email marketing service, chock-full of features that simplify your email marketing campaigns.
You can expect the following from this email marketing service:
High email delivery rates
User-friendly interface
Clear-cut email reports
Email categorization
Email sequencing
Unlimited email sending
If an email isn't opened after a certain period, ConvertKit automatically resends it, potentially boosting your affiliate Click-Through Rate (CTR). Plus, it's an affiliate-friendly autoresponder with a WordPress plugin for seamless integration with your site.
However, it's not without drawbacks. The reports could be more detailed, A/B testing options are limited, and email templates offer minimal personalization.
But overall, as an affiliate marketing autoresponder, ConvertKit's pros outweigh its cons, making it a valuable addition to your marketing toolkit.
Read more about this email marketing tool in our Convertkit review.
Pricing: ConvertKit offers a complimentary plan for a list of up to 1,000 subscribers. Their Creator package comes at $9 per month, while the more advanced Creator Pro option is available at $25 monthly.
---
3. MailerLite: Awesome Automation & In-Depth Reports
In the world of affiliate marketing, MailerLite is a real asset. This Vilnius-based email marketing software isn't just for nonprofits and bloggers but also a key tool for affiliate marketers.
This autoresponder enhances your email campaigns with:
Lead-generating popups that contain affiliate offers
A/B testing for campaigns implemented on this email marketing platform
Precise email segmentation
It offers 24/7 support on premium plans and seamless Google Drive integration for image organization. Plus, it stands out with its landing page builder and custom URL creation capabilities.
Despite lacking advanced automation and in-depth reports, MailerLite excels with dynamic content and user-friendly drag-and-drop features. Its sign-up forms are also a big plus for your affiliate marketing endeavors.
The best part? It provides an e-store integration to boost sales and paid newsletter subscriptions, making it a top choice for your affiliate marketing business. On the fence? This Mailerlite review will help you decide if it's right for you.
Pricing: MailerLite has a free plan accommodating 1,000 contacts and allowing for 12,000 emails. Their more comprehensive plans, Growing Business and Advanced, are available beginning at $9 per month and $18 per month respectively.
---
4. Brevo (Formerly SendInBlue)
Those looking for the best autoresponder for affiliate marketing may consider using Brevo, especially if you want to save money and use their free email marketing services.
Our complete Brevo review breaks down the nuts and bolts of this program, but here's a summary of the top functions of this autoresponder:
Simplifies CRM and email campaigns
User-friendly email templates
Shared inbox for all-channel communications
Effective CRM tools to nourish customer relationships
Integrated page builder for high-converting landing pages
With Brevo, you can send out abandoned cart notifications and design personalized email campaigns. The pricing is based on emails sent, not contacts stored, making it budget-friendly for your growing business.
You can up your marketing automation with Brevo's advanced features: intricate workflows, automated lead scoring, and tailored responses to customer behavior. However, remember that the free plan doesn't allow you to create landing pages, and logo removal is an add-on only.
Pricing: Brevo offers a no-cost tier that allows for 300 emails per day, while its paid Starter and Business tiers commence at monthly rates of $25 and $65 respectively.
---
5. AWeber
AWeber is the best autoresponder for affiliate marketing if you want a generous library of beautiful templates. This email marketing platform is highly customizable to brand colors and fonts. It's also easy to add your logo to an email.
When it comes to affiliate marketing, it's important to find an email autoresponder that prominently and professionally displays your brand, and AWeber fits the bill.
You can expect:
Over 600 customizable, responsive email and newsletter templates
Intuitive list management for easy segmentation by open rates
Simple setup of automated email sequences with a drag-and-drop campaign builder
Tag-based autoresponders for audience segmentation based on interests
With AWeber's email marketing software, you can track metrics from open rates to sales. Its unique Email Web Analytics lets you monitor subscriber activity on your website, providing insights into page views and purchases.
This enables more targeted segmentation and measures the direct impact of emails on affiliate sales funnels.
For affiliate marketers, AWeber offers the ability to personalize offers for different demographics. If you're looking for an effective email marketing platform to boost your affiliate marketing efforts, consider AWeber.
Pricing: AWeber has a free plan accommodating 500 subscribers. Paid plans start at $12.50/month when billed annually for the Lite Plan, with the Plus Plan costing $20/month for significantly more features and functionality.
---
6. ClickFunnels
ClickFunnels, created by Russell Brunson, is an excellent autoresponder for affiliate marketing. This platform focuses on sales funnels and provides customizable pages to design effective sites.
This program is much more than an email marketing tool; ClickFunnels is a comprehensive marketing suite. It's ideal for creating landing pages, lead generation, and selling products or services.
This sales funnel builder offers the following email marketing automation options:
The most recent version of Clickfunnels has its own autoresponder, so you don't have to pay for another service. But it's nice for an affiliate marketer to have the option to use their preferred autoresponder.
All subscription plans include the new autoresponder feature, so it's a good idea to give their proprietary tool a try to see if it can streamline your affiliate campaigns and save you money.
Pricing: When billed annually, the Basic plan is $127/month, the Pro plan is $157/month, and the Funnel Hacker plan is $208/month. There's a 14-day trial as well.
---
7. EmailOctopus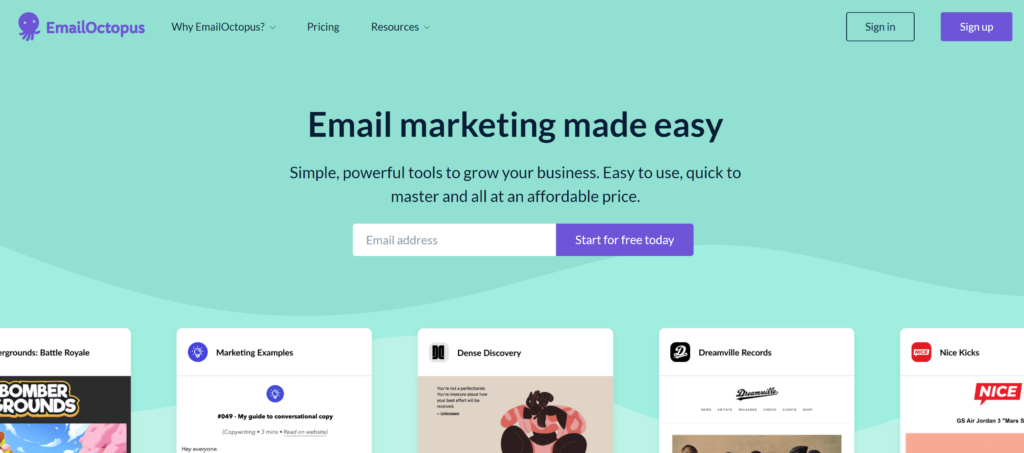 Seeking a straightforward and highly affordable autoresponder for your affiliate business? Look no further than EmailOctopus. This program is easy to learn for beginners, has a generous free plan, and overall low rates.
EmailOctopus can:
Automate drip campaigns with ease
Send welcome emails and sequences upon subscription
Manage your lists efficiently and avoid landing in spam folders
Create landing pages and forms in addition to email automation
Integrate with over 40 third-party services
With EmailOctopus, you can set your emails to be sent immediately or schedule them for later. And guess what? Advanced automation workflows are on the horizon! These will allow action-based conditions, adding more power to your affiliate marketing campaigns.
For those seeking the best autoresponder for affiliate marketing that's best for small businesses, this may be a good fit.
Pricing: The free EmailOctopus Starter plan offers 2,500 subscribers and 10,000 emails monthly, while the Pro plan at $8/month allows 500 subscribers, 10,000 emails, unlimited landing pages and users.
---
8. Kartra
For an affiliate-friendly autoresponder, consider trying out Kartra. This service allows you to optimize your email deliverability through analytics, set up email automation easily, and customize your email marketing autoresponder.
In your affiliate marketing campaign, you can enlist Kartra to:
Create unlimited, customizable automation tasks
Control the timing of your marketing campaigns
Tag leads based on actions
Take advantage of both email and SMS capabilities
Kartra's marketing automation features are perfect for managing your affiliate campaigns. Capture leads, promote your offers, and create checkout pages with ease.
Plus, with added perks like video hosting and helpdesks, it stands out among other email marketing tools. So, if you're seeking the best autoresponder for affiliate marketing, consider Kartra.
Pricing: The monthly prices for Kartra: Starter at $99/mo, Growth at $189/mo, and Professional at $429/mo. You can try out a 30-day trial to get started.
---
9. Drip
As an affiliate marketer, Drip's email marketing software could be your best ally. This autoresponder is ideal for those with shops. But this email marketing software is not just for e-commerce marketers; it's a tool to make email marketing tasks easier and more efficient.
Here's why:
Engaging forms for lead generation
Automatic email and SMS promotional content
Tailored messaging via user tagging
Visual email builder for professional-looking emails
Drip's email marketing automation helps you build lasting relationships and boost your sales. With its Automation Workflows, your email marketing campaigns can run smoothly based on customer actions. It's the best autoresponder for affiliate marketing for those who want a code-free, user-friendly platform.
Pricing: Plans begin at $39 per month and there's a 14-day free trial available.
---
10. SendX
SendX could be your go-to autoresponder if you prefer to pay an incremental fee as your audience base grows rather than paying for several subscribers at once when you're starting. Launched in 2016, it's designed to be accessible for both beginners and experienced users.
You can expect the following features from this all-in-one solution:
User-friendly interface for beginning affiliate marketers
Email automation with advanced automation tools
Dedicated IP addresses for optimal deliverability
A/B testing for online business optimization
Video embedding in drip emails
SendX allows you to categorize email subscribers, tailor your affiliate business emails, and edit automation rules based on user behavior.
It's the best email marketing software that combines ease of use with a feature-rich platform – perfect to kick-start your affiliate marketing.
Pricing: Pricing plans are based on the number of subscribers you have, with the lowest monthly plan starting at $7.49/month when billed annually.
---
11. Sendlane
As an affiliate marketer, Sendlane could be your ideal autoresponder. Founded by Jimmy Kim, Sendlane's unified solution offers a great way to boost revenue and enhance customer experiences on autopilot. Here's what you can expect:
Clean, intuitive dashboard
Advanced reports for data-driven decisions
High email deliverability rate
Effective automation for personalized messaging
Advanced segmentation and list-building tools
With Sendlane, you can easily start a marketing campaign based on audience behavior, such as welcoming new subscribers or nurturing them through a sales funnel. Its unique automation features allow you to improve list building and reduce cart abandonment.
However, it might be costly for beginners with small budgets and an email list under 50,000 users.
Pricing: You pay for what you use with Sendlane, with plans starting at $100/month and $1000/year.
Final Thoughts: 11 Best Autoresponders for Affiliate Marketing Success
Affiliate marketers rely on email marketing tools to save time with autoresponders. With easy-to-generate email templates, included landing pages, and approved insertion of affiliate marketing links, one of these programs will make your life easier.
So which is best for you? First, consider your current email service provider and budget. From there, explore the features of each autoresponder and determine which one best meets your needs for efficient affiliate marketing campaigns.
Remember, trying the best autoresponder for affiliate marketing is an investment in your business's success. So, choose wisely and watch your affiliate commissions roll in.