You want to start selling products in your Shopify or e-commerce store but you just aren't sure where to start. Our Dropship Spy review can help. How many sales do you need, and where can you find the ideal products from massive dropshipping platforms like AliExpress? Even once you find them, how do you market them? 
For a comprehensive solution to your dropshipping dilemma, Dropship Spy promises a better way to conduct product research and make your storefront more appealing to the masses. If you have been struggling to scrape AliExpress products for a new winning item to add to your storefront, then you need Dropship Spy. 
Let's dive into everything you need to know about this program before you buy. 
Sign up for Dropship Spy here!
---
Ease of Use

Stability

Customer Service

Price
Summary
Dropship Spy is a must-have program for finding the perfect products in your dropshipping store. It is affordable, robust, and even assists with marketing endeavors. Sign up for Dropship Spy here! 
Pros
Easily locate winning products on AliExpress
Profit calculator to determine pricing and sales goals
Easy to use
Affordable
Cons
No free trial or free version
Could oversaturate the market with the same winning products
What is Dropship Spy?
Dropship Spy functions primarily as one of the top product research tools on the market for dropshippers. While it does help you to figure out which products could be profitable for your storefront, it does so much more than that. 
It also allows you to maximize your engagement on social media, run targeted advertising, and examine your sales to determine profitability. 
In other words, Dropship Spy combines the best of both product research and social media marketing to help you simplify your business growth. This tool is ideal for any dropshipping store that wants a leg up on the competition, no matter how experienced (or inexperienced) you might be. 
Plus, Dropship Spy is extremely easy to use, which makes it ideal for anyone who struggles with more complex tools. 
Dropship Spy Review: Features
If you plan to set up dropshipping stores, then you need a comprehensive tool that will allow you to make the most of your time and effort. Dropship Spy promises to do just that with some of these key features. 
Connect to Shopify Store
A successful dropshipping store knows that conducting product research is only half the battle. You also need a tool that is going to easily integrate with your existing platform. To this end, you can easily connect to a Shopify store using its Connect function. 
From the dashboard, you will find almost all of your tools, including this Connect to Shopify store option. This allows you to directly import promising products into your storefront with just a few clicks. 
To determine which winning product you want to import first, they also have a robust spy tool that can help. 
AliExpress Hot Products and AliShopper
One of the most appealing features of the Dropship Spy tool allows you to spot new items that could be potential big sellers immediately. Any successful dropshipping store knows that AliExpress products represent a huge market. 
This tool allows you to see winning products that could be the next top seller in your account. 
Another benefit of Dropship Spy when it comes to your storefront is that it allows you to import items into your e-commerce store with just a few clicks with AliShopper. 
Influencers
Beyond using Dropship Spy as a tool to help you find the next best-selling products for your storefront, you can also make use of it for your marketing strategy. Dropshipping stores know that advertising is key to finding customers who want to purchase. 
To this end, Dropship Spy allows you to see influencers who are in the niche of the products that you are interested in selling. 
Not only does this give you a heads-up on marketing, but it also gives you their pricing and services for quick research. 
Writing Ad Copy and Social Proof Ads
Do you struggle with writing copy that converts for the items you want to place in your store? There is a Dropship Spy tool that can help you to write marketing material. They write several selections for each product that include retargeting to save you time when it comes to your marketing. 
Of course, a Dropship Spy review wouldn't be complete without mentioning their social proof ads function. These can serve as a helpful tool, giving you detailed information on engagement scores, likes, comments, shares, and more for any given ad.
Facebook Audience Builder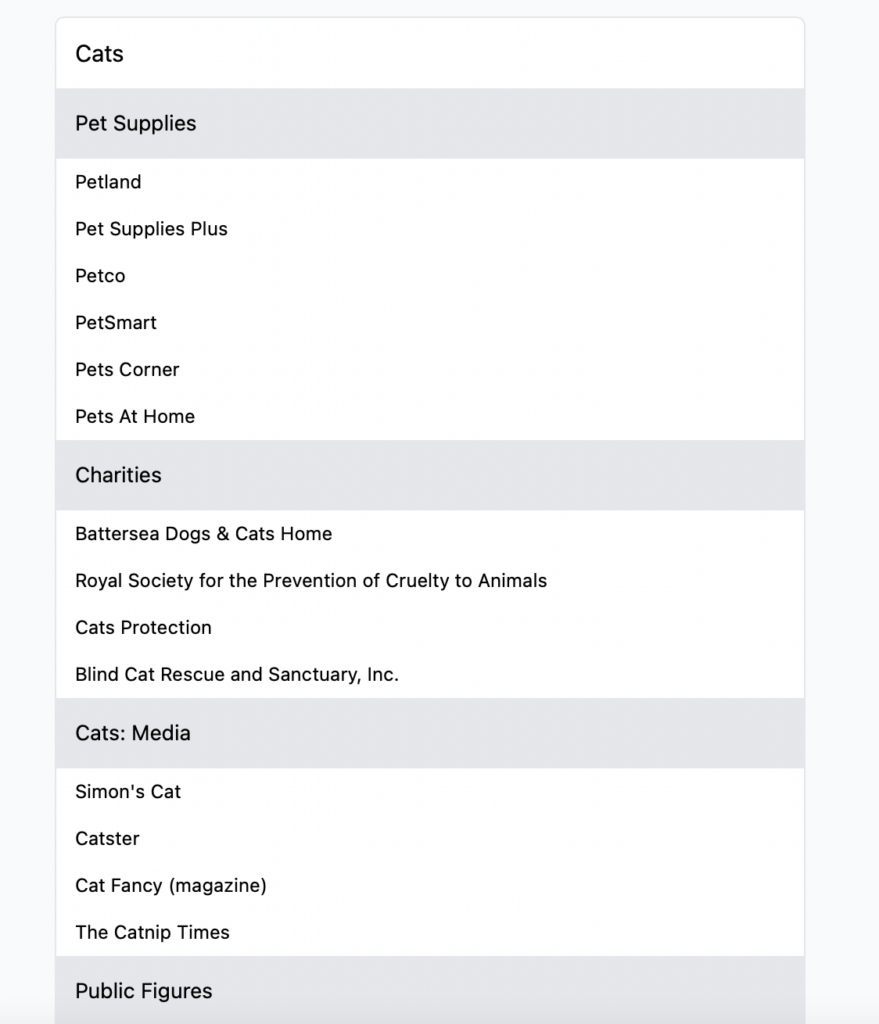 For those who want to initiate a successful social media marketing strategy, Dropship Spy has a Facebook audience builder that is here to help. It allows you to gain access to a curated list of existing and unique Facebook audiences, making it easy to target niche markets. 
This type of targeting makes it more likely that your ads will be effective, essentially eliminating the headache of trying to figure out where to advertise. 
Profit Calculator
How many sales do you need to turn a profit? Beyond just their product spy tool, you will also want to make good use of the profit calculator to determine your breakeven point and maximize profit margins. Using just a few simple numbers, you can tailor your Dropship Spy account to meet your financial goals. 
It allows you to review your: 
Buy price
Profit margin
Daily advertising cost
In the end, press the calculate button and you will quickly see how many items you need to sell per day to turn a profit. 
Reviews Downloader
When you are conducting product research, you know how crucial it is to demonstrate social proof for the products you are importing. Reviews are one great option for promotional resources, proving that the product you are dropshipping is high quality. This encourages more people to buy from an unknown entity. 
All you have to do is conduct a quick search for the specific product you are looking for using the AliExpress product ID. Click the "fetch reviews" button and you can easily upload them to your Shopify store to prove just how desirable a given product is. 
Description Fetcher
Just because you uncovered a winning product doesn't necessarily mean that you know how to sell it. This product research tool helps you to craft a compelling description that will make it easier for you to drive sales. The Description Fetcher searches the internet for the same promising products you want to sell and their already-written copy. 
This makes it easier for you to use this store spy tool to maximize your sales potential with copy that is already proven to convert. 
Pros/Cons of Dropship Spy
Great for finding winning products on AliExpress
Helps to target Facebook ads for inexperienced marketers
Connects you to influencers along with price and services
Profit calculator to make sales a cinch
Easy-to-use interface (even for dropshipping beginners)
Affordable with no contracts, making it easy to cancel
No free trial to determine whether it works for you
Can feel a bit limiting when it comes to social media targeting
May oversaturate the market with the same winning products daily
Pricing Plans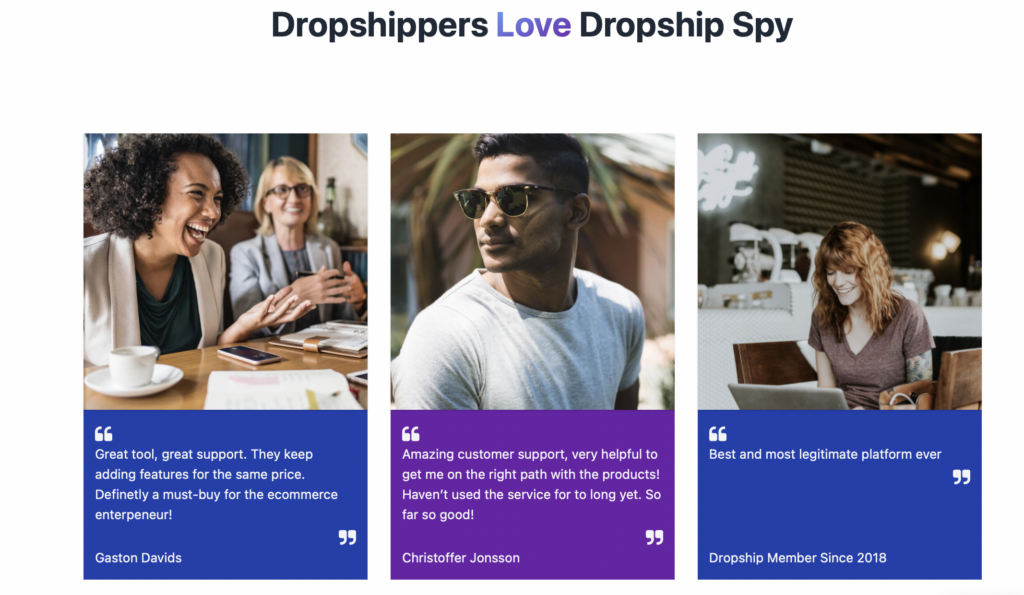 For Shopify stores who want to make the most of a great product research tool, then you need to know what Dropship Spy will cost you. The good news is that this tool is quite affordable, even though it offers no free trial to test drive it. 
On a monthly basis, it will set you back $39 or you can shell out $119 for the year (just under $10 per month). If you know that you are going to use this store search tool for more than just a single month, it seriously pays to purchase the annual subscription. 
Alternatives 
Of course, Dropship Spy isn't the only product research tool that you should consider. Other alternatives are great for helping you locate promising products, including Niche Scraper and Ecomhunt. Let's take a closer look at what you can expect from these two alternatives. 
Niche Scraper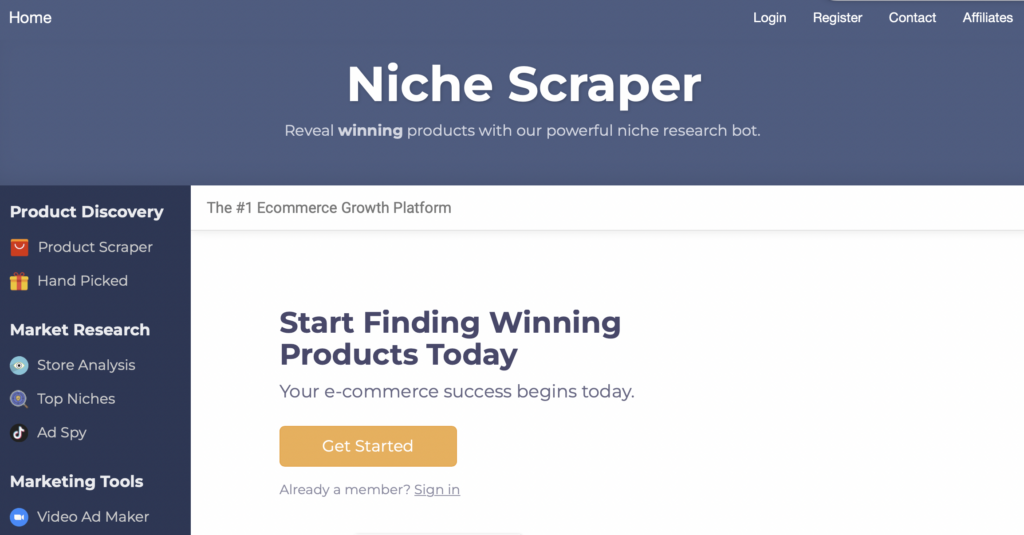 If you want to find a tool that doubles as a store spy, then you can't go wrong with Niche Scraper. It provides high-level and in-depth information on a number of successful stores. Plus, it features products that have been personally reviewed and verified by their team. 
If you need a little help with marketing, you will also benefit from Niche Scraper because it provides a proof of concept for each of your advertising campaigns. 
One of the many benefits of Niche Scraper is that they are confident enough in their product to offer a free trial. Test drive it for a few "scrapes" to see if the data it provides is what you are looking for. If it is, then you can sign up for a membership at just $49.95 per month (a bit more than Dropship Spy). 
For more information on Niche Scraper and how it could help you, check out our full Niche Scraper review here.
Ecomhunt
For those who want a beginner-friendly product research tool, you can't go wrong with Ecomhunt. It is perfect for finding products that are currently trending and offers some similar benefits to the Dropship Spy tool, like Facebook ad targeting. 
A benefit to this platform is that it also allows you to move beyond winning products to finding stores that are highly successful. By watching their every move, you can learn a lot more about the dropshipping business and reach greater heights of success. 
If you are struggling to use some of these product research tools, Ecomhunt also offers the option for one-on-one support to help you get started the right way. 
Subscription fees start at free (for limited access and searches) to $49 per month for their Suite package. 
Dropship Spy Review: Final Verdict
Shopify stores that want some software that can make it easier for them to market and sell their products will want to turn to Dropship Spy. All this data provided by the program makes it easy for you to get the information you need in one convenient package. 
From social media targeting to the ability to download reviews, you will have a one-stop shop for all your dropshipping store needs. 
If this sounds like a product that could take you to the next level, it is an affordable solution that will allow you to sell the same product you are already peddling with improved rates of success. Take advantage of all the features to find the perfect dropshipping products for your Shopify stores.