ChatGPT has taken the world by storm, so let's look at ChatGPT Plus vs ChatGPT vs alternatives. How do these versions of ChatGPT differ? And can other conversational AI platforms provide the same or better features?
We will answer all your questions in this article.
We'll look closely at the free version of ChatGPT, ChatGPT Plus, and some ChatGPT alternatives you can use in your business to help you decide is right for your needs.
What is Free ChatGPT – What it Can Do and Can't Do
ChatGPT stands for Chat Based Generative Pre-Trained Transformer. It is a fine-tuned NLP (Natural Language Processing) model. The free version is based on the GPT-3.5 language model system created by OpenAI. Elon Musk and Sam Altman co-founded OpenAI.
Through human conversation, OpenAIs ChatGPT can create different types of text content in record time.
Trained on 175 billion parameters ending in November 2021, this chatbot represents a landmark in AI. ChatGPT is backed by Microsoft.
In February 2023, Microsoft Bing AI announced they are working with OpenAI. They are integrating ChatGPT, based on GPT-4, into their search engine, "The New Bing."
Bing AI's new feature is an exciting alternative to Google Bard – Google's answer to ChatGPT. Bard is powered by Google's own model LaMDA (Language Model for Dialogue Applications). Soon to be released, Google Bard will be part of the Google Chrome search engine. Read our article ChatGPT vs Google Bard to see which one we think will win the race.
Some Examples of what ChatGPT Can Do
Write attention-grabbing subject lines and engaging content for your email marketing campaigns.
Generate convincing sales copy using well-known formulas like PAS, AIDA, BAB, and more.
Help with your blogging by suggesting topics, outlines, and writing content.
Write social media content.
Create professional home listings for real estate agents.
Generate ideas for marketing campaigns.
Write compelling product descriptions.
OpenAI provides an API for businesses to incorporate the technology into their own websites and customer service modules. Here are nine ChatGPT success stories that highlight how you can make this tool work for you.
Read more if you want to know if ChatGPT will replace human writers.
What ChatGPT Can't Do
ChatGPT's training ended in November 2021. The chatbot cannot answer any questions about events after this date.
The software can sometimes produce inaccurate or biased answers that seem plausible. And it can fabricate answers.
ChatGPT cannot think and respond with human emotion and can sometimes give insensitive answers.
Occasionally, and with prompting, ChatGPT can produce illicit content. 
Coding is not very good, and programmers have warned against using ChatGPT for coding.
ChatGPT cannot recognize the difference between its own AI content and human-written content.
The chatbot can not create art and images directly.
In essence, ChatGPT has its flaws and will not replace humans at this stage. However, it is an exciting, creative tool with many competitors.
ChatGPT Plus – The Paid-For Subscription
Should you want more from ChatGPT, like faster and better responses, priority access to new features, and easier access during peak times, there is ChatGPT Plus.
The most exciting feature of ChatGPT Plus is that it now uses OpenAI's just-released GPT-4. According to OpenAI:
GPT-4 is a large multimodal model (accepting image and text inputs, emitting text outputs) that, while less capable than humans in many real-world scenarios, exhibits human-level performance on various professional and academic benchmarks. For example, it passes a simulated bar exam with a score around the top 10% of test takers; in contrast, GPT-3.5's score was around the bottom 10%.
ChatGPT Plus still has the training date constraint (it has no knowledge of events that occurred after its training cut-off date of November 2021), but it is a significant upgrade on ChatGPT.
ChatGPT Plus is a paid-for subscription at $20 per month. Not yet officially released, it has been rumored that a new ChatGPT Professional option will cost $42 per month.
ChatGPT Plus was originally only open to the US but is now internationally available at the same price.
ChatGPT Alternatives for Your Business
Generative AI tools have taken years of research and development. Now, new AI chatbots seem to pop up every day. Some integrate with the web and business applications. Let's have a look at some ChatGPT alternatives.
Jasper AI
Jasper is a robust generative AI platform for business that can help you create content 10X faster. With Jasper AI, you can create social media content, blog posts, marketing copy, video scripts, sales emails, and much, much more.
Jasper AI also has a Chrome extension, so you can access its features wherever you work.
Supporting over 29 languages, Jasper AI currently has more than 105 000 users and is recognized as one of the best AI writing assistants.
With Surfer SEO integration, you can be assured that your content will be SEO optimized. And Jasper's output is 99% plagiarism-free, while ChatGPT is still working on this.
Based on DALLE 2, Jasper Art is a new text-to-image module that allows you to create unique images to complement your writing.
Jasper Chat offers a new approach to interacting with generative AI in Jasper, similar to ChatGPT. Rather than requiring users to think in commands or follow strict prompts, Jasper Chat allows users to engage in conversational dialogue and improve responses with each interaction.
Jasper Chat uses OpenAI's GPT 3.5 language model. Jasper Chat differs from ChatGPT because it is tailored specifically for business use cases such as marketing and sales. You can, for example, use Jasper Chat to examine customer feedback and create more personal responses.
Regarding usability and functionality, Jasper Chat is one of the best ChatGPT alternatives.
The price difference between Jasper Chat and Chat GPT is justified given its additional features. Jasper Chat has a 5-day free trial period and offers 10 000 free words initially. Boss Mode starts at $59 per month with 50 000 words. A 17% discount applies to the annual plan.
Read our Jasper AI review for more insights into this great tool.
---
ChatSonic
ChatSonic from Writesonic advertises itself as a "ChatGPT Alternative Built with Superpowers."
This conversational AI chatbot differs from Jasper AI or Chat GPT in that it can provide more up-to-date information as it can access the Google Search Engine. This gives it an advantage over other ChatGPT alternatives.
ChatSonic can provide voice searches and responses, like Google Assistant. It can also create content on a conversational artificial intelligence platform. ChatSonic is excellent as a content writer, marketing, and business tool.
ChatSonic is also integrated with DALLE 2, which creates unique artwork in seconds.
An API is available to integrate ChatSonic into your existing applications.
Writesonic offers much of the same writing features as Jasper, including integration with Surfer SEO.
Writesonic has a free version for a month, giving you 10,000 words. After that, the Long-Form Premium plan (using GPT-3.5) starts at $19 per month for 60 000 words. The Superior and Ultra options use GPT-4 and provide 30 000 and 15 000 words, respectively.
ChatSonic is a more affordable ChatGPT Plus alternative.
---
Copymatic
Copymatic is a creative writing AI tool with the option of accessing the Google Search Engine. The chatbot gives a range of suggestions to choose from. For example, "Write a paragraph about…" or "Write ten blogs on…."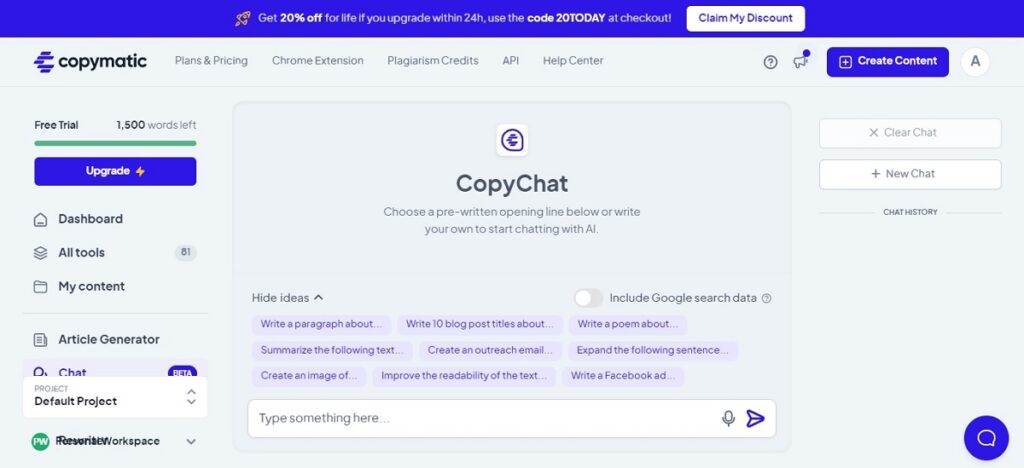 Copymatic language models can summarize, create images and generate social media posts.
This generative AI tool is a good alternative compared to OpenAI Chat GPT and ChatGPT Plus. It has access to the web and more up-to-date information. The user interface is simple and friendly to navigate.
Copymatic has free access for 1500 words, and then there is a subscription fee of $29 for the Pro plan, which gives you unlimited words.
---
Easy Peasy AI
Easy Peasy AI lives up to its name. Its super-friendly interface, templates, and options make using it a breeze. You can also include search engine results in the chatbot's feedback. Easy Peasy's chatbot is based on GPT4.
The chatbot's name is Marky. The great thing about Easy Peasy AI is that you can select from prepared prompts. Just fill in your details and generate the response. You can also specify the tone or style you would like to receive or the content's specific use – from SEO to HR.
There is a text-to-speech transcription ability, a simple-to-use image generator, and over 80 templates. Easy Peasy AI can be used for content writing, blogs, marketing, and social media posts.
Its ease of use and many useful features make Easy Peasy stand out from the other ChatGPT alternatives.
Easy Peasy offers a free plan which gives you 3 000 words. After that, the Basic Plan costs $4.99 per month for 10 000 words, the Starter costs $8 for 25 000 words, and the Pro Plan costs $28 per month and gives you 100 000 words.
---
Marmof
Marmof is an AI writer for business and provides an AI conversational platform. It can quickly create really good content for social media posts and blogs. Marmof's powerful writing tools will assist any writer in creating better, more compelling content.
It is SEO-friendly and is excellent for professional and personal use. Like Jasper AI, Marmof claims 100% plagiarism-free content.
I asked Marmof Chat if ChatGPT is a Marmof alternative.
Marmof has had great reviews, with users commenting on the simple, easy-to-navigate interface. Users are also impressed with the multi-functionality of the chatbot.
Marmof Art can create images using text prompts with impressive results!
I asked Marmof to create an abstract image of a cat sleeping peacefully, precisely what the chatbot produced.
It is an excellent tool for business and marketing posts. It makes creating content, images, and text very simple – it's one of the best ChatGPT alternatives available.
Marmof gives you free access to 5000 words per month; after that, pricing starts at $19 per month for 50 000 words.
---
HyperWrite
HyperWrite is an artificial intelligence writing assistant and chatbot that inspires with templates and creative writing.
This tool uses its internet-trained database to compare text and offer suggestions as you write. It will help you write better content faster. HyperWrite does not promise there will not be plagiarism. It suggests using an alternative when you are ready to publish content.
The AI writer will complete sentences and paragraphs and autocomplete suggestions as you type. HyperWrite integrates with big tech companies like Google and Linkedin. It is also a Google Chrome extension where you can incorporate the program.
HyperWrite Chat utilizes GPT-3 technology and can be accessed from any location on the internet. You can ask the chatbot for assistance with writing ideas, advice, planning, and a whole lot more. HyperWrite Chat can enhance your writing and creative abilities.
There is a HyperWrite Images page where you can go to create images and artwork.
Free access gives you 15 generations and 15 rewrites per month. There is a Premium access option, costing $19.99 per month. This provides you with unlimited generations. The Ultra plan costs $44.99 per month and, in addition, gives you longer generations, longer-term IA memory, and priority support.
---
Perplexity AI
Founded by Andy Kowinski in August 2022, Perplexity AI calls itself an "answer engine" that delivers content for complex questions. It also warns that the content may not always be correct, but this is true for all AI chatbots.
Perplexity AI is based on GPT3. As you can see from the screenshot here, the chatbot provides a list of the sources of information used in formulating the answer. And it also lists related questions that you can explore.
There is a Google Chrome Extension that has over 90 000 users currently. The user interface is straightforward and minimal. There is no image generator, text-to-speech option, or availability in different languages.
However, Perplexity AI's answers are well-worded, simple, and informative. And information is up to date.
Using Perplexity is free.
---
OpenAI Playground
In November 2021, OpenAI announced the availability of their API to developers. OpenAI Playground is another application using the GPT-3.5 model. It is more of a trial model where developers can test the capabilities of the API.
Several parameters, like mode, model, temperature, etc., can be selected.
There are four AI models to choose from; Ada (the fastest), Davinci (the most powerful), Curie, and Babbage. These offer different types of responses, each with its style of human-like text. (ChatGPT is, in essence, an Open AI Playground model with fixed parameters.)
Open AI Playground also has a speech-to-text ability.
When visiting the OpenAI GPT-3 website, there is a link to OpenAI Playground, which opens in a new tab. When you open your account, you get a $5 credit. After three months, the credit will expire. If you go over this, you must select a price structure based on your usage.
Conclusion: ChatGPT Plus vs ChatGPT vs Alternatives – Which is the Best?
We've looked at ChatGPT Free vs ChatGPT Plus vs alternatives, and many options exist. However, one chatbot stands out in terms of what it can offer.
Jasper AI is specifically designed to cater to your business needs. And it also now offers an API that provides more options for businesses.
With all the templates available, it is an excellent tool for adding content for websites, blogs, social media, and even creating essays or emails. Jasper is also five times faster than other platforms and boasts 99% plagiarism-free content. Jasper AI offers 25 or more languages and supports SEO writing.
Your ChatGPT Plus vs ChatGPT vs alternatives search is about your specific needs, budget, and which platform works best for you.
We can't wait to see what's next in AI chatbot technology!