Once upon a time, CJ Affiliate was one of the biggest names in the game of affiliate marketing networks. But is it still the dominant force it once was? Our CJ Affiliate review looks at how easy the network is to use, what brands you can promote, and how you get paid.
CJ Affiliate

Ease of Use

Stability

Customer Service

Link Creation Tools

Advertisers
Summary
Overall, CJ Affiliates is still an affiliate network with lots of potential for affiliate marketers to earn money. However, it might not be the best choice for affiliates in certain niches who might have trouble finding affiliate programs that match their audience.
Pros
Well-established, reputable affiliate network with 3000 merchants
Connected with big brands to promote
Lots of link creation tools
Easy to use (even for newbies)
Option to sell ad placement space on your website
Monthly payouts
Real-time analytics
Cons
No notice if your account is to be terminated (shouldn't be a problem for legit users)
Poor customer service
Limited payment methods
CJ Affiliate Review
Despite recent negative feedback online, CJ Affiliates is not some standard scam that's going to take your money and run. First launched in 1998 out of Santa Barbara, Commission Junction, more commonly known as CJ, is an honest business with big brands on its roster.
Most affiliate marketers will have heard of them if they aren't already part of one of their affiliate programs. The biggest standout that CJ offers is big brands to collaborate with and the ability to also sell ad space.
On the other side, top complaints highlight how many affiliate programs have a high barrier to entry for emerging affiliates. For example, if you're just starting out building your following and proving your worth as an affiliate marketer, you will struggle to get accepted into the programs that offer a good return.
Additionally, there seem to be some ups and downs to their customer service. In this case, "poor customer service" means difficult-to-contact customer service. Following the 'Contact Us' page will only find web chat support options rather than a telephone number.
This isn't the end of the world because a quick Google search will bring up the number for you, but they are obviously pushing for publishers to get in touch via web chat which can be frustrating for more complicated issues.
Compared to other programs like FlexOffers, which provides each affiliate publisher with their own account manager, this isn't ideal.
And this added feature offered by FlexOffers helps to set it apart. This can be especially helpful for beginners, as these account managers can even help you sell more by offering up tried and true tips and strategies!
So What Sets CJ Apart From Other Affiliate Networks?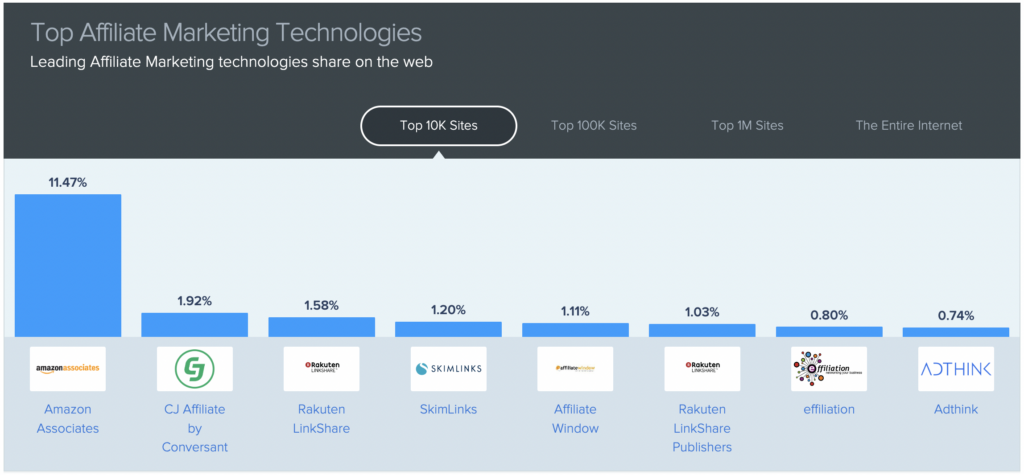 According to SimilarTech, CJ Affiliate is the second biggest affiliate network in the world, second only to the Amazon Associates Program.
Sell Ad Placement Space
Affiliate marketing is all about finding products to promote to your audience with profitable programs that allow you to make money on each click or sale. But who doesn't love extra ways of making money?
With CJ Affiliate, you can also choose to sell ad placement space on your website. This just means you can pick somewhere on your website with a bit of blank space and fill it with an ad for a little bit of extra dough.
Plus, some affiliate networks will generate an ad code for you to put on your page that will actually bring up several different ads. This means you don't get to specifically select the ads that you feel would be relevant to your target audience. With CJ, you choose exactly what ads to put where on your own website.
Content Certified Program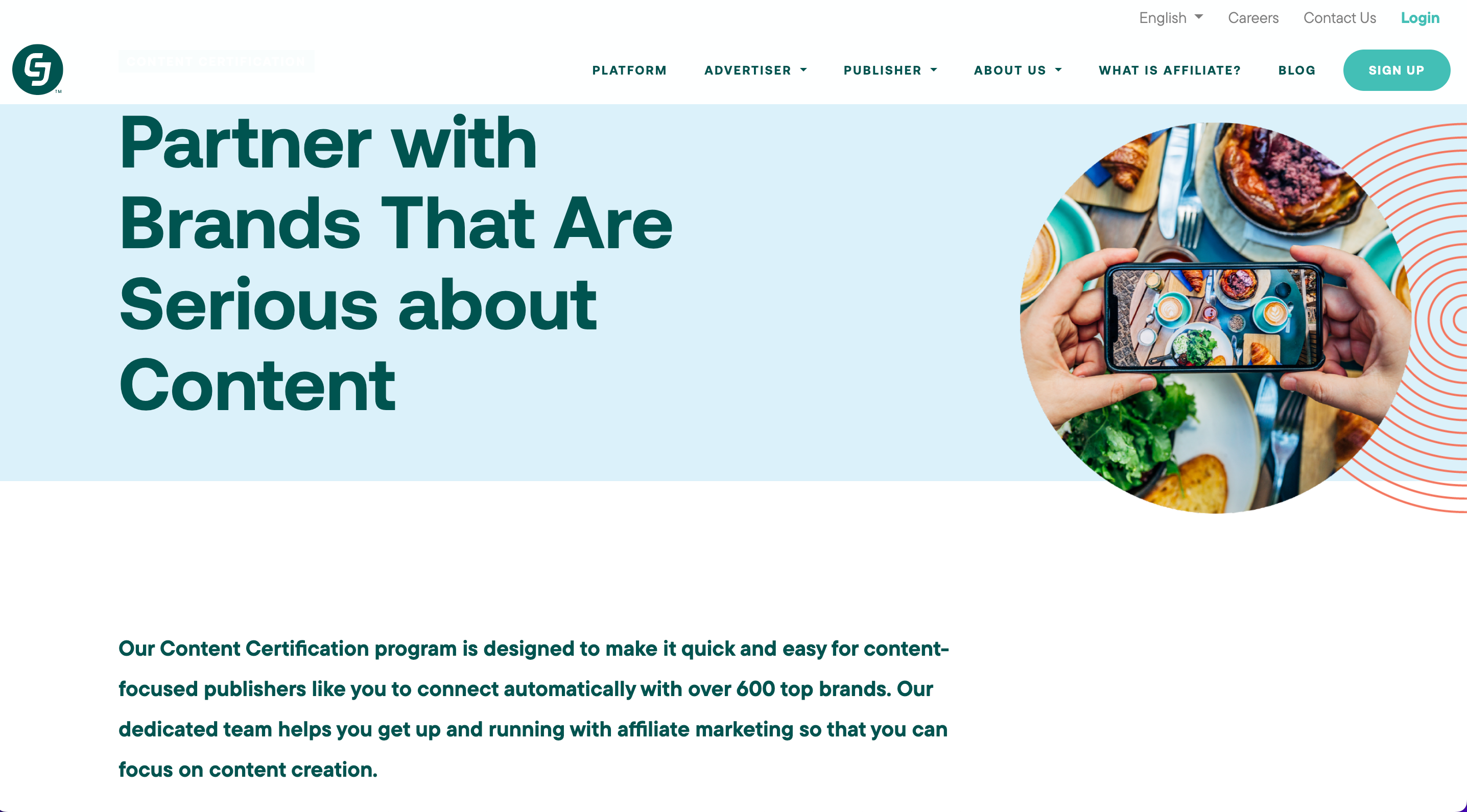 One thing that CJ Affiliates offer that you won't find as part of other affiliate networks is their content certification program. The program rewards content creators with quality content and high traffic.
Acceptance into their program means you get connected to over 600 top brands and are pre-approved for premium rates for maximum earnings.
Big Brands to Promote
The biggest draw the CJ Affiliate has is that you'll find a lot of big names as part of their affiliate network. Not only does this contribute to your earning potential, but it's a definite indicator CJs reliability and status in the world of affiliate marketing.
Brands like J.Crew, Barnes & Noble, and Office Depot all have affiliate programs you can take advantage of through CJ Affiliate.
How to Sign Up
To get started with CJ Affiliate as an affiliate marketer, you'll want to sign up as a "publisher". This is the term CJ Affiliate uses to differentiate from the advertisers looking to promote their brand.
CJ is FREE to sign up
The only stipulation is that you must be over the age of 18
You'll have to input basic contact information and then wait for an email to confirm your email address before you can continue.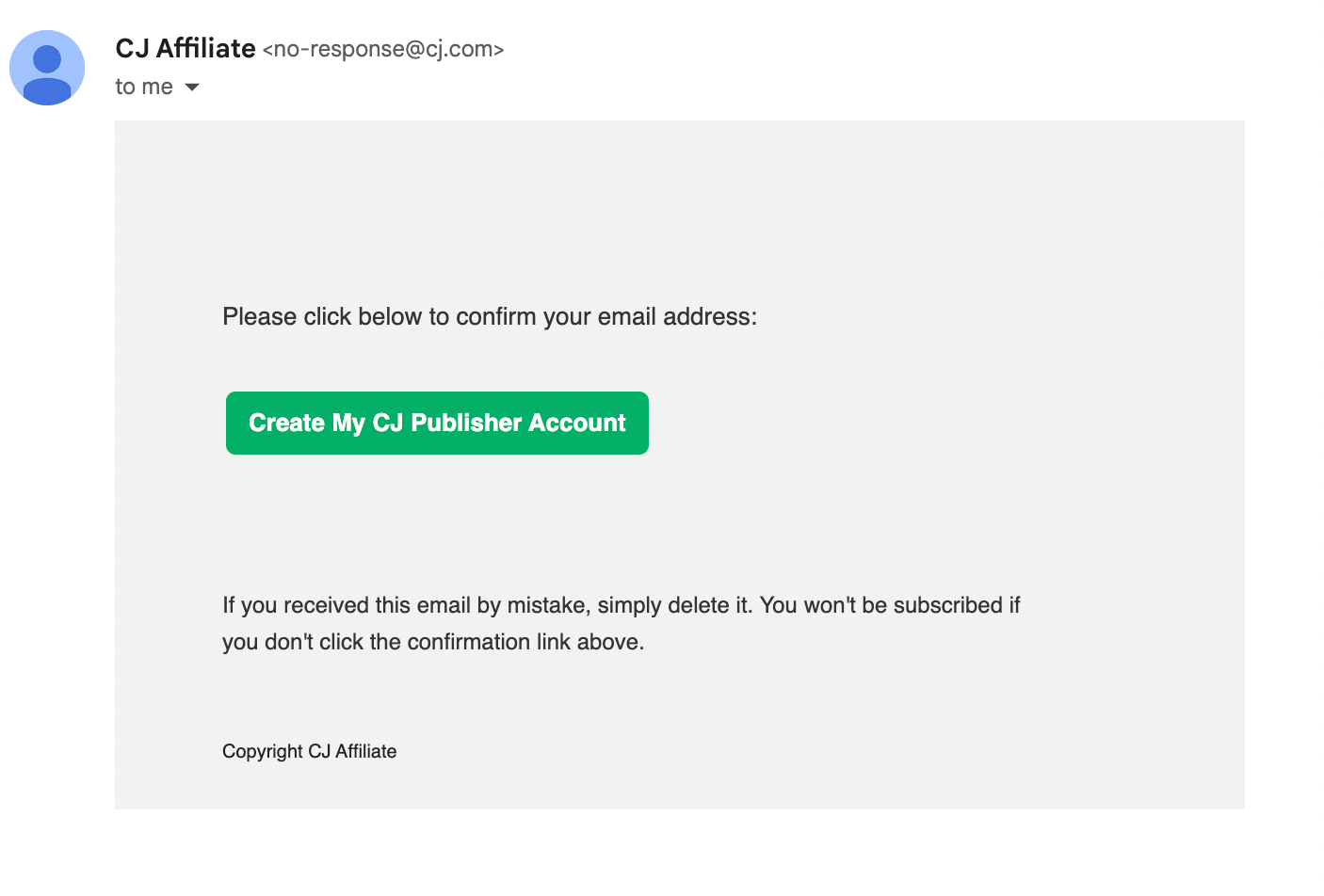 Once you click the link in the email, you'll need to confirm you are at least over 18 years of age. You will also have to read their various policies and accept all their terms.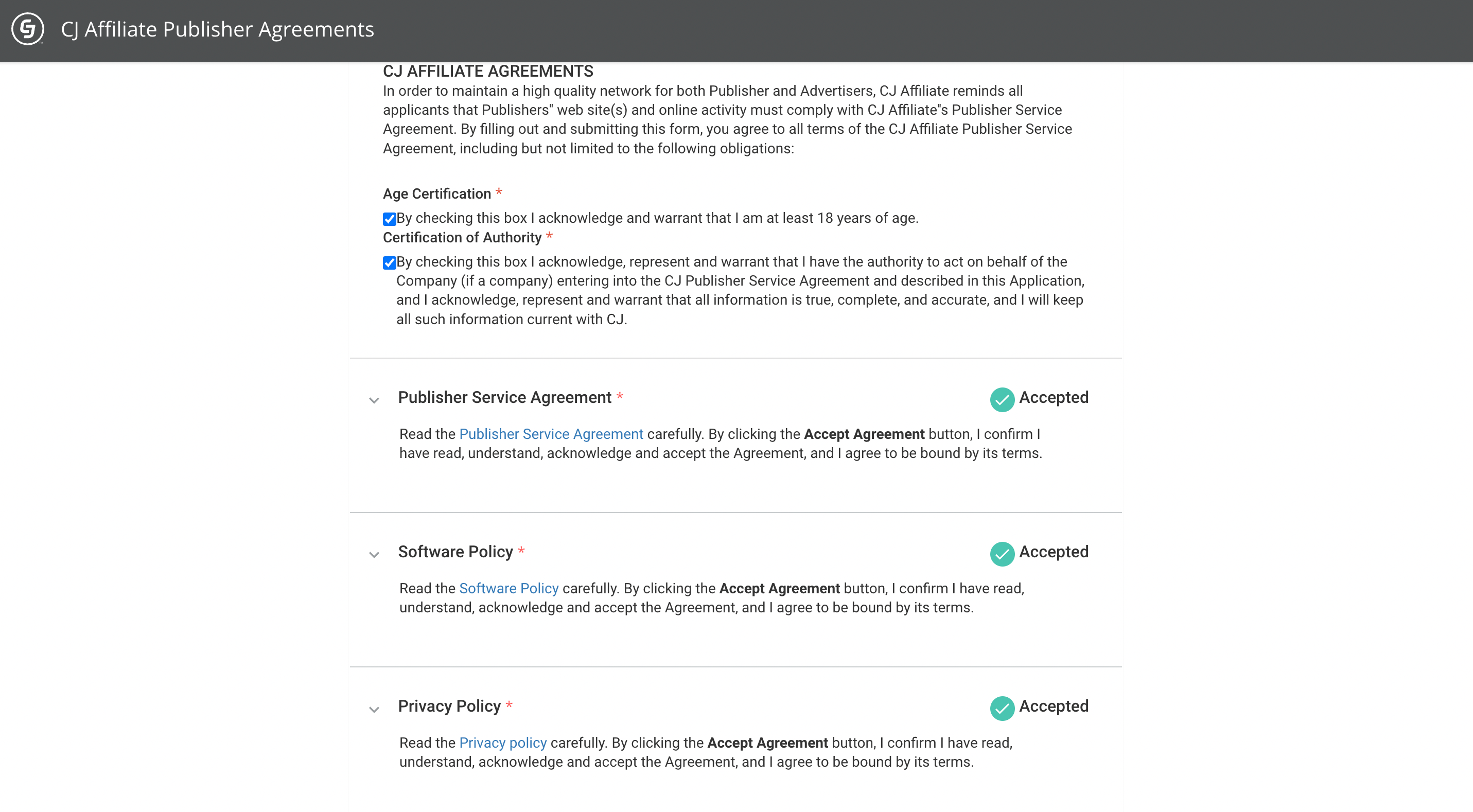 Finally, you can get started with the onboarding process. This is the part that does take a little bit of time. As part of onboarding, you have to complete a network profile that details your plans for affiliate marketing, such as how you plan to reach people and answer how many unique visitors you get each month.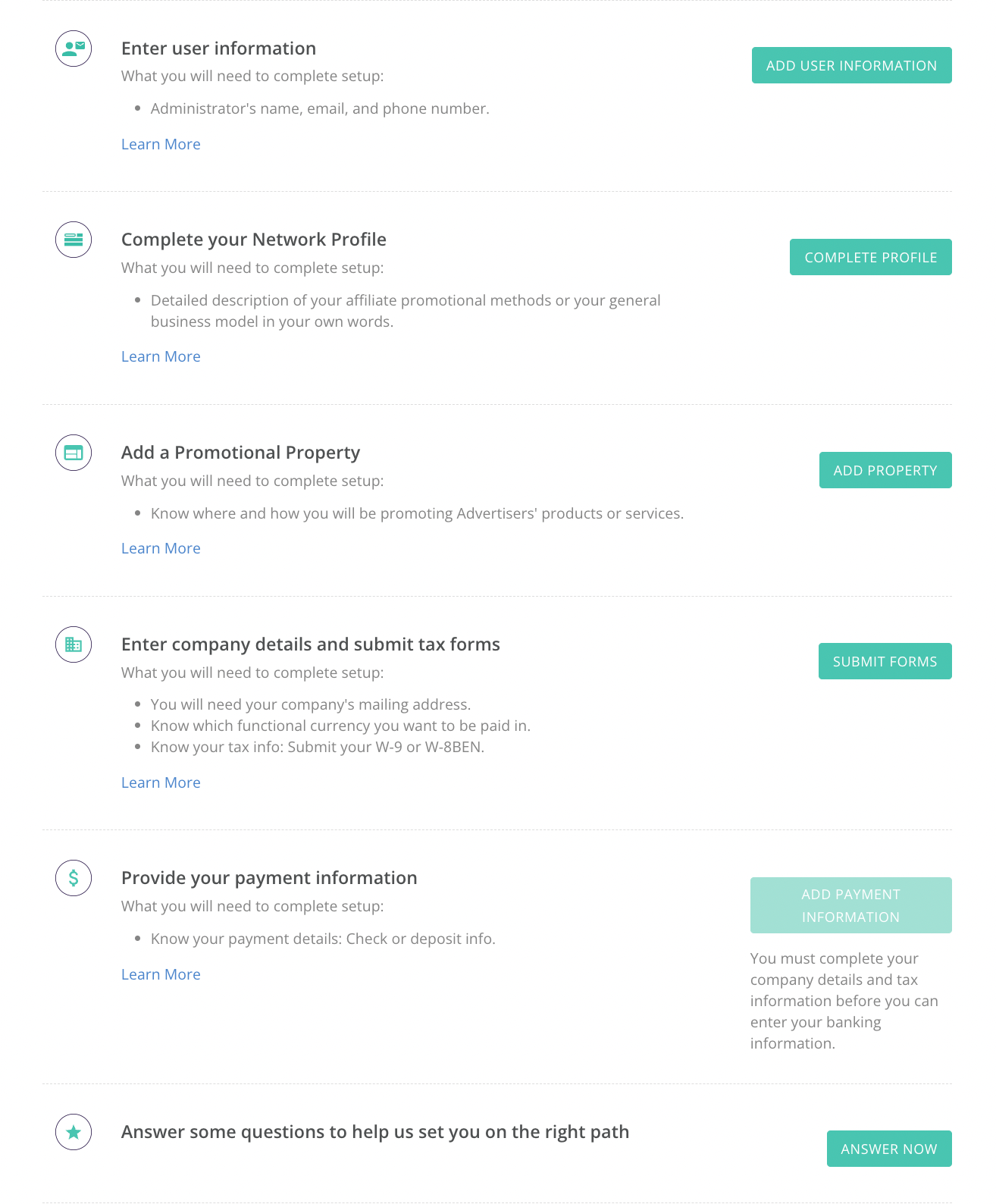 There is an option to check the box saying you are "Not launched yet" if your affiliate site isn't up and running but if that's the stage you're at be warned that getting approved for affiliate programs will be difficult.
At this stage, you will also input basic payment details to ensure you get paid and answer a few more questions about your company.
Admittedly, the entire process takes a little time, but it's far from being the most complicated signup form you're likely to come across in the affiliate world.
How to Use CJ Affiliate to Make Money
Once you've gone through the song and dance of signing up, you're ready to get started. You're obviously here for an honest CJ Affiliate review to determine if it's actually worth signing up.
There are two areas where CJ Affiliate, I think, really stands out.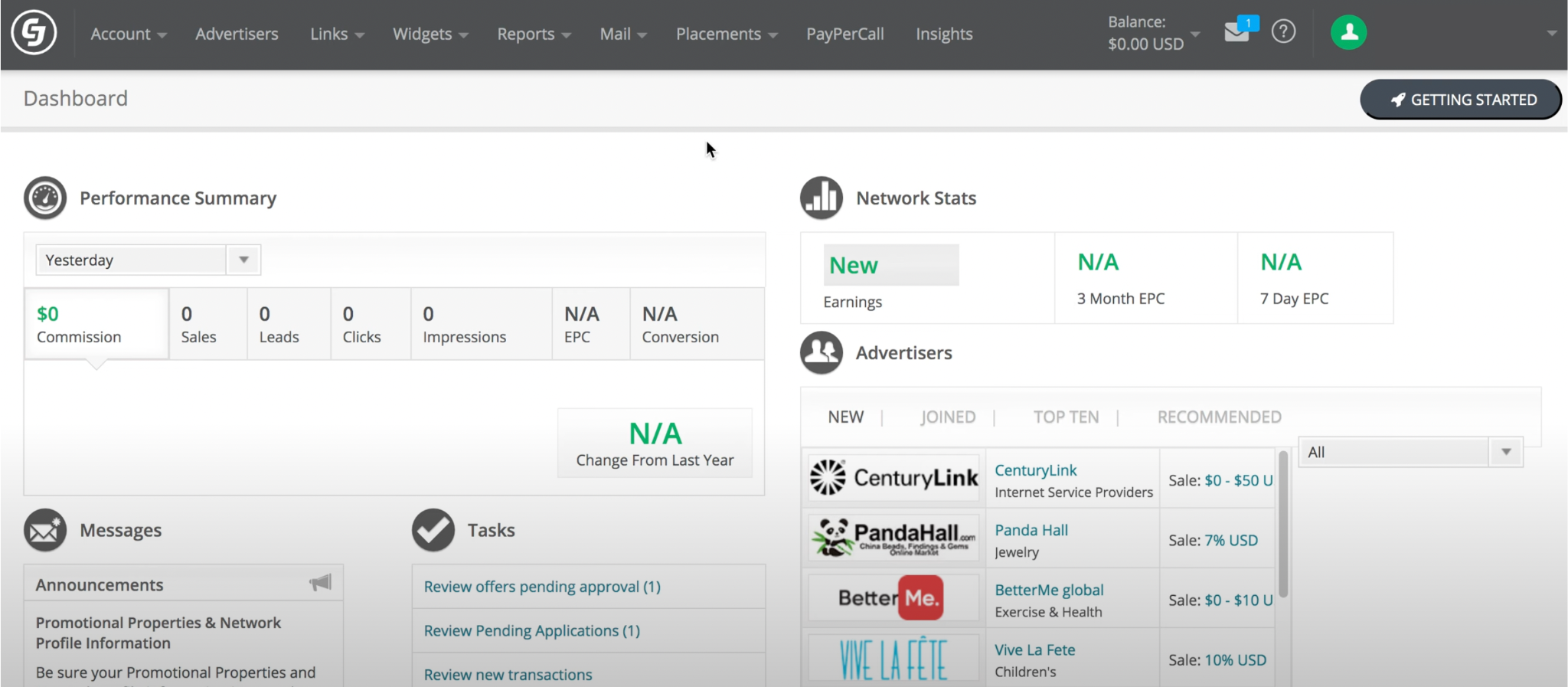 First of all, they (thankfully) still believe in the less is more approach when it comes to the CJ user interface. Your home page is clean and easy to navigate. Rather than cluttering affiliate dashboards with too much information, they've kept things nicely organized in dropdown menus.

From your dashboard, you can access:
Account 
Advertisers 
Links 
Widgets
Reports
Mail
Placements
Insights
Most of these are self-explanatory, "Insights" will have more advanced reporting than you'll find under the "Reports" tab. "Widgets" is a bit of a funny one, but this is where you'll find the drag-and-drop builder for creating product widgets which are essentially carousels or galleries or products you can embed into your site. Lastly, "Placements" is where to go to sell advertising space on your site.
How to Find Advertisers
For most affiliates, filtering advertisers is one of the big drawbacks to joining an affiliate marketing network. Now, no one is denying CJ could stand to improve the UX of their search function, but in exchange for the absolute mess, you get a pretty decent search algorithm and the ability to filter by key criteria.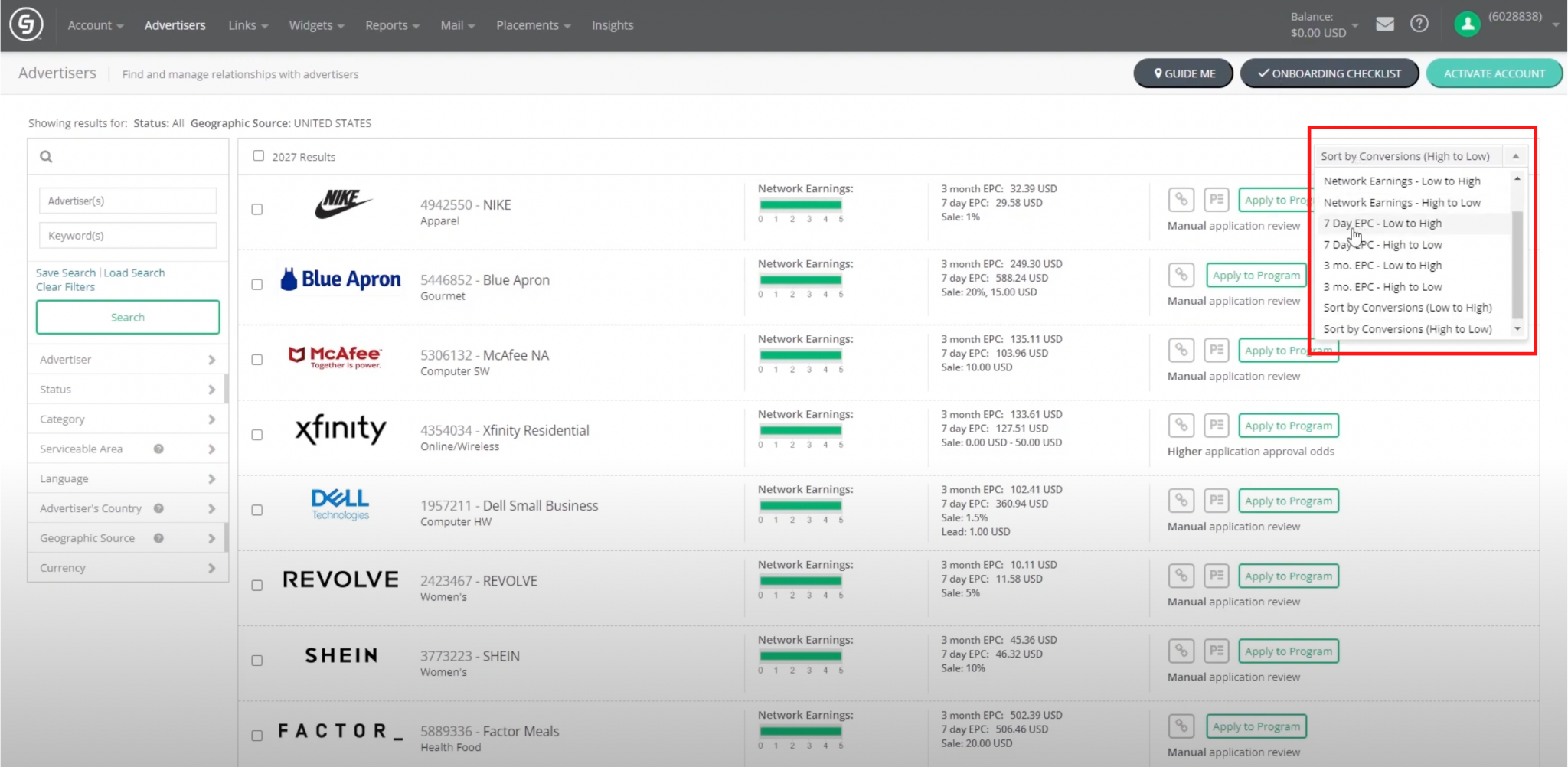 Most importantly, you can search affiliate programs by earning potential. You can filter all advertisers by:
7-Day EPC (Earnings-per-click)
90-Day EPC
Network earnings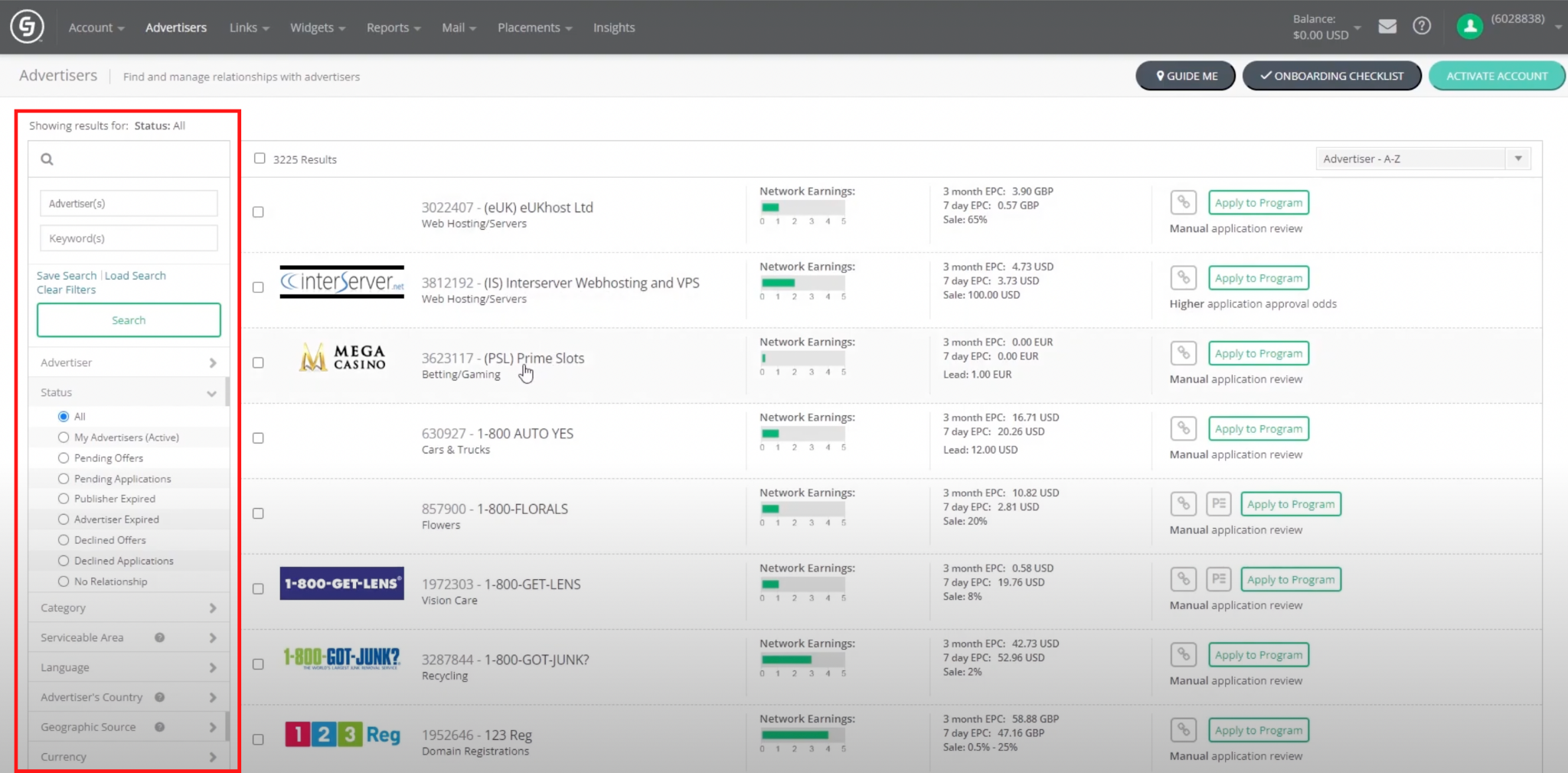 You can also perform general searches and filter by basic criteria such as:
Advertiser type
Advertiser status
Serviceable area
Language
Advertiser's Country
Geographic Source
Currency
Though most of these aren't going to be that useful for affiliates trying to narrow down niche programs or target profitable programs.
It's not quite as simple as finding an affiliate program, signing up, and off you go. Most of CJ's advertisers have quite a high barrier to entry when it comes to getting approved for their program. Keep this in mind when considering which brands to form an affiliate relationship with if you're just starting out.
Link Creation
Once you've been approved for an affiliate program, you're ready to start putting links onto your website or social media. Of course, this is how affiliates earn a commission.
Affiliate link creation systems vary from being very mundane to exceptionally creative. Commission Junction's link creation tools are closer to the "exceptionally creative" end of the scale, though with some room for improvement.
The "deep link generator" and the "page-based link" tool are the two main tools you'll use for creating links.
The deep link generator allows you to create an affiliate link to a specific page. Comparatively, the page-based link creator generates a string of JavaScript to include on your site. Every link you then create won't need all the affiliate sticky-on bits, it can just be a regular URL, but you'll still get credit for clicks/sales.
Lastly, as mentioned, you can also navigate to the Widgets tab to create slideshows and tables of products to put on your site.
How to Get Paid
You're likely to find more than one CJ affiliate review that claims the whole thing is a scam. There is both positive and negative customer feedback on review forums but remember—context is important.
Many of the negative CJ affiliate reviews come from people saying their account was closed without being paid out, etc.. Still, they may not have been running an honest business website or met CJ's standard criteria.
Take it with a pinch of salt.
Payment Threshold
You first need to know that you can't withdraw any money until you've earned a minimum of $50.
Once you've met that threshold, you can set a minimum on your account so that you will only be paid when that minimum is met.
For example, if I set my minimum to $1000, I will not get paid until my CJ account has accumulated $1000 or more in commissions.
You can change your minimum whenever you want but it will only apply to the next payment cycle.
Payment Methods
As mentioned, depending on your country, you'll receive payment via direct deposit. If you live somewhere where this payment method is not supported, the only other option for CJ international payments is to link your Payoneer account.
At this time, there is no option to pay out to PayPal or any other service.
Payment Timeframe
CJ pays on a recurring payment cycle which is both a positive and a negative, depending on how you look at it.
On one hand, you will know consistently that on the 20th of each month, your account will pay out whatever you have earned.
Unfortunately, if you need access to that cash before the 20th, you're SOL, my friend. CJ cannot expedite or release payment in advance.
Who is CJ Affiliate Best For?
The gist of this CJ Affiliate review is that affiliate marketers across various niches will find it a great network. New affiliates and old pros alike are likely to find an affiliate program to contribute to their earning potential.
However, it could be argued that CJ is not for the super-niche website owner simply because most of the advertisers they work with are big names or general suppliers. This means you're not likely to find an affiliate program for anything really specific.
Lastly, this isn't so much a comment on CJ as it is just on affiliate marketing in general; it's probably not worth signing up with an affiliate network like CJ unless you already have an active website with a certain number of unique visitors each month. You can spend a lot of time applying for affiliate programs and creating links, etc., but none of that counts for anything if you aren't generating traffic.
Summary
The main thing to highlight in this CJ affiliate review is that contrary to what some people say on the internet—it's not a scam. Commission Junction has been around for 25 years and counting; it's a legit affiliate network.
Plus, in terms of the CJ affiliate interface, the brands associated with the affiliate programs, and the profit potential, our honest review is that CJ affiliate is actually one of the best networks out there.
If you're new to it all, check out our beginner's guide to affiliate marketing to find out what you need to know.