We're going through one of those cycles again. 
There is a lot of economic uncertainty, and more and more people are either getting laid off – or at least worried about their jobs. 
But lucky for us, this doesn't equate to doom and gloom. 
Here at Niche Pursuits, we've had the pleasure of interviewing lots of successful online entrepreneurs who share a similar story: 
They were laid off and, despite not having marketing backgrounds, managed to use SEO or social media to grow passive-income-generating businesses online.
And so, we put together this list to highlight these very real success stories and give you a little dose of inspiration. 
From Layoffs To Entrepreneurial Success
Here are 9 awesome success stories that each kicked off with a pink slip.
Patt Flynn
Pat Flynn began his online business journey when he was laid off as an architect during the 2008 recession. 
He hadn't planned on starting his own business and was kinda forced into it. But, he used his extra time to create a small niche site centered around what he learned during his career. 
With the help of SEO, things took off pretty quickly. And he started making a great passive income selling courses to fellow architects from his site. 
From there, he created his Smart Passive Income blog, documenting his ventures and helping countless others take a similar path in the process.
He's since grown several successful businesses. 
And if you'd like to learn more about his awesome story and insights, be sure to check out his many appearances on the Niche Pursuits podcast:
Tara Williams
Tara Williams is another online success who got her start after getting laid off… while she was on maternity leave. 
After she gave birth, she had trouble finding weighted products that could provide both the comfort and safety she wanted for her baby. So she created her own and launched her Dreamland Baby store on Shopify. 
She then focused on creating great social content to organically reach other millennial mothers. With this strategy, she managed to grow brand awareness and a large loyal following on platforms like Instagram. 
Within 5 years her business grew to 8 figures per year with multiple passive income streams, something that simply isn't possible as an employee.
She shares all about the steps she took to grow her business in her awesome interview that you don't want to miss!
Ricky Kesler
The co-founder of Income School got his big break after being laid off with corporate cutbacks.
And in this great interview, Ricky Kesler actually describes it as a "divine hand sort of thing." 
That's because it gave him the chance to do what he actually wanted. 
With his extra time, he was able to partner with his best friend to build the online business we now know as Income School and Project 24 course. Together, these have helped teach a simplified process for starting an online business, allowing anyone to get started. 
So in short, he's built a huge following, genuinely helping others while earning 6+ figures per month.
And this was all made possible by sharing his own experience. 
Doug Cunnington
Doug Cunnington is another successful online entrepreneur who describes his layoff as a 'blessing in disguise'. 
He was an IT guy who didn't really like his job, and when he was laid off in 2015, he decided to go all in building an online business. He took what he had been learning following people like Pat Flynn and Niche Pursuits founder Spencer Haws and started growing his own websites. 
He's since sold several successful sites. And he continues to grow a great YouTube channel, multiple podcasts, an email list, and other ventures that not only generate him a great income but also great value for his audience. 
Be sure to check out all his appearances on the site for great insights!
Matt Giovanisci
Matt Giovanisci is one of those 'blue collar' success stories anyone can appreciate. 
He went from working in a pool company retail store to eventually being laid off and using his background and knowledge to start a niche site. 
The success of this site certainly didn't come overnight, but he's stuck to it. And over time, he's become an authority not only in the pool niche but also in affiliate marketing in general. 
In his interview on the podcast, he shares how the experience of being laid off was exactly what he needed to get his business – and even his life in order. 
Don't miss the full story here!
Kristin Hanes
Kristin Hanes was a radio news reporter who decided to start a blog after she was laid off in 2016. 
She's got a really cool story because she grew her site while sleeping in a broken-down sailboat and working out of the local gym (the only place she could access Wi-Fi). 
It wasn't too long before she started making money from her site. And she now earns up to $30,000 per month from her blog through ads and affiliate income. 
Check out her full interview here!
Sasha Hutchison
Sasha is another mother on this list who pivoted her focus to entrepreneurship after she was laid off from her corporate accounting job in 2020. 
She's now in the top 1% percentile of sellers on Etsy, making 4 figures per month in mostly passive income – which continues to grow. 
She's yet another example of someone using her career background to kickstart a passive income-generating online business. With new skills that she now uses to diversify her income by teaching others how to do the same as her! 
Learn more about her inspiring story here!
Yvette Marquez-Sharpnack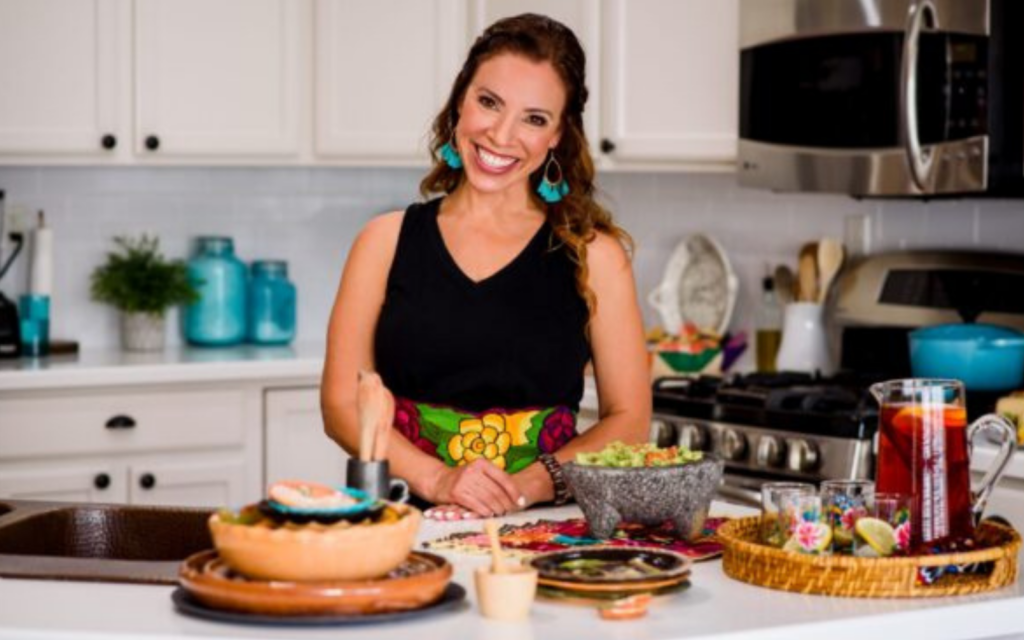 Yvette was forced to focus on her side-hustle food blog after she was laid off back in 2012. 
She had started the blog 2 years prior (in 2010) to document her popular recipes with friends and family. 
But with this sudden change came a great opportunity, and she used it to grow her blog into a very successful brand. 
As of today, she has:
Published 3 popular cookbooks – including one which she had to sign a copy for Michelle Obama,
Makes 6 figures in largely passive income from her blog,
And has even won an Emmy. 
How did that happen? Make sure to read the full story here!
Dani Rodriguez
Dani was the youngest person in her marketing agency and was relegated to social media marketing for the agency's clients. 
She was eventually laid off but used her experience and knowledge gained at the agency to grow her own Instagram following. 
She would simply post about the adventures she liked to do in her free time and, over time, became something of an influencer in the outdoors niche. 
Today she runs a multi-channel personal brand where she makes 6+ figures a year from brand deals with the likes of REI, Mazda, Adobe, American Express, Eddie Bauer, tourism boards, and more. 
And again, it all started by simply transferring what she had learned in her job into her own business. 
Check out Dani's full story here!
Closing Up
These stories help show how corporate downsizing, can become an opportunity to grow your own successful business. 
By leveraging existing skills and enjoying the fulfillment of developing new ones, it's possible to build a business and career centered around your knowledge, passions, and interests.
While it does require consistency and resilience, the internet gives you more avenues than ever to generate passive income online via:
Affiliate marketing,
Digital products,
Niche websites,
And content creation in general
So, if you are facing a job loss or uncertain what the future holds, let the stories in this article inspire you.
Know that with resourcefulness and self-belief, you can translate your skills into an online business or new career opportunities that even far exceed your old corporate income.
And you can start laying the foundation today – by checking out the many guides on this site to make money online.
Here are some options to help you get started: