In this VPN comparison of CyberGhost vs Surfshark, both budget-friendly VPN options, we will look at each tool in detail.
CyberGhost and Surfshark offer impressive features such as web filters, specialized servers, and the ability to unblock streaming sites and support torrenting.
In this comparison, we'll look at the speed, security, features, price, and other factors to determine which VPN is better for you.
At first glance, Surfshark and CyberGhost appear similar, offering the same tunneling protocols, unlimited bandwidth, access to the same streaming sites, support for all major platforms, and affordable pricing. However, there are some differences worth noting.
While each VPN provider seems solid, a head-to-head comparison reveals which one comes out on top.
Read this VPN review to discover why Surfshark outshines CyberGhost and how much more an extra 28 cents per month can give you!
CyberGhost vs Surfshark: Which VPN is Faster?
I used the WireGuard protocol to test speed since both VPN providers use it.
Baseline:
Ping (ms): 3
Download (Mbps): 101.43
Upload (Mbps): 99.82
| | | |
| --- | --- | --- |
| Speed type | CyberGhost | Surfshark |
| Download (Mbps) – Local server | 89.68 | 80.44 |
| Upload (Mbps) – Local server | 40.10 | 46.59 |
| Ping (ms) – Local server | 4 | 4 |
| Download (Mbps) – International server | 34.07 | 72.63 |
| Upload (Mbps) – International server | 24.30 | 29.02 |
| Ping (ms) – International server | 73 | 68 |
These results are based on testing and may vary depending on individual internet speeds.
While both offer similar speeds and ping results, Surfshark appears to be ahead in terms of download speed and ping.
CyberGhost, on the other hand, has better local download speeds.
Overall, Surfshark is a good option for those looking for fast and reliable connections, while CyberGhost is also a viable choice.
CyberGhost vs Surfshark: Apps and Features
CyberGhost and Surfshark are VPN providers offering features to protect users' security and anonymity online. They both have a reliable kill switch feature that protects users' real IP addresses from exposure in case of a VPN connection drop.
Regarding ad and malware blockers, CyberGhost offers an ad blocker that uses DNS filtering, but during tests, some unwanted ads were still encountered.
Surfshark's proprietary DNS feature worked better, blocking IP addresses that are blacklisted, as well as hosts distributing malware or gathering user data. And no malicious ads were encountered during testing.
While CyberGhost VPN offers a dedicated IP and rules feature that automates the VPN connection and works like a split tunneling feature, Surfshark provides more security tools. This includes the Bypasser split tunneling feature, which allows VPN users to select which websites or apps require a VPN tunnel and which don't.
Additionally, Surfshark offers a Safe Search feature to browse online without being attacked with ads. This GPS spoofer hides physical GPS location. An IP rotator will constantly change your IP address, and there is an alert option for data leaks.
Overall, Surfshark VPN service has a more comprehensive and advanced feature package than CyberGhost.
Mobile Apps
The mobile apps of CyberGhost and Surfshark are both user-friendly, but each has its unique features. For instance, CyberGhost's Android app supports app-based split tunneling, a feature not available on its desktop version, while Surfshark's mobile apps are just as capable as their desktop counterparts.
With CyberGhost's Android app, you can access extra tools such as split tunneling, while Surfshark's mobile app is equally powerful as its desktop version, except for the lack of a split tunneling feature on its iOS app.
Although both VPN providers offer easy-to-use mobile apps, Surfshark has a slight advantage due to its well-organized menus and labeled setting options. On the other hand, CyberGhost's first-time users may have difficulty finding specific options, such as the kill switch and auto-connect features.
Security, Encryption, and Privacy
CyberGhost and Surfshark offer solid and reliable protection for your data online, and both will select a VPN protocol according to your internet connection.
CyberGhost uses AES-256-CBC cipher to encrypt your data, and Surfshark has AES-256-GMC and Chacha20Poly135. Technically, the AES GMC version is newer and safer, but overall, both are unhackable.
CyberGhost
CyberGhost states that it does not log any user information. Its no-logs policy has been independently audited by Deloitte, and the results confirm that this VPN doesn't log user information.
CyberGhost security provides NoSpy servers that circumvent censorship and surveillance in authoritarian nations like Russia and China.
CyberGhost is based in Romania, which isn't a part of the 5-Eyes, 9-Eyes, or 14-Eyes Intelligence Alliance. Their strong policy against collecting data supports the claim that they are secure and care about your privacy.
Surfshark
Surfshark provides a secure VPN with updated protocols, 100% RAM-only servers, and military-grade AES-256 encryption. It offers all the features needed in a reliable VPN, like:
Double VPN – sending your data through two VPN servers for extra security.
Camouflage mode consists of the obfuscated servers. Obfuscated servers are special VPN servers that hide your data and even the fact that you're using a VPN.
It's important to note that Surfshark does collect user data such as email addresses and billing information. This could be a concern for those who prioritize privacy. However, Surfshark offers Surfshark Search, a minimal, zero-log private search service, which is excellent for incognito browsing.
It's worth mentioning that Surfshark VPN is based in the Netherlands, which is part of the 5-Eyes Intelligence Alliance. While the company claims to have a no-logs policy, it hasn't been independently audited.
However, its browser extensions and server infrastructure were audited successfully by the German Security Organization, Cure53.
To sum up:
| | | |
| --- | --- | --- |
| | CyberGhost | Surfshark |
| Encryption | AES-256 | AES-256 |
| Hash | SHA-512 | SHA-256 |
| RAM servers | Yes | Yes |
| No-logs policy | Audited | Audited |
| Obfuscation feature | No | Yes |
| Kill switch | Yes | Yes |
| DNS leak protection | Yes | Yes |
Netflix and Streaming: CyberGhost vs Surfshark
Streaming content has become a critical part of people's entertainment, making it essential to have a reliable VPN that can unblock geo-restricted content. A decent VPN should provide access to blocked streaming content, allowing users to enjoy their favorite TV shows and movies without restrictions.
CyberGhost performed well in my tests when it came to unblocking Netflix. I could access other streaming services, such as Amazon Prime Video, HBO Max, and Hulu, without issues while using CyberGhost. However, I had to connect to a server optimized for streaming to access BBC iPlayer.
Surfshark is a reliable virtual private network for accessing any popular streaming platform. I was able to easily access Netflix with a variety of server locations, which makes it an excellent choice for Netflix users.
In addition, Surfshark can also unblock other popular sites such as Amazon Prime Video, HBO Max, Hulu, and Disney+. In addition, the Smart DNS feature is helpful for unblocking streaming sites on devices where a virtual private network app is not available.
Overall, CyberGhost and Surfshark are good choices for unblocking popular streaming platforms.
Torrenting
In torrenting, the best VPN essential characteristics are speed and security.
CyberGhost has dedicated P2P servers in 63 countries, but it is not an ideal VPN for torrenting because of the slow speeds.
Surfshark, one of the best VPNs for torrenting, is fast, secure, and allows torrenting (P2P downloads) on every server.
Server Locations
To protect your privacy, it's essential to understand the significance of selecting the best VPN server location, especially if you live in a country that is part of the Five Eyes, Nine Eyes, or Fourteen Eyes alliance. These alliances consist of countries that share information about their citizens, including military intelligence.
Choosing a VPN with servers outside your country is recommended to avoid government monitoring. Using a VPN with AES 256-bit encryption can also help shield your privacy.
CyberGhost has over 7,000 servers spread in 113 locations across 91 countries.
Surfshark is an excellent choice, offering over 3,200 servers across 100 countries, ensuring users have plenty of options.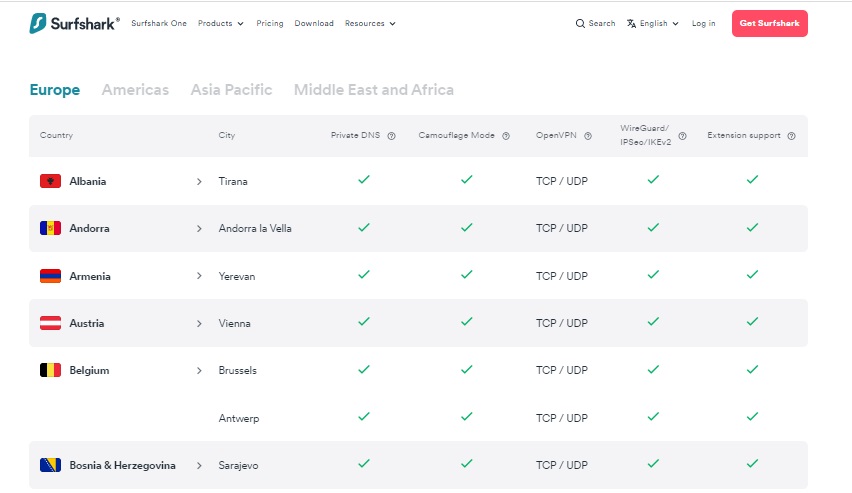 | | | |
| --- | --- | --- |
| | CyberGhost | Surfshark |
| Servers | 7,000+ | 3,200+ |
| Countries (total) | 91 | 100 |
| Americas | 13 | 17 |
| Europe | 42 | 46 |
| Asia Pacific | 22 | 26 |
| Middle East & Africa | 12 | 7 |
User-Friendliness
Both CyberGhost and Surfshark offer apps for Windows, Linux, macOS, iOS, and Android, as well as native apps for Fire TV Stick, Android TV, Kodi, and Apple TV.
CyberGhost
CyberGhost offers an excellent overall user experience with all menus, sub-menus, and functionality in one window.
To connect to a server, users need to click on All Servers, select the country, and double-click to connect.
The provider's specialty servers for torrenting, streaming, dedicated IP, and NoSpy servers are conveniently located on the left-hand side of the app. However, the Settings option can be confusing due to its multiple menus and sub-menus.
The Smart Rules menu enables Exceptions, split tunneling, and WiFi protection, while Privacy Settings offer an ad blocker, DNS leak protection, and an automatic kill switch.
The Gear icon leads to another Settings menu, where users can select protocols, disable IPv6 connections, and choose the MTU size. On the iOS and Android platforms, the features and settings are easier to find.
You have up to 7 simultaneous connections, which may not be too restrictive for most users.
Surfshark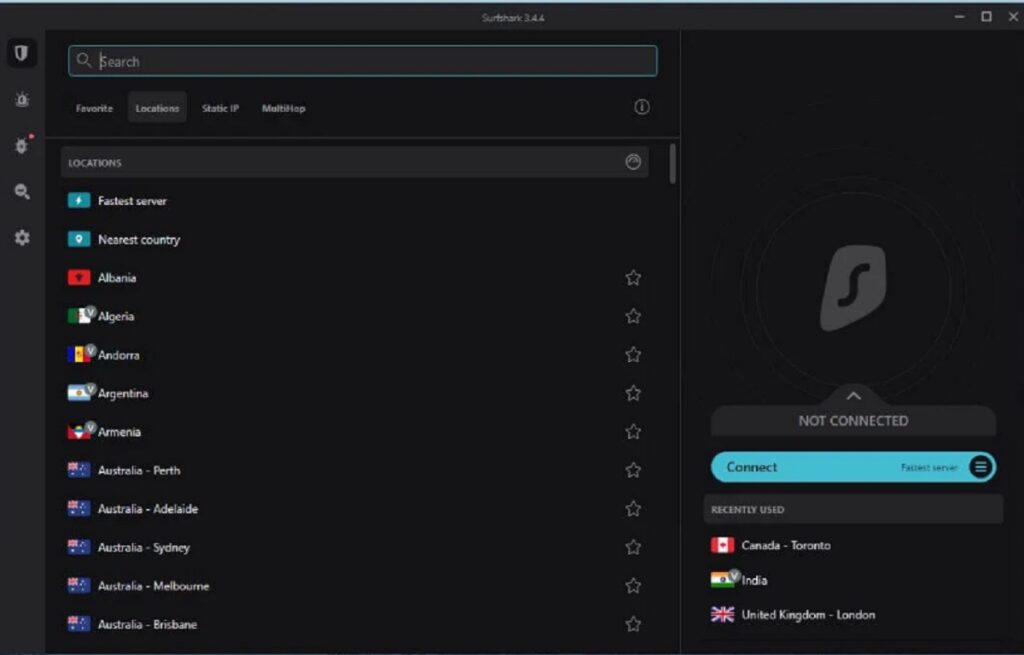 Surfshark is a visually appealing VPN app with customization options like dark and white themes.
The server list is in the middle of the home screen, and a simple click connects users to a server in under 3 seconds.
Recently used servers are displayed on the right side, while different types can be chosen at the top of the list.
Additional features and functionalities can be accessed through a Gear icon on the left side, with all VPN-related features in a single menu. This includes a kill switch, NoBorders mode, split tunneling, and an ad blocker.
The mobile app has a similar design to the PC version, making it easy to use and switch between devices.
Surfshark has the edge over CyberGhost when it comes to simultaneous connections, as it allows unlimited connections per account.
Device Compatibility
As the average digital consumer now owns at least three connected devices, VPNs are more critical than ever to providing cross-platform support. Simply running a VPN on your home computer is no longer sufficient if you want a secure and unrestricted internet experience.
Luckily, both CyberGhost and Surfshark VPN offer support for popular desktop and mobile operating systems, including Android, iOS, Windows, macOS, and Linux.
They can also be set up on routers, gaming consoles, and smart TVs such as Apple TV and Android TV. This ensures that VPN users can enjoy the benefits of a VPN on all their devices, regardless of the platform.
CyberGhost
Surfshark
Supported OS
Windows,
macOS,
Linux,
Android,
iOS,
Chrome,
Firefox
Windows,
Mac,
Linux,
Android,
iOS,
Chrome,
Firefox
Smart TVs and devices
Apple TV,
Android TVs,
Fire TV Stick
Apple TV,
Android TVs,
Fire devices
Browser extensions
Chrome, Firefox
Chrome, Firefox,
Edge, Brave, Opera
Simultaneous connections
7
Unlimited
Customer Support
To assess the quality of CyberGhost and Surfshark's customer support, it's important to consider their available channels, responsiveness, knowledgeability, and the accuracy of their helpdesk pages.
CyberGhost and Surfshark both offer live chat, email, and FAQs to assist customers.
During my testing, I found that both providers responded quickly to my queries via live chat, and their staff members were knowledgeable and helpful.
It's also worth noting that customer support is only available in English for both providers, which may be a drawback for non-English speakers.
Regarding the quality of their online help centers, Surfshark's is slightly more up-to-date and easier to navigate than CyberGhost's. I found outdated information on CyberGhost's website, which could lead to confusion or frustration for customers seeking help.
Overall, both CyberGhost and Surfshark offer good customer support options, but Surfshark may have a slight edge regarding the accuracy and usability of their helpdesk pages.
CyberGhost vs Surfshark: Pricing Comparison
There is very little price difference when it comes to CyberGhost vs Surfshark.
CyberGhost VPN
One month costs $12.95/mo, billed every month.
6 months cost $6.99/mo, billed at $41.94 every six months.
24 months +3 months cost $2.11/mo, billed at $56.97 for the first two years and yearly thereafter.
As you can see, it's still one of the cheapest services in the VPN industry.
CyberGhost offers a one-day free trial.
With CyberGhost, you have a 45-day money-back guarantee on the extended plans. On the monthly plan, you get a 14-day money-back guarantee.
Surfshark VPN
One month costs $12.95/mo, billed every month.
12 months cost $3.99/mo, billed at $59.76 every 12 months.
24 months cost $2.39/mo, billed at $59.76 now and annually after the first 25 months.
Surfshark offers a seven-day free trial on mobile and Mac devices but nothing for Windows.
With Surfshark, you get a 30-day money-back guarantee.
If you are interested to know how it compares to ExpressVPN, read our Surfshark vs ExpressVPN article.
CyberGhost vs Surfshark: Our Conclusion
Protecting your online privacy is essential, and a VPN can be a simple and effective solution.
However, not all VPN providers offer adequate security and privacy measures. Luckily, some VPNs excel in safeguarding users' data.
When it comes to CyberGhost vs Surfshark, I found Surfshark superior in terms of the following features:
Robust encryption
Broad server network
Security 
User-friendliness
Speed
Pricing
Surfshark also has higher overall ratings than CyberGhost, which suggests that it is better regarded by users.
To ensure your online safety and security, it's crucial to choose a reliable VPN provider such as Surfshark. Surfshark is the perfect choice for anyone looking to enhance their online privacy.
Here are a few more articles that might interest you if you still have not made up your mind: