This Chatsonic review unveils the impressive capabilities of the chatbot and its potential to elevate your content creation.
Chatsonic is an advanced generative AI conversation platform similar to Chat GPT but with GPT-4 capabilities. It's designed as an alternative to ChatGPT and seeks to address its limitations.
At its core, Chatsonic is powered by 'Google Search,' enabling it to converse about trending topics and current events in real-time.
Beyond just conversational AI, the platform can create digital AI artwork and generate visuals for marketing campaigns.
You can customize Chatsonic to act as a tailored personal assistant.
Its capabilities are expanded with a Chrome extension for content suggestions and voice command features.
The Chatsonic AI has a mobile app, positioning it as a personal tool and a valuable asset for digital marketers.
Chatsonic is a feature of Writesonic.
In this extensive Chatsonic review, we'll cover the following:
Key Features
Support
Pricing
Limitations and Challenges
Chatsonic Alternatives
If you want to skip this review, you can get Chatsonic right here.
Chatsonic Review

Features

Ease of Use

Performance

Pricing

Customer Support
Summary
Chatsonic is a creative AI writing assistant built by Writesonic. It provides exceptional quality content for various writing needs, such as blog posts, essays, emails, etc. Chatsonic's response time is a bit slow, but the quality of the answers is excellent. It is a reliable tool for writing assistance. Chatsonic also offers an API to help build a conversational AI chatbot with real-time data, images, and voice search capabilities. Check out Chatsonic today!
Pros
Easy to use
Affordable
Mobile App
Chrome extension
10,000 words on the free trial
Chatsonic Review: What Are The Key Features?
The Chatsonic key features are:
AI content creation: Articles, Landing pages, Citations, Emails, Summaries, Video scripts
Marketing content creation: Ads, Emails, Product descriptions, SEO Content
Social media content generation
Research of real-time info
Chatbot generation
Scraping data
Artwork generation
Text-to-speech and speech-to-text
Plagiarism check
Before I dive deeper into the features, let me introduce the dashboard.
Generate professional content: All your content-generating will be done here.
Give voice commands: Don't type; just talk and save time.
Create digital artwork: At your fingertips with one prompt.
Ask complicated questions – Get real-time answers. If Google knows the answer, Chatsonic can find the source.
Enter your prompt and more here. (I'll elaborate on what more means later.)
Content Creation
As a content creator, you will engage in a conversation with the AI-powered chatbot.
You can type your prompts or use its capabilities to understand voice commands (speech-to-text).
Chatsonic Content Creation Workflow
The following method can be used if you don't use one of the Chatsonic saved prompts.
Keep in mind you are holding a conversation with your assistant, an AI writer.
Ask your assistant to suggest a number of titles/ headings for the content. Chatsonic can enhance your prompt.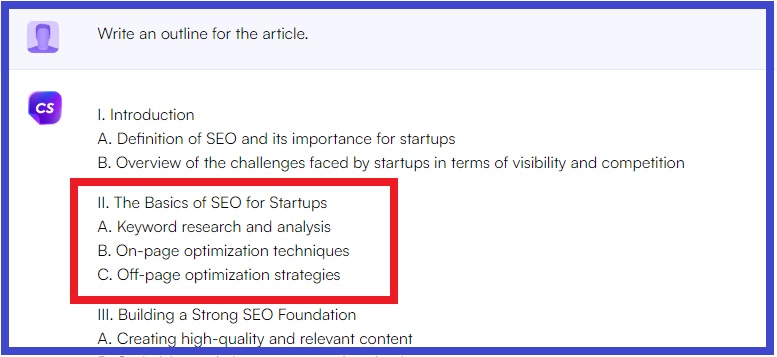 Expand each heading as below.
Repeat the process for each heading.
Attach a File or Enter a Link
You may have the need to:
Attach a file and refer in your prompt to information from the file.
Extract information from an article on the internet.
I found importing an external link useful for product descriptions. You can also ask for product features or benefits.
Let me show you a second example.
Creating a Video Script
The prompt that I started with was: "Write an outline for a video called: A Guide to SEO for Startups."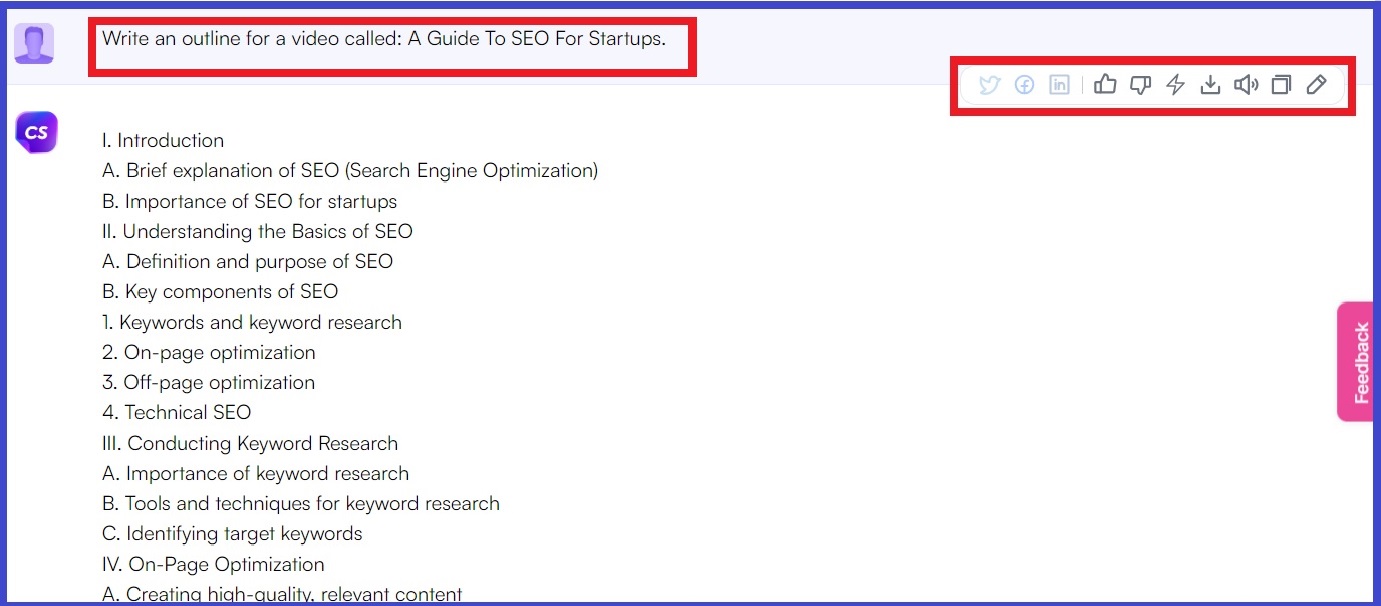 At this stage, you can ask Chatsonic to generate a paragraph or two for the introduction.
Then, just continue asking about each heading or subheading.
Prompt example:
Write a paragraph about the key components of SEO. Make sure that you talk about:
– Keywords and keyword research
– On-page optimization
– Off-page optimization
– Technical SEO
Similarly, ask Chatsonic AI to expand each heading.
At this stage, I would like to mention that by using the menu on the top right, you can do the following:
Like or dislike any of the AI writing
Edit any AI content generated
Edit the AI-generated content in the Sonic editor
Download the AI-generated content
Activate text-to-speech
Edit and resubmit the AI prompt
Copy generated content to the clipboard
Templates & AI Prompts
To save time, use the templates and prompts available in Chatsonic.
Templates
Since Chatsonic is part of Writesonic, you can use the Writesonic AI templates library.
The library includes templates in the following categories:
Articles and Blogs
Ads and Marketing tools
General writing 
E-commerce 
Social Media posts
Website Copy
I am sure reading the Writesonic review will help you to understand Chatsonic AI better.
Prompts
The prompt library is a collection of prompts submitted and approved by the community and the website's team.
Each prompt is accompanied by an overview of its purpose and usage statistics, including the number of times it has been liked and disliked.
You can bookmark prompts and save them in your collection.
Chatsonic AI also offers the option to share prompt templates with the community.
Answer a Question
Let's check Chatsonic's ability to answer questions.
My first question was: "Who is the father of Pop Art?"

I have to consider the answer correct as I validated the references and found them to be accurate.
There may be a debate between Richard Hamilton and Andy Warhol in the art world, and here, the question of "factual content" may arise.
I would expect Wikipedia to be the best source of authority in most queries.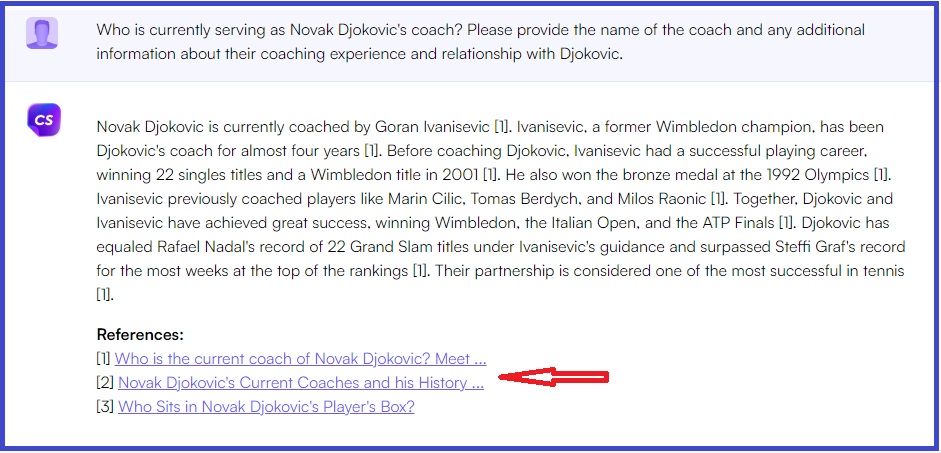 In this case, the second reference is outdated.
As with all generated work where you deal with facts, I strongly recommend validating the tool answers and the references.
Voice Command
You can speed up your work by giving the conversational AI voice commands. This is very useful when you use Chatsonic on your Android mobile device.
Translation
Chatsonic has the ability to translate content into and from more than 25 languages.
I tried to translate from English to French, Romanian, and Hebrew. Then, I translated the results back into English.
The accuracy of translations depends on the content being translated and the languages.
However, the results of the AI tool were good. To translate a 2,000-word blog post, you will need a native speaker of the language to validate and make sure nothing is "Lost in Translation."
Chatsonic API
The Chatsonic API is available for free on all the business plans but not on the unlimited plans.
On the Chatsonic website, you will find instructions on how to get the API. Here you can find a video on how to get the Chatsonic API key.
You may use the API to access features from Chatsonic, Photosonic, and Writesonic programmatically.
Integrating the Chatsonic API empowers your users to engage with your app through fluid, human-esque dialogues.
Customization & Personalization
You have the flexibility to tailor all your requests. Pick the desired personality, opt for various media forms, activate memory, and more to achieve optimal outcomes.
Chatsonic can produce geographically accurate data. If you specify a location like Paris, the AI chatbot can deliver local news, weather updates, top attractions, and more. In addition, it can address queries that hinge on the user's locale to offer pertinent details.
Set your location in "Customize Chatsonic" (top right).
Digital Art
The creation of digital art is an integrated feature. Here are some examples.
Prompt: Create an HD wallpaper of a robot that looks like a duck.
Prompt: Create an HD wallpaper of "The Three Little Pigs" from the fairy tale.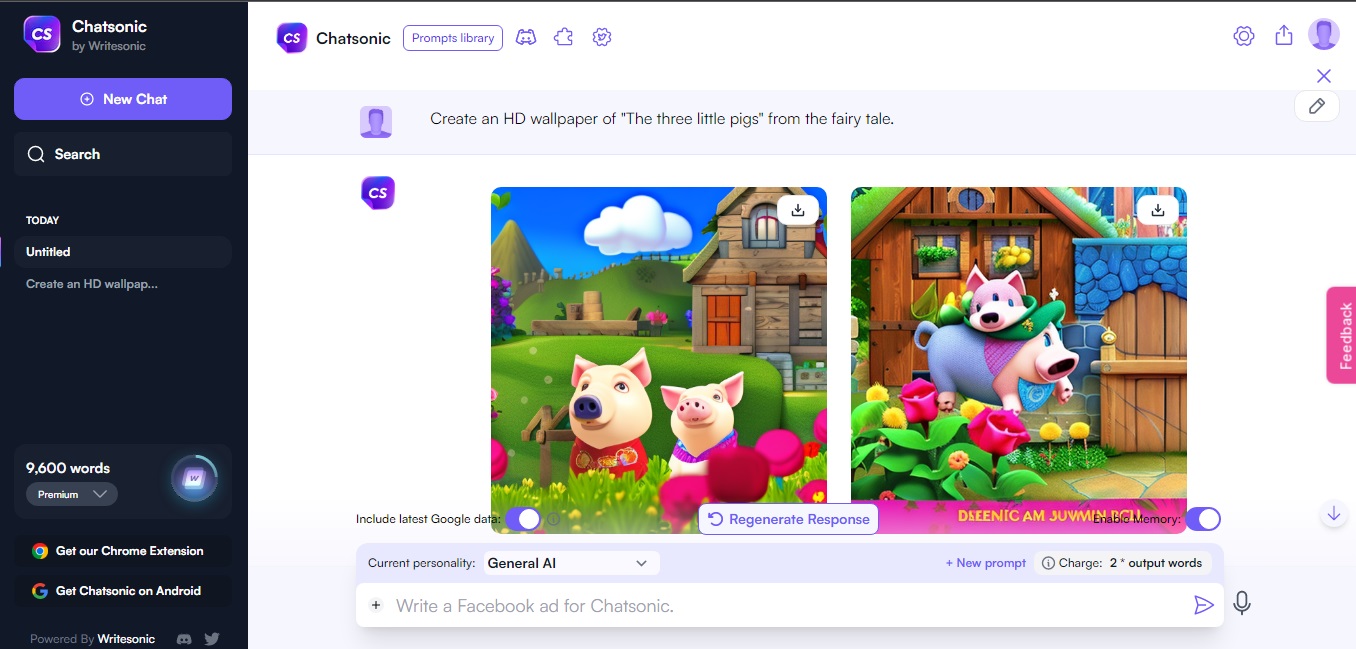 As you can see, the chatbot fully understood the prompts.
Chatsonic is integrating with:
DALL-E – This is a cutting-edge deep learning technique that crafts detailed and lifelike images from textual descriptions.
Stable Diffusion – This deep learning system efficiently produces images by leveraging a dataset of text-image pairs, offering you a distinct and impressive artificial intelligence generated art on the spot.
You can also use Writesonic's Photosonic. Here is an example.
The AI art prompt:
And here is the best out of the four options produced.
Limitations and Challenges
If you don't use a Business plan with GPT 4.0 32k, you may pick up problems when asking the AI article writer to process a PDF file or a URL.
Let me try to explain: if you use the Free or Unlimited plan, the input space to GPT may not be enough. Input Data may be lost. Chatsonic may get confused or process only the last part of the input data.
Noted Software Bugs or Glitches
During my extensive testing for this Chatsonic review, I picked up only one glitch:
The output format was not always consistent.
Potential Shortcomings
Midjourney would be a better choice for artwork generation.
Areas for Improvement
Fact-checking
Incorporating Midjourney 
It would be nice to have live online support
Chatsonic Review: Support
As support Chatsonic offers:
Educational blog posts
A YouTube channel
Facebook Community
Discord community
Priority support and Premium support
A customer support team answered my question in about an hour, but not live.
Their website does not explain the difference between Priority support and Premium.
Chatsonic Pricing and Packages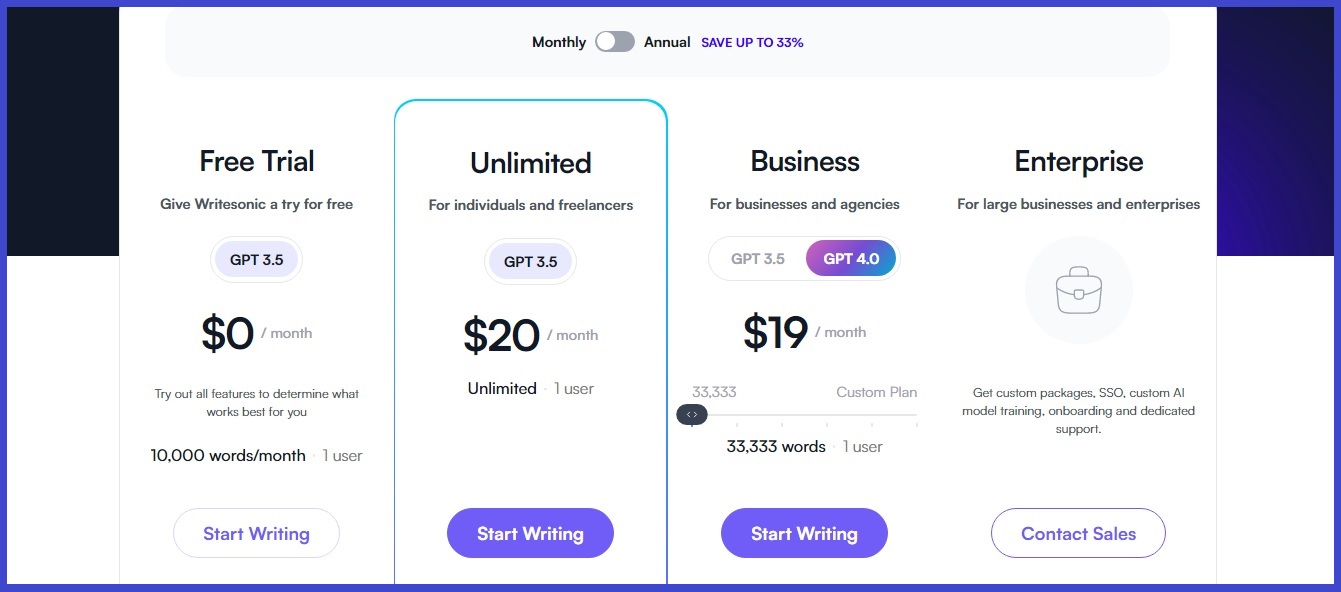 Chatsonic has four plans.
Free: 10,000 words/mo using GPT 3.5
Unlimited: $20/mo, with unlimited words using GPT 3.5
Business: This plan starts at $19/mo and gives you 200,000 words using GPT 3.5 or 33,000 words using GPT 4.0. With the Business plan, you have the option to increase the number of words and number of users. The cost per month will increase accordingly.
Enterprise: You will have to contact Sales.
Chatsonic AI Chatbot vs ChatGPT
The Chatsonic AI chatbot has the following useful features that are missing in ChatGPT.
Chatsonic delivers factual content in real-time 
Supports voice commands
Voice-to-text and text-to-voice conversion
It has a Chrome extension
AI art is integrated
These features translate mainly into one benefit: Time-saving.
Alternatives to Chatsonic
If you tried it or read our Chatsonic review and the tool did not meet your expectations, here are two alternatives.
Jasper AI
Jasper AI is a leading artificial intelligence tool for copywriting that enables you to write various types of content, such as:
Blog posts
Marketing copy
Social media posts
Landing pages
Web articles
All of the above is generated really fast.
With a starting price of $39 per month (on the Annual plan), Jasper offers several standout features. These include:
The ability to generate coherent and contextually relevant content
Customizable tone and style
Over 50 templates to choose from (or create your own) 
Jasper Chat, a customizable chatbot
APIs for developers to integrate Jasper into their apps
Seamless integration with Copyscape, Grammarly, and Surfer SEO
Read our comprehensive Jasper AI review to learn more.
Did you try Chatsonic AI?
If you were not satisfied with the Writesonic AI product, try Jasper AI.
---
Copy AI
Copy AI is a renowned platform known for its ability to create compelling and persuasive short-form copy.
With over 90 templates available, it offers extensive support for your content marketing endeavors.
The pricing for Copy AI starts at $36 per month on the annual plan.
This cost includes access to a range of standout features:
Versatility. Its numerous templates provide users with a structured foundation to generate various types of content. 
Copy AI includes a built-in plagiarism checker, ensuring content originality and integrity.
Seamless integration with various platforms and applications. This allows users to incorporate AI-generated content into existing workflows and websites easily. 
The platform boasts a user-friendly interface, making it accessible to users with different skill levels and eliminating the need for extensive training.
Support for over 95 languages, making it a versatile tool for global users.
Copy AI uses natural language processing, enabling faster and more efficient content generation than other platforms.
Overall, Copy AI offers comprehensive features and benefits, making it a valuable tool for content creators and marketers seeking engaging and impactful copy.
Read our Copy AI review to find out just how good this tool is.
Chatsonic Review: Conclusion
As you can see, Chatsonic is a powerful AI writing assistant that can help you save time and improve your content.
Its advanced features, user-friendly interface, and reliable performance make it an essential tool for writers and content creators of all levels.
With Chatsonic, you can write exceptional quality content in no time without worrying about plagiarism or errors.
So why wait?
Sign up for Chatsonic today and experience the benefits of this fantastic tool for yourself.
Transform your writing and take your content to the next level now.