When Cassie Pipp decided to share her passion for budgeting with others by creating a blog, she had no idea what she was doing, but that didn't stop her. She created Living Low Key to help families better manage their finances.
A successful Pinterest strategy moved her site forward, networking landed her a sponsorship that brought in $20k in one month, and SEO has kept her business profitable. In 2020, her blog brought in +$110k. In 2021, she earned +$96k, and in 2022, she took home +$42k.
Cassie has an interesting story to tell and lots of actionable advice. Keep reading to find out:
Why she started her first blog
How and why she started a second blog
What strategies she uses to grow her traffic
Why her earnings have declined and how she feels about it
Her views on SEO
How she's growing her email lists
The exact content creation process she uses
Her thoughts on Pinterest
The resources and tools she swears by
Her biggest challenge
Her greatest accomplishment
Her main mistake
Her advice for other entrepreneurs
Meet Casse Pipp
Hi, my name is Cassie! I'm 34 and the founder of Living Low Key, a family finance blog. And Kidz Craft Corner, my latest project, a kid's craft blog.
When I'm not blogging, I'm a mom of two and a wife of almost 12 years to my amazing husband. You can find me lost in a good book or planning our next family adventure in my free time!
I'm originally from northern Minnesota. After college, I spent a decade moving around the country with my husband for his job in the military. During that time, as we struggled to become debt free, I discovered my love for personal finance! 
I took my passion for budgeting and finding creative ways to save money, and in 2017 I started Living Low Key. 
I created it to help families learn about budgeting and saving money by breaking down financial topics into bite-sized pieces that are easily understandable for anyone who wants to learn.
But I was hesitant when I first started blogging. 
Let's be honest. I had no idea what I was doing, and let's be real, how much "free time" does a stay-at-home mom really have? There was also the concern about what people would think of my newly found hobby. 
As it goes, I got a lot of, "why aren't you getting a real job."
A few years into blogging, working a few hours a week, I landed a sponsorship of $20,000 in ONE month! And that seemed to quiet the naysayers. This opportunity came through networking about 2-3 years into blogging (they reached out to us), which is why networking is so important to do!
Since then, I've been hooked on blogging and committed more than ever to never returning to a 9-5!
Why She Created Her Websites
Before Living Low Key, I had no idea what a blog was or that you could make money having one. The task of creating my own website seemed daunting. I didn't know where to start. My degree is in healthcare management, not web building.
As I mentioned above, I was looking for a creative outlet to throw my love for personal finances into. So that's what I did.
With the help of Google's search bar, I slowly created Living Low Key. Thankfully, everything you need to know about starting a blog is on the internet for free.
Once my website was up and running. I started to write and push out content, and I'll be the first to admit it was ugly. But that didn't stop me; I didn't quit. And I truly believe that's the only reason I've made it to where I am today.
Eight months into starting Living Low Key, I had about 45 posts on my site, and I reached the pageviews needed to get accepted into Mediavine, so I applied and was accepted. Within 2 years of creating my first blog post (2019), I was consistently making over $1000 a month with Living Low Key.
In 2020 I bought the domain Kidz Craft Corner. I planned to build a kid's craft blog and scale it using Pinterest traffic, using the same successful Pinterest techniques I used with Living Low Key.
These techniques included things like building high-quality boards on Pinterest and then filling them with high-quality pins already ranking for each board's keywords. Also, making appealing pins that pop and are eye-catching and ensuring they are properly optimized for Pinterest. 
Lastly, use your own images when you can versus stock photos. My top pins have gone viral on Pinterest, meaning they brought me 50k+ pageviews, and all have images I took personally on them, not stock photos. 
With my hands full being a stay-at-home mom, homeschooling my daughter, growing Living Low Key, and freelancing, as well as a cross-country move, 2020 quickly turned into 2021.
After letting half of 2021 slip away, I finally started creating content for Kidz Craft Corner. Over the last year and a half, putting in minimal work, about 6 hours a month, it's grown to almost 20,000 pageviews a month.
During those few hours a month. I would focus on creating two crafts a month, usually related to an upcoming holiday. I create a quick write-up on those crafts, and a plethora of appealing pins for Pinterest, and throw one or two out every day or every other day. 
How Much Money Cassie's Making
In 2020, Living Low Key made $112,321.
In 2021, Living Low Key made $96,595.
In 2022, Living Low Key made around $42,434 for the year. I worked about 8 hours a week throughout the year. 
My favorite thing about blogging is that it has allowed me to make money while staying home with my kids. I can step away from my blog for a week, a month, or even a summer, and it still makes money. I don't know anyone else with a job that allows this kind of flexibility. 
Currently, the majority of my income comes from ads. I also have a brand collaboration that pays out monthly. I have my own products, my best product being a printable Budget Binder. I also make money from affiliate income.
Cassie's Top Marketing Strategies
My number one marketing strategy for both blogs is to write excellent quality content that will drive traffic and convert visitors. I drive traffic to both blogs using Pinterest and Search Engine Optimization. 
Once someone lands on my page, I offer high-converting freebies, such as a free printable, workbook, or in my case, mini-budget binder.
Once they sign up for the freebie, they land on my email list, where I have a sales funnel with high-quality emails that turn them into a buying customer for one of my digital products.
Pinterest used to be a huge traffic driver, making up most of the traffic coming to my blog. So I put most of my effort into creating content specifically for Pinterest. Below you can see in 2020, I got almost 700,000 pageviews from Pinterest alone.
Sadly over the last two years, the Pinterest platform has changed substantially. I still get traffic from Pinterest with about an hour of work a week, but in 2022 I ended up with only 300,000 pageviews from Pinterest.
How Pinterest is Changing
A lot has changed on Pinterest over the past year or two. You used to be able to post a pin, and it had the possibility of going viral almost instantly. Now, Pinterest is more of a long-haul game (like SEO). You post pins, and most won't start to see traffic with those pins for 6+ months or more. 
Pinterest also launched Idea Pins in 2021, which really was the beginning of the decline in traffic for a lot of bloggers. Idea pins don't have the option to link back to your blog or website like a normal pin does. This is great for the user but not great for us as creators. 
Overall, Pinterest, like other platforms, will continue to change. You are the one who has to decide whether or not you have the time to jump on board for the ride.
The Importance of SEO
SEO is vital to my business. Once my traffic began to decline in 2021 because of the changes on Pinterest, I started focusing on SEO. One of my biggest regrets is not doing so sooner. At the end of 2021, I took my first SEO course, Stupid Simple SEO.
Since then, I've been hooked! And haven't looked back. 
For example, I've gotten 4,761 organic pageviews in the last three days alone.
My overall SEO strategy involves finding other bloggers with relatable blogs and similar domain authorities. I research their ranking keywords to see if I can rank for similar keywords. I then do my own keyword research and try to outrank whoever is in position one on Google.
A free and easy way to find bloggers in your niche as a beginner blogger would be simply Googling your niche or a keyword similar to yours. Make sure to add the MozBar domain authority checker to your chrome bar. 
When you use the domain authority checker, the DA to every site will pop up in Google next to their blog's name. For example, if you typed in educational printables for toddlers. You can scroll down through Google and compare your DA to others whose niche is the same as yours. 
Then add them to a Google Docs sheet. Over time your list will grow longer and longer. 
Another great place to look is Pinterest! 
Another strategy I use is using tools such as KeySearch and Ubersuggest to find keywords I can rank for. When looking for a keyword, I look for one with a volume of around 1000 and one with easy to moderate competition.  From there, I'll do additional research to ensure I even have the chance to rank for the keyword.
I also optimize my page titles and meta descriptions, use internal linking, create quality content regularly, and use Google Analytics to track progress.
Link Building
I have yet to be super focused on link building, but it's extremely important to succeed in blogging. One of the ways I have built links in the past is by guest posting on other relevant bloggers' blogs.
For example, I'll write an article for them, and in return, I'll get a do-follow link back to my blog. This has proven to be successful, especially in the beginning. 
I also do HARO posts and have had some success with them, and I will continue using them in the future. I highly recommend it as a great way to build authoritative links to your blog. Especially if your niche is relatable to what they are looking for.
Lastly, I have done a handful of link swaps with fellow bloggers in relatable niches. I do highly discourage mass link-swapping and swapping links with people you don't personally know.
Cassie's Email List
Both of my blogs have an email list. It's not something I was hyper-focused on when I first became a blogger, but it is important. My email list for Living Low Key is approaching 15,000 email subscribers.
I get all of my email subscribers via opt-ins placed on my website. In the beginning, I created a handful of different "freebies" in Canva. Then I used those to make opt-ins in Convertkit and placed them on my blog to see which ones converted best. Once I figured that out, I stuck them in all relatable posts.
Then I built on that. I use that method for both of my blogs.
Kidz Craft Corner is a much smaller blog. However, I get 130+ email subscribers a month and have a 2000+ email list with a 51% open rate, which is pretty awesome!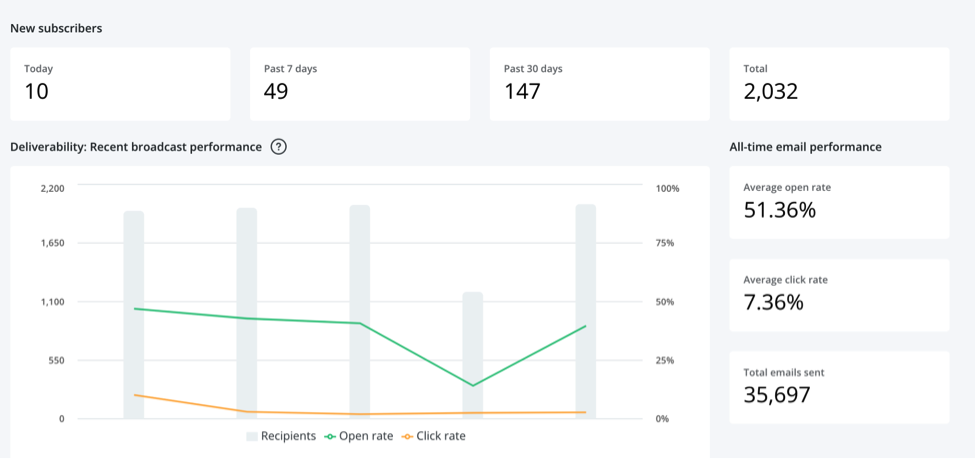 Her Content Creation Process
I wish I could say that the content creation process is fast and easy, but it's not. There is more that goes into it than meets the eye.
I currently have 201 posts on Living Low Key, and my process for creating new content goes something like this.
Before any work can be done, I do keyword research. There are many different ways to do this and so many helpful tools, such as Ahrefs, Ubersuggest, KeySearch, and Semrush.

Once I have a main keyword in mind, I type it into the search bar. I then look at the DA of the blogs in the top five positions on Google. I know I can rank for that particular keyword if their DA is similar to mine.

I then play around with headline ideas and start writing. In the middle of 2022, I started using Surfer and Jasper AI to help write my posts. They are both amazing services and are worth every single penny.
When writing, I always keep in mind the length of the article. I always strive to write over 2,500 words. I also use Word Counter to check the length of the top five articles ranking for my main keyword. I then aim for higher-quality content with a higher word count.
Once I finish writing, I check my article using Grammarly.

When I'm done editing, I place opt-ins in my article or make new ones. Then I add images to my blog post and create multiple pins.

Lastly, I promote my blog posts using Pinterest and Facebook. My Pinterest account has almost 30k followers. And although I no longer get AMAZING traffic from Pinterest, It's still worth promoting my blog posts there.
How Much Time Cassie Spends on Her Blogs
I generally work on my business for about 2+ hours a day. I plan to become a full-time blogger later this year, which is very exciting.
I try to get most of my writing done in the morning. I'll typically start my day by catching up on emails and then move on to content creation. After lunch, I'll work on link-building and promote blog posts through Pinterest or Facebook. I'll also spend time updating older posts for SEO. I do this by doing an Audit of my post using Surfer. Then I add more relatable keywords to the article's word count, etc. 
At night I try not to work too much so that I can relax and enjoy some downtime with my family. However, I might do a bit of maintenance or make sure that any content I've written is properly optimized.
Overall, my content creation process and strategy help me to create great quality blog posts that rank well in SERPs and drive organic traffic to my website. It's taken me years to perfect it, but now I have a system that works for me and helps my business to grow.
How Long It Took To Achieve Current Revenue Levels
It took me a solid year and a half to two years of creating content to start making good money. But what is "good" to some might not be "good" to others. I started blogging for fun, and now I expect it to allow me to only return to a 9-5 job if I choose to. 
Cassie's Favorite Resources
My favorite resources are as follows:
Podcasts: The Blogging Millionaire, Smart Passive Income, and Thrive Blogger Podcast are all amazing podcasts with tons of actionable advice.
Courses: Stupid Simple SEO, and Pinterest Strategies 2.0 by Mommy on Purpose
Books: The 4-Hour Work Week by Tim Ferriss is a great book to kickstart your entrepreneurial journey.
YouTube channels: Create and Go, Adam Enfroy, and Income School.
Her Top Tools
Hands down, Canva Pro! I use Canva for anything and everything. Creating pins, making printables, resizing pictures, creating opt-ins, you name it. Every day I use Canva at least once, if not more.
Another tool I couldn't live without is Jasper AI!
If you haven't checked out Jasper AI, it's a must. It's literally cut the time it takes me to write a post in half. It's made my life as a content creator so much easier. 
Her Biggest Challenge
The biggest challenge I've faced growing my business is probably… me. It's easy to get caught up with imposter syndrome thinking you aren't good enough to compete with all the fantastic bloggers out there. I found that I had to focus on where I was at in my blogging journey and not focus on where other, bigger bloggers are at in their journey.
Cassie's Greatest Accomplishment
My most important accomplishment as an entrepreneur is starting my business from scratch and growing it to what it is today.
When I first started, I was a stay-at-home mom without experience in blogging or online marketing. I had no idea how or where to start, but eventually, through trial and error, I figured out what works and what doesn't.
Today, my blog is visited by thousands of awesome people every month, and I'm making money whether I'm working or taking the week off.
I'm so proud of everything I have achieved and look forward to continuing the journey!
What She Wishes She Knew When She Started
I wish I had invested my time in learning SEO in the beginning. When I started blogging, it was all about Pinterest. Pinterest was easy traffic at the time, but now not so much. I put all my eggs in one basket, and I shouldn't have.
As my Pinterest traffic started dying off this past year, I felt like I was almost starting over. Don't get me wrong. I still love the Pinterest traffic I get because it's making me money with little to no work.
But, if I could go back, I would have focused on SEO from day one. And I recommend it to anyone else just starting to do the same!
Learning SEO is so important if you want to become a successful blogger.
Her Main Mistake
One of my biggest mistakes is not starting sooner. I spent way too much time worrying about the little details and got stuck in a cycle of analysis paralysis. I was so scared of failure that I almost gave up before I even started.
It's important to take the plunge, learn from mistakes, and stay focused on your end goal! If you don't try, you'll never know what could have been.
Her Advice for Other Entrepreneurs
My advice to entrepreneurs building their own businesses right now is to have a clear and detailed plan in place. Map out everything you need to do, from setting up your website to getting your first customers. It's important to have a strong vision but also be realistic and ensure you have the resources (time, money, etc.) necessary to achieve your goals.
Lastly, keep going, even when you want to give up. Even if things don't work out the first time, keep going until you reach your goals. Your persistence is the only thing that keeps you from failure and sets you apart as a successful entrepreneur.
Good luck!