When Maria Ivanova immigrated from Ukraine to Canada, she wasn't planning on being a successful entrepreneur. But her work ethic, professionalism, and drive to succeed led her there.
One of her first jobs was cleaning. She did such a great job that she started to get offers for work, so she created her own cleaning company and started working for herself. 
One thing led to another, and her business grew so much that she couldn't keep up with demand. She started to hire additional cleaners, and MasterMaid was born. Now she runs the business and earns up to $9k/month.
Maria offers great advice in this interview by talking about the important lessons she has learned during her entrepreneurial journey.
Keep reading to learn more about:
How she started out in the cleaning industry
Her business took off
The net income she's making and why it varies
Who her clients and employees are
How she uses SEO to grow MasterMaid
What makes or breaks her business
How she used Google Ads
Her keyword research strategy
The resources and tools she recommends
Her biggest challenge
Her greatest accomplishment
What she wishes she knew when she started
Her main mistake
The advice she would give other entrepreneurs
Meet Maria Ivanova
I was born in western Ukraine in the beautiful town of Uzhgorod. I completed a university
degree and worked as a school teacher there. I moved to Canada in 2011, partly because my
grown children were already studying and working here. 
I think, as is the case for many new immigrants, some parts of the adaptation process were challenging. But luckily, Canada is a very welcoming country with many opportunities for people with varying backgrounds. 
As much as I miss Ukraine and my hometown, I am happy to live in this great country and be able to support my fellow Ukrainians through these difficult times as much as I possibly can.
Why She Created MasterMaid
When I arrived in Canada, one of my first jobs was a cleaning lady. After working for about a year as a cleaner, I started getting recommendations and customers, so I opened up my own cleaning company and worked as a cleaning lady. 
Within a relatively short period of time, I developed a regular client base. Seeing the need for honest and hardworking cleaning services, in 2013 I started to hire professional cleaning ladies with a similar attitude to work as myself.
It gave me a strong foundation to grow and continue to provide top-notch services. I think that my joy in seeing people happy with the results they get from our work is partly why I was able to maintain a high work ethic and sustain a challenging undertaking of growing a reputable business.
How Much Money She's Currently Making
The income from MasterMaid fluctuates on a monthly (and annual) basis. It often depends on the time of year and general economic conditions. 
Covid 19 greatly impacted the performance of MasterMaid and staff availability and ability to work. 
Luckily, people always have their reasons for needing to hire a cleaning service. On average, the net income of MasterMaid ranges from $7,000 to $9,000 a month.
Every month we service about 200 clients, and most of the jobs are residential house/condo cleanings (60%). We also service Airbnbs (20%) and offices (20%). At any given time, we have about 10 to 12 people working, some of them part-time. 
Maria's Top Marketing Strategies
Aside from referrals we often get, which help tremendously with sustaining our client base, SEO has been a local business's most effective and efficient marketing strategy. 
We mostly use local SEO, and while we have a few blog posts ranking in Canada and US, we don't get clients from them, as we service only Toronto and the surrounding areas. 
We don't get a lot of business from referrals (less than 10% probably), but if the work we do is good, we notice that customers order us again and again. As much as 60% of all revenue now comes from repeat customers who are happy with the service. 
The Importance of SEO
SEO is a cornerstone of getting new customers. 
Before Mastermaid.ca, we had a different domain for our business. We outsourced SEO to an agency that completely destroyed our rankings, and we decided it was easier to start fresh. 
So when we started Mastermaid.ca in 2019, we spent $5,000 – $7,000 a month on Google Ads. Our customer acquisition costs were fairly high, and while the ads were bringing in revenue, the business was barely breaking even. 
As we began to focus on SEO and long-tail keywords, it became much easier for us to grow organically. 
We started with the ads fairly heavy in the first year of the website (2019), some months paying as much as $6-7k per month. We optimized and reduced the spending as we progressed. 
Organic traffic started to trickle in in 2019, so we started slowing down ads in 2020, especially after the pandemic hit and there were many restrictions on our business. 
Up till this day we turn on the paid ads when we are running some promotions, but organic is now responsible for 75% of our traffic.
Link Building
Link building is somewhat important when it comes to ranking higher-traffic keywords. We used citations at the beginning, some guest posting, and a little HARO. 
Maria's Email List
We create an email list of customers who have used our service. We stay in touch with them regularly and tell them about new content and promotions. 
Overall the email list is a great tool to boost revenue when running some specials. We currently have over 2,200 people on our list.
Maria's Content Creation Process
Content creation is outsourced to a professional writer who is very familiar with our business and conduct. She has been providing this service since the company was founded. 
As a rule, she receives bare-bone instructions to match the SEO requirements and follows through with what she knows about the company, the industry, and the cleaning process.
How She Approaches Keyword Research
When we started, we concentrated on lower competition and lower volume keywords. Some of the suburbs of Toronto did not have good coverage with cleaning services, so we tried to rank for them. 
We found it's much easier to rank for cleaning services North York (Toronto Suburb) than office cleaning service toronto. I recommend this ranking strategy to most local businesses.
We also target "cleaning services SUBURB of TORONTO"-type keywords. This is a more popular and effective long-tail strategy for local businesses. 
Achieving Current Revenue Levels
As likely is the case with many other businesses, the beginning is the most challenging part. I learned quickly that you must spend money to make money. 
Funds were needed for advertising, good quality equipment, cleaning products, administrative and accounting support, etc. It took about 3 to 4 years to get to the revenue level it is now. 
Maria's Favorite Resources
Reddit is a great source of people's honest opinions, product reviews, recommendations, and experiences. The range of subjects there is so great that you can talk to people about anything, from how to remove a stain to how to best do your accounting.
Her Top Tools
A coach or mentor with a successful track record is probably the best tool any entrepreneur can use. Running a business can be a lonely journey. Having someone to talk to with more experience than you is priceless. 
I am a member of multiple business groups and I've tried various business coaches. Most of the work I have done was around mindset as opposed to hard business skills. It has been very effective for me. 
Her Greatest Challenge
Aside from Covid 19, which impacted market conditions, the biggest challenge I faced in growing the business was building a solid team. 
When you first meet someone, it's difficult to gauge whether they are reliable, honest, and loyal. These things come with time. 
Once you have a loyal client base who sees that you know what you are doing, it's half the battle. The other half of the battle is hiring your staff.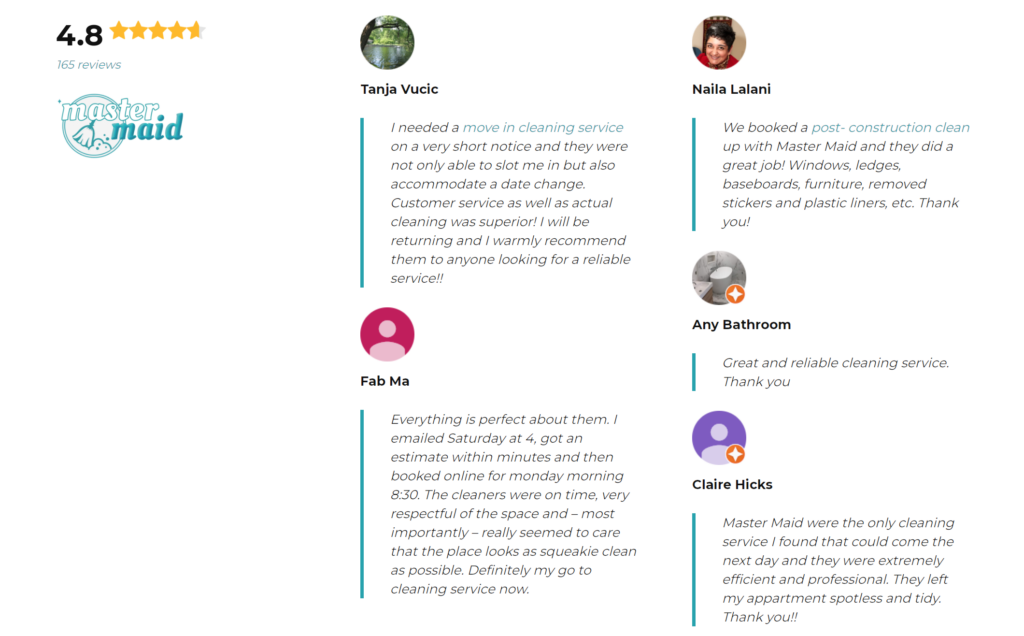 It's important to distinguish between things that can be acquired and people's willingness to provide honest and quality work. In my case, this applies to cleaning staff and those I have hired to do my marketing, reception, accounting, etc.
Maria's Most Important Accomplishment
Just to reiterate, some of the things I have already said—a loyal client base, a solid team, and people's satisfaction with our services—I personally consider great accomplishments.
Another important accomplishment, in my opinion, is the financial stability of the business and its ability to self-sustain.
What She Wishes She Knew When She Started
While developing and growing my business, I worked a lot on self-improvement. It may not work for everyone (and you can definitely find those that work for you), but things like self-help sessions (virtual or in-person; one on one or in groups), books on emotional intelligence, and meetings for entrepreneurs who share their success stories all helped in both growing personally and professionally. 
I wish I had known from the start how important it is to be flexible in your conduct. I learned gradually that people skills and the ability to react to unexpected situations are all skills that can be acquired through varying resources.
Her Main Mistake
The biggest mistake, I guess, was learning many things 'the hard way." One can learn from trial and error—and it's next to impossible to avoid this as an entrepreneur—but one can also learn from different resources and other people's experiences and mistakes.
Her Advice for Other Entrepreneurs
First and foremost, my biggest recommendation is to get to know your craft or trade as much as possible. Aside from first-hand personal experience, I recommend getting honest feedback from people on both the receiving end of the services and those who provide it. 
It's a good way to grow. I also strongly believe that you get what you project. If you are honest, loyal, and hardworking, you will surround yourself with similar people who, in the end, will help you tremendously along your journey.