Nadia Bullock firmly believes that we have the power to "create our own masterpieces," and that's exactly what this ambitious and determined entrepreneur has been doing since she was 16. From hair stylist to content creator, she has worn many hats over the years.
Her biggest project is her music agency, Musos Entertainment, which she accidentally built while styling hair and helping her husband with his music career. Today Musos is making 7+ figures per year. But that's not Nadia's only project.
Covid convinced her of the importance of diversification, so today she has multiple ventures, including a pregnancy journal and a mentoring and coaching business.
Keep reading to find out:
The ins and outs of how Musos came to be
How the company operates
Why growing her Instagram account was important
Why she wrote a journal for pregnant women
How she's helping women turn their passions into profit
What happened to her business during Covid
Her main marketing strategy
Her views on SEO
How much time she spends on her business
Her top resources and tools
Her biggest challenge
Her greatest accomplishment
Nadia's main mistake
Her advice for other entrepreneurs
Meet Nadia Bullock
I'm Nadia. I'm from Vancouver, Canada, born into an Italian immigrant family but you can find me living with my husband and 2 little boys in sunny places like Byron Bay and Bali throughout our Canadian winters. 
I'm an author, award-winning entrepreneur, certified hairstylist, content creator, and mentor who lives by the belief that "Life is like a giant canvas, and it's never too late to create your own masterpiece." 
I have an obsession with travel, wellness, spontaneity, and helping others, and have spent my life intuitively pursuing my passions, creating multiple successful business ventures in different industries.
Where It All Began
My professional background started at 16 when I picked up my first pair of scissors. I quickly became a certified hairstylist and spent my 20s working behind the chair, styling hair at NYWF and MFW, and teaching other upcoming artists as an AVEDA educator. 
At 19, I took a break from hair and moved to Orlando, Florida, all alone, where I worked at Walt Disney World. The following year, I moved to Monaco, Monte Carlo where I worked 2 jobs: in a famous hair salon and at the Fairmont Monte Carlo. I loved both and found it hard to choose between the "corporate ladder of hospitality" and being a "beauty creative." 
In 2010, I had the opportunity to join the opening team of the brand new hotel Fairmont Pacific Rim, which was opening just in time for the Vancouver Olympic Games, which hosted a majority of the athletes and groups for the games, and that experience was incredible!
I juggled the 2 careers for another few years until I met my husband, Colin, a musician from Australia. In 2011, we quickly started combining our services together, offering "music and hair" packages for weddings and events throughout Vancouver and BC. 
Over time, as we got busier with clients and we even started to get international opportunities from clients looking to book us for their destination events. Along with this, we'd plan our own independent music tours to fill in the gaps in our schedule, and because we wanted to be on the road as much as we could because we love to travel. We'd fill our schedules up to do anything to continue making money while traveling. 
As a natural planner and travel lover, I was the one to organize all of our trips, tours, logistics, and the administration side of things for both Colin and I. Little did I know this was organically turning me into a "music & tour manager," as well as Colin's manager, booking all of his music gigs, press/pr, and tours. At this time I was also taking a business management program and just loved to learn more about the business side of what we were doing. 
I booked us tours across Canada, Australia, Europe, and North America. We then started applying, writing, and winning Canadian music grants to help us with our touring, new music releases, publishing, and Colin's new albums. We even got to record one of his albums at Sarah Macglauhin's home studio. 
The Start of Musos Entertainment
As we got busier, we were finding ourselves having to say no to clients, which is something we didn't want to do, so we started finding peers within our industry and network to offer to clients when we couldn't take them ourselves. Little did we know, this was the start of building our agency. 
In 2012 we heard from one of the luxury hotels Colin was currently performing at, the Fairmont Chateau Whistler, that they weren't happy with the entertainment agency they were using to book their musicians. 
This gave me the idea to officially start our own agency. After all, it's pretty much what we were doing anyways, and we pitched them the idea of us taking over. We got the contract and the rest was history… Musos Entertainment was born and co-founded with Colin. This was my first official business. 
Today, Musos Entertainment is a marketplace for live musicians and DJs for any occasion, serving Canada, and specializing in BC. We are a music agency providing live entertainment for corporate events and weddings as well as venues and establishments. 
We have a growing team of over 80+ artists and 5 in our administrative team. We've won multiple awards, including Best Live Entertainment Agency in Canada, from CV Business Magazine and we were a finalist for Best Entertainment at the BC Wedding Awards. 
As our business often brings us on the road, I started sharing our digital nomad life on my Instagram page to keep up with family and friends. I fell in love with creating content and connecting with like-minded people from all walks of life all over the world, and starting growing an online following to 10k+. 
During this time, I started working with brands, creating content, and growing an organic online community. I fell in love with sharing tips from our journey to help others on their journey as I was getting so many questions on how to work from the road, etc. 
Nadia's Journal
After becoming a mom in 2019, another creative idea came to me, which was creating a pregnancy journal. When Covid hit early 2020, we were in Bali, which then brought us to Australia where we were stuck for the remaining 6 months with pretty much no business, as we were in live events, etc. 
I took this time to do a creative project, and that's when I went on to write Becoming Mama. I co-created Becoming Mama, a pregnancy journal that launched in 2022. 
It's filled with journaling pages to fill in throughout your pregnancy, as well as educational interview pages from people such as Jillian Harris, Sarah of The Birds Papaya, Shanice Bodwell of The Black Mom's Blog, holistic nutritionists, lactation consultants, and more people.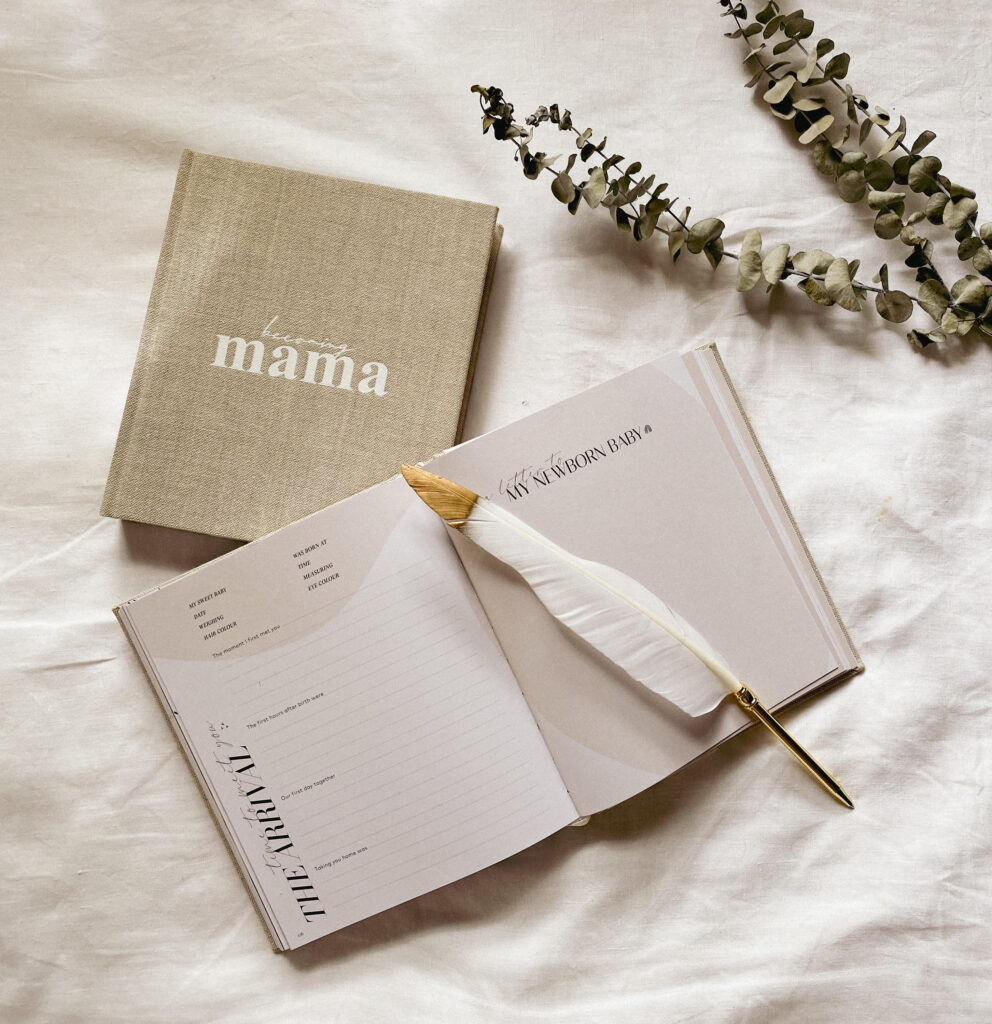 It's truly something that I wish I had when I was pregnant and because I didn't find it, I co-created it with a friend, Hanna from the Australian design and publishing house Axel and Ash. Becoming Mama can be found in over 500+ stores worldwide and online. 
Her Coaching Business
Also during Covid, I wanted to help others in any way I could, and as so many people lost their jobs I was determined to help them start something for themselves. I began offering mentoring and business coaching to my online community, helping women turn their passions into a profit. 
I co-created a women's empowerment community offering a monthly women's circle, workshops, and coaching programs to help other creatives turn their ideas into a business. 
I love supporting others on their path and continue to offer mentorship and coaching programs as well as workshops supporting other creatives—especially moms—to start their entrepreneurial journey from their passions. This can all be found on my personal website, Nadia Bullock. 
How Much Money She's Making
To date, Musos has made over $5 million in sales, and we're very proud to say that we have paid out over $4 million to musicians. Helping other musicians create a career out of their passion for performing is our biggest passion!
This year, Musos is projected to make $1.6 million. Aside from our services, we're working on launching The Artist Academy, which will be mentorship and coaching opportunities for creative artists and musicians. This will be an additional income stream on top of our client services.  
We're currently working on our first musician course to help other aspiring artists take their talents and become thriving professional working musicians. We're also working on a course to teach service-based creatives to build their own 7+ figure agency as we did—social media managers, photographers, videographers, hair stylists, makeup artists, etc. 
We were pennies away from hitting $1 million in gross sales in February 2020. In March 2020, Covid hit and we pretty much lost our entire business for 18 months. We are now projected to do $1.6 million 3 years later. 
My book is a new release. I decided to co-create it with a small distribution company and self-publish, meaning that I own more rights to my book than going with a traditional publisher. 
My agreement for the book is a scaling system, starting from making a 10% to 20% commission on all book sales. Currently, the book has made around $30k in gross sales. 
Nadia's Marketing Strategies
Something we've done since day one which has helped us grow to a 7+ figure business is offering free content. What I mean by that is, I offer a free musician or become a sponsor for any good exposure opportunity. This can include a high-profile event, wedding, fair, or a new potential client. 
Performing live in front of someone is the best way to show off the roster I have and the customer service we provide. Aside from this, word of mouth has always been an effective growth strategy. 
If someone enjoyed their time with us, we always ask people to rate us on Google, which has helped our website traffic grow. We grew the business without using any social media or SEO. We invested in this in late 2022 and have noticed incredible returns already, and we're excited to see that growth continue. 
Her Views on SEO
We've just implemented an SEO strategy with a professional now in 2023 that will be launching these strategies on our new website in April 2023.
Before this, we found that getting incredible 5-star reviews on Google has helped our website traffic grow, as well as putting all our awards and media publications on our website. 
Nadia's Content Creation Process
We just put together a new strategy that includes our 3 main pillars: entertain, educate, and community. We want to be the place where both our clients and musicians can come to learn about everything from what's happening in our industry and how to help them plan the music for their wedding to how an artist can grow their professional careers.    
Her Email List
We do have an email list that we did not focus on in the past decade. It's a compilation of all our clients and community members within the last 10 years. Moving forward, we will be offering a new freebie on our new website to grow it, as we know how important this is for the future of any business. 
How Much Time She Spends on Her Business
Does a business owner ever shut off? I don't think so. No matter what time of day it is, we'll always have our business phones on and accidentally check emails in the evenings. Some of my best business ideas come after my baths at night, so while I'm trying hard to create strict boundaries around my work-life balance, family life, and self-care, I could never put a number on this.  
Nadia's Favorite Resources
I am your self-growth BFF. I'm the friend that has every self-help, self-discovery, and growth mindset book on my bookshelf. I'm a self-discovery junkie that loves to learn more about myself and how I can be the best version of myself for me personally and my business. 
I have millions of books, YouTube videos, and TED Talks that I can share, and I hope to have a TED Talk of my own one day. For now, I can share these resources that I love for growth in any industry and business:
Strength Finders – I make every team member do this when they get hired as well as I re-take this assessment every few years. I believe we do our best work and build the best teams when we focus on our strengths (not our weaknesses).
Human Design – This is a New Age-inspired pseudo-scientific practice. Its proponents describe it as a holistic self-knowledge system. It may be a bit woo-woo for some but this was a life-changing self-assessment for me that helped me learn how to make decisions better. I'm a manifestor in Human Design. If you like self-growth/personality tests like the enneagram, you'd love this one! 
Marketplace Founders – This is a networking community platform where you can connect with other marketplace founders such as the founder of Airbnb, Uber, etc. It's great for networking, finding resources, mentoring programs, support, etc. 
Her Top Tools
My go-to tools are:
Quickbooks online, for all things bookkeeping
Slack, for communicating no matter where our team is in the world
Dubsado, for supporting us with automated workflows, and
Scheduling System/Overture – This is the calendar software program we use for our clients and artists. While you could use Google Calendar in a similar capacity, this has so many bells and whistles that we couldn't run our agency without it. 
Her Biggest Challenge
That would have to be staffing. There are so many factors when working in our industry and working remotely, especially prior to 2020 (because we have always been a remote team). 
Leading a team remotely has its challenges, as does working remotely as an employee if you love in-person social interaction daily. We've struggled with dishonesty, unloyalty, stealing, etc.
Since Covid, and with people having had a chance to experience remote work, they know now whether or not it's for them, which has helped us rebuild our team with people who appreciate the benefits of a remote team and who understand the factors around this. 
Her Greatest Accomplishment
I had an employee recently say to me "I love my job, the company, its values, and working for you guys as leaders." This is the most important accomplishment for me. 
What She Wishes She Knew When She Started
I wish I had known that as much as I am a people pleaser, you can't please 100% of people 100% of the time. However, if you continue to try through hard work, excellent customer service, and being empathetic, it's the best you can do. 
Nadia's Main Mistake
I think trying to do everything on our own, especially in the beginning when we couldn't afford to outsource, we tried to do everything ourselves in all areas, even the areas we were not strong in (e.g. bookkeeping). 
This led to big mistakes which, in the end, cost us more to fix than had we outsourced them in the beginning.
I also believe that it's extremely important as a business owner to know your numbers, but if you don't know what you're doing, ask for help. 
Her Advice for Other Entrepreneurs
Just start today. It won't be perfect, but you will figure it out as you go along. Have passion, work hard, and make sure it's something you love, as this will be your motivator on challenging days, and there will be many of those!