Are you looking for a way to sharpen your skills and gain new knowledge? Udemy is an online learning platform with courses in almost every conceivable topic, from software development and personal finance to yoga and crochet. And the sustainability of the Udemy business model continues to drive innovation in how we learn, allowing students and instructors to connect and build expertise that can lead to career growth or lifelong learning.
In this blog post, we'll explore what makes Udemy so successful and the range of benefits offered by its unique structure.
Overview of Udemy's Business Model – How Does Udemy Work?
Udemy's business model seems almost too good to be true; an online marketplace where people can access thousands of paid courses on a huge range of topics taught by the world's best instructors – all at prices that won't break the bank.
This inexpensive source of learning has become increasingly popular amongst students over the years, and it certainly sounds tempting. But how does the Udemy business and revenue model work?
Methods of Revenue for Udemy
It's quite simple: Udemy allows everyone to sell their knowledge and skills in exchange for Udemy's commission (plus any net revenue from each course sold). Once a course is published, buyers can purchase it, with payment taken via credit card, PayPal, or other reliable payment methods.
With more than 213,000+ courses on offer and over 57 million users across the globe, Udemy is becoming one of the leading online education providers.
The Udemy platform makes money through various revenue models, including tuition revenues from selling courses, paid acquisition, and Udemy for Business.
Course sales involve a 50/50 split between the instructor and Udemy on any sale made.
The paid acquisition piece of the Udemy revenue model involves buying advertising slots on other platforms, such as Google or Facebook, and charging instructors a 75 percent fee for each course sale.
Udemy also offers a personal subscription plan for individuals, giving access to thousands of courses.
Udemy for Business involves two subscription plans for companies, with pricing depending on the size of the team. These plans offer additional features such as custom categories and user groups, tracking user activity, and Slack integration.
All of these methods of revenue enable Udemy to expand its customer base and diversify its offerings while generating higher revenues.
Individual Course Purchases
Purchasing an individual course on Udemy involves creating an account and selecting the desired course. Once payment has been received, students have direct access to the content within their own personal dashboard.
Udemy Subscriptions
Udemy also offers a Personal Plan on an annual or monthly subscription service basis for individuals. This gives professional adults access to thousands of online courses they can take at their own pace, covering various topics such as IT and web development, soft skills, business, marketing & design.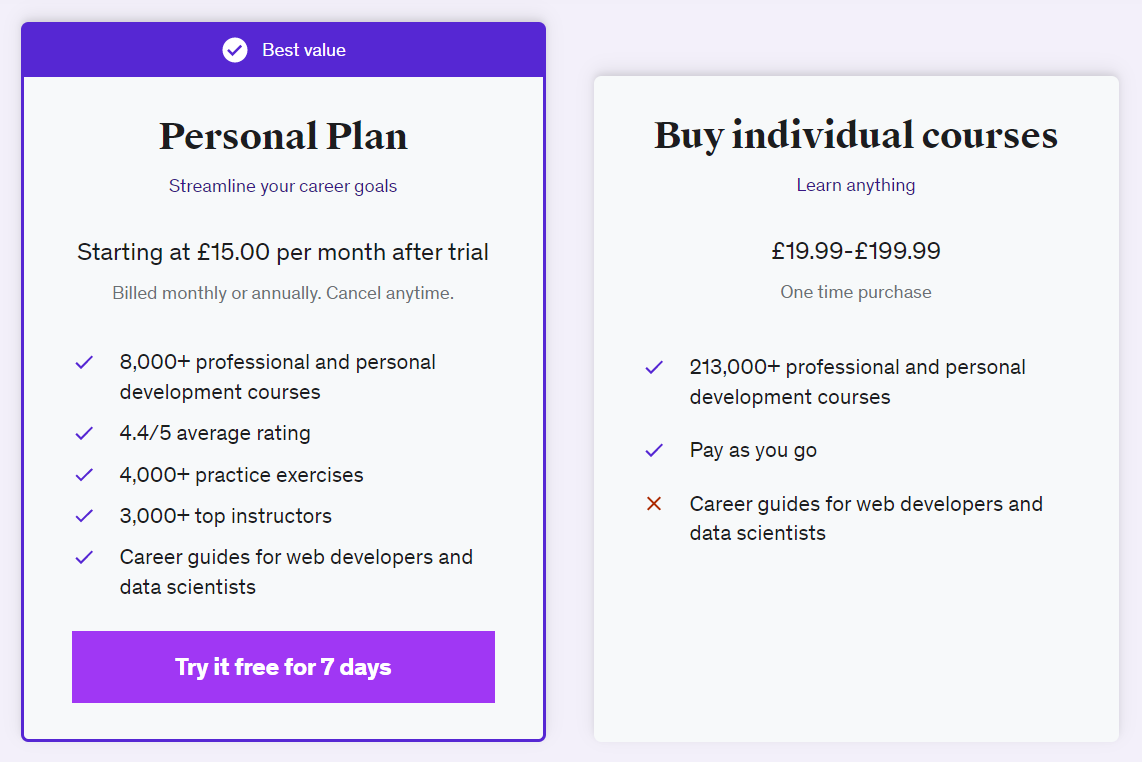 Udemy Business offers a premium subscription for companies and teams that unlocks additional benefits for Udemy business customers with unlimited access to courses, personalized recommendations, learner engagement stats, and employee training plans.
This additional feature allows Udemy to earn annual or monthly subscription revenue from users.
How Much Money Does Udemy Make?
According to Crunchbase, the Udemy business ecosystem reported $90 million in 2018 and $140 million in 2019. This shows steady growth over the years.
Additionally, Udemy has seen tremendous success in its funding endeavors, raising an accumulative $311.4 million from 16 rounds of investment! On October 29th, 2021, Udemy made its debut on the NASDAQ stock exchange under the ticker UDMY with an initial public offering of $29.00 per share.
Udemy's total income for the third quarter of 2022 increased an impressive 22%, totaling $158.4 million! In addition, Udemy Business saw its revenue grow by a staggering 67% year-over-year and achieved Annual Recurring Revenue (ARR) of $350 million – demonstrating that it is well on its way to becoming a leader in online education and learning solutions.
Who is Udemy For?
Udemy is for anyone who wants to learn new skills and gain knowledge in various subjects. Udemy courses are created by instructors from all backgrounds and cover dozens of topics, such as programming, personal development, business, marketing, and more.
Through the Udemy marketplace, users can find short courses that will help them quickly develop the skills they need for their careers or hobbies.
The Udemy online platform is also great for organizations and businesses looking to provide employees with educational opportunities, as the Enterprise plan offers a centralized hub of learning materials.
Finally, Udemy is an excellent platform for those who want to become instructors themselves and share their knowledge with others.
Take a look at our article on how to make money on Udemy.
Udemy For Companies
Udemy Business provides learning solutions for organizations of every size, with access to 19,000+ courses covering a wide range of topics.
With leadership development programs and international course collections available, the platform provides insights and analytics to help businesses track user engagement.
Finally, customers can access 24/7 customer support with a dedicated customer success partner.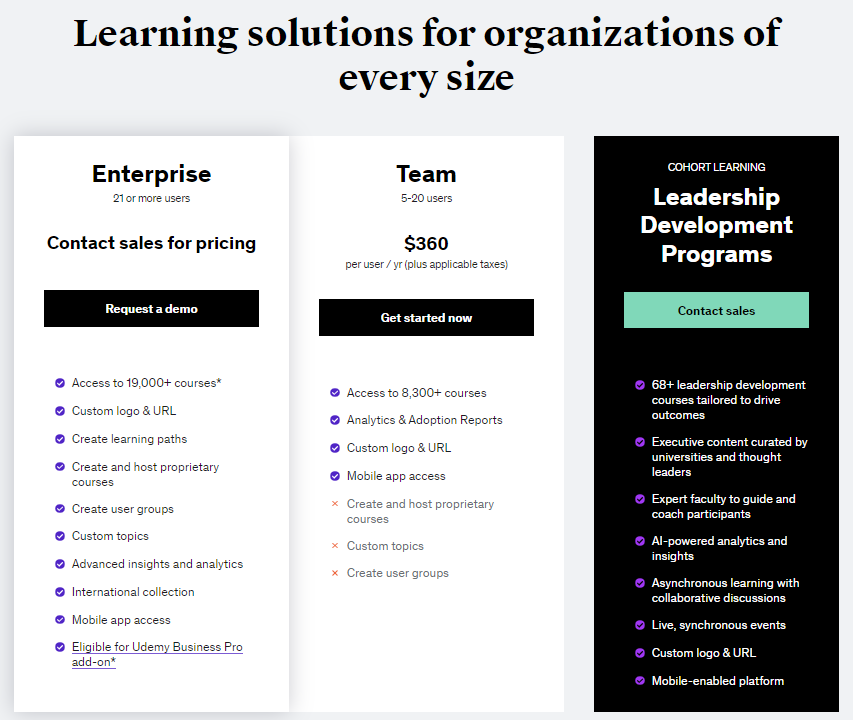 Udemy For Individuals
Udemy offers over 19,000 courses in various topics, such as Business Fundamentals, Entrepreneurship, Digital Marketing, Development, and Personal Development.
This learning platform also provides tailored recommendations for students to find the perfect course to suit their needs and interests.
With the Personal Plan, users can access 8,000 of Udemy's top-rated courses at discounted prices with exclusive longtime-learner deals.
Udemy For Course Creators
Udemy offers the opportunity to share your knowledge with learners worldwide and gives you the support you need to become a successful teacher.
With their user-friendly instructor dashboard, creating courses is simpler than ever! Instructors are provided detailed guides that offer step-by-step instructions for making classes – as well as a helpful Instructor Support Team available 24/7 if clarification or feedback on test videos is required.
Udemy provides everything needed for teachers to deliver remarkable online learning experiences! Check out our article looking into how much Udemy instructors make.
Why Is Udemy Such a Bargain?
The Udemy marketplace business model means courses are affordable for several reasons.
First and foremost, they are created by individuals without the support of a larger organization or institution, which reduces the cost associated with producing a course.
Secondly, automated assessment tools such as quizzes help to eliminate manual grading costs.
Udemy often puts courses on sale to generate sales and create a sense of urgency and scarcity. This encourages potential students to take advantage of the discounted prices before they expire.
In addition, Udemy's subscription plans allow businesses and organizations to purchase access to thousands of courses at reduced rates.
These strategies enable Udemy to offer customers high-quality courses without breaking the bank. It is no wonder that Udemy has become one of the leading online learning platforms in the world.
Udemy Business Model – Conclusion
Udemy is an online learning platform that allows instructors to create, share, and sell their courses to a huge audience.
It takes a 50 percent cut when users buy a course directly through the Udemy website and a 75 percent cut when they purchase it via paid acquisition channels like Google Ads or Facebook Ads.
Furthermore, Udemy offers a personal subscription plan for individuals as well as plans for teams called Udemy Business.
Udemy courses are relatively cheap due to the automated grading system and creating a perception of value and scarcity effects.
Additionally, Udemy has amassed an enormous total of $311.4M in investment capital over 16 distinct funding rounds, skyrocketing its potential to new heights. Udemy continues to expand into new markets and spend on product development.
Overall, Udemy provides a valuable e-learning platform for instructors to put their courses out there and make money while also allowing students to access an abundance of knowledge at affordable prices.
With the rise of online learning platforms offering more convenient options for education, Udemy is likely to remain a leading player in the space.