Ludovic Chung Sao is a mechanical engineer who would describe himself as "ear sensitive." He does not do well with noisy appliances and even remembers suffering during a semester abroad in Quebec, as his host's house had very poor soundproofing.
Fast forward a few years, and Ludovic decided to take his professional and life experience and turn it into a blog: ZenSoundproof. He provides soundproofing solutions to homeowners through his website and recommends low-noise appliances.
Today his side hustle is earning $5k per month, and Ludovic has many ideas for growing it in the future.
Find out:
Why he decided to start his website
How he learned the ropes in the beginning
Where his income comes from
The marketing strategies that work for him
His thoughts on SEO
His keyword research approach
His experience with link building
How he creates content
The resources and tools he uses
The main challenge he's faced
His greatest accomplishment so far
His biggest mistake
The advice he would give other entrepreneurs
Meet Ludovic Chung Sao
I'm Ludovic, and I'm from Tahiti, French Polynesia.
After high school, I left Tahiti and went to France to study mechanical engineering. I then worked for 7 years in aeronautics, designing aircraft components and doing certification for the airworthiness authorities.
I'm now working in a company designing and manufacturing consumer electronics.
I've been working for two years at this company, and the challenges are very different from the field of aeronautics. Nevertheless, it's a chance to learn new things and deepen my engineering knowledge in other areas.
Why He Created His Website
I created ZenSoundproof two and a half years ago, right in the midst of the pandemic.
The pandemic and all the mayhem it caused gave me some space to think about how I envisioned my future. I wanted to have the chance to visit my family more than once a year, and that's not what a 9 to 5 job would allow me.
I had to see some changes if I wanted that to happen. So I decided to grow a business in line with what I enjoy and where my engineering background would be technically relevant.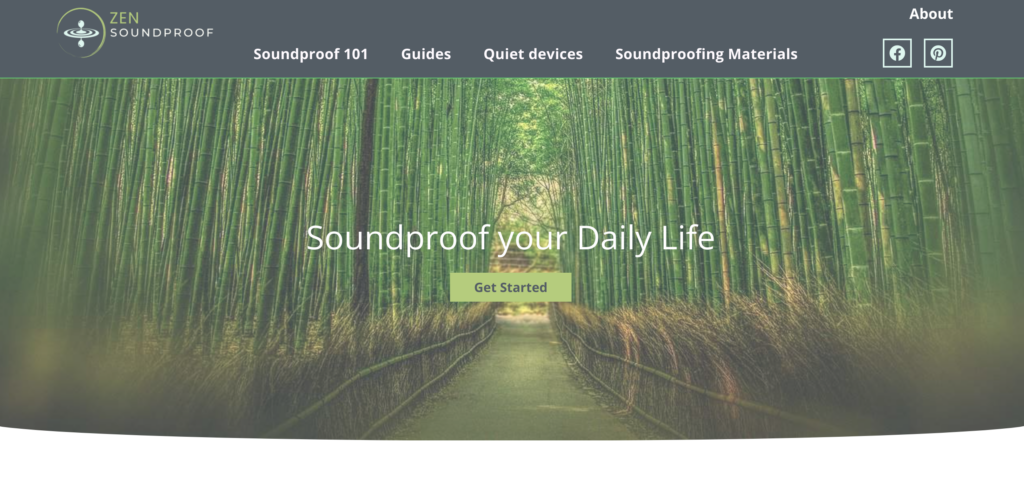 I looked on the internet to see if there was any course to learn how to build a website. One thing that I learned is that having mentors is an effective way to accelerate learning.
In the end, I took The Authority Site System course. I read a few of their blog posts and watched some of their free content before buying their training.
The idea for my website came through analysis of the keyword traffic, competition from other websites, and merging all the previous with my own center of interest.
I remember enjoying renovation work in my apartment back in France. For example, adding drywalls, filling insulation into the wall, or laying floor underlays for noise reduction was really fun and exciting.
One of the niches I found with good growth potential was soundproofing. Additionally, it matched well my interest in home improvements.
For the past two and a half years, growth has been steady. Every night after working, I work on this side hustle. It was particularly tough the first year as it was earning little to nothing.
Unfortunately, running a website is not only about writing on topics you love. There are many other aspects to take care of, such as planning your content, identifying keywords, and, last but not least, link building.
How Much He's Earning
For the year 2022, ZenSoundproof's earnings hovered above $50k via Amazon affiliate revenues. 
It took around 15 months to achieve these results. At my level, it meant using basically all of my spare time for that.
In January 2023, I was accepted by the Mediavine platform, and it does generate an additional income of $700 to 900 per month, on average.
It's definitely more reassuring to know I don't solely depend on one monetization source.
As it stands, I only have Mediavine and Amazon as sources of income.
Currently, I have 117 articles published, which is relatively low when compared to other blogs.
I spend a lot of time crafting and tuning each article so that it has a different angle from other resources on the net. As a result, my publish rate is poor, around 1 article per week.
I believe that's fine, as long as quality follows.
As for traffic, in 2022, the traffic culminated at 50k monthly.
During the first two years, I was spending around 30 hours per week on my business. Since I stopped working on HARO, I'm down to around 15 to 20 hours a week. 
This is mainly a side hustle as I have a full-time job.
His Top Marketing Strategy
I like technical stuff, maybe because I'm a bit of a nerd or because I've been in an engineering environment for too long. 
Therefore, I want my website's content to rely as much as possible on data, studies, and actual testing of materials and equipment.
I also like it when information is well illustrated. I've started out doing most of my illustrations for my website on PowerPoint and Canva.
I've even started to learn Blender to model and illustrate products I was reviewing.
I reckon, in the past, I was spending too much time on this, and to get rid of this bottleneck, I've recently hired the services of an illustrator.
Here are some images I created using Blender: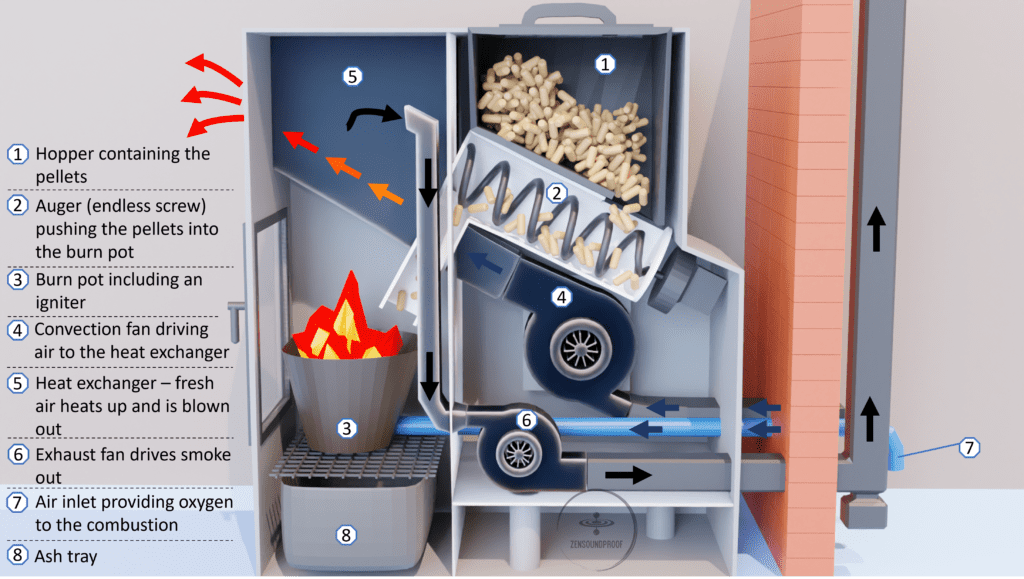 Also, this year I started personally testing products out and reviewing them.
I enjoy reviewing products, but it comes with different challenges. Buying the products can come with a risk, especially if there's no return on investment. The more articles you have, the more you can understand what your readers want or need.
I have found that, if done well, buying and reviewing products can generate a virtuous cycle. 
Enriching existing content with hands-on testing is one of my long-term strategies.
Additionally, in order to diversify the sources of traffic, I've started to grow my presence on Pinterest. I've filled my account with many pins, and I do get a lot of impressions and a few clicks here and there.
I started in April of 2023, and now it generates around 15-20 clicks daily. This is by no means impressive, but I am excited nonetheless.
I published my first YouTube video this month, too. Increasing my presence on YouTube is actually one of the big objectives for the second half of 2023.
The Importance of SEO
SEO is primordial to my business. Since 99% of my traffic comes from Google Search, I have to make sure I follow and stay up to date with Google's guidelines.
Most of my link building strategy relies on HARO, but I reckon it's so much more challenging to get citations from HARO now compared with 2021.
For the content creation aspect, creating high-value and original content is one of the best ways to rank high, even without any backlinks.
Keyword Research
I use Ahrefs to identify keywords to write about. Having Ahrefs is essential as keyword difficulty and search volume are indicators I highly rely on.
In short, my keyword research would look as follows: 
First, I build categories relevant to my niche domain.
Each category will predominantly either have informational or commercial keywords.
I fill each category with as many keywords as I can using Ahrefs and their "matching terms" tool. Obviously, there are also some terms you can find with common sense or knowledge of the topic.
The goal of segregating into categories is then to create sub-categories for better navigation and topical coverage.
The categories matter as they do keep things organized, not only for the webmasters but also for the readers.
Link Building
Link building is critical at the beginning to get out of the sandbox.
What I mean is that without any backlinks for a fresh website, it's difficult to appear quickly in the search results.
At first, I was mainly focused on using the HARO platform. It was a great way to get backlinks from big media. But since 2022, I've noticed the yield turning poor. I can hardly get any backlinks.
I then moved on to Terkel, as I heard it was pretty similar to HARO. As much as I think Terkel is a great platform, I also think it's way more limited than HARO.
I haven't been able to find links relevant to my field on Terkel during my 6 months of replying to queries, so I've since stopped using it.
I've acquired some links via guest posting, but I felt they didn't move the needle as much as links from HARO. So I've also stopped.
I am currently happy with my backlink profile, so I've decided not to focus on link building until at least 2024.
There are some informational pieces of content I would like to publish first to support my next email campaign for link building.
His Content Creation Process
First, I create a very detailed brief around a targeted keyword. This can take me 3 to 4 hours. To know what to include in my brief, I analyze the current content of the SERPs relative to the keyword and research a better way to answer the intent.
Once the brief is ready, I pass on the brief to my writer.
I go through the content delivered by my writer and make sure the explanations are straight to the point and fluff-free. I add some data if necessary.
It's really an iterative process: my writer has a point of view, and I have mine. I like to think that two brains are better than one, so I just try to merge all the good ideas.
I use SurferSEO to fill the proper density of keywords and finalize the edits.
I add custom-made images or stock images if relevant. If I add custom images, I send the brief to the illustrator so that she can start to produce them.
Once everything is ready, I finalize the last bits on WordPress and click publish.
My writer comes from ProBlogger, a great platform for finding talent. As for the illustrator, I found her on Fiverr.
His Thoughts on Email
I'm not building an email list for now. But that's in the plan. 
I'm currently developing my YouTube channel, and I'm thinking about pushing the videos via an email list (in addition to organic YouTube search).
I also plan on building my own products, but that would be in 2 or 3 years. The email list will be helpful to push them.
Ludovic's Favorite Resources
If you're ready to invest in a course, the Authority Site System is gold.
If you're already a blogger or invested in SEO, I would recommend the Authority Hacker podcasts.
I know I only recommend content from Authority Hackers. I genuinely trust and appreciate the two founders. They really care to provide as much value as possible to their students.
His Go-To Tools
For obvious reasons, I can't see myself not working without Google Docs. It can integrate many plugin functionalities and is just perfect for cross-team collaboration.
I always refer to Ahrefs as my eyes. When I first stepped into digital marketing, I was astonished by how simplistic and widespread these SEO tools were. 
With them and proper training, you can decrypt the needs of people and do your best to produce content that can satisfy them.
It's so much fun to use Canva. The more I use it, the more I realize how powerful and capable it is. Maybe you wonder what I use Canva for?
I use it to find stock images, make custom graphics, create pins for Pinterest, extract music for my YouTube videos, and even create Thumbnails for YouTube.
His Biggest Challenge
This year, 2023, has been very stressful with the emergence of AI. It feels like there's more and more automation happening with content creation. 
The competition seems to have stepped up significantly with AI, as with good prompts, you can write content that's better than a budget content writer.
Another thing that's challenging is dealing with Google Core Update. Google often communicates clearly about updates to its ranking factors. However, when an algorithm update occurs, it's challenging to determine your level of compliance with Google's guidelines.
It's proven to be quite a big challenge to follow up on these. Sometimes you end up winning; sometimes you end up losing. 
In case the update has not been too kind to you, you're good for an audit to see what corrective actions should be made.
His Main Accomplishment
My greatest accomplishment is creating content that's helpful for people. It means the world to me.
I've received my first comment on my YouTube video of a person saying that I saved her tons of time thanks to my video.
I'm only at the beginning of my journey, and I hope I can become a go-to source in my niche. I have a good idea of the direction to go, but there's tons of work to reach this point. So, head down, and let's keep working.
What He Wishes He Knew When He Started
I wish I had known earlier how important it is to delegate tasks. I've been stubborn about wanting to do everything by myself, like learning to use Blender when I could have hired a freelancer to help me design the images I wanted.
Other than that, I'm very grateful for the process, and I embrace the fact that I knew nothing at the very start. 
Looking back at where I come from, I'm very proud of my blog ZenSoundproof.
His Main Mistake
I should have exposed myself more right at the beginning. For example, I should have started YouTube videos earlier. I only have one video live so far.
On the more technical side, I regret having fallen into a routine when writing content. 
At some point, I started to focus on product reviews, which is not a bad thing in itself, but It messed up my ratio of info content vs. commercial content. I aim for a ratio of 60% info content and 40% commercial content.
So, for the next year, I'll focus on bringing in info content to balance things out.
His Advice for Other Entrepreneurs
I would tell aspiring entrepreneurs that running a blog post is like any side hustle. For it to work, it needs time and a lot of dedication.
Don't embark alone on your journey. Find a mentor, course, or even a community to learn from.