Niall Doherty has always been one to think outside the box—whether it's his lifestyle choices or his business ideas. 
For example, for 3+ years, he traveled the world but never set foot on an airplane. Most recently, he settled down in one of the world's smallest countries.
And from an entrepreneurial standpoint, he built a website called eBiz Facts. He created a system for reviewing online courses that is completely one-of-a-kind because it is brutally honest and includes user-generated reviews.
Today he's taking home $15k/month, and he's just getting started.
Keep reading to find out
How he got into affiliate marketing
What his initial idea for his website was
What his review process entails
What makes his reviews unique
What sometimes happens when he publishes a negative review
His main approach to marketing
His SEO strategy
How he does keyword research and creates content
His future plans for his email list
His favorite resources and tools
His biggest challenge
The accomplishment he's most proud of
His main mistake
The advice he would give to other entrepreneurs
Meet Niall Doherty
I'm 40 years old and from Ireland, but I currently live in the tiny country of Andorra (it's hidden away in the mountains between France and Spain).
I haven't spent much time in Ireland in the last 15 years or so. My last 9-to-5 job was as a web designer for a university in New Orleans. I quit that job in 2010 to work for myself and travel the world.
I spent most of the next decade doing the digital nomad thing, including a 3.5-year stretch where I circumnavigated the globe without flying. 
During that time, I made my living mostly as a freelance web designer.
I got married last year and decided to settle down in Andorra and build a nice home base here.
Why He Created eBiz Facts
Before starting eBiz Facts, I had been running an online course for a few years, teaching people how to travel the world and work online as a freelancer like I had been doing. That course did okay but never gave me a great ROI, so I was looking for something different.
A friend of mine had had some great success with a niche site, and the way he described the business model appealed to me: just write great content and monetize with affiliate offers where it makes sense.
I decided to do that for the "make money online" niche, so eBiz Facts was born at the end of 2018.
The big idea initially was to do in-depth, carefully researched, and brutally honest reviews of "make money online" courses and gurus. The first person I looked at was Tai Lopez. I spent about six weeks researching him, consuming his content, buying his courses, and combing through his materials.
Ultimately I published 6 articles and reviews about Tai Lopez and his courses, amounting to more than 20,000 words, and a couple of YouTube videos. I rated one of his courses quite low and gave another a decent rating. I was an affiliate for Tai, and I worried I might get kicked out of his affiliate program for being too honest with my content, but they didn't seem to have a problem with it.
I remember seeing the first affiliate commission come through a day after I published all the content. It was only $15, but it felt amazing. I was sure I was onto something.
Since then, I've published many more reviews of other courses and earned $500,000+ in affiliate commissions.
At the start of 2021, I changed my review process significantly.
I now have a 31-factor process for evaluating and rating each course. And we also collect and publish ratings and reviews from students, combining their insights with our own to arrive at a fair and accurate overall rating for each course.
The Impact of Honest Reviews
Something unusual about the business is that we've been threatened with lawsuits multiple times. Some course creators have taken exception to our critiques of their courses and responded with legal threats. Those experiences have been stressful, but ultimately nothing came of them. 
We've also been kicked out of numerous affiliate programs, usually for being too critical of a course. Most course creators are used to affiliates saying nothing but nice things and going to great lengths to convince people to sign up for their courses. But our rating of a course isn't determined by whether or not we have an affiliate partnership with the course creator.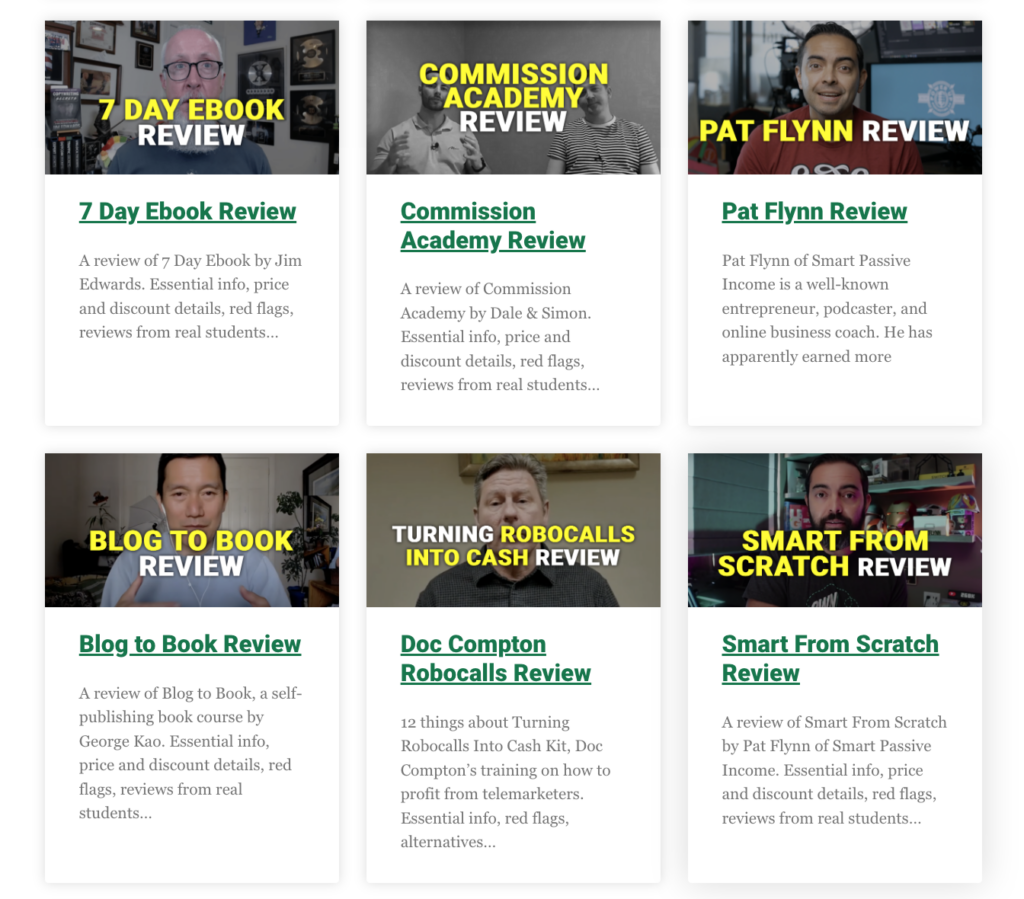 That often costs us money in the short term – for a long time, one of our top-rated courses didn't even have an affiliate program – but I like to think it builds trust with readers and leaves us better off in the long run.
How Much Money Niall is Making
I've been publishing monthly finance reports on my website since 2011, so you can see the exact progression of my business there.
In the past six months, eBiz Facts has averaged $19,102 in monthly revenue and $5,042 in monthly expenses. About 95% of the revenue comes from affiliate commissions. 
A good chunk of the expenses these days is for hired help. Last year I transitioned the business from being mostly a one-man operation to having a team of 5 contractors assisting me regularly.
His Top Marketing Strategy
Search Engine Optimization is how we get the vast majority of our traffic. We rank quite well for course review keywords.
If we are an affiliate for a course, we have a big CTA at the top of the review, regardless of the rating.
Since starting eBiz Facts I've also put out a weekly newsletter (as of a few weeks ago, it's twice weekly). 
A Unique Strategy That Works for Niall
No other review site in our niche does crowd-sourced reviews. Or, at least, they don't do it well. And I understand why: it's way easier to just write up a review of a course yourself.
But I believe the ideal experience for someone interested in buying a course is to see a bunch of well-curated and insightful reviews from real students. So that's what we try to provide on eBiz Facts, together with a well-researched editorial review that gives a handy overview of the course, the pros and cons, the alternatives, etc.
Finding real students for each course and convincing them to leave reviews has been tough, but ultimately I feel our content is much better because of it.
The Importance of SEO
SEO is crucial for our business.
I would simplify our strategy down to these bullet points:
Quick keyword research via Ahrefs to figure out what courses to review
Research the courses and publish the reviews
Collect and publish student reviews
Wait a couple of months
Use recommendations from Surfer SEO to tweak the review and improve rankings
Keyword Research
We keep it very simple. 
If a course review keyword seems to have decent search traffic, according to Ahrefs, we'll at least publish a "stub review" of that course.
A stub review is a short piece of content with only factual info about the course, without a judgment or rating.
We'll let that sit there for a few months and see how it ranks or if it brings in much traffic. Usually, the results there is a good indication that it would be worthwhile to write up a full editorial review and make the effort to collect student reviews.
Link Building
We barely do any active link building.
eBiz Facts has a pretty good backlink profile, though. A lot of that is due to the site originally being my personal travel and personal development blog. That picked a lot of nice links organically over the years, giving the site a good headstart when I repurposed it into eBiz Facts.
Lately, we have been making more of an effort to get our site listed on various directories and to partake in more interviews like this one, but it still feels like we could be doing way more here.
His Content Creation Process
We have a 31-factor process for each editorial review. So we go through the course – usually, we'll have access to it – and evaluate it based on those factors.
Our scores there feed into an algorithm that spits out an editorial rating of the course.
Then we write up our review of the course based on a template. That usually goes through 1-2 rounds of revisions before I'm happy to publish it.
Once published, we go to work finding and "recruiting" students of the course to add their reviews. We also have a complex algorithm for their reviews, which determines how much impact their course rating has on the overall course rating.
His Email List
I send out a twice-weekly newsletter to 28,000+ people.
I share tips, opportunities, and inspiration for building an online business in each edition. 
Growth of that list has mainly been via SEO. When someone comes to the website, they'll usually see an email opt-in encouraging them to sign up.
Recently we've been working to repurpose the newsletter content and post it on social media. We're starting to see some results from that.
How Much He Works on His Business
I track all my work hours, and for the past several months, I've averaged 92 hours per month, so about 21 hours per week.
This is strange because it feels like I work much more than that!
How Long it Took to Reach His Current Earnings
I started eBiz Facts at the end of 2018, and it didn't earn much affiliate income for the first year. I believe it was less than $10,000 for the entire year, and $4000 came in a single month.
The business really started to take off in 2020. I believe it was the combination of all the work I'd put into it the year before, combined with many more people looking to make money online during the pandemic.
July 2020 was the first month I cracked the $10k mark, earning more than $18,000 overall. Revenue has been pretty consistently around $15k/month since then.
Niall's Favorite Resources
The main course I've followed to build eBiz Facts is The Authority Site System (TASS) by Authority Hacker. I learned a ton from that about SEO and how to create great content.
The course was great back when I started, and they update it regularly, so it's still really valuable.
His Top 3 Tools
ClickUp is the #1 tool I use every day. I organize my entire life there, both business tasks and personal. It's great for collaboration, really powerful, and flexible.
Ahrefs and Surfer are my weapons of choice for SEO.
We use Jotform for collecting student reviews, and that's really handy.
His Greatest Challenge
I would say it's constantly feeling overwhelmed.
Because there is always more I could be doing, and it's easy to feel like I should be doing those things and making faster progress.
This year I'm trying to relax a bit and not stress myself out so much, feeling like I always need to do more, more, more.
Niall's Main Accomplishment
I quit my last 9-to-5 job in 2010, so I've been doing my own thing for over a decade now and earning enough money to do everything I've wanted to do.
Working for myself online has given me the freedom to travel the world, work on my own schedule, and follow my interests… and more recently, it's enabled my wife and I to move to a country we love (Andorra) and start a new life here.
What He Wishes He Knew When He Started
I wish I had known not to be so idealistic.
Nowadays, I try more things and probably fail more than I did back when I was starting out. But I learn from those failures and adjust course.
His Biggest Mistake
Going way back to when I started working for myself, my biggest mistake was chasing passive income. I'd read in books like The 4-Hour Workweek that you should avoid trading time for money and focus on passive income streams instead. That led to me wasting a lot of time and effort.
It was several months before I embraced freelance web design, and that became my most reliable source of income for several years.
His Advice for Other Entrepreneurs
If someone is just starting out and have yet to make any money online, I strongly recommend starting with freelancing or a remote job.
You'll gain a ton of experience and earn while learning.
Eventually, you'll be good enough to increase your pay and reduce your hours, thus giving you the time and financial freedom to pursue business ideas that can ultimately generate millions of dollars and/or passive income.