When Nellie Acevedo first started her blog about 12 years ago, she used it exclusively as a place to vent her frustrations. Over time, she pivoted and started to focus on other topics such as recipes, working out, and being a mom in NYC.
A few years ago, she joined Mediavine and dedicated her site, Brooklyn Active Mama, completely to helping moms. Today she's bringing in +$10k/month in ad revenue alone. And on top of that, she's also earning income from sponsored posts and courses she's created.
Keep reading to find out:
Why she created her site
Everything Nellie's working on now
How she gets sponsored posts
Her top marketing strategy
The role SEO has played on her journey
Her keyword research approach
How she creates content
Her favorite resources and tools
Her biggest challenge
Her most important accomplishment
The main mistake she's made
Her advice for other entrepreneurs
Meet Nellie Acevedo
My name is Nellie, and I've been blogging since 2011. My blog started off as a fun way to vent my frustrations, and then it morphed into a blog that documented my life as a mom in NYC. I was able to build a fun community of moms that loved to work out but also read about the everyday life of a mama in the Big Apple.
In 2019, I joined Mediavine and decided to shelve my personal posts and become a resource website for busy moms with easy recipes, printables, and fitness tips.
Why She Created Brooklyn Active Mama
I created Brooklyn Active Mama to chronicle my journey as a busy mom in the city. I came up with the name because I was born and raised and still live in Brooklyn, NYC. I'm a bit of an exercise nut, so there came the "active" park. The "mama" came from being a mom!
I'm also the creator of 2 courses. The first one is Traffic Tricks, which is designed to help bloggers with a lot of underperforming content bring their blog back to life. The second is Blogging For Black Girls, an intro to blogging course that teaches women how to build, market, and create search-friendly blog content. I also do 1-1 consultations with established bloggers, and I also co-host the Black Moms Chat podcast.
How Much Money She's Making
Brooklyn Active Mama is currently averaging +$10k a month from ad revenue. This doesn't include sponsored posts, which average around $3k to $7k each. I also make additional income from affiliates and course sales.
With regard to getting sponsored posts, it really depends on whether or not I feel connected to the brand and the message. I have been approached many times with campaigns that simply did not suit me. 
As much as I'd love the paycheck, it feels uncomfortable when I do work that doesn't align with Brooklyn Active Mama. I don't reach out to brands; they have always reached out to me. Staying consistent in what you talk about and being accessible is a great way to get these types of blog posts.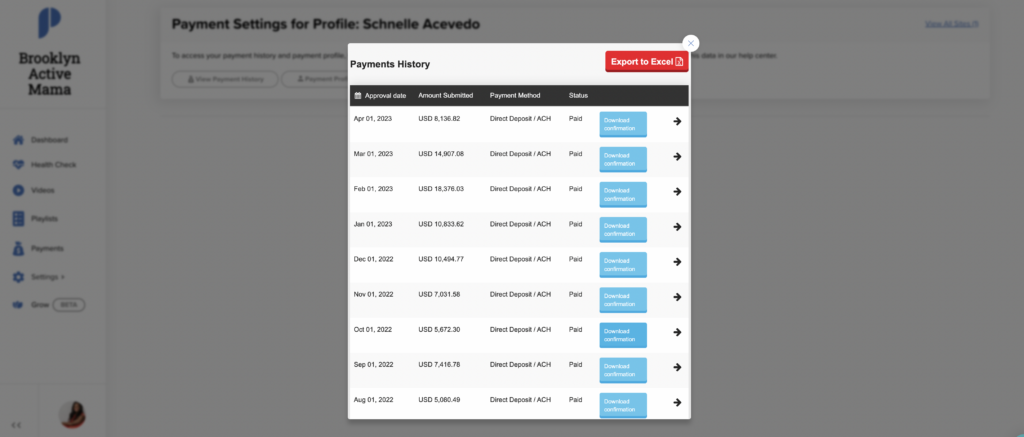 I work on my business about 30 to 40 hours per week.
Her Top Marketing Strategy
It changes often, but right now my main marketing strategy is through web stories. I create several per day, and they have brought a significant amount of traffic to my website.
The Importance of SEO for Nellie
In 2011, I had no idea what SEO was. I'd attended several conferences and still couldn't get it. Then once I got into Mediavine, I realized that the sky was in fact the limit when it came to earnings. 
I knew SEO was a big part of my earnings strategy, and Google has never liked my site much, but I also knew I needed to know the rules to play the game. 
My organic traffic has increased a lot over time, but it's not my top traffic source. I learned SEO through lots of Facebook Lives, Zoom calls, podcasts, and YouTube videos. It was a lot of information, but I started taking the common threads and applying them to old and newly-created content.
Keyword Research
My keyword research is done with KeySearch and RankIQ. If there's a specific keyword I want to write about, I'll do all the research in KeySearch. If I run out of ideas, I check the RankIQ keyword database for low-hanging fruit.
Link Building
Link building is super important. Since I have many recipes, it's easy to answer the requests in Facebook link building groups. I log in at least once a day to see where I can contribute. I have tried HARO but haven't had much luck.
Her Content Creation Process
My current content creation process has a foundation of whether or not the content is helpful for busy moms. Is it a printable that will make life easier (or more fun)? A fitness post that might inspire a fellow mom to find time for herself? Or is it a recipe that might help a mom make something new for dinner tonight instead of the usual?
I try to answer all of the questions I can find in KeySearch and Google, then add my own spin to the content to make it my own.
I publish new articles 5 to 7 times a week. I currently have around 1,200 posts.
Her Email List
I grow my list with specific opt-ins. I have a fitness journal opt-in for my fitness visitors, different specific PDF cookbooks for my recipe visitors, Disney luggage tags for people that find my Disney tips helpful, and so much more.
I use Canva to create all of this.
Nellie's Favorite Resources
I'm a big fan of the Niche Academy Podcast, but I also like to listen to Food Bloggers Pro, Blogging Millionaire, Eat Blog Talk, and TopHatRank on YouTube.
The tools I use all the time are:
QuickBooks: QuickBooks was a game-changer for me for keeping track of expenses, payments, and more
Canva Pro: I use Canva for everything—Pinterest pins, cookbook PDFs, reels, cover photos for reels, IG stories, website design, and so much more.
Google Bard: I like to use Bard for meta descriptions, captions, blog outlines, and inspiration in general.
Her Biggest Challenge
My biggest challenge was pushing forward and believing the traffic would come even when I wasn't seeing it. Continuing to create content and push forward, and have full confidence that one day I'd have half a million monthly pageviews. Now that I have reached that, I can't wait to get to 1 million!
It took about a year to start seeing solid traffic. In 2020, I saw significant growth, and things have been going upward ever since. I've grown 60% each year.
Her Most Important Accomplishment
My most important accomplishment as an entrepreneur has been being able to be a full-time mom to my 3 kids. This flexibility has allowed me to do pick-ups and drop-offs and be involved in daytime school activities. 
What She Wishes She Knew When She Started
Had I known, I would have spent a lot more of my time creating content for my website vs. spending so much time on social media. 
I spent a lot of time creating the perfect photos for Instagram, perfecting the best Tweets, and so much more. If I had the choice, I'd create evergreen content for my blog from the beginning.
Nellie's Main Mistake
My biggest mistake is worrying about what other people thought about my business decisions.
Instead of creating content for the audience and community I wanted, I was creating content that I thought my blogger friends would approve of. Once I took that out of the picture, I was able to create content freely and easily.
Her Advice for Other Entrepreneurs
Spend your time wisely. What you do this week may not be what you spend time on next week. Constantly re-evaluate where you need to be putting your energy and resources. 
Don't be afraid of having to pivot. Trust and believe your gut, and you will be just fine.