Need to add a Twitter feed to WordPress?
No problem.
In this post, we'll look at two ways you can do this:
The first is with a plugin (recommended)
And the other is done manually
I'll show you the exact steps to do both. And look at the best Twitter feed plugins for WordPress for you to choose from.
Let's get started.
How to Add a Twitter Feed to WordPress?
To add a Twitter feed to WordPress, there are two methods:
Using a plugin
And adding them manually
To add them manually, you can simply copy and paste the Twitter URL into WordPress or use Twitter Publish.
But this can get a little tedious when you want to display tweets with a specific tag.
This is where plugins make the whole thing easier.
In the example below, I'll show you how to add a Twitter feed to WordPress step by step using a popular plugin.
Then we'll look at some other plugins that will also get the job done.
How to Add a Twitter Feed to WordPress with a Plugin
From your WordPress plugins screen, search for the plugin "Custom Twitter Feeds" and install and activate it:
Then head over to Twitter Feeds > All Feeds on the left sidebar menu. From the All Feeds screen, click the Add New button:
The next screen will give you three options. User Timeline, Hashtag, and Home Timeline:
Choose User Timeline and click Next. On the next page, add the Twitter username you want to display and click Next:
Next, you'll see the Twitter feed on the right and some options on the left: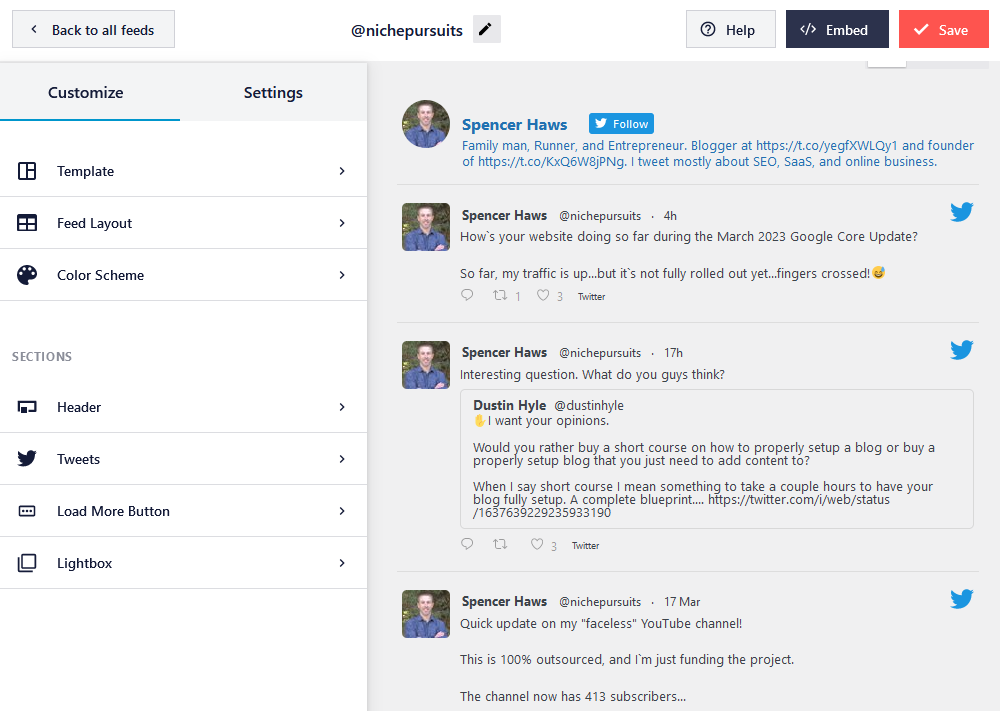 These options allow you to customize the way the feed looks. Play around with the settings and click Save.
Then, click the Embed button to get a unique shortcode: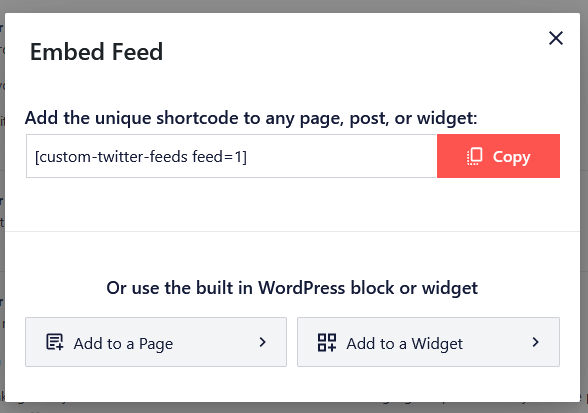 Now paste the shortcode where ever you want to display the Twitter feed:

Here's what this Twitter feed looks like on the front end: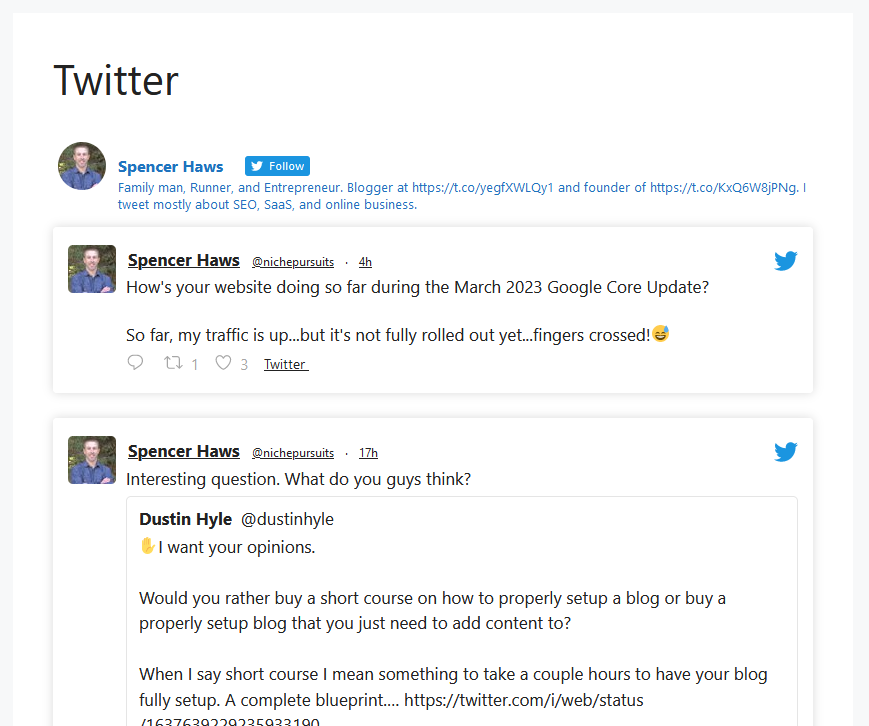 In the pro version of this plugin, you're able to make further customizations to the layout so it fits the design of your site.
Why Use a Plugin?
The main benefit of using a plugin to add a Twitter feed to your site is simplicity.
Other benefits include:
Infinite scrolling of Twitter feeds
Caching to improve page speed
More design options
And more
Next, we'll look at some of the best Twitter Feed WordPress plugins for you to consider.
4 Best Twitter Feed Plugins for WordPress
Here are 4 of the best plugins to add a Twitter feed to WordPress. We'll look at the different features they have to offer and what makes them different.
Smash Balloon

Custom Twitter Feeds by Smash Balloon is the most used Twitter feed WordPress plugin by a long shot.
The free version has over 100,000 active installations and boasts a 4.9-star rating.
Its features include:
Twitter hashtag feed, Twitter timeline feed, a user profile feed, list feed, and search feeds
Feed filtering
SEO optimized
GDPR Compliance
Combine multiple feed types
Feed design and layout customizations
Load more tweets as you scroll
And much more.
It's also really easy to use and offers a simple and clean user interface.
With the custom Twitter feeds plugin, you're able to showcase all sorts of Twitter content without it slowing down your site.
Smash Balloon also lets you embed Instagram feed on WordPress, Facebook, YouTube, and embedding reviews from sites like Yelp, and Google.
Pricing for Custom Twitter Feeds by Smash Balloon starts at $49 per year.
WP Social Ninja
WP Social Ninja is another great plugin with an excellent reputation.
This WordPress Twitter feed plugin lets you display user timelines, home timelines, hashtags timelines, and @mentions.
There are also a lot of features that make it quite powerful:
Number of Tweets shown
Feed backups
Show images, videos, and GIFs
Different feed layouts
Feed cache
Advanced filter options
And much more.
Once you've created your feed, you simply add a custom shortcode to a WordPress post or page.
There are a ton of customization available with this plugin. And you can fully customize the design.
Feed Them Social
Feed Them Social is an all-in-one social feed plugin to display feeds and timelines on your WordPress site.
It has both free and paid versions with some decent features, even in its free version.
It supports Twitter, Facebook, Instagram, and YouTube.
These are just some of its Twitter feed capabilities:
User feed, hashtag feed, and search feed
Choose the number of recent tweets to display
Customize width
Show or hide the cover photo, status bar, retweets, and replies
Popup model for photos and videos
Load more button
Grid layout
Customize the design and layout (colors, text, padding, etc.).
It also has caching options to keep things fast and the ability to add custom CCS and JavaScript.
To get all premium features, pricing starts at $50 per year. This covers all social networks, which is more affordable than other WordPress feed plugins.
Easy Twitter Feed
Easy Twitter Feed is quite different from the others as it is the most simplistic with basic features.
You simply install the plugin and add a feed with shortcodes. There is no options panel to change settings; it's all done in the shortcode.
For example:
[timeline username="YOUR_USERNAME"] will display a Twitter feed of the username you enter.
Moreover, you can adjust the theme and size by adding extra details inside the brackets.
There is also a shortcode for adding a Twitter follow button.
This is a completely free plugin, and you can get more details here.
How to Add a Twitter Feed to WordPress Manually
There are a couple of ways to add a Twitter feed to WordPress manually. However, one method will only embed a single Tweet and not a full feed of tweets.
Let's look at the other method first, so you know how it's done.
Head over to the Twitter Publish site and enter the Twitter URL feed:
Hit enter, and you'll see two display options, Embedded Timeline, and Twitter Buttons: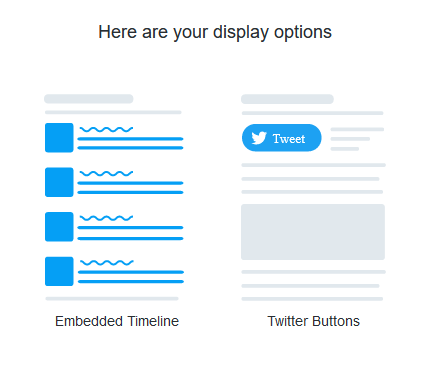 Choose Embedded Timeline, and you will see a demo of what it looks like:
You also see a link called set customization options. Click it to see a few settings:
These settings let you change the height and width, a light or dark theme, the language, and an option to block tracking: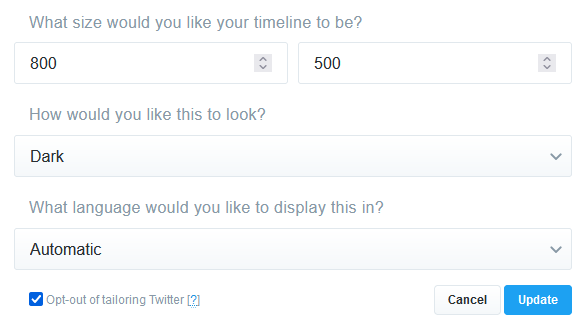 Enter the settings you want and click Update. You can see what it looks like below: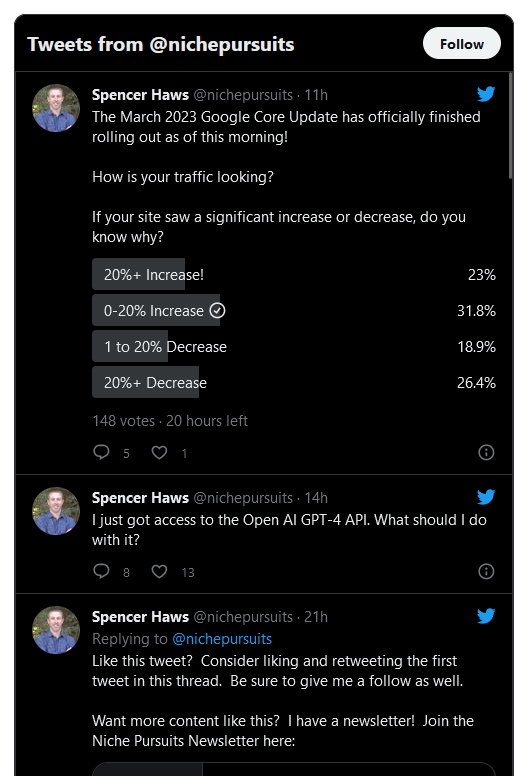 To embed it, copy the embed code it generates and go to your WordPress site. You can embed it anywhere on your site that you want the Twitter feed to show. Inside a blog post, on a page, or in a sidebar widget:
This method also works for Twitter threads and single Tweets. However, if you want to embed a single Tweet, there's an easier option.
Just copy the URL of the Tweet you want to show and paste it into the Twitter WordPress block. Like this:
WordPress will do its magic and automatically display the Tweet: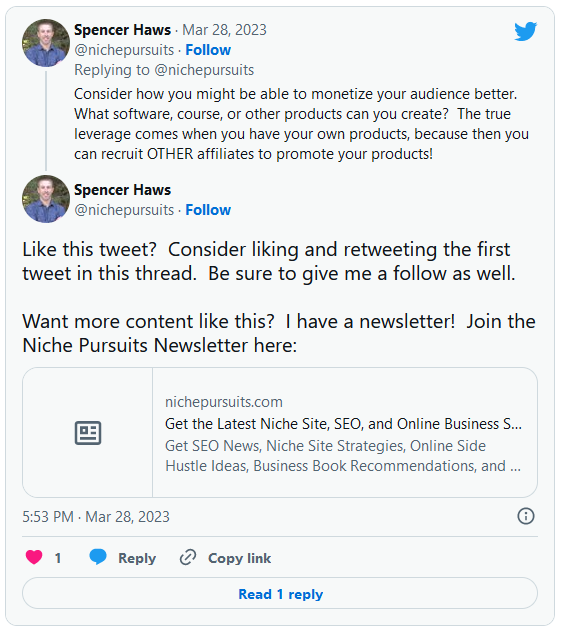 Why Do it Manually?
Adding a Twitter feed manually is quick, simple, and completely free. The downside is the lack of feed types you can display and layout options.
Using a plugin gives you more customization options and extra benefits like speed optimizations.
FAQs
Here are some important answers to frequently asked questions about adding a Twitter feed to WordPress.
Why Add a Twitter Feed to WordPress?
One benefit of adding a Twitter feed to WordPress is to provide social proof.
Getting testimonials through Tweets would be a great way to show your website visitors the results they get.
Another reason you would want to add a Twitter feed is to keep people engaged on your site. It can also drive traffic to your Twitter page to get more followers.
How do I Add Twitter to my Sidebar in WordPress?
You can either use the manual method to add a Twitter button or feed in the sidebar. You do this by pasting the embed code Twitter provides into an HTML widget.
Or you can use a WordPress Twitter plugin mentioned on this page. You can simply create the feed and paste a shortcode in the shortcode widget.
How to Automatically Tweet When You Publish a New Post in WordPress?
You can use the plugin WP Twitter Auto Publish to post a Tweet each time you publish a WordPress blog post.
Other options include IFTTT, Zapier, or Uncanny Automator.
Conclusion
That concludes this tutorial on how to add a Twitter feed to WordPress. I hope you found it useful.
To summarize, the best way to do it is with a plugin. Custom Twitter Feeds by Smash Balloon and WP Social Ninja are two great options.
One last thing, Niche Pursuits is also on Twitter. Follow us here to learn more about starting an online business and clever ways to make money online.