Have you ever opened your WordPress website only to find out that it's set to the wrong default page?
Lucky for you, we've created a step-by-step guide on how to change your index page in WordPress from your cPanel and internal settings.
Let's get into it.
How To Change Index Page In WordPress
When a person opens your website, WordPress checks a sequence of pages and opens whichever one works.
Sometimes, this sequence gets corrupted and opens up index.html instead of home.html, which should be your default welcome page.
Here are the steps to fix this error from your cPanel dashboard:
1. Login to your cPanel dashboard from 'https://your-domain-name/cpanel'.
2. Locate and click File Manager in the files section.
3. Click on Settings in the top right corner, check the "Show Hidden Files" box, and hit Save.
4. Select 'public_html' from the left navigation bar and find the '.htaccess' file. Right-click on the file and select 'Edit.'
(Note: If a pop-up may appear regarding encoding, simply click on the edit button)
5. Enter the following code under the last line to change the loading sequence of your index page:
#Alternate default index page
DirectoryIndex example.html index.htm index.html index.php
(Note: example.html refers to the page you want to display as the default homepage. Make sure to rename it exactly to the page you want to load up first.)
6. Once you paste this code, the server will check and open whichever page works in the following order: 'welcome.html > index.htm > index.html > index.php'. If you want to change this order, rearrange the file names as you please.
7. Click on Save Changes in the top right corner.
How To Change Default Homepage In WordPress
An attractive and user-friendly homepage can either make or break the deal when it comes to impressing new website visitors.
Since a basic index page won't have that charm, we'll teach you how to apply a static page or the latest blog posts on your WordPress site.
Here are the steps for both:
Display Your Latest Blog Posts
1. Login to your WordPress admin dashboard.
2. From the left navigation menu, click on Settings > Reading.
3. Find 'Your homepage displays' and click on the 'Your latest posts' radio button.
4. Scroll down to the bottom and select 'Save Changes'.
After this step, your website will display your latest blog posts on the home page. This format suits personal blog owners who want to keep their websites clean and simple. Whenever you publish a new post, it will automatically appear on the top of your home page.
Display A Static Page
1. Login to your WordPress dashboard.
2. Navigate to Settings > Reading from the left menu.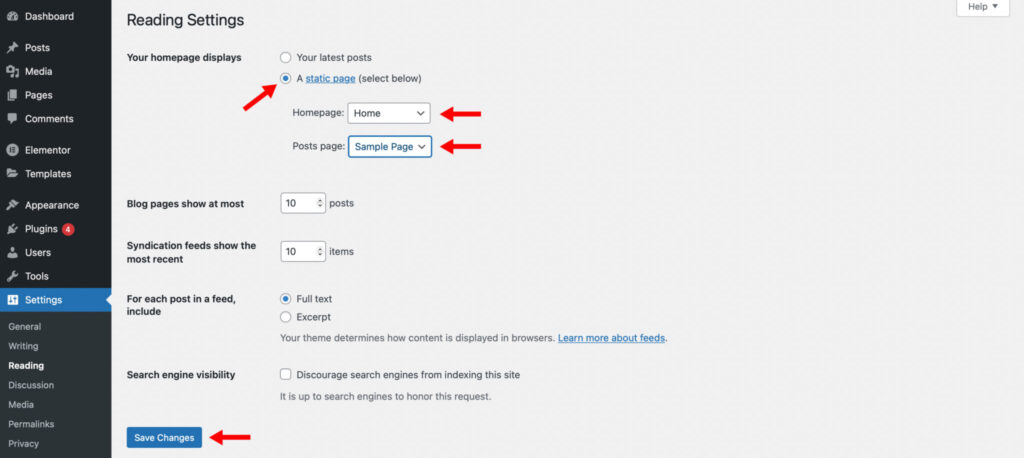 3. Look for 'Your homepage displays' and click on the 'A static page' radio button.
4. Once you've done this, two drop-down menus titled 'Homepage' and 'Posts page' will appear below. Click on – Select – to assign a page or create new ones from the Pages dashboard.
5. Scroll down and click on the Save Changes button.
In static mode, your website will load a blank page when you open the URL and create a separate one for your latest blog posts. You can personalize this static homepage with the following steps:
1. Go to your WordPress admin dashboard.
2. Click on Pages > All Pages.
3. Hover on your homepage (the one titled 'Front Page') and click on 'Edit'.
4. Start adding text, images, slides, and other elements to the page.
5. Once you're done, click on the blue 'Update' button from the right sidebar.
If you're struggling to make your homepage look attractive, we highly recommend that you try Elementor. It's a drag-and-drop tool with 100+ elements and 300+ pre-built templates that let you effortlessly design your pages or import one that suits your website best.
FAQs
Here are some answers frequently asked questions on how to change index page in WordPress.
How To Put Your Website In Maintenance Mode?
To place your WordPress website in maintenance mode, download the plugin 'LightStart' and activate it from the settings. Some drag-and-drop builders like Elementor come with a built-in maintenance function that temporarily hides your site from visitors.
You can also create a new page, write 'Website Under Maintenance' in bold, and publish it as your WordPress homepage from Settings > Reading > Homepage.
Where Is The Index Page Located In WordPress?
The index page of your WordPress website is located in your installation directory. It can be accessed by logging into cPanel, opening File Manager, and then going to public_html > wp-content > themes > index.php.
What Is The Difference Between Index.html and Home.html?
Index.html is your website's default welcome page and contains a directory of all your published posts. Home.html is a specific front page that has to be applied from settings and can be customized with various elements like sliders, images, text etc.
Conclusion
WordPress errors can be difficult to solve, especially for a beginner without knowledge of install directories and coding. But by following a few simple steps, anyone can change their index page in WordPress and much more.
If you want to learn how to set a custom logo on your site, check out our article on 3 Simple Ways To Change The Logo In Your WordPress Header.
Adding too many elements to your custom homepage can also slow down your site, which is why we recommend that you check out our list of 13 Best WordPress Speed Optimization Services.