Instagram is one of the most popular and highly used social media platforms today, which makes it a great place to start when looking to increase brand awareness. With over a billion active monthly users, Instagram allows businesses to reach a wide audience and share content that potential customers can view. So you may be wondering how to make money on Instagram and leverage it to grow your business.
Luckily, there are several ways to monetize Instagram, such as sponsored posts, affiliate marketing, selling products and services directly through your profile or website, and leveraging influencer partnerships.
So read on for 11 ways to leverage and earn money on Instagram for all types of entrepreneurs and business owners.
How to Make Money on Instagram: 11 Great Ways
Check out the list and see which best fit your skillsets.
Who knows, maybe you can even combine some ideas!
1. Promote and Sell Your Merch
Instagram is a great place to promote and sell your personal brand. You can use your Instagram account to share product details and redirect the audience to your website.
Another way to monetize from this platform is to create a business account. You can track engagement metrics and create an Instagram shop to sell products.
An Instagram shop is a great way to give your followers an engaging shopping experience. You can create a shoppable post and tag it with the relevant product catalog that users can access once they tap on it. The handy feature makes selling faster and more convenient.
What's more, you don't have to spend much on advertising. Photos and videos uploaded by your Instagram followers are proof of your product's success. You can reshare them on your Instagram profile and expect to receive more orders as customers praise and recommend your products.  
2. Create a Subscription Model
You can make money on Instagram by opting for a subscription-based model. It works by providing your engaged followers access to exclusive content in return for a monthly subscription fee. 
A subscription model will provide you with two essential benefits:
Secure a monthly income – you can choose the amount to charge for the subscription and receive money directly from Instagram.
Connect with your followers – you can appreciate and respond to your fans who pay to watch your content. You can also receive valuable insights to plan your content strategy.
3. Join Affiliate Programs
According to Glassdoor, affiliate marketers earn an average income of $56,149 in the United States. This makes it a great Instagram monetization idea to generate a steady passive income.
Unlike influencer marketing, where you receive a one-time payment for promoting the product, affiliate marketing involves receiving a commission on each sale. You can use your unique affiliate link or coupon code to generate sales and increase your earnings.
As Instagram does not allow clickable links in posts, you can use different methods to reach your audience. Try using the affiliate link in your Instagram story or use the coupon code in different posts.
Stick To Your Values
Another thing to remember when working as an affiliate is to stay firm in your values. Don't just join an affiliate program to receive a commission. Followers can quickly apprehend genuine promotions from money-making ones. Be a part of an affiliate program that aligns with your interests and values.
Want to dive even deeper into the potential of these programs? Check out this complete guide to Instagram affiliate marketing.
4. Work As an Influencer
Influencer marketing is one of the top ways to make money on Instagram. You can partner with your favorite brand and be a brand ambassador promoting products, services, or campaigns.
Influencers are highly sought after by brands due to their power to influence purchasing decisions. According to The Social Shepherd, 61% of consumers trust influencer recommendations when buying a product. Therefore, it is a wise idea to collaborate and create sponsored content with brands that you believe in.
Influencer marketing has a high earning potential, but it takes considerable time and effort to build your Instagram profile. You need to post regularly and create engaging content to attract more followers to your account. You'll also want to learn how to become an influencer by taking courses, joining influencer forums, and reading up on the best practices.
Instagram requires influencers to disclose any paid partnership or sponsored posts. So it is a good idea to include relevant hashtags and captions with your Instagram video or post.
How Many Followers Do I Need to Get Started As an Influencer?
Once you have reached a minimum of 1000 followers, you're recognized as a nano influencer. You can use the account metrics, such as engagement rate, to directly contact brands for sponsorship or decide on what to charge per post. According to Influencer Marketing Hub, Nano influencers with 1000-10,000 followers typically charge $10-$100 per post. 
5. Turn On Live Badges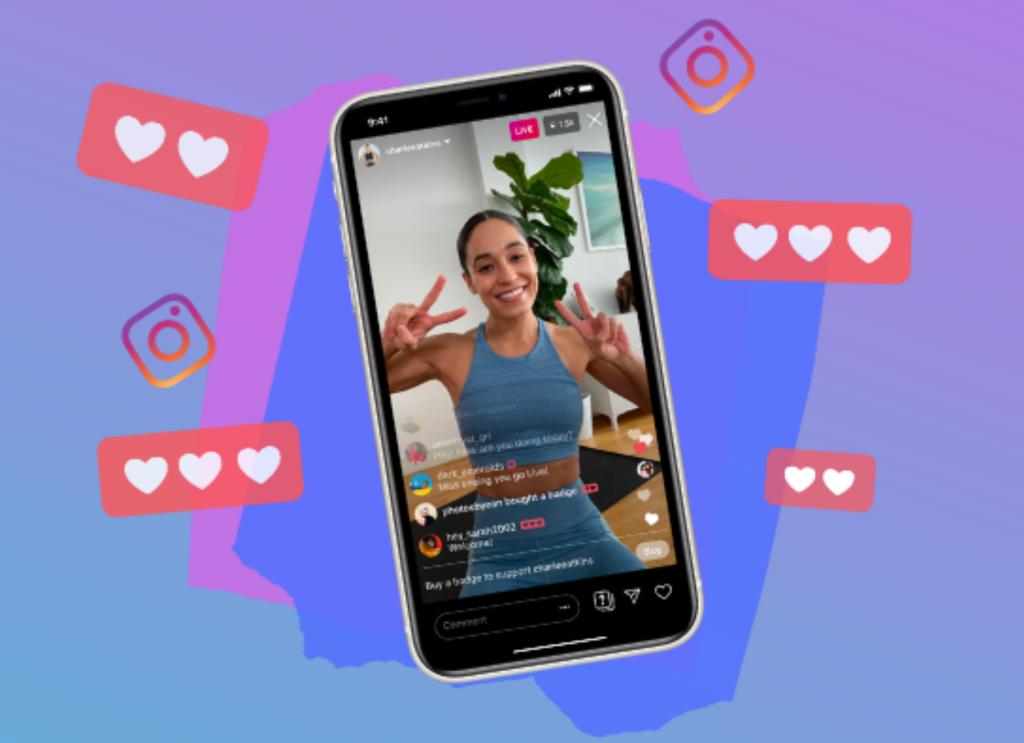 You can enable badges on your Instagram Live to earn instant money. This Instagram monetization feature is currently only available for users in the United States.
Followers can show their immediate support and appreciation by selecting one of the 3 heart levels:
1 badge for $0.99
2 badges for $1.99
3 badges for $4.99
During Livestream, the viewer's badge is displayed next to their comments. Content creators love this new method of praise which allows for earning a decent amount of money in a relatively short period.
6. Work As a Social Media Manager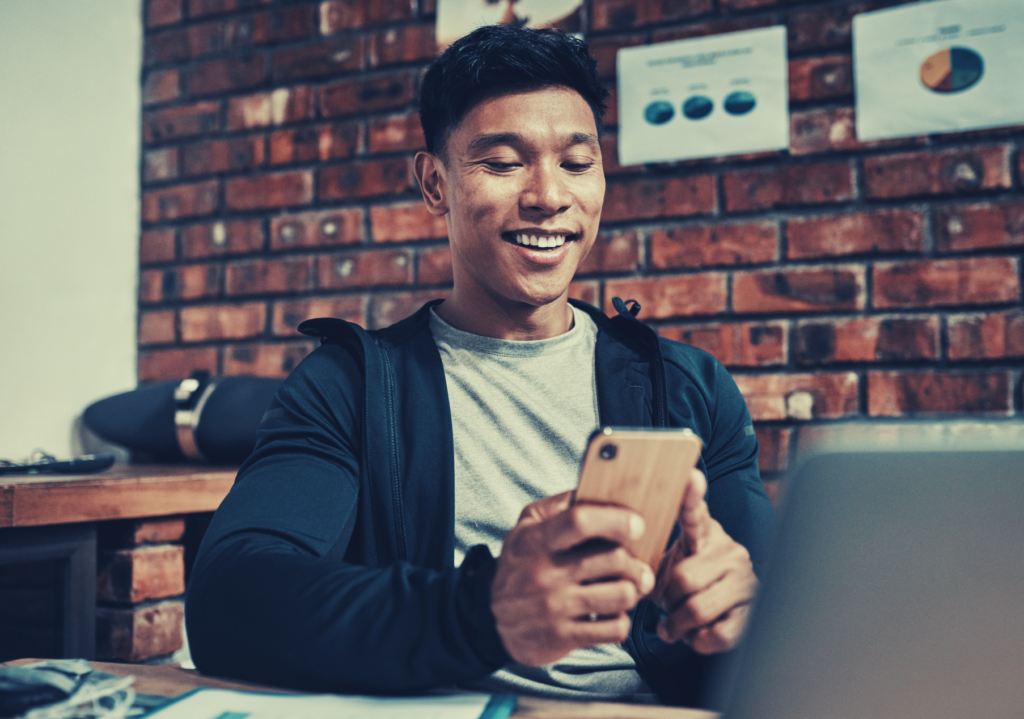 It is a good idea to apply your social media marketing skills to help grow the Instagram account of an influencer. 
According to Glassdoor, Social media managers earn an average salary of $57,841 in the United States. You can fix an hourly charge for your services as a part-time employee or consider working full-time.
Social media managers are responsible for producing content, reviewing analytics, and engaging with followers. You can also develop strategies that can help build and expand followers.
Working as a social media manager is scalable when you use software services to help automate your operations. Read this Meet Edgar review to learn about how you can reduce the busy work and earn more in this role.  
7. Sell Digital Products
Selling digital products is another great way to make money on Instagram. Digital products include anything that does not exist in a physical form. Music, videos, design templates, and logos are all recognized as digital items.
With digital products, you don't have to stock up on inventory or deal with shipping charges. So it's a high-profit margin business and doesn't require much overhead or space for inventory.
If you are an expert in video editing or have a knack for designing websites or logos, you can demonstrate your ability by creating and selling beautiful Instagram reels. This helps creators to gain a massive fan following and boost sales for their business, so savvy designs are sought-after by many content creators.
Many influencers offer digital products that match their content. For instance, food bloggers have started selling their recipes via Instagram Shop. They don't cost much to create or buy, and users get hold of recipes from their favorite influencers.
8. Offer Coaching and Online Courses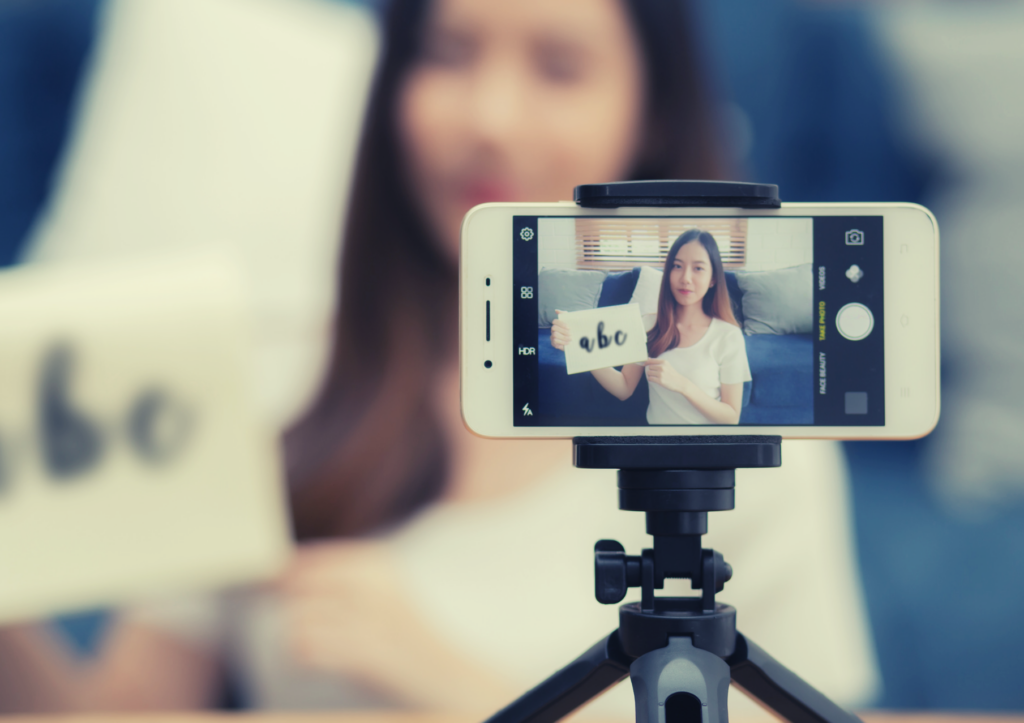 Another way to earn money on Instagram is by offering coaching services. Popular coaching topics include health and wellness, parenting, relationships, and empowerment.
You can create short Instagram reels focusing on specific issues and list further details in captions. Instagram captions are a great way to expand on your post. You can also use the space to redirect them to your website and let them know about the courses you are offering.
What's great about this is that you don't necessarily have to offer direct support to the user. You can prepare course materials in advance and the recipient can download files once payment is processed.
9. Monetize Your Story Highlights
In 2017, Instagram added a new feature to its social media platform – Story Highlights. These are different from the regular story updates that disappear within 24 hours. Story highlights are a group of stories indefinitely added to your Instagram account, just underneath the bio. 
Content creators now have the opportunity to redirect their followers to other websites or platforms. Unlike your bio, where you can only place one URL, story highlights can include unlimited links. You can create an eye-catching highlight image with a meaningful name that gives an overview of your story.
You can monetize from the story highlights by including affiliate links to the various affiliate programs you have joined. It is also a great place to announce new products and includes URLs to the selected pages you want your audience to check out.
10. Host Giveaways and Contests
Once you have acquired the status of a reputable Instagram influencer, you can host giveaways and contests to increase your account reach and following. 
You can partner with brands that are similar to your interests and that have similar brand values.
Giveaways and contests are a great way to increase follower count. To participate, users must show engagement by following accounts, reacting to the post, and inviting their friends to join as well. 
11. Leverage Instagram Ads
Ads on Instagram have an active user reach of 96.6%. You can use this feature to promote your Instagram account.
An Instagram ad is a relatively quick way to reach your target audience. The platform generally places ads based on products or services the user has searched for earlier.
Thus, by using retargeted ads Instagram gives content creators a higher chance of connecting to the desired Instagram user. You can select the maximum budget you would like to spend along with how long you would like the campaign to last. 
Instagram ads do not guarantee immediate results, but they are a great way to create brand awareness. It can help increase visitors to your account and also generate site traffic.  
The Bottom Line: How To Make Money On Instagram
Making money on Instagram doesn't have to be difficult. You can take advantage of the platform's many features like stories and highlights to promote your products.
Which method for monetizing Instagram is going to depend on the type of business you have. You'll want to make sure to choose an approach that best suits your needs and one that will help you achieve long-term success.
And remember, the key to making money on Instagram is consistency and creating great content that will draw people in. With the right strategy and dedication, you can make a profit and even turn Instagram into a successful standalone business.
Good luck!