Are you ready to start earning passive income on Etsy? We've got you covered! In this blog post, we'll guide you through how to sell Canva templates on Etsy.
The success of your business on Etsy comes down to the quality of your product. You must create something that stands out from the rest, grabs customers' attention, and brings in those profits. Canva templates can be a total game-changer for that!
With Canva, you have the power to customize your designs with stunning visuals and super-easy editing tools. In this article, we'll walk you through all the steps you need to take to create and sell your own Canva templates on Etsy to make money online. Let's get started, shall we?
How to Sell Canva Templates on Etsy: Creating Your Canva Templates – Step by Step
So the first thing you need to know about selling Canva templates on Etsy is, well, the Canva templates themselves. We'll guide you through the whole process, step by step.
Market Research & Product Validation
Before you can get started selling Canva templates, it's important to do some market research.
Have a look around Etsy at other templates and see what other sellers are doing. What types of designs/themes are popular? Are there any gaps in the market that you could fill with your own shop?
Niche templates that cater to a specific customer avatar are super enticing because they address a particular problem and show that you really get them. Customers just can't resist!
Popular high-quality templates to sell on Etsy include social media templates such as Instagram post templates and Pinterest pin templates, through to restaurant menus and wedding invitation templates.
Once you've done some initial research, it's time to validate your product idea. Reach out to potential customers or people who share similar interests as the target audience and get their honest opinions. Ask them questions like:
Would they buy your Canva template?
What features would they like/not like about it?
How much would they be willing to pay for it?
You could even set up a listing in your Etsy shop and see if people are interested in your product.
Technically, pre-order isn't really something that Etsy endorses, and everything you list should be available for sale, but you have up to 10 weeks of processing time for any orders.
This way, you'll get an idea if it's worth putting your time into creating your Canva templates.
Check out Sale Samurai to discover high-volume, actionable keywords your competition won't know about.
Create a Canva Account
The next step is to open a Canva account if you don't already have one. The Canva online graphic design tool offers both free and paid plans, but you can sign up with a free account.
There are lots of ways to sign up for a Canva account, and you'll get the option to try Canva Pro free for 30 days.
Create Canva Templates
Now it's time to start designing! Open up Canva and create templates that are truly unique, something that nobody else has ever seen before.
The great thing about Canva is you don't have to be a graphic designer to come up with your own designs.
Head over to Canva and log in to your account. Once you're in, just click on "Create a design" in the top right-hand corner of the screen.
After you've clicked on "Create a design," you'll see a drop-down menu with options for your Canva design. Just choose the one that matches the template you're looking for.
It's best to create designs from scratch rather than take someone else's template and edit it.
Edit Your Canva Template
Now comes the fun part! Designing your template is where the real excitement begins. From the Canva library, you can add text boxes, shapes, lines, colors, custom graphics, and more to your template design.
Get creative with free fonts, effects, transparency levels, and positioning for each element until you've got the look you want.
NB: When making Canva designs to sell, you can't sell printables created with Canva Pro elements, so we'd suggest using only free Canva elements for your Etsy Printable template.
All *free* photos and design elements are available for both commercial and noncommercial use by Canva users.
To grab your template, click the "Download" option at the bottom of the drop-down menu to save the file to your computer. You'll notice the drop-down menu with "PNG" as the default file type.
So, which one is better for digital downloads, PNG or JPEG?
According to the Etsy handbook, PNG is the preferred choice for digital downloads. It retains hi-resolution data, whereas JPEG is a bit lossy. But some sellers offer both options for their digital downloads.
You can also offer a shareable Canva template link to buyers when selling Canva templates, but this must be in the format of a PDF file containing the template link.
How do I Upload and Sell Canva Templates on Etsy?
Alright, so you've got your template, and hopefully, you've already set up your Etsy shop (check out our article that answers the question, is Etsy legit?). If not, no worries; you can create one right here.
Create Your Etsy Shop
Before you dive into the wonderful world of Etsy, make sure to sign in or create your very own Etsy account. This account will be your gateway to running your Etsy store and discovering unique creations from other talented makers on the platform.
After setting up your account, remember to add a profile picture and an interesting bio. This will help the Etsy community get to know the person behind the shop.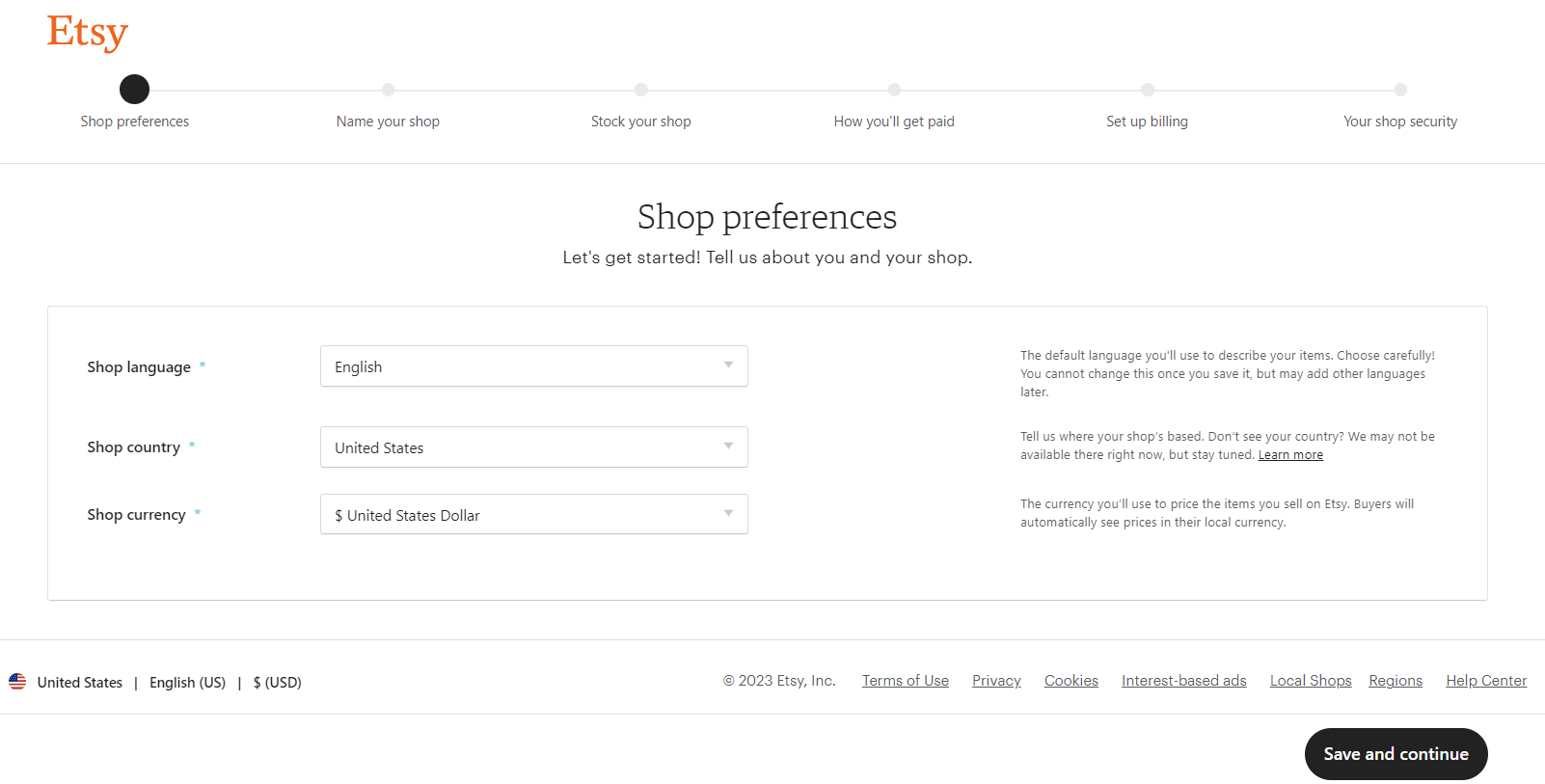 Here's how you can open your own Etsy shop:
Start by visiting Etsy.com/sell and click on "Get started." Answer a few questions about your background, location, and interest in additional selling resources.
Customize your shop by selecting your preferred language, country, and currency. Don't forget to click on "Save and continue."
Choose a unique and memorable shop name that reflects your brand (check out our article on Etsy shop name ideas). Once you've made your choice, click on "Save and continue."
You'll need to complete the first step of opening your shop on a desktop web browser. Once your shop is open, you can easily manage it using the Etsy Seller app. Your Etsy shop is now waiting for you!
Add a Listing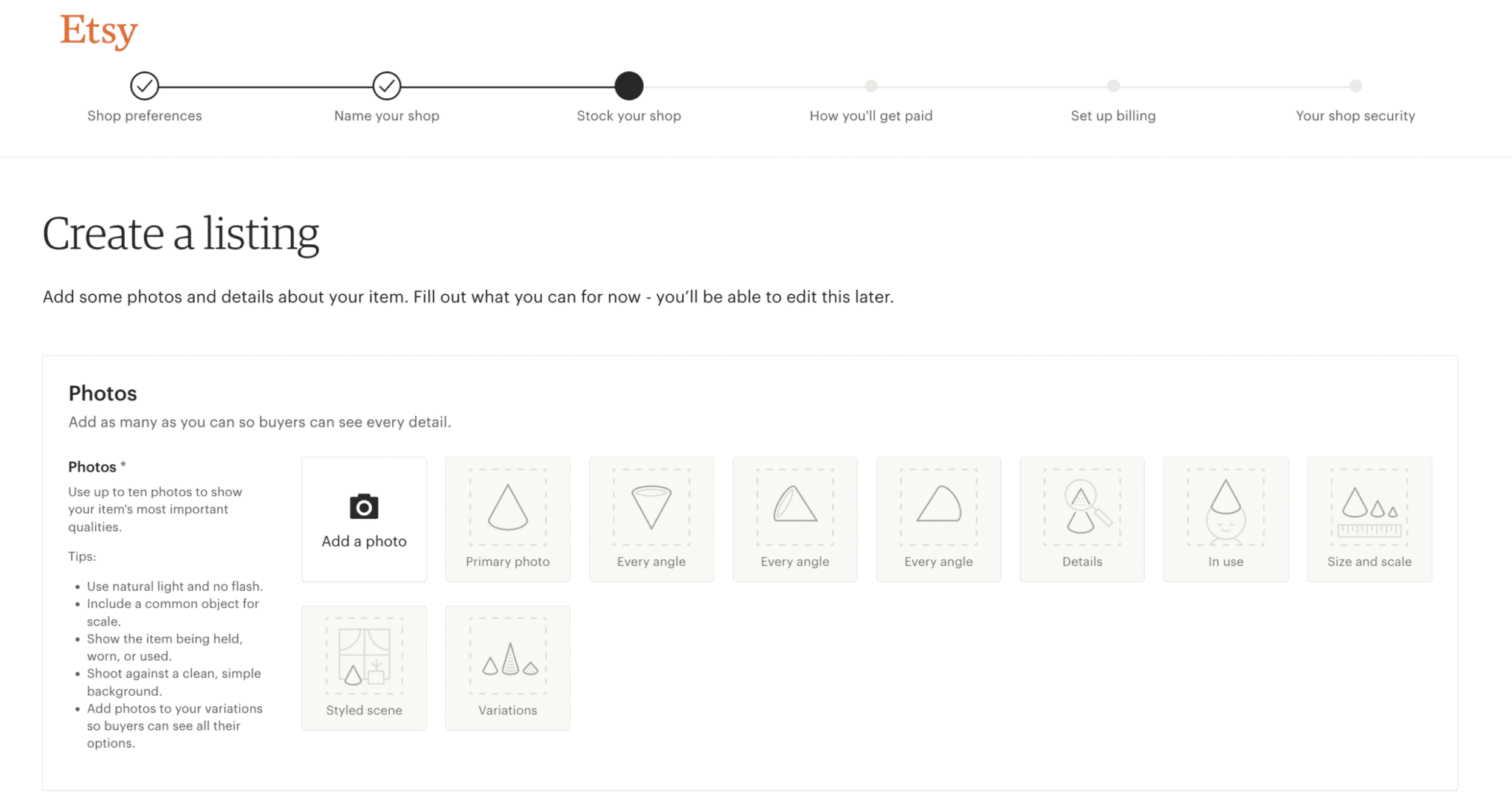 Now, let's dive into the exciting part – it's time to start selling Canva templates!
To list an item in your Etsy shop:
Head over to Etsy and open up Shop Manager.
If you're using the Etsy Seller app, just tap on Listings and follow the prompts.
On the Etsy Seller app, simply tap on the + Create button.
Add Core Details
Ensure your listing stands out on Etsy by optimizing your listing details. These details determine how your product is categorized and found in Etsy searches. Shoppers can easily filter search results based on the specific details you provide.
Add a title: Come up with a captivating title of 140 characters or less.
Add listing images and video, and select which image you want to use as a thumbnail.
Add tags: Tags help buyers find your product when they search for specific terms. Choose keywords related to your listing title or description that customers might use in their search.
Set your price: Decide how much your item will cost, taking into account the time it took to create it. Remember to consider any fees and taxes that Etsy may collect.
Create a description: Give a description of your item to help it stand out in search results and make it easier for shoppers to understand what you're offering.
Choose your renewal option: By default, listings will automatically renew after four months, and you'll be charged the applicable listing fee automatically.
Choose the perfect categories and add attributes to make your listing stand out.
Sale Samurai can help craft your perfect description to make sure your listings stand out in the search results.
Choose "Digital Files" and Add Your Files
When creating a digital product listing for selling Canva templates, you'll need to upload the files that Etsy users can purchase. Customers will have access to download the Canva template files immediately after they purchase your item.
When uploading files for digital download, make sure that they are in an acceptable format and below the maximum file size of 20MB for image files (JPG, PNG, TIFF) and 100MB for other file types.
Additionally, check the box next to "This is an instant download" so that customers can access their Canva template files right away.
Now that you have your listing set up, when you're ready to launch on Etsy, tap "Publish Listing" and follow the prompts. Your listing fee will be added to your account on publishing. You can view your published Canva template listing by visiting Your Shop from the Etsy app. Congratulations!
Marketing on Etsy: Rules and Tips
Once you've hit publish, Etsy will help promote it to potential buyers. There are also some extra steps you can take to get your Etsy listing in front of more shoppers.
It's important to familiarize yourself with marketing and promotion rules for Etsy shops here.
Tips for Promoting Your Canva Template on Etsy
Utilize Etsy's promotional tools, such as Etsy Ads and Offsite Ads.
Share your listing on social media. Don't forget to include product tags so customers can easily find your item.
Use keywords in the titles and descriptions of your listings to make them easier for customers to find.
Start building an email list so that when you have new products to offer, you can easily reach out to your previous customers!
With a little bit of creativity and some savvy marketing tactics, you can give your shop a visibility boost on Etsy! Make sure your listing stands out from the competition and gets your product in front of more potential buyers.
How to Sell Canva Templates on Etsy – Conclusion
Selling Canva templates on Etsy is a great way to increase your income. It's important to take the time to create a high-quality, attractive Canva template that stands out from the competition.
Becoming skilled at creating Etsy listings for your Canva templates or digital products may require practice, but once you find your rhythm, you'll be able to create captivating listings effortlessly.
Selling Canva templates on Etsy can be a successful strategy to boost your earnings, especially if you have a keen eye for designs people want.
FAQ
Here are some common questions people have about selling Canva templates on Etsy.
Is it Worth it to Sell Templates on Etsy?
Selling Canva templates is a terrific way to earn passive income! It's like having a 'make once, sell forever' kind of product. Once you create Canva templates, you can sell them over and over again without putting in much extra effort. And Etsy is an awesome third-party platform for selling your Canva template creations.
Is Selling Templates on Etsy Profitable?
Absolutely! Starting your own business selling Canva templates on Etsy can be really profitable.
You have the potential to earn up to $2000 per month or even more. Initially, expect to make about $10-100 a week, but don't worry! With the right niche and quality products, you can start making one sale per day early on.
Once your shop has stable sales, you can earn $1,000 or more.
Of course, your earnings depend on factors like your niche, price point, and product ranking, but many Canva template sellers on Etsy make a full-time income from their sales. So, it's definitely worth considering!
Do I Need a Canva Pro Account to Sell Canva Templates?
This is a common misconception about selling Canva templates on Etsy. You don't actually need a Canva Pro account for that. Even with a free account, you can still create a shareable Canva template link.
But if you do decide to have a template shop, having a Canva Pro account does come with some cool perks:
Easily resize templates and unleash your creativity by crafting fresh designs with matching fonts and captivating elements.
Create an eye-catching brand identity by defining your own palette of colors and fonts. This will make sure that your templates have a consistent and visually appealing look, giving them that extra charm!
Get 200x more cloud storage space to expand your shop (5GB in the free plan vs 1TB/1000GB in the Pro plan).
Boost your shop's marketing game by scheduling and planning future social media posts.
So while it's not mandatory, having a Canva Pro account can definitely level up your template-selling experience.