Are you ready to start a thriving car detailing business?
If you're nodding yes, you've come to the right place.
This guide explains how to start a car detailing business, from the must-have equipment to the insider tips to getting your first customer.
Read on!
1. Market Research
Before you become a small business owner, it's essential to analyze the competition.
First, fire up your computer and head over to Yelp and Google. Then, look up the top detailing service in your area.
Read every review, from the glowing five-star raves to the one-star gripes. It's an invaluable case study on what competition is doing right or wrong.
Are customers raving about the convenience of car detailing at home or the office? Are they impressed with the quality of work? What matters to them?
This information will be crucial as you craft your mobile car detailing business plan.
You can even order from the competition to evaluate the experience. This will help you gauge what to sell and how much to charge.
Take a look at how Seattle Mobile Detailing positions its services.
They have three services: interior-only, exterior-only, and an interior + exterior package.
Here's what they offer:
Plus, they charge differently depending on car type: sedan, midsized, or SUV.
Interior services range from $250-$270.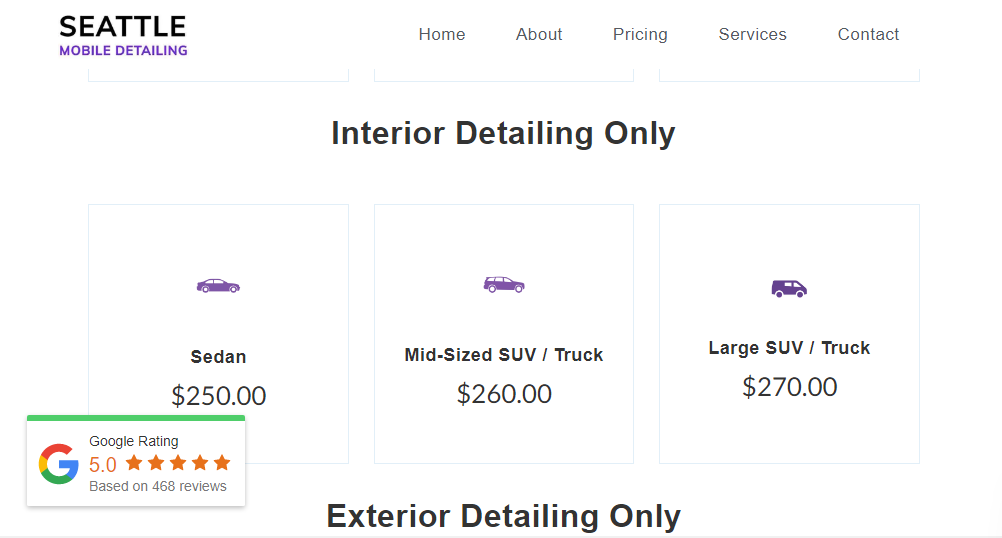 Exterior services range from $250-$270.
And the interior + exterior package ranges from $340-$360.
Next, start engaging with customers online or in person. Aim to understand the different types of customers in the auto detailing industry, such as car owners, car dealership owners, and fleet owners.
Once you gather this data, you can build your car detailing business plan.
2. Build a SWOT Plan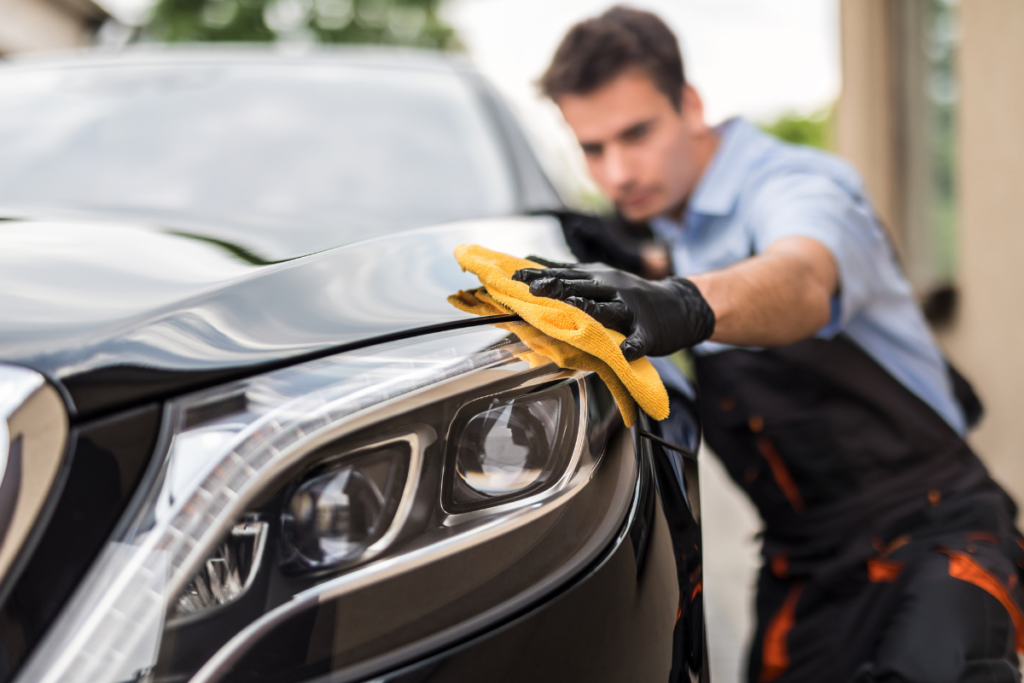 Build a SWOT car detailing business plan to evaluate strengths, weaknesses, opportunities, and threats.
Here's an example to get you started:
Strengths:
Auto detailing is a $15 billion market growing at a 5.5% CAGR
Flexible scheduling options for customers
Ability to provide services at the customer's location
Minimal overhead costs compared to a traditional brick-and-mortar car detailer setup
Weaknesses:
Dependence on weather
Potential for inconsistent quality control without a physical location
Establishing a reputation and building trust may be challenging without a location
Opportunities:
Growing demand for mobile auto detailing business services
Millennials purchase detailing more frequently than other age groups.
Increased demand for eco-friendly services
Ability to expand services to new markets
Threats:
Intense competition from both mobile and traditional car detailing businesses
Becoming an auto car detailer has a low barrier to entry
Fluctuations in fuel prices increase operating costs
Negative reviews can affect business reputation
Next, map out your operating costs, including equipment and supplies, labor costs, taxes, and marketing expenses.
Finally, develop a strategy for attracting new customers. We'll discuss marketing in detail later on!
Equipment
Instead of going for the lowest cost items, opt for higher quality equipment that will last.
Here's the essential equipment you'll need:
General Products
Transportation: A trailer, truck, or van are all viable options.
Sponges/mitts: Look for a soft sponge that won't scratch surfaces or paint.
Bucket/guard: A 5-gallon bucket is ideal.
Water hose: A heavy-duty, 100ft water hose is essential for your operations.
Extension cord: 100ft extension cord. You never know where the customer's power supply or outlet might be.
Adapter: Allows to connect multiple devices to an outlet.
Supplies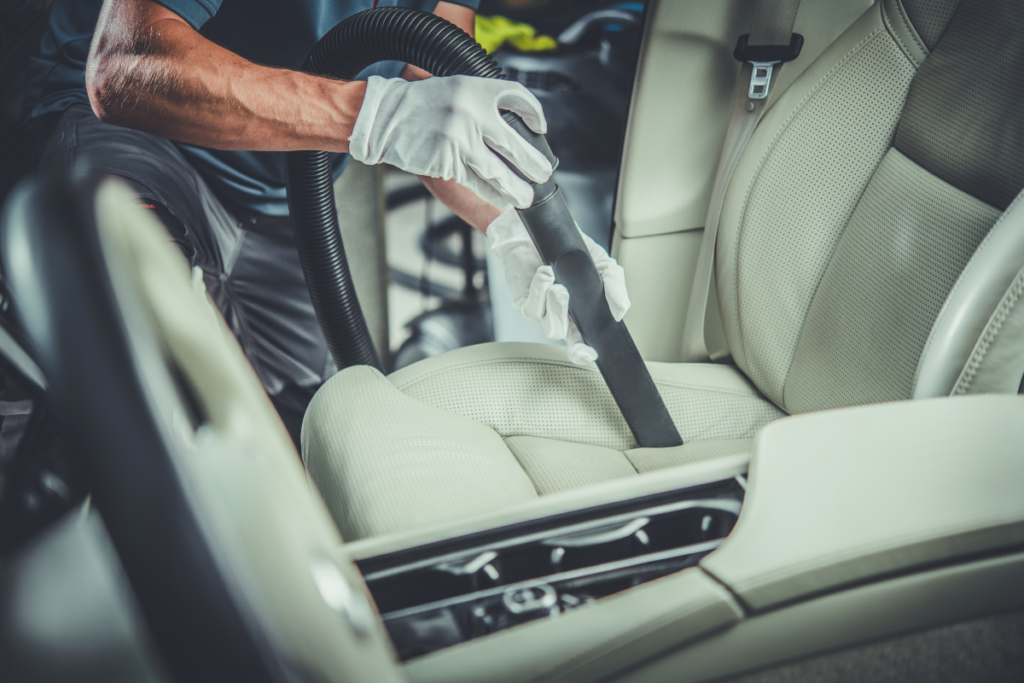 Pressure washer: An electric 1600 PSI pressure washer.
Steam cleaner: The best models come with a large water tank and continuous steam flow.
Vacuum cleaner: A 4-gallon portable wet-dry vacuum
Polisher: Invest in a model with adjustable speed settings to remove imperfections.
Microfiber towels (lint-free). Get five colors for exterior detailing, interior detailing, windows, door jams, and wheels.
Brushes: Buy brushes for different areas of the car, such as wheels and grills. An angular grout brush is ideal for hard-to-reach spaces like vents or the gear shifter.
Detailing brushes: Detail Factory is an excellent brand. You don't want to go cheap on these.
Pump sprayer: Add any chemical to it and spray, for example, on the wheels.
Foam cannon: Grab a foam cannon with multiple nozzles.
Clay bar: You want soft, pliable material to remove contaminants from a car's paint surface.
Chemicals
All-purpose cleaner: "Super Clean" brand from Walmart cleans the interior, seats, carpets, floor mats, and wheels. It includes all dilution ratios on the back label.
Glass cleaner: A spray cleaner is easier to work with than foam.
Car wax: High-quality car wax provides long-lasting protection and durability.
Soap: I recommend one gallon of Armorall Ultra Shine Wash & Wax.
Tire shine: Macguiar's Hot Shine is a solid choice.
3. Build Essential Skills
The best place to practice your skill-building is on your vehicle.
You'll be able to hone your technique with products and tools, all while getting a feel for the entire detailing process.
First and foremost, become an expert in technical skills.
Elevate your knowledge of all automotive surfaces, from upholstery, carpet, leather, paint, chrome, plastic, and glass.
For example, you wouldn't want to use a harsh cleaner on a delicate chrome surface. That's like cleaning a china dish with steel wool!
The same goes for a car's paint – don't use a heavy-duty degreaser that's meant for the engine bay on a delicate paint surface.
Next, become a master of cleaning solutions and how they interact with contaminants and surfaces.
You should be able to identify and remove contaminants like dust, water spots, road grime, bird droppings, and tree sap.
Finally, you need to be familiar with power tools and how they're used: buffers, polishers, steam cleaners, and pressure washers.
These tools allow you to tackle any job, removing stubborn contaminants or restoring the shine to a dull paint surface.
Finally, prepare yourself for hard work and submit to the process!
Once you feel confident, it's time to find a potential customer.
Entrepreneurial Skills
Launching a mobile car detailing business takes more than a love of shiny vehicles. You'll need technical savvy, networking skills, and a never-ending quest for improvement.
The best entrepreneurs embrace technology like scheduling apps to make it easy for customers to book and pay.
It's also helpful to network with industry insiders to stay ahead of the competition. Connect with like-minded entrepreneurs on Youtube or in your local area. There's a lot of knowledge to be shared!
Finally, always continue learning. Read up on the latest trends in car detailing technology and techniques to sharpen your skills. The most successful detailers have an insatiable commitment to excellence.
But above all, delivering exceptional customer experiences is critical. That means going the extra mile to ensure a spotless finish. Offer prompt and friendly service. Seek feedback and implement improvements.
Customer Service and Communication Skills
The best customer service aims to address problems before they occur.
This can be especially crucial in the auto detailing business, as even the slightest issue can impact customer satisfaction.
Here are some tips to get ahead of problems before they happen:
Conduct regular training sessions for employees.
Anticipate customer needs and concerns by regularly seeking feedback.
Use technology to minimize errors, such as scheduling software to manage appointments and ensure no double bookings.
Keep detailed records of previous customer interactions.
Be proactive – check and maintain equipment to prevent breakdowns during the detailing process.
4. Get Your First Customer Through Your Personal Network
You're already sitting on a Rolodex of potential customers – your network!
Take Gary Vaynerchuk's advice and ask your network for referrals. Message your friends and family through your medium of choice: "do you know anybody who could use help detailing their car?"
It's a softer, more tactful approach compared to a full-blown sales pitch.
Four possibilities can happen.
First, they'll give you a referral. That's a win.
Second, they may not know of a referral but still want to help. In that case, ask them to share a Facebook post or Instagram story on your behalf. Prepare a nice post or story in advance to make it easier for them.
Third, they may not respond – don't take it personally! You'll eventually get a positive response, and that's all you need to start.
Lastly, they could offer to be your first customer! So there it is – you have a sale and can start building your reputation.
Pro tip:
Build clusters of customers in the same area. Practice doorknocking in your first customer's neighborhood once you finish the job. Refine your value proposition and be sure to mention you are already taking care of neighbors in the area.
5. Local Directory Marketing
Start listing your business on local directories.
Google My Business is a great place to start. It's free and helps customers find you through Google Maps when they search for services in your area.
You can also manage customer reviews within their app.
Yelp is also great for getting the word out about your services and encouraging customer reviews.
Responding courteously to feedback will help you maintain a positive rating.
Finally, remember local car forums. People use these communities to ask for advice – why not be the one to give it?
Social media is a powerful tool for auto detailers. Set up profiles on major platforms like Facebook, Instagram, and Twitter.
Join conversations in car enthusiast Facebook groups, car owners, or local car-related communities.
Share knowledge about the benefits of regular washing, the importance of protecting car interiors from the sun, and the dangers of using harsh chemicals on car surfaces.
Post before-and-after photos of cars you have detailed, or videos of the process.
7. Focus on Building Reviews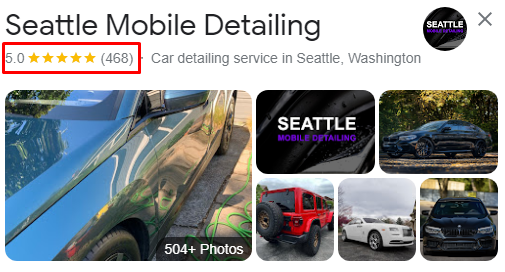 Aim to provide customers with a fantastic experience each time, so they cannot help but leave you a glowing review!
Reviews are one of the most powerful marketing tools in the digital age.
As soon as a customer is satisfied with your work, send them a link where they can leave a review.
Once you start getting reviews, be sure to share them across all of your channels. Reviews serve as social proof that you provide quality services.
What Are the Legal Considerations for Starting a Car Detailing Business?
Scaling a car detailing business may require legal compliance and liability protection. It's recommended you seek professional legal guidance in this area.
First, select the proper business structure. For example, consider a sole proprietorship, partnership, limited liability company, or corporation and the tax implications of each business entity.
Also, get the necessary permit and business license for your area to operate your business legally.
Employing workers carries responsibilities. Abide by federal and state labor laws regarding hiring, wages, and working conditions to avoid costly legal issues.
Additionally, be aware of environmental regulations related to waste management and disposal for the products you use. Familiarize yourself with these regulations and make sure you comply.
Finally, ensure you have liability insurance in case of accidents or lawsuits.
You now have the knowledge and resources to get up and running. All that's left is for you to take action – good luck!
And for some free-to-very reasonably priced help setting up an LLC or simply asking for some advice, be sure to check out ZenBusiness.
We've gone in depth in our ZenBusiness review, but in short – they've successfully helped thousands of businesses get their start, so why not you?
FAQs
Here are some answers to frequently asked questions concerning setting up a car detailing business.
What is the Starting Capital for a Car Detailing Business?
The starting capital for a mobile car detailing business ranges from $500 to $10,000 on average for a bare-bones setup. People who already own equipment will require less budget. Start small and expand gradually to reduce the starting capital.
How to Start a Car Detailing Business From Home?
Yes. You can start a successful car detailing business from home as a mobile detailing business or a small garage or workshop.
What's the Difference Between Car Washing and Car Detailing?
A car wash is a basic maintenance routine, while car detailing is a more intensive deep clean. Car detailing typically involves cleaning and restoring the car's paint, chrome, wheels, windows, leather, and upholstery.
For related reading, check out the following: