Are you tired of applying for jobs and not receiving responses from employers? Then, it's time to learn how to use ChatGPT to write a cover letter.
Specifically, we'll delve into the six pillars of a winning cover letter to help you stand out.
I'll also provide examples of ChatGPT prompts you can leverage throughout the process.
Ready to become the #1 candidate for the job? Read on!
What Makes a Quality Cover Letter?
When crafting a quality cover letter, the goal should always be to get the attention of the H.R. manager and differentiate yourself from the other applicants.
Here are two core areas to help you stand out:
Research
Focus on the client
Research
Find out what your prospect is working on, their objectives, and areas where they need help.
One great way to source this information is to engage with their social media accounts, particularly LinkedIn and Twitter.
By finding out what their decision makers are talking about, you can personalize your cover letter to showcase how you can help them achieve their goals.
I'll discuss how to leverage ChatGPT for research in a bit.
Focus on the client (not you)
One of the biggest mistakes that job seekers make is focusing too much on themselves.
They might write, "I have four years of work experience growing niche sites," or "I am a detail-oriented copywriter who cares about quality."
Don't get me wrong – these things are important, but the recruiters aren't as interested in them as you might think.
Instead, freelancing expert Josh Burns (who's earned over $780,000 on Upwork) urges job seekers to focus on the client and how you can help them.
Why is this important?
Well, it's simple: people (and companies) mostly care about themselves.
Here's how you might reflect this idea in your cover letter:
"Last year, my client from Niche Pursuits saw a 583% growth in traffic. And I'm not just talking about vanity metrics, either. We're talking about actual, high-quality traffic that converts.
After investing in an article, Spencer received over 10,000 visitors in three days using an untapped traffic source I'd like to bring to your attention."
How To Create a Cover Letter With ChatGPT (6 Pillars)
Step 1: Hook + Twist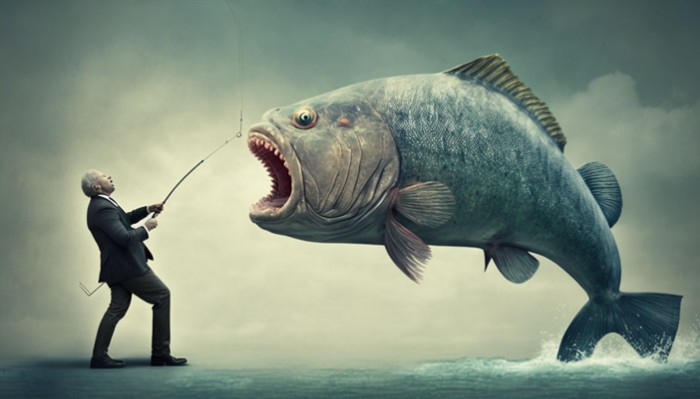 The objective of this section is simple: you want to show the employer that you understand the "why" behind their surface-level issues.
So, begin your hook with personalization in mind.
Pro tip: If you're working on Upwork, check the client's feedback history because it often shows their first or business names.
Next, aggressively put yourself in the client's shoes.
Ask yourself:
What is frustrating the client so much that they need to hire someone?
Why is it so important to them?
For example, if you have an e-commerce client, the owner cares about making sales.
They might hire somebody to write product descriptions, but that isn't the end goal. The end goal is to use them to make profitable sales.
For the twist, we're going to set the stakes.
What happens if this goes wrong?
How bad can it get if they don't solve this problem?
For example:
"Hey John, I saw you need a sales copywriter for your online pet store. But E-commerce is special. And your profitability depends on having high-converting copy – so there's a lot at stake in getting this right. And I imagine you're looking for someone who "gets" how important this is to you."
2. Save The Day
You've successfully hooked the client by showing them you understand their frustrations and the bigger picture.
Now it's time to swoop in and save the day!
Think of yourself as a superhero who can do what the client needs and get the job done right.
With so much at stake, you must keep this section short and sweet, highlighting what you can do and why you're the best fit for the job.
While you should keep your cover letter 90% focused on the client and their needs, the "Save the Day" section is the 10% of the cover letter where you can talk about YOUR superpowers.
So, let's get down to business. What can you do to save the day for this client? What's your unique skillet?
What new ideas and solutions do you bring to the table?
3. Establish Authority
Alright, it's time to showcase your track record and prove to the client that you're the real deal.
Did you know that 88% of clients value reviews as much as they would a personal recommendation?
That's why it's crucial to highlight your best reviews and make it easy for the client to find them.
But here's the thing – people aren't going to read a lengthy review.
So, dig into your reviews, find the best nuggets, and call them out in your proposal. This will make it easy for the client to quickly see the best pieces of your reviews and understand why you're the best fit for the job.
Here's what this looks like in practice.
Here's what my clients are saying about me:
"Trevor's landing pages are awesome – our AOV jumped by 45%." – Roger, Gardening Brand CEO
"Our conversions jumped by 10% after we worked with Trevor." – Anthony, Beverage Founder.
Relevance is extremely important here. Ideally, you should show reviews from other similar clients.
If you don't have authority, you can showcase your proactivity as Big 4 Candidate Amanda does in this example: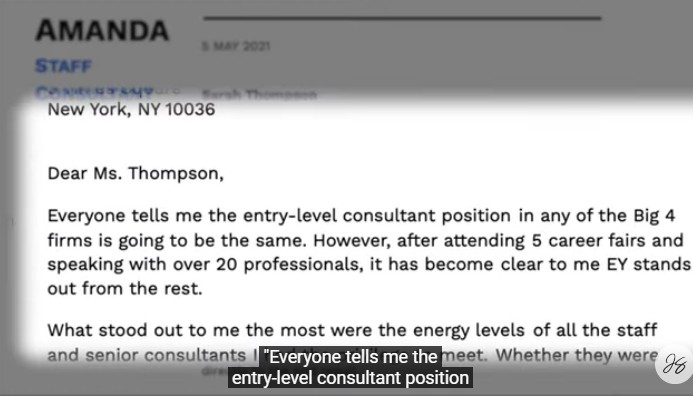 Reach out to industry experts on LinkedIn for a "coffee chat."
Ask specific questions, not generic ones like "tell me about your day-to-day."
For example, "what aspects of your job do you find most rewarding about your current role?"
They'll give you concrete examples that you can reference in your hook.
4. Show Results
Now it's time to flex your client results!
But here's the thing, you don't want to overwhelm them with every work example you've done.
That's just going to make them tune out. So instead, be selective and choose your work examples that best fit the client.
When clients read your cover letter and see work examples relevant to their problems, their neurons will fire on all cylinders.
They're thinking, "Wow, this person gets us. They understand what we're going through and have the skills and experience to help us."
And that's exactly the kind of response you want to elicit from clients. You want them to feel like you're the perfect candidate for the job.
Don't be afraid to include something that's not directly related to the client's area, as long as it's still impressive. Just let them know it's slightly different in style but still relevant.
Here's how this might look in a cover letter:
"Here are a few links to some of my work examples in case you aren't able to download the attachments:
1. This landing page is converting at a 385% ROAS.
2. A little bit different, but this email has a 61% open rate and a 6% click-through rate, which resulted in $32,150 in revenue for an e-commerce client."
The above example is hypothetical, so it doesn't include links. Make sure you link to the assets you want to showcase!
5. Be a Guide
This one's a biggie: Be a guide.
When you're applying for freelance jobs or any job, it's important to remember that many clients aren't experts in your field. They're looking to you for guidance on how to move forward.
These clients want to pay you to make their lives easier. So lead them toward their desired solution and make the process as frictionless as possible.
And when you're wrapping up your cover letter, use their name again in the CTA. This will make the client feel like you're speaking directly to them and reinforce the personal connection you've established throughout your cover letter.
"Let's have a chat about helping you solve [personalized problem]
What time are you free today, John?"
I also like to leverage the P.S. to allude to structure and answer their buying questions (more on this in the next section).
You can include a P.S. like this:
"If you'd like to learn more about working with me, here's a link to some FAQs about my process, structure, and delivery times."
6. Leverage the P.S.
Marketing expert Dan Kennedy claims that the postscript section has the largest influence on the reader.
According to Kennedy, 90% of readers read the P.S. before the letter. He writes, "it's the first paragraph, not the last."
That means the first thing a reader will check out is likely at the end of your proposal. Here are a few ideas for you:
Create urgency
Provide a secondary CTA
Reinforce your motivation
Give more personalized thought
Provide something extra (clarity, value-add, reinforcement of results)
You want to leave the impression in the client's mind, "wow, this candidate has thought about this."
Use ChatGPT For Cover Letter Research
If you're applying to a company and don't know what they do, how can you convince them that you're the right person for the job?
You need to be able to speak their language, understand their pain points, and demonstrate how you can help them achieve their goals. ChatGPT can help with this.
Here are my favorite ChatGPT research tips:
Leverage ChatGPT to scan a company founder's Twitter feed – this will provide invaluable insights into the founder's personality, the company culture, and the industry.
For example, I asked ChatGPT to crawl our founder's Twitter page to get a pulse on the most relevant topics.
Prompt ChatGPT, "According to [URL], what are the biggest challenges facing the [niche industry] now?"
Likewise, you can ask ChatGPT to surface the industry's most significant trends.
Prompt ChatGPT, "According to [URL], what are the biggest trends in the [niche industry] now?"
You can even use ChatGPT to understand a company's entire business model.
For example, if you're applying to a software company like Oracle, use ChatGPT to help you research its product offerings.
Check out this ChatGPT prompt below:

Next, I asked ChatGPT to explain Oracle's products and provide customer case studies.
By leveraging this analysis, you can craft a unique cover letter that draws deep connections to the company and its industry.
Describe Your Motivation To Join the Company
According to a Resume Lab survey, 63% of respondents agree that cover letters are most useful for explaining your motivation to join the company.
Some candidates may struggle with conveying their motivation.
We can use ChatGPT to suggest motivational angles and choose the most resonant one.
Here's a ChatGPT prompt to help with this: "What are some strong ideas I can discuss in my cover letter to reflect my motivation? Here is the company I'm applying to [URL]."

ChatGPT Cover Letter Do's and Don'ts
Pay attention to these ChatGPT cover letter do's and don'ts:
Focus on the client.
Insert context about the company (Twitter, blog posts, case studies).
Leverage your own powerful stories.
Research company decision-makers, industry trends, and challenges.
Pour your mind, heart, and soul into the cover letter.
Exude your personality, energy, and enthusiasm.
Make sure your message is fully personalized.
Use client quotes inside your cover letter. Let your project track record and client feedback do the heavy lifting.
Write a "me" focused cover letter.
Use ChatGPT as an "easy button."
Use nonspecific prompts such as "Write a cover letter about X."
Accept every output as factual.
Misrepresent your skills or experience.
Start your cover letter with Dear Sir/Madam.
Ask questions about the job inside the cover letter.
Copy/paste or regurgitate your resume.
Tips To Avoid Sounding Generic (Like a Bot)
Here are two methods to avoid sounding generic when you use A.I. to write your cover letter.
The 50/50 Approach
Use A.I. assistance to help create your letter, but don't rely on it too heavily. Aim for a balance between human creativity and machine efficiency.
Think of it like hand-made furniture. Sure, you could use machines to mass-produce identical pieces, but they wouldn't have the same character and personality as a piece crafted by a skilled artisan.
When you land that dream job interview, all those great ideas will be fresh in your mind, and you'll be better prepared to discuss them.
Inject Your Own Personality and Writing Style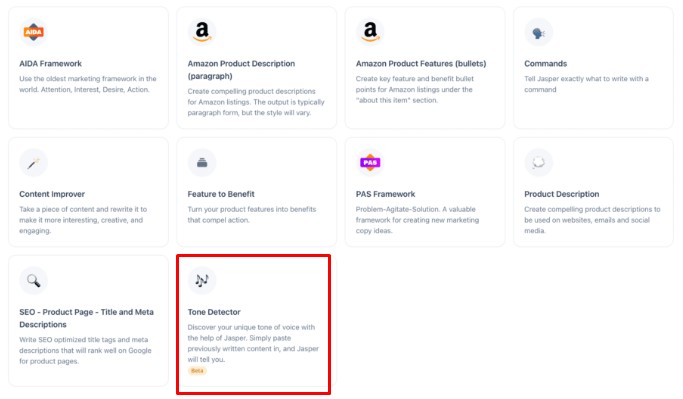 If you want to inject some serious personality into your job application, use the Jasper tone detector.
With this template, you can extract the tone from any piece of writing and infuse it with your unique flavor.
So, you can feed Jasper something you've already written and let it provide a detailed analysis of the tone and style.
Next, use this tone in Jasper's content editor to add your own flair to that cover letter!
Is It Ethical To Use A.I. to Write Cover Letters?
Absolutely! Leveraging generative AI to craft a killer cover letter is completely ethical if you accurately represent yourself.
Highly regarded companies like Salesforce and Microsoft are leveraging artificial intelligence to help sales teams to book more meetings. So, why can't you use it to sell yourself?
There are lots of cool and creative ways people are using ChatGPT, and the key here is intent. Are you using ChatGPT to enhance your writing and better communicate your skills and qualifications, or are you using it to falsify the skills you bring to the table?
As long as you're being honest, there's no reason you shouldn't use tools to create a standout cover letter.
Your potential employer might be using A.I. detectors to screen your cover letter. But don't sweat it! That's where Jasper is clutch (more on this in our full Jasper Review).
Jasper allows you to seamlessly blend your writing style with cutting-edge technology, creating a cover letter guaranteed to get you noticed. 
How To Use Chat GPT To Write A Cover Letter (Final Thoughts)
If you're brainstorming ideas or doing research for your cover letter, ChatGPT can be a valuable tool.
For writing the cover letter, Jasper puts you in the driver's seat (while it acts as your co-pilot).
I suggest you don't settle for a generic, cookie-cutter text generated by a machine only! With Jasper, you can make your cover letter truly your own.