This Zutrix review dives into the ins and outs of one of the most popular SEO tools on the market. The platform offers a range of features that enable users to easily track their website's performance, manage projects, and create insightful reports.
In this detailed review, you'll learn about Zutrix's key features, who it's designed for, and what others are saying about it. We'll also provide a breakdown of the pros and cons so you can decide whether it's worth investing in or not.
So if you want to streamline your workflow and maximize productivity, read on to learn more about Zutrix!
In a hurry?
---
Ease of Use

Stability

Customer Service

Price
TL;DR
Zutrix is a powerful SEO and digital marketing platform that offers accurate keyword tracking, backlink monitoring, website audits, and more. It has three pricing plans available monthly or annually, ranging from $9 to $54 per month. A Pro plan trial for 7 days is also available for $7. Zutrix is an excellent choice for businesses looking to maximize online visibility and stay ahead of the competition. It offers accurate data, powerful features, and an easy-to-use interface. Try it here!
Pros
Accurate keyword tracking and analysis features
Robust backlink monitoring capabilities
Powerful website audit tools
Affordable pricing plans with discounts when paying annually
Trial available at $7 for 7 days
Cons
Some users have complained of slow customer service
What is Zutrix?
Zutrix is a powerful SEO tool developed for digital marketers, SEO professionals, and data analysts.
Designed to streamline workflow and maximize productivity, Zutrix offers an easy-to-use user interface to track website performance and manage projects more efficiently.
It also provides various features, such as web crawlers, keyword research tools, and reporting dashboards, to help you better understand your website's performance and make informed decisions about improving your SEO.
Zutrix Features
Zutrix offers a range of key features that enable users to track their website's performance and manage projects.
Free Tools
SERP Checker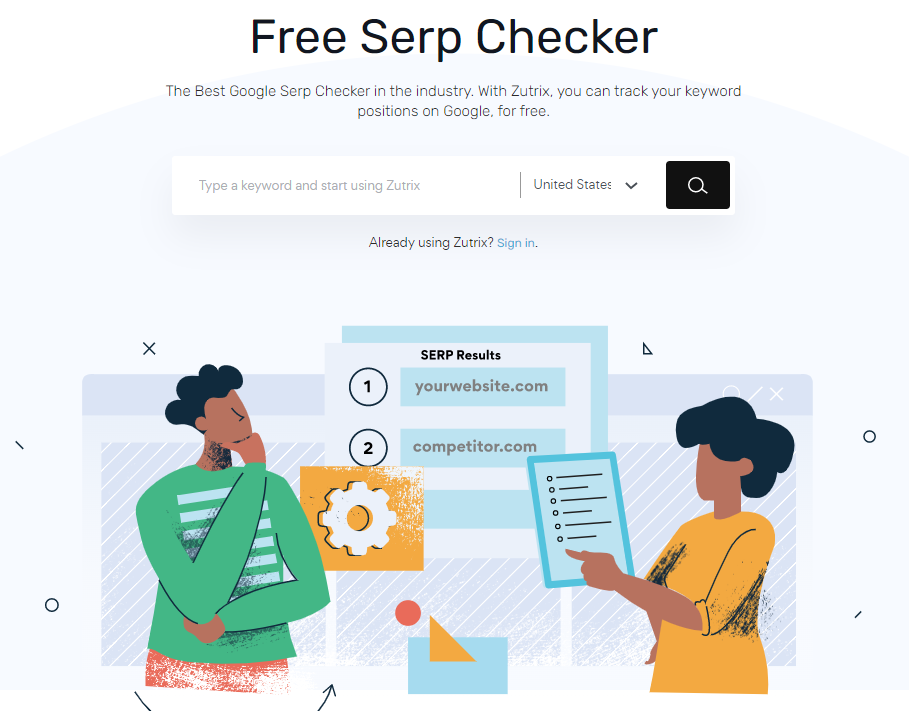 Zutrix's Free SERP checker allows users to track 10 keywords and receive 10 on-demand updates daily for unlimited domains.
It also offers real-time notifications and advanced metrics in an attempt to give users 100% accuracy in their results.
Keyword Planner
Zutrix's Free Keyword Planner Tool provides comprehensive and accurate data, such as search volumes, CPCs, trends, and competition levels, to help marketers make informed decisions.
The tool also includes related keywords and competitor keywords features to spy on competitors and discover long-tail keywords.
Google Suggest
Google Suggest is a free and effective tool that can help you improve your SEO by providing keyword suggestions based on past Google search history.
It can help marketers discover the latest terms gaining traction in the search result. Google Suggest offers many benefits for users, including improved search engine experience and better results.
Word Counter
Word count tools are a great way for online content creators to increase their SEO rankings by finding the right amount of words per article.
The tool helps you check the word count and the number of characters, sentences, and paragraphs in your text.
YouTube Tag Generator
It is essential to consider potential keywords and the search volume of each one when conducting YouTube keyword research.
Zutrix's free YouTube keyword tool can help optimize video titles and descriptions to improve their ranking.
Analytics URL Builder
Zutrix's URL Builder for GA helps you quickly create UTM campaign links without hassle. Simply enter the website link, campaign source, medium, name, and optionally terms and content to generate the URL. Click on the generated link to copy it for use in your campaigns.
Paid SEO Tools
Zutrix also offers premium tools for its paid users!
Rank Tracker
Zutrix offers an advanced rank-tracking suite that helps SEO agencies, companies, and marketers easily track their rankings. It provides geo-targeted results and AI-powered accuracy.
And the tool also provides sharable reports, suggestions, a simple project page, keyword detail, and more.
Keyword Research
Zutrix has an innovative keyword research tool that provides the best keyword suggestions based on location and unrivaled metrics, including trend data, CPCs, search volume, competition, and suggestions.
It also offers keyword suggestions from Google and YouTube sorted by the search volume.
You can sync the results to your projects, export them to CSV, or copy them directly to your clipboard.
Backlink Monitoring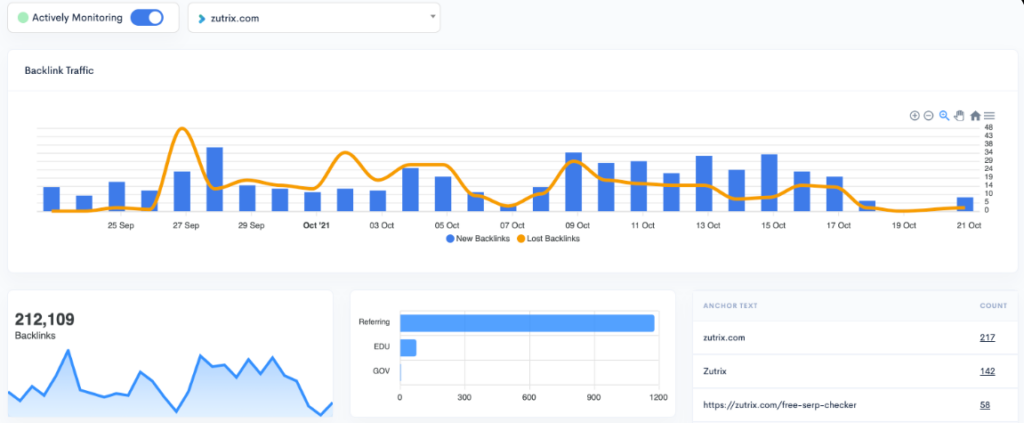 Zutrix's backlink checker tool helps you maximize your SEO performance and track changes to your link profile daily.
With easy-to-understand dash components, you can quickly identify spammy links and sort them according to your needs. And its integrated disavow tool lets you quickly and easily generate a ready Google disavow file.
SERP API
Zutrix's SERP API is an easy-to-use, accurate tool that utilizes AI and other new techniques to provide well-structured JSON outputs. It is cost-effective and offers a reliable up-time of 99.9%.
It can be easily implemented into CRMs to make it easier to provide customers with the required SERP results.
Zutrix Customer Support
Users can access Zutrix customer support by searching the help center, reading frequently read articles and API documentation, chatting with the help desk team, or sending an email.
The website provides easy-to-follow instructions for adding a project, setting up notifications, and scheduling reports.
What are People Saying About Zutrix?
With an impressive Trustpilot score of 4.2 and a rating of "great," Zutrix has been overwhelmingly praised by its customers, with 84% awarding it the highest 5 stars!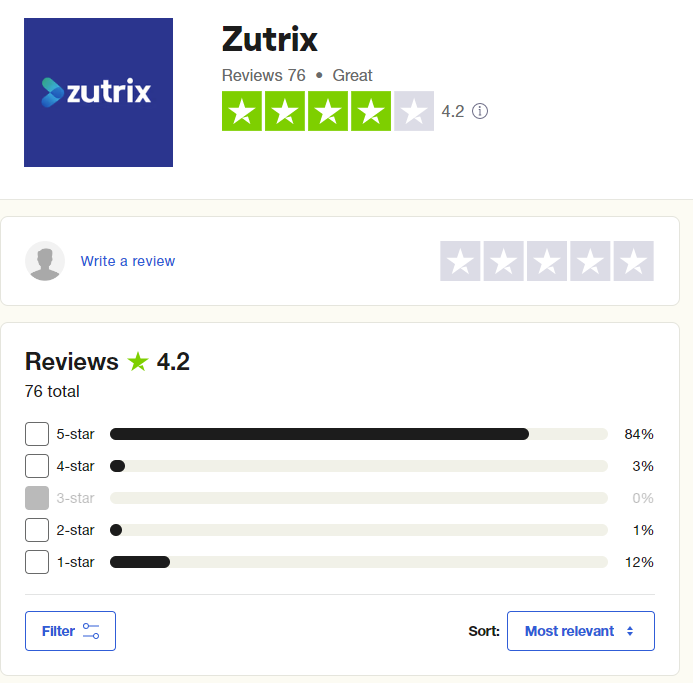 People are generally satisfied with Zutrix's services, praising its accuracy and power in tracking Google rank positions.
They also like the batch analysis feature, which provides a snapshot of their progress and organic rankings. People have found it easy to understand and use for keyword research projects and website audits.
Some have even used it to monitor all their clients' sites and provide audits and tips. Overall, these users have found Zutrix reliable, useful, and helpful in their SEO efforts.
Zutrix Pricing
Zutrix has three plans on either a monthly or annual payment basis.
Starter – The Zutrix Starter plan is $9 per month or $96 annually. It provides the ability to monitor up to 10,000 backlinks each month, track 250 keywords daily, and 50 keyword planning requests per day. This package also gives two team members 250 daily API requests and access.
Pro – $28 per month or $276 per year. It allows monitoring up to 25,000 backlinks each month, tracks 1000 keywords daily, and 250 keyword planning requests per day. This package also gives 1000 daily API requests and access to five team members.
Agency – $54 per month or $528 per year. It provides the ability to monitor up to 75,000 backlinks each month, track 2500 keywords daily, and 500 keyword planning requests per day. This package also gives ten team members 2500 daily API requests and access.
A Pro plan trial is available for 7 days for $7 – like the good old Ahrefs trial!
Zutrix Alternatives
As always though, there are some alternative tools that may better suit your needs.
SEMRush
Semrush provides comprehensive digital marketing solutions to help businesses maximize their organic visibility and drive traffic.
It offers tools for keyword research, content optimization, PPC analysis, keyword rank checking, social media management, website audit, competitor intelligence, and more.
These tools enable users to optimize their content for higher search engine rankings and gain insights into the performance of their competitors.
Semrush also provides comprehensive reporting capabilities to measure success and optimize marketing efforts.
Semrush offers a variety of pricing plans starting at $119.95 per month. All subscriptions come with a 7-day money-back guarantee; you can cancel or downgrade your subscription anytime.
There's also a free version that provides limited access to some of its features.
Check out our full Semrush review for more info.
MOZ Pro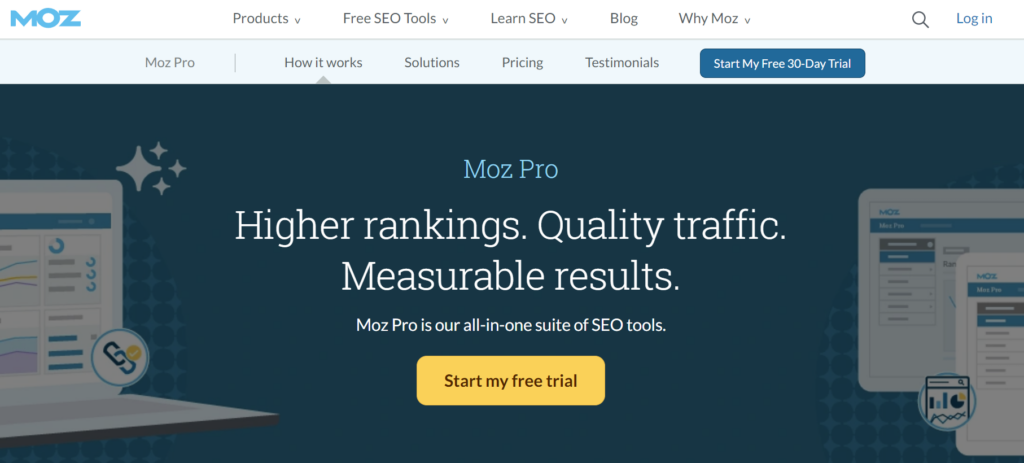 Moz Pro is a comprehensive SEO platform that provides powerful keyword research metrics and makes complex analysis easy.
It enables users to track their rankings, crawl and audit websites for issues, optimize pages for maximum potential to rank, find link opportunities, and create custom reports.
Moz Pro offers unique data that can be trusted with its industry-leading SEO metrics, empowering users to do their job with confidence.
Moz Pro offers four monthly plans ranging from $99 to $599, with discounts available when paying annually. Prices vary based on the number of campaigns, keyword rankings, and page crawls included.
There is a 30-day free trial available for users to test the features before committing. 
Zutrix Review: In Conclusion
Zutrix is an easy-to-use SEO and digital marketing platform with great customer service. It offers powerful, accurate keyword tracking and analysis features, as well as robust backlink monitoring capabilities.
Its pricing plans are affordable, especially when paying annually, and the free trial allows users to test its features without a long-term commitment.
All in all, Zutrix is an excellent choice for businesses looking to maximize their online visibility and stay ahead of the competition. 
If you're looking for reliable SEO audit tools with accurate data and tools that make complex analysis simple, then Zutrix is worth considering.  
Happy tracking!