In this AWeber review, we're going to be talking about why this email marketing software is one of the best options out there for small businesses. We will walk you through all of the features it offers, as well as the pros and cons so that you can decide for yourself whether it's the right tool for you.
Email is one of the most powerful and affordable ways to connect with your customers. After all, most people check their email every single day! So if you haven't already started growing your email list, it's time to get cracking.
The good news is AWeber has a completely free plan available for your first 500 subscribers, so if you want to give it a try, it won't cost you a thing.
---
AWeber Review

Ease of Use

Stability

Customer Service

Price
Summary
AWeber is one of the best email marketing tools around for small businesses and anyone new to the world of email marketing. This is largely thanks to its unparalleled customer service and easy-to-use templates. There's a completely free plan available for your first 500 subscribers, so you can try it out risk-free.
Pros
Fantastic customer service
Drag-and-drop editor
Easily build forms and landing pages
Free plan available
Over 600 email templates to take advantage of
Build emails easily using a drag-and-drop builder
Easy-to-use app
Integrates with over 750 third-party services
Cons
Some consider the automation options a little basic
Could be considered expensive if you have a high number of subscribers
Lacks some advanced features
AWeber Review: The Main Features
AWeber is a powerful email marketing tool that enables you to manage and optimize all of your email marketing campaigns from one place.
This popular platform has gained over 120,000 business and individual users since its launch in 1998. While these are impressive figures, the platform remains a smaller business than its main competitors like GetResponse and Mailchimp.
AWeber includes everything you need to create high-converting lead magnets, which you can use to grow your email list. It also gives you the ability to create automation sequences by using its built-in email autoresponder.
It's one of the easiest email marketing tools to get to grips with, too. Once you sign up, you will be guided through the whole process and shown how to use the analytics data to understand and optimize your marketing campaigns.
Email Marketing
Email marketing might sound simple, but the trick is getting recipients to actually WANT to open your emails.
After all, sending emails might seem easy in itself, but if no one is opening them and engaging in your content, what substance are they adding to your business?
AWeber gives you the tools you need to design professional emails that get delivered, get opened, and get the desired results. This is exactly what you want from each and every email marketing campaign that you put your efforts into.
With ready-made email templates and access to thousands of stock images, putting together beautiful, engaging emails is made easy. 
You can send automated emails too, such as welcome emails, order confirmations, and those 'you've left something in your basket' emails. 
Email Marketing Automation
AWeber's automation tool makes marketing your business effortless. Simply create your desired email, configure your automation, and start the process while the software takes care of the rest, in true 'set it and forget it' style.
The segmentation features allow you to split your list into different segments to ensure the right people get the right emails.
Your list can be segmented by:
Information collected at signup
Location
Tags (manually or automatically applied)
Purchases
The pages they visited on your website
The links they clicked
Ensuring a high conversion rate is also helped by the abandoned cart alert feature. This automatically sends an email when a customer leaves the page with items in their basket. An absolute must for e-commerce entrepreneurs!
And if you run a YouTube channel, podcast, blog, or online course, you can set it up to automatically email your list every time new content is published. This helps to keep your engagement rate as high as possible without any additional work on your part.
Email Templates
AWeber includes over 600 email templates that you can use to create a beautiful, professional-looking email in minutes, even if design isn't your strong point.
Once you have set up your email template, it can be used over and over again without any further time investment. You simply paste your content into the template, and you're ready to go.
With a high percentage of people reading emails on mobile devices, it's good to know that AWeber has a preview feature. This means you can ensure your emails look exactly how you want them to before hitting send. It even shows you how they will present on mobile devices during dark mode operation.
All of this goes to ensure your email marketing is as effective as possible with minimum effort.
Drag and Drop Email Builder
AWeber has a drag-and-drop email builder, which you can use to create an email template from scratch or use in conjunction with one of the pre-designed email templates.
The drag-and-drop functionality helps to ensure that the whole process is made as quick and easy as possible. Even those not experienced in this field can put together polished, professional-looking emails.
Reporting and Analytics
AWeber provides you with an easy-to-read Analytics dashboard to help you optimize your marketing efforts.
From here, you can view data on every email you have sent, including:
Opens
Clicks
New subscribers
Sales
Unsubscribes
It includes all of the data you need to work out the best send times to maximize your click-throughs and open rates.
You can also A/B split test up to three email variations at a time to test what gets the best results.
AWeber Integrations
AWeber has a wide range of integrations available. You can easily connect your AWeber account to a range of social media platforms, shopping carts, and even blog-building services. Some integration options include:
WordPress
PayPal
Blogger
Elementor
Square Space
FreshBooks
Facebook
LinkedIn
Book like a Boss
Google Analytics
HubSpot CRM
Freshworks
Salesforce
EKM
Shopify
So if there's any feature you need that isn't already included, you can be fairly confident that there will be an integration available.
AWeber Review: Customer Support
If you're someone that judges a company on the level of customer service that they offer, then you'll be delighted to know that they offer 24/7 customer service. Their contact us page gives you a variety of ways to get in touch with their team.
Phone – 8 am to 8 pm ET USA with a toll-free number for customers
Live Chat – Online 24/7
Email Support – Contact them, and they will respond 24/7
Their contact us page will even tell you whether their systems are operational.
They also have a comprehensive resources page made up of things like template galleries, marketing guides, and email advice from AWeber experts, so getting a helping hand is never too far away. 
Is AWeber Easy to Use?
In general, AWeber is pretty easy to get to grips with. With a drag-and-drop email builder putting together catchy emails is certainly made simple. Especially if you take advantage of their email templates and the free stock images AWeber gives you access to.
Designing simple forms and landing pages is made simple too. All in all, although any email marketing platform will take some getting used to, most would consider AWeber easy to use.
AWeber Pros and Cons
With any software option like this, there are always going to be pros and cons. And some of those will vary based on each user's opinion; AWeber is no exception.
Fantastic customer service
Drag-and-drop editor
Easily build forms and landing pages
Free plan available
Over 600 email templates to take advantage of
Build emails easily using a drag-and-drop builder
Easy-to-use app
Integrates with over 750 third-party services
Some consider the automation options a little basic
It could be considered expensive if you have a high number of subscribers
Lacks some advanced features
AWeber Review: Pricing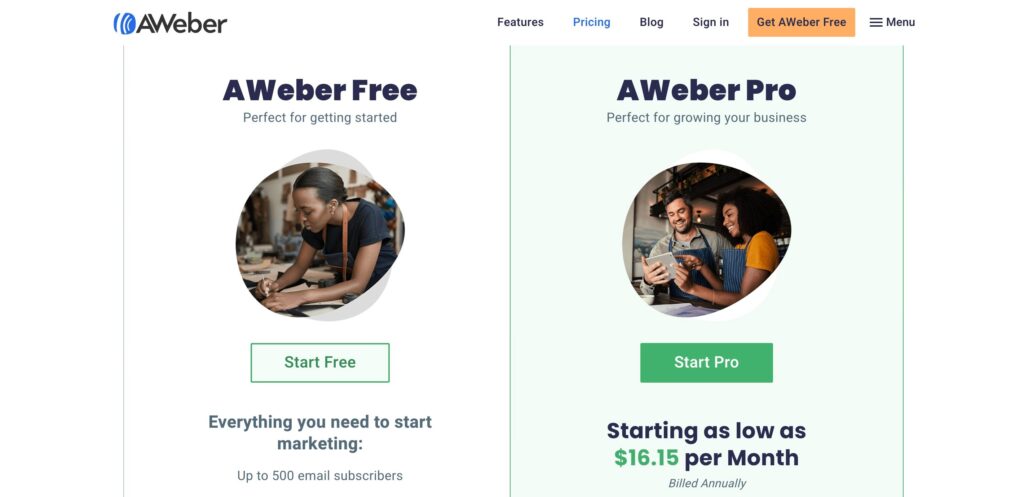 One of the best things about AWeber is that they have different packages at different price points available. This is great news because it means that whatever your needs and budget are, you should be able to find something that suits you. 
Free Plan – If you have only basic needs from your email marketing, then the AWeber free package could be right up your street. It's suitable for those that have less than 500 subscribers and only need one landing page and one email automation rule.
AWeber Pro – AWeber has a pro package that works on a sliding scale based on how many subscribers you have. For example, if you have up to 500 subscribers, then you'll pay $19.99/month, whereas for 25,000 subscribers, you'll need to pay $149.99/month. There are also packages throughout the middle of these two points, depending on your subscriber count.
If you decide on a package and are able to pay annually, then you'll also bag yourself a discount. Pro plans include unlimited email lists, advanced automation, split testing, removed AWeber branding, and more!
Who is AWeber Best For?
AWeber is a great choice for small businesses that are looking for a solid email marketing tool that won't break the bank. Their customer service is unparalleled, so it's a particularly good choice for anyone who is new to email marketing, as you can rest assured that there will always be someone on hand to help should you need it.
It's also a great choice for like bloggers, YouTubers, and podcasters, who find that regular contact with their subscribers helps their social media channels and, therefore, their businesses grow.
AWeber Alternatives
As you might imagine, when it comes to email marketing software, there are plenty of alternatives on the market. This is great news because it means that whatever you are looking for from an email marketing service provider, you can be confident there will be an option that suits you perfectly.
For many people, AWeber ticks the boxes completely, knowing there are alternatives for everyone can only be a good thing. Here are a couple of our favorite alternatives.
Convertkit
ConvertKit has some great options for those that are looking to offer subscription options to their mailing list subscribers. It's known for being one of the best email marketing software tools for those in the blogging and influencer industries.
Many people say that ConvertKit has the edge when it comes to how easy the platform is to use, and like AWeber, it has a free plan available, so you can try it out risk-free.
It's worth noting that ConvertKit's free plan doesn't include any automation features, but paid plans with access to all features start at just $9.
Sendinblue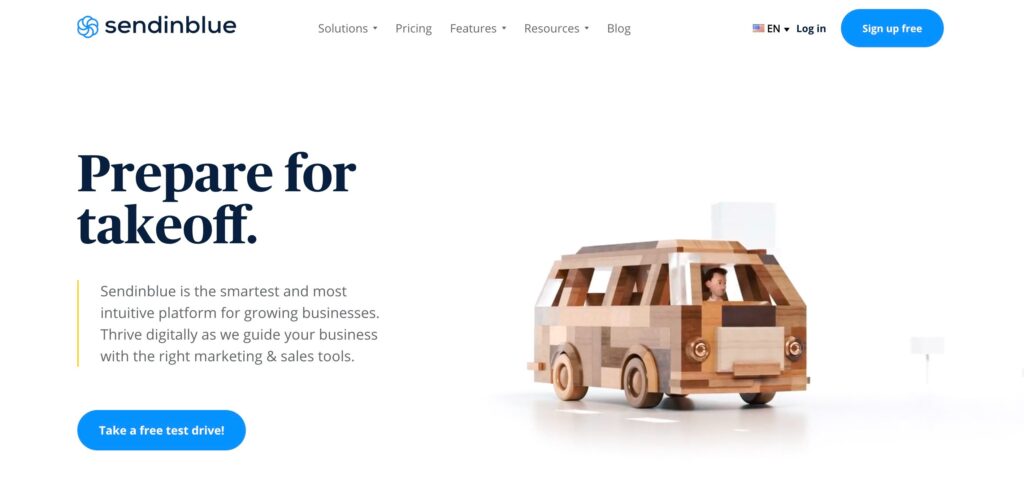 If you're looking for an all-in-one digital marketing tool with a built-in CRM that is easy to set up and quick to get to grips with, then arguably SendinBlue is the option for you.
SendinBlue has some great options for sales pipelines and marketing automation, so if you're looking for software that does more than just email marketing, then this could be the right choice for you.
Check out our full Sendinblue review for the full lowdown on this awesome tool.
AWeber Review: The Verdict
Whether a platform like this is the right one for you or not is always going to be a personal choice, but if you are looking for email marketing tools with a range of features to take advantage of, then AWeber could be the right choice for you.
Not only that, but one thing that comes up time and time again is the unparalleled customer support that they offer.
This is great news for those looking to get started with something like this because knowing you have knowledgeable and experienced people to guide you through is always a great thing. Overall, it is sometimes considered a pricier option for this type of software, but the level of support you get and the range of features help to ensure you get great value for money.
Hopefully, this AWeber review has helped you make a decision. But if you're still on the fence, it's definitely worth checking out the free plan. It gives you access to all of the basic features so you can try it out for size risk-free.