Are you looking for an easy, convenient way to buy and sell things? Have you ever thought about trying out Mercari, the popular online marketplace that's become a favorite among savvy shoppers? In this Mercari review, we'll take an in-depth look at buying and selling on the platform so that you can decide whether it's the right option for your needs.
Mercari offers a convenient online marketplace that makes it easy to offload old clothes, furniture, electronics, and other items while finding unique bargains. But is the Mercari buying and selling app worth the time investment or hassle?
---
Mercari Review

Ease of Use

Fees

Customer Experience

Reliability
Summary
Mercari is an online marketplace where users can buy and sell items. Although it offers some advantages, many customers have reported having negative experiences on the platform. To ensure a positive buying and selling experience, it is important to be aware of the potential issues associated with Mercari. Do your research, read the rules, and pay attention to user reviews to ensure a safe and enjoyable buying or selling experience. Browse what Mercari has to offer here.
Pros
Simple and straightforward listings process

No listing fees for selling

Competitive 10% commission rate on sales

Secure payment sent quickly once the buyer receives the item

Discounted and flexible shipping options
Cons
Returns policy can be abused by some buyers

User interface is not as intuitive or user-friendly as other platforms

Sales can be slower compared to other marketplaces
About Mercari
Mercari is an online marketplace app that allows individuals to buy and sell new, used, or vintage items securely. Founded in 2013 by Shintaro Yamada, the goal of Mercari is to give people around the world more buying, selling, and trading options.
To ensure safety and security, Mercari has implemented a payment deposit system, as well as AI-based fraud monitoring. Mercari is committed to providing a safe, sustainable, and innovative platform so people can maximize their potential.
How Does Mercari Work?
The Mercari app is simple and easy to use. After going to the Mercari website or downloading the app from the app store, users can create a Mercari account and start buying or selling items.
To list an item for sale, Mercari users simply upload a photo of the item and enter its description along with the asking price. Once posted, buyers have the chance to make offers on the item.
When someone buys your item(s), they'll pay Mercari directly via debit/credit card or PayPal, or Apple pay. You can then print a convenient shipping label and send the item off to its new home.
Once your buyer receives the product, Mercari will release your payment into your account.
When you're ready to buy an item, you can search for specific products or browse through categories. Once you find something that interests you, you can make the purchase directly from the app.
Is Mercari Legit?
Mercari is a legitimate online platform for buying and selling items, but it's important to take certain precautions when dealing with unknown third parties.
The company's fraud monitoring system utilizes AI-based algorithms to detect suspicious activity, while its payment deposit system ensures customers receive payments promptly and securely.
Mercari also offers buyer protection guarantees, such as refunds if an item doesn't arrive as described.
It is important to take the time to read through their terms and conditions of use so you are familiar with your rights and responsibilities when using Mercari.
Taking these precautions can help ensure that your experience with Mercari is a positive one and that you remain safe while buying and selling on the platform. 

Mercari as a Buyer
Mercari is a great option for buyers looking for affordable items or unique products. The app offers a range of categories to browse, including clothing, electronics, home decor, and more.
Mercari also allows you to make offers on items if the seller is open to negotiation. This can be particularly useful when shopping for vintage or collectible items.
If you're searching for designer items, be sure to view the authentication badge in the listing. Thanks to Mercari Authenticate, sellers can submit images of their products and receive verification from a certified third-party.
One of the great things about Mercari is that it supports a variety of payment methods; you can pay by debit card, credit card, PayPal, and Apple Pay.
This makes it easy to buy products worldwide without worrying about foreign currency or exchange rates. In addition, Mercari offers buyer protection guarantees in case an item doesn't arrive as described.
At first glance, Mercari seems like a safe and reliable way to shop online, with its user-friendly app, secure payment options, and buyer protection guarantees.
Tips and Tricks For Shopping On Mercari
Mercari is an online marketplace known for its variety of items, from fashion accessories to home appliances. As a buyer on Mercari, knowing what you're looking for and how the process works is important.
Here are a few tips and tricks for shopping on Mercari:
Research the Seller – Before you buy anything on Mercari, make sure to research the seller. Check out their reviews, ratings, and returns policies for trustworthiness.
Make an Offer – If you find something you like, but it's over your budget, make an offer to the Mercari seller. Negotiate a price that works for both of you, and ask any questions before submitting your offer.
Read Shipping Terms – Before making an order, read up on Mercari's shipping terms so you know what to expect regarding delivery times and costs.
Check Your Messages – If you've made an offer on something, be sure to check your messages for a response from the seller. This is where you will get a notification if the seller has accepted or rejected your offer.
Always Read Product Descriptions – Before purchasing, always thoroughly review the product description and features. This will ensure you know exactly what you're getting and if it is indeed the right item for you.
Following these tips and tricks will help make your shopping experience on Mercari positive.
Mercari as a Seller
If you're looking to make a bit of extra cash, then Mercari can be a great platform for selling your items. The app allows you to list and sell virtually anything with no listing fee, from clothing and furniture to electronics and jewelry.
With its easy-to-use tools, it's simple to set up shop on Mercari and start making money selling your unwanted items.
As a seller on Mercari, it's important to know the ins and outs of the platform in order to have a successful experience.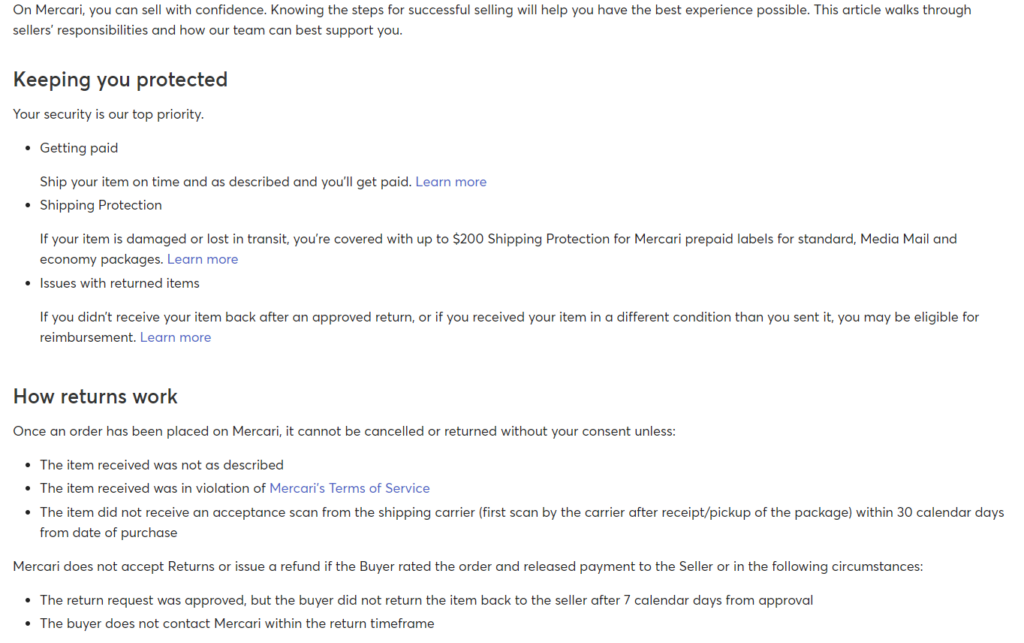 Tips and Tricks For Selling on Mercari
Have Detailed Descriptions – When setting up your listings, make sure to include detailed descriptions and an accurate product photo of the items you're selling. This will help potential buyers know exactly what they're getting, which can increase your chances of making a sale.
Respond to Questions Quickly – If a buyer has any questions about an item, it's important to respond to them quickly in order to build trust.
Set Reasonable Prices – Setting too high a price can turn buyers away, so make sure to set fair and reasonable prices that will attract customers.
Safely Package Items – When shipping items, it's important to pack them securely so they don't get damaged on their way to the buyer.
Make Sure Buyers Receive Their Items – It is essential to track customer orders and make sure they arrive in a timely manner. This will ensure customer satisfaction and help you maintain good relationships with buyers.
Following these tips will help make your selling experience on Mercari more successful.
What do Mercari Reviews Say?
Here's where things go a bit pear-shaped! At this time, Mercari has a Trustpilot score of just 2.5 out of 5 stars with over 18,000 reviews. Yikes!
Recent reviews about Mercari have been overwhelmingly negative. Many reviewers have reported receiving damaged items and being unable to return items or get refunds from scammers.
Others have complained of long wait times for customer service responses and difficulty verifying their accounts.
Overall, most people seem to be suggesting that buyers should stay away from Mercari and purchase items elsewhere instead.
It is clear that Mercari has been unable to live up to its promise of delivering a good experience for either buyers or sellers.
People have also reported that Mercari's fees for sellers have increased in recent years, making selling on this online marketplace less attractive.
It appears that Mercari needs to address customers' issues and work to improve its service.
Until Mercari takes steps to address these issues, it is unlikely that the score will improve. For now, it is safe to say that buyers should be wary of buying and selling items on the platform.

Mercari Alternatives
If you're looking for a different platform to buy or sell items online, there are several great alternatives to Mercari. Here are some of the most popular:
Poshmark
Poshmark is an online marketplace that specializes in fashion and beauty items. With its easy-to-use interface, anyone can become a seller quickly and start making money.
The platform allows you to list items for free, set competitive prices, and accept payments via various payment options, including Apple Pay, PayPal, and Venmo.
Poshmark also offers shipping discounts, customer support services, and even the ability to host virtual shopping parties.
Check out our full review, which answers the question Is Poshmark Legit?
---
Depop
Depop is a global marketplace for buying and selling vintage, streetwear, and one-of-a-kind items. It's designed for the creative community and has become very popular in recent years.
On Depop, you can create a virtual store to showcase and sell your products. You can also set up shop promotions and take advantage of Depop's powerful analytics and marketing tools.
---
Grailed

Grailed is a personal style platform for fashion and streetwear. Its online marketplace offers an extensive selection of rare and high-end items, allowing you to find exactly what you're looking for.
Grailed also has a community built around the platform, making it easy to connect with like-minded shoppers. The site allows users to buy and sell items securely, with buyer protection and authenticity checks. Selling on Grailed incurs a commission fee of 9%, as well as relevant payment processing charges.
Overall, there are many great Mercari alternatives that offer a similar buying and selling experience. Each platform has its own unique features and pros and cons, so it is important to do your research before choosing the right one for you.
Mercari Review: Final Thoughts
Overall, Mercari can be a great platform for buying and selling items if you take the time to understand its features and use best practices. However, many users have reported negative experiences on the site, making it important to be aware of these issues.
If you're unsatisfied with Mercari, plenty of other great alternatives are available that could better meet your expectations. With a bit of research and comparison, you should be able to find the right platform for your needs.
It is important to remember that buying and selling online requires you to exercise caution – no matter which platform you choose to use. Be sure to read the rules and pay attention to user reviews when making transactions. Doing so can help ensure a positive experience for all involved.